No. 9 Penn State women's volleyball beat Illinois 3-1 (25-20, 17-25, 25-20, 25-20) Friday night at Rec Hall in the program's season opener.
Freshman outside hitter Annie Cate Fitzpatrick led the Nittany Lions with 13 kills in her debut, while three more Penn State players — Anastasiya Kudryashova (11), Jonni Parker (10), and Kaitlyn Hord (10) — joined her with double-digit kills.
Fitzpatrick nearly had a double-double against the Fighting Illini, adding nine digs and an assist. She wasted no time backing up the preseason hype that surrounded the Ocala, Florida, native. Megan Cooney was spectacular for Illinois with 20 kills. She surpassed 1,000 career kills during the match.
Penn State hit .306 as a team in Russ Rose's 1,300th career win as head coach of the Nittany Lions, who were without starting setter Gabby Blossom, starting libero Jenna Hampton, Lauren Clark, Allie Holland, and Sophie Walls. The five players were dressed in street clothes and watched the action from the sidelines.
Sophomore setter Emily Oerther made her first career start for the Nittany Lions in Blossom's absence, tallying a match-high 36 assists, eight digs, four kills, and two aces. Fitzpatrick, Kudryashova, and Maddy Bilinovic, who donned the libero jersey, were part of Penn State's starting lineup alongside Parker, Hord, and Serena Gray. Fortunately, players' families were allowed to be in attendance in the stands (physically distanced, of course).
Rose elected to bring three defensive specialists off the bench during the match in Keatan Broughton, Macall Peed, and Molly Russell. They were the only substitutes Rose called upon Friday night. Bilinovic excelled in her Penn State debut, recording a match-high 16 digs, six assists, and an ace. She spoke to the media with Parker and Rose following the win. Check out the transcripts from their press conferences below.
"She dug it with her foot!"@mbilinovic with a kick save (and an assist later)#WeAre | #NCAAVB pic.twitter.com/UU7DIpQDt4

— Penn State Women's Volleyball (@PennStateVBALL) February 6, 2021
Rose's opening statement:
"Jonni had another great match for us offensively. Kaitlyn does a lot of good things at the net for us. We didn't get great efforts from Serena, but I thought she competed hard. We'll have to be real appreciative of the results for tonight and try and be better in a lot of areas tomorrow. I thought the serving was really sloppy, but again, for the first match, I was pleased."
Q: How important was it to come out in the first set for your first match of the year with the energy that you guys did?
"We scored half a dozen points on their errors right out of the first whistle, so I thought our energy was good. I'm sure they didn't have any idea who was going to be playing for us, because half a dozen scholarship athletes weren't in uniform. I'm sure they were probably let down a little bit at the onset, but they came back and were in a good position in that game and were in good control all throughout the second game as well. It's hard to talk about energy when there's 30 people in the building — the players' parents or whoever the people were who were sitting behind us. I just think you've got to play hard and you've got to fight like mad when you have a chance to get a two- or three-point lead against a good team in this conference."
Q: Coach, what does it mean to you to cross 1,300 career wins?
"I mean, I don't think it really — it's not on my list of things to think about. I didn't think about it during the day and I'm not really thinking about it now. I'm pleased that we won, but it's just a match."
Q: Coach, you had a few key players unavailable tonight. What did you think of your team's performance without those players? And does it give you any confidence in your depth on the roster going into the later parts of the season?
"I think it bodes well for Maddy [Bilinovic] that she played so well. Certainly when Jenna [Hampton's] healthy, we'll have two people who can play the libero position and the defensive position, because the other people who I put in at the defensive position tonight weren't providing anything to help us out. Certainly Emily [Oerther] did a really nice job at the setting position. We know Gabby's an all-conference player. It's good to know that we can have Emily in there — maybe give us some 6-2 opportunities when we get some of the other hitters back. We obviously didn't have all of our hitters. Lauren [Clark's] one of our key offensive players. I would be hard-pressed to say, 'Gee, it was such a clean match and we played so well.' I'm pleased that we won, because Illinois is a really good team. They were in the Final Four a couple years ago. They pushed Wisconsin last week and I know they're really good. They've got great players and a great staff. That was a really hard match for us to play with the players that we had available. I respect the effort of our players and I know it was really hard. It was good to get the victory and it was a really long day."
Jonni Parker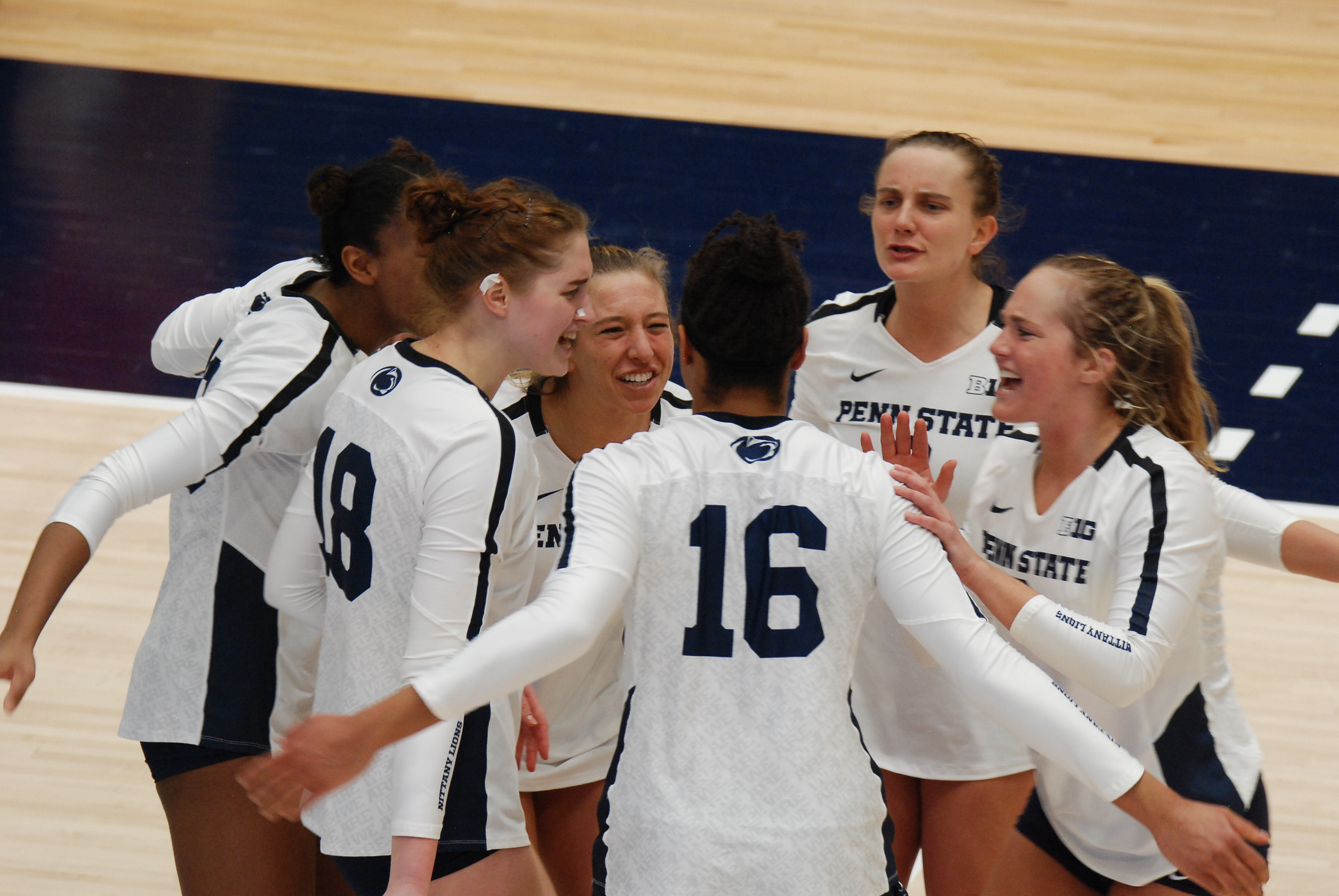 Q: Having your first couple matches of the season be postponed due to COVID probably threw a wrench in your plans. How were you guys able to keep your chemistry from the offseason into this match tonight and how do you think it showed?
"I think with this season what they say that a lot of teams are going to have to do is be able to just handle what's thrown their way every day. Every day brings new challenges and you've got to be able to develop your way, work your way around it, and I think we did a really great job of that tonight. It was nice to finally see another team across the net and see what we could do against someone other than ourselves."
Q: Jonni, what impressed you the most out of Annie Cate Fitzpatrick's first start tonight?
"I thought Annie Cate did really well. I mean, coming in as a freshman, I thought she did well on the floor and showed what she could do well. She mixed it up with her shots, stayed aggressive with her swings, and was all over the place in the back row trying to make some plays, so I was really proud of what she did tonight, as well as Maddy in the back row."
Q: The third set tonight seemed to be a tough moment between you and Illinois, but you guys pulled it out in the end. What was it that pushed you toward that victory in that set?
"I think, as a team, we just collectively came together and were just like, 'We've got to take care of our side and take care of our business and do what we can do.' Not to freak out or be too flustered in the game, just control our side and play like we know how to and have some fun."
Q: Was it challenging overcoming being shorthanded a few players tonight?
"I don't know. I would say no. Penn State volleyball is Penn State volleyball. We came in and we did what we had to do. We did our business. That's what Penn State's all about. Our bench is deep and we have players being able to come off the bench and make plays. I thought people did that well tonight. I don't know if it was necessarily a challenge. It was an adjustment we had to make, but I thought we did it well."
Maddy Bilinovic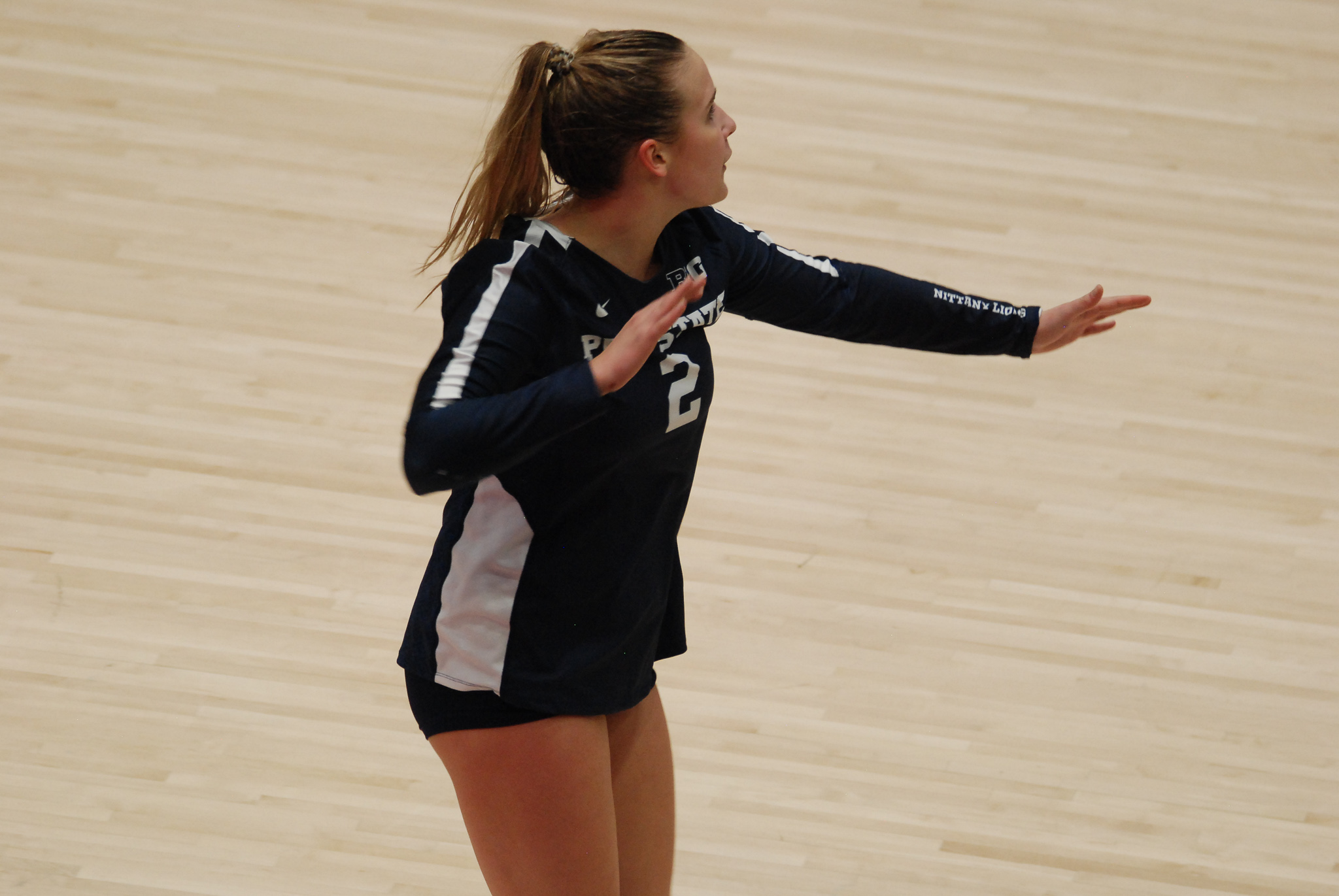 Q: Maddy, what was going through your mind as you made your first-ever start for Penn State tonight?
"I'm not going to lie, there were a couple nerves at the beginning, but my teammates helped me push through that. The energy we brought — it was kind of up and down, but in the long run, I think the energy really helped out there and, honestly, I was just happy to be out there, make some plays, do whatever I can to help my team out."
Q: In this weird time that we're in with COVID and now actually being able to be out on the court and having matches, how impactful is it to have an audience or supporting cast [of players' families] behind you as well when you're out there?
"Well, this is the norm for me, so us bringing our own energy out there, I think we did a good job of it. Like I said, it was a little up and down, but those six players out there and our bench, that's all we need to be loud, to get after it together."
Q: Now that you've gotten your feet wet a little bit after playing your first match, what's the biggest adjustment you think you'll need to make tomorrow night?
"I think I've just got to keep my head in it. I think that I don't have to do too much, I just have to play my game and work well as a team again."