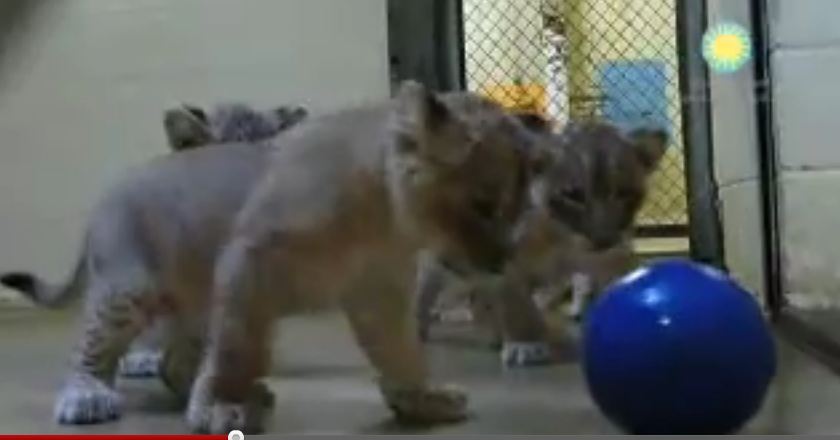 With 13 freshmen and sophomores, and only four juniors and seniors, the 2011 Penn State Women's Volleyball team is young.  Perhaps not as young as it might appear from the top-secret video (screen-shot above) of an early practice session that we managed to smuggle out of Rec Hall.  (See the full video below).  But young. 
Gordon Brunskill posted an article on August 11, 2011 on CentreDaily.com: "Lions get back into swing of things," featuring interviews with the players after the second day of preseason practice.  Here's the intro.
 UNIVERSITY PARK — In a sweltering South Gym of Rec Hall, they have returned to start another season.

The four-time defending national champions are hard at work on another trophy-winning season.

"I've been so anxious," Penn State junior setter Kristin Carpenter said Wednesday. "I've felt like it's been a long summer and a long spring. I just want to get back in the spring of things."

For most of the summer there were workout sessions, pick-up games and exhibition matches during summer camps, but the women's volleyball team officially got back onto the court Tuesday, breaking in the freshman and putting in the past all previous successes as they prepare for the sea-son- opening weekend matches against Oregon on Aug. 26 and Southern California on Aug. 27.
The takeaway?  Redshirt Sophomore Darcy Dorton "is back in the gym and going full-out in practices," and Rose is concerned that "two or three kids" came back "in really bad shape."   
For the complete article — which includes quotes from Head Coach Russ Rose, Kristin Carpenter, and Micha Hancock — Click Here.
Exclusive Training Videos
One thing Gordon's article doesn't have is our top-secret training video from the first day of practice.  The new uniforms make it a bit difficult to tell the players apart (is it too much to ask to put numbers on them?), but we think you'll enjoy it.
We've included this second video to show that young players will mature — maybe not fast enough for some fans, but most things worth doing take time.  Here's a peek at what maturity can look like: