Penn State vs. Nebraska: Q&A with Club Coach
DigNittany: We're speaking this week with Club Coach, who has coached numerous highly successful club and college women's volleyball players.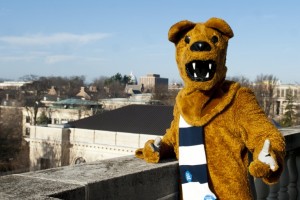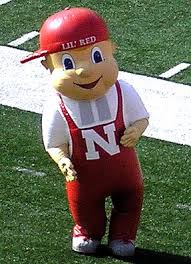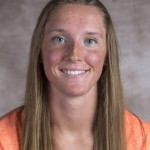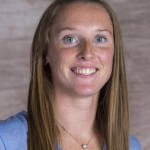 DigNittany: #4-ranked Nebraska (11-1) is coming to Rec Hall on Friday in what may be #1-ranked (13-0) Penn State's biggest challenge of the season so far. Which is to say, the Huskers are a very, very good team, led on the front row by 6-3 Jr. RS Kadie Rolfzen (who was named last week's B1G Co-Defensive Player of the Week, after averaging 3.14 digs and 1.57 blocks/set in wins at Creighton and at Iowa State – where she chipped in 17 digs for good measure), 6-3 Jr. MB Amber Rolfzen (who in the Huskers' match against Iowa on Saturday, had a team-high 11 kills — a .556 hitting % — and added 6 blocks), 6-3 Sr. MB Cecilia Hall, 6-3 Fr. OH Mikaela Foecke (who earned her second-straight B1G Co-Freshman of the Week award last week, after averaging 3.7 kills/set with a .375 hitting %) and 5-11 RS So. Setter Kelly Hunter. The backrow is once again anchored by 5-6 Jr. libero Justine Wong-Orantes (Is this really only her third year? It seems she been digging balls against Penn State for at least five.)
In his press conference on Monday, Nebraska head coach John Cook said that this week's road trip for Nebraska may be the toughest in the country (the Huskers take on Ohio State on Saturday night.
It's going to be a great challenge for our team. [We'll] see if we can go to another level . . . . Another level playing better.
The Huskers are already playing at a very high level – they didn't get their #4 ranking because of voters like their mascot (though we do). A two-fer: Do you think Nebraska will need to find another, better level to beat Penn State this Friday? And conversely, can Penn State defeat Nebraska if they play at the level they did against Minnesota this past Saturday (for more on that match, Click Here)?
Club Coach:  Those are difficult questions to answer, as match-ups play such a big role in outcomes.  Certainly Nebraska will have to play as well or better than they have all season.  Penn State is their toughest opponent, and the match is on the road. On the other side, the Nittany Lions are at a point in their program where if they go five, people start asking "what's wrong with PSU"? Of course the answer is . . . Nothing.  Winning at the level achieved by the Penn State women's volleyball program is NOT a function of being great every night, it's a function of finding a way to win on the nights when you aren't great. No program in the history of collegiate volleyball has been better at that.


DigNittany: In that Monday press conference, when Coach Cook was asked what it is about Penn State's lineup that makes the Nittany Lions tough to play against, he said:
[Penn State has] three great pin hitters [6-2 Sr. OH Megan Courtney, 6-2 So. OH Ali Frantti, and 6-4 RS Sr. RS/Opp Aiyana Whitney], and they have the best middle offensive player in the country [6-3 So. MB Haleigh Washington], so that puts them right at the top right there. Three All-American outside hitters – two on the left, one on the right . . . . Those four, you've got to deal with them.
Looking at the Nebraska lineup, there doesn't appear to be a shortage of big, strong, talented front row players – with OH Kadie Rolfzen, MB Amber Rolfzen, MB Cecilia Hall, and OH Mikaela Foecke all listed at 6-3, and all having garnered their share of accolades. How do you think Nebraska matches up with Penn State on the front row? 


Club Coach:  I think the differences are the following: Foecke is a freshman, and all of Penn State's "big four" are seasoned veterans, even though two are only sophomores.  The other big difference is two of Nebraska's big guns — Kadie and Amber Rolfzen — are playing totally new positions.  Amber will be playing her 13th game as a middle and Kadie her 5th or 6th as a right side player.  I think the Nittany Lions are probably more settled and comfortable in their positions, which is an advantage.  Although I believe the match-ups between the athletes are pretty even, Penn State's big four are at an advantage given their familiarity with their roles.
DigNittany: When asked whether the pace of the Huskers' offense was as fast as he had hoped for at the start of the season, Cook said they are still trying to go faster, adding
It's a process. Living on the edge. We're getting glimpses of it from time-to-time. Kelly [Hunter] controls the tempo. It's a question of what she feels comfortable with and how fast she can go and still locate the ball. So that's the fine line we live on.
Another two-fer: What are some of the challenges to running a fast offense with a young setter like Kelly Hunter or Bryanna Weiskircher (or with young hitters)? And how would you characterize the speed of Penn State's offense this season?
Club Coach:  Well, tempo of play is dictated far more by ball control than it is by setting.  First touch dictates how fast setters can go with their tempo. The challenge in going up tempo is there is a narrower margin for error when you go quick.  If the setter misses locations on a higher, slower set, the attacker has more time to adjust.  When you go quicker, its a little more all-or-nothing.  Although I am pretty impressed by what Weiskircher has done, she is still trying to get comfortable, and I think you will see the tempo increase as her comfort level increases.  In particular, given Washington's athleticism and range, I think Penn State can go quicker with the slide, and really leverage her ability.
DigNittany: After the Minnesota match, Coach Rose commented, as he often has, on how important it is to take the very long and difficult B1G season one match at a time – not getting too high or too low. Cook described it as "a grind for the next nine weeks" and said he wanted his team to just focus on winning the next point . . . to stay in the moment." That sounds like it may be easier said than done. Both teams have upper class leadership, and big match experience. Do you think either team has an edge in the "zen volleyball" department?
Club Coach: I think PSU has an edge over everyone in that department, and I think that edge is pretty significant. Regardless of which players have graduated, Penn State always seems take the court knowing they are going to win, which is a great testament to the Penn State staff and the Nittany Lions on-court leadership. The difference in the two teams is how they have performed in the biggest of matches. I think PSU right now has what Tiger Woods had over the field in his dominant years: very few teams have taken the court against Penn State really believing they were a better team than the Nittany Lions. That is a mental hurdle Nebraska and other opponents need to clear.

DigNittany: Also after the Minnesota match, Coach Rose said he'd like to find ways to get more playing time for 6-1 So. OH Simone Lee , who is featured in the video above.  Without going into the intricacies of how that might play out, what are your thoughts on some of the things Simone can bring to a match and the ways in which she can help the Nittany Lions? 
Club Coach: Russ is a big "energy" guy. I think he really responds to kids who play hard and play the right way. Simone is one of those kids, and I think he would like to find a way to infuse that in this group. When her number has been called, she has been fearless and brought great energy. Those have always been traits Rose has responded to.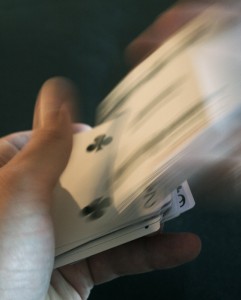 DigNittany: OK, show your cards – who's going to win and in how many sets? 
Club Coach:  I think PSU will win. One because I believe they have better and proven talent, second they are at home, third because even though Nebraska has more returning players, several are still adjusting to new roles. And lastly PSU has responded incredibly well after matches that were below their compete level  standard. This rivalry has a little edge to it, not in the sense of bad blood, but more mutual respect. PSU wins in four tough games.
DigNittany: Thanks, as always, for your time.  We appreciate it.
Credits
"Shuffling the deck" by Alan Cleaver – Flickr: Shuffling the deck. Licensed under CC BY 2.0 via Wikimedia Commons.