Penn State women's volleyball beat Towson 3-1 (25-11, 25-27, 25-20, 25-21) Friday evening at Petersen Events Center to advance to tomorrow night's round of 32 in the NCAA tournament, where the Nittany Lions will face No. 3 seed Pitt.
Jonni Parker led all players with 18 kills and a .348 hitting percentage against the Tigers, who saw their season come to an end after winning their third straight CAA conference championship. Penn State also beat Towson 3-1 in the second round of the tournament in 2019 at Rec Hall.
Jenna Hampton tied her career high with 27 digs in the win, while Gabby Blossom had a match-high 47 assists and 11 digs for her 19th double-double of the season. Blossom added five kills and one of Penn State's three aces. Penn State bounced back from a tough second set and ended up hitting .241 as a team to Towson's .148.
Parker also had a double-double for the Nittany Lions, contributing 11 digs of her own to help Penn State improve to 23-0 in the first round since the tournament expanded to 64 teams. Kaitlyn Hord and Adanna Rollins had 11 and 10 kills, respectively. Hord tied Towson's Lydia Wiers with seven total blocks, while Nina Cajic led the Tigers with 10 kills.
Freshman outside hitter Anjelina Starck made her first career start in the NCAA tournament and finished with eight kills and 13 digs. Allie Holland and Erika Pritchard had four kills apiece to round out the scoring. Pritchard and freshman defensive specialists Quinn Menger and Cassie Kuerschen were Penn State's only substitutes of the match. Full stats can be found here.
The Nittany Lions (21-10, 13-7 Big Ten) will play former Penn State All-American middle blocker Serena Gray and the Panthers Saturday at 7 p.m. here in Oakland for a chance to advance to the Sweet 16. Pitt swept UMBC in the first round.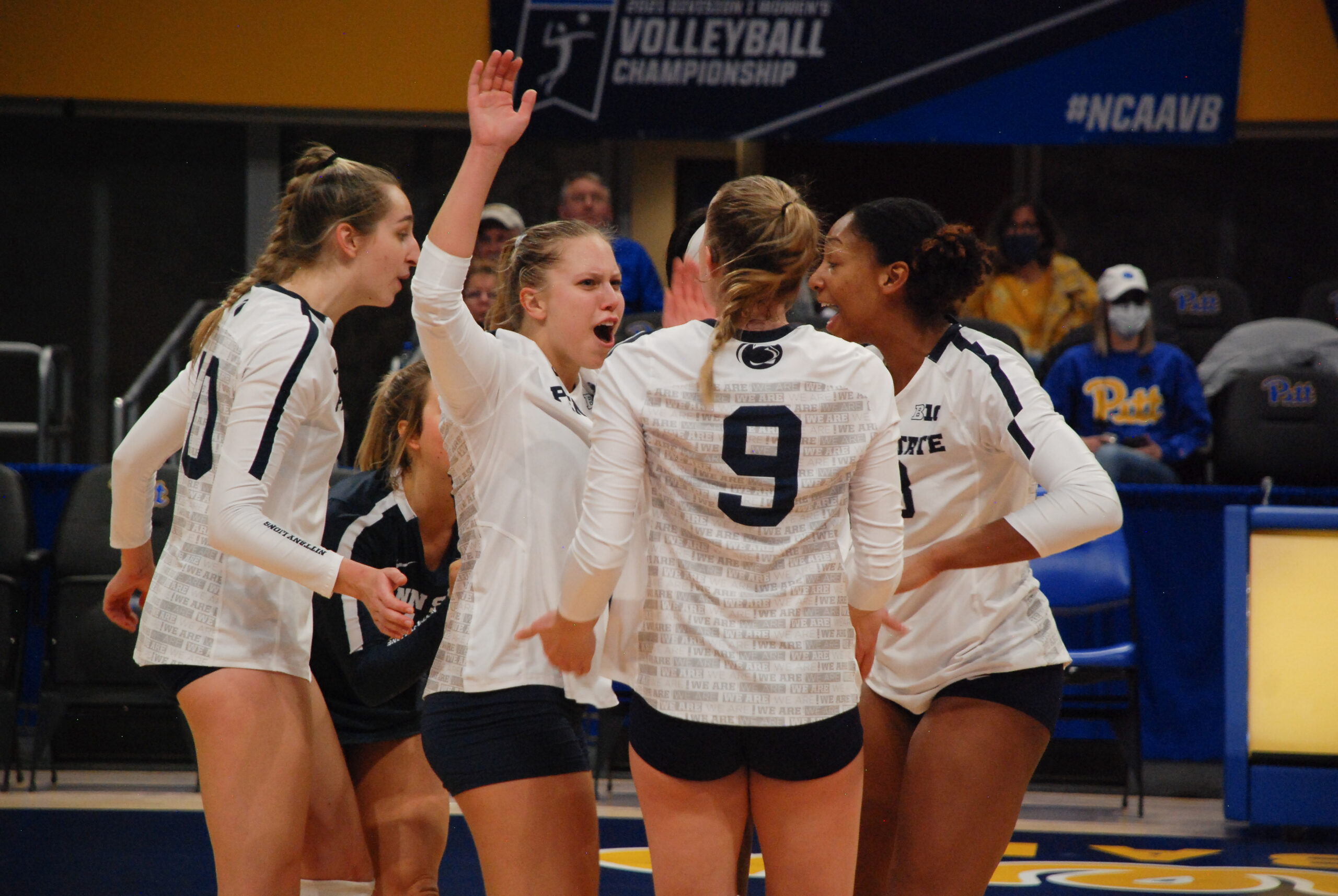 Russ Rose's opening statement:
"I would first like to recognize Towson on another great season, a great match. We played them [before] in the NCAAs and it's always a great challenge. They play hard, they play well together. We feel very fortunate to have a victory again today."
Gabby, how would you assess Jonni and Jenna's performances today?
"I think they're both people who go really, really hard and are huge leaders for our team. I think down the stretch, they made great plays that won us the game. For Jenna, she's the one giving me the ball to set, and we passed really well tonight. She's in charge of that, so super good. She made some incredible digs. I'm the one feeding Jonni the ball, and she's always talking, asking for the ball, and as a setter, there's nothing you want more. You saw some balls were crazy that she bettered for me and, again, that's all you can ask for."
Collectively, as a team, the energy level was so high in that first set. Just how tough is that to mentally keep in the second set and how did you feel you bounced back?
Parker: "I feel like for any team, energy-wise, you have to be able to maintain that energy throughout the match. Obviously, our first set, our energy was a little high, and you could see it fell during the second. That's something we need to improve in order to succeed through the rest of the tournament. Towson just did a great job and they're a great team."
Rose: "We didn't make many errors in the first game and missed a lot of serves and had a couple of net violations in the second game. You can't do that against anyone, no less a veteran team that's playing well. I thought we bounced back in the third game, but certainly three of the four games were very close. It's a reflection of the quality of the other team. These three people here I thought played both hard and well. That's always part of the expectations in our gym."
Jenna, what were some of your positive takeaways tonight?
Hampton: "I think we did a really good job bouncing back. I think the second game obviously wasn't our best, but we didn't let one become two toward the end. I think that was something we've really been working on. I think Jonni and Gabby did a really good job bringing us together when the other team was making those scrappy plays. I think that was something they did well."
Rose: "Anje Starck, as a freshman, played really well. She passed a large bit of the court and had 13 digs and eight kills. She had a real significant impact in the outcome."