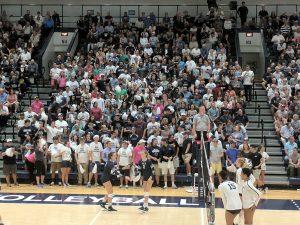 Penn State (8-0) swept Yale (4-3) — 25-9, 25-21, 25-11, but it was definitely an up-and-down match for the #2-ranked Nittany Lions.  In Set 1, Penn State hit .529 and held the Bulldogs to -.038.  In Set 3, the Nittany Lions hit .524, while Yale dropped to -.071.  For those keeping score at home, those are phenomenal numbers for the Penn State attackers, and really not phenomenal numbers for Yale.
Things were different in Set 2.  Yale woke up, caught on fire (you can only pick one of these clichés, as the idea of catching fire right after waking up is too much for me to wrap my mind around).
Coach Rose had this to say after the match:
I thought it was great to be home.  Having the energy from the band and the crowd makes a big difference in how the kids feel about their efforts.  In the first game we served and passed well, and we returned to that in the third game.  In the second game we stalled a little bit, and didn't put up much of a defensive effort.  Even though we were scoring offensively in game 2, we weren't playing very good defense.

But Yale is always a tough team to play against, because all of the players have really high volleyball IQs, and they're accustomed to playing with good players because most of them played on the top club teams in California.  They can be impacted by the crowd, I would think, because they probably don't see a lot of that in the Ivies.  I thought Haleigh Washington played really well, blocked well and hit well; I think Kendall White probably had her career best with four aces, and passed well.  I thought it was a good overall match for us.
Asked about the status of the right-side postion, Rose quipped:
Well, if [Athletic Director] Sandy  and [Assistant Athletic Director] Sharmelle Green [both of whom were in attendance] want to try out, I'm open to other people's efforts at that spot.  It's a position where we have a challenge.  We have a couple of kids who are dinged up who might be able to help us at that spot.  It's a little late in the pre-B1G season to still be wondering about the lineup, but you have to play with who's ready to play.
Rose had this to say about the second set:
I think they tipped and scored a lot in the second game, but they have good volleyball sense to go with good academic sense.  I don't think they necessarily sped things up.  I think they passed a little better. We had a number of aces in the first game that we didn't have in the second game, so the game was closer statistically, but I didn't think we were in a lot of trouble, other than the tipping problem.

Kendall White commented about whether there was a difference in her comfort level from this home opener compared to last year's home opener:
I don't think there really is a difference because last year, even though I was a freshman, I felt great coming in the first game.  I love playing in this gym, I love the fans.  I'm playing in a different position this year, so that's absolutely a difference for me, but I still love it.
Rose also commented on the play of So. DS Emily Sciorra:
I thought her first serve was good.  I thought she got a little nervous.  She's good in practice, so I think it's just a matter of getting the bugs out, and going in there playing.  There were days during our Brazil trip when I thought she was our best back row player.  It's just getting comfortable with opportunity.  And I think she'll get more opportunities.  I thought Jen [Halterman] came in and had a nice play at the end, which is a real nice story.  I liked that.

Haleigh Washington commented on what it's like to be a senior:
My body hurts a lot more after games — I don't come back as well.  I cool down after games and I think "wow, I'm old."  It's good being on the floor with everybody.  It's good because I've gone through this program with [the other seniors] so we connect well on the court now.  It was having the energy in the gym for my last home opener here.  Regardless of who's on the other side, Rec Hall doesn't change, and it's always awesome to be a part of that.
Match Recap
Match Stats
(Courtesy of GoPSUsports.com)