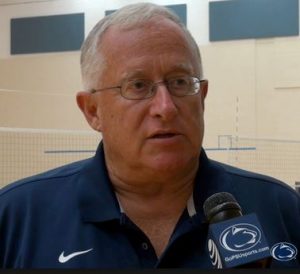 I thought it was a good passing match for us and in the middle back area, [Ali Frantti and Simone Lee] were in charge — they played very good defense in the middle back.  And I thought Kendall [White] played a great match defensively.  Our defense was good.  We hit for a good number, other than getting blocked eight times.  That can happen sometimes, and a couple of times when we reached over the net on plays.  Those were aggressive plays, and I'm comfortable with that.  I thought it was a pretty nice effort tonight by the ladies.

Penn State Head Coach Russ Rose on Penn State's performance against Michigan 
Match Wrap
Penn State's #2-ranked women's volleyball team put on a crowd-pleasing performance in front of the biggest Rec Hall crowd this season (4610 fans!), sweeping the Michigan Wolverines 25-17, 25-18, 25-14.
Simone Lee (Menomonee Falls, Wis.) led the way with 15 kills for the Nittany Lions. She hit .393 on the evening and added five digs and two blocks.

Haleigh Washington (Colorado Springs, Co.) followed with 12 kills, hitting .571, and she tallied two blocks and two digs.

Ali Frantti (Spring Grove, Ill.) provided another consistent performance, putting down nine kills and scooping up 10 digs while dishing out two service aces.

Kendall White (Indianapolis, Ind.) led all with a game-high 13 digs while adding one ace.

Heidi Thelen (Edgewood, Ky.) put down seven kills, hitting .500 for the match, and added one block.

Abby Detering (Mentor, Ohio) and Bryanna Weiskircher (Rockford, Ill.) dished out 21 and 20 assists respectively.  Detering added two kills and six digs to her stat line.
For the entire recap, Click Here.
Post-Match Quotes
Head Coach Russ Rose
On the play of Haleigh Washington
I think we're accustomed to having her hit for pretty good numbers.  I thought she had a couple of really good swings, and she had a couple of nice block moves.  But it's a team game, and when we pass well, it gives us an opportunity to get the ball to her.  We need to get the ball to Tori [Gorrell] a little bit more.  I thought Abby [Detering] took a couple of good swings in limited opportunities, and Heidi [Thelen] had a few swings that were nice.  Again, we were pretty good offensively tonight.  The only one who had trouble with the block was Simone [Lee].  I think everyone else seemed to be pretty good.  She's got to mix it up a little bit. Last night I thought part of the key to victory was when she started hitting the high deep corner shot — I thought that was great.  So [tonight] was a good night.  I hope that we can keep it going.
This is a veteran group of players that, when they were freshman, some of them were on the floor when we won our last National Championship.  They've had two seasons since then when it didn't end as favorably.  I think they're working a little bit harder.  It's hard to win in the Big Ten.  It's hard to win in the NCAA Tournament.  And in my opinion, as a coach, it's hard to get people to understand the sacrifice you have to make to give yourself a chance to be successful.  There's no guarantee that just working hard is going to do it, either — there's a lot of other intangibles.
On the team's effort against Michigan
This was a good effort tonight, but it helps when you've got 5,000 people at home.  It was a great crowd, and the energy was really good.  We started out strong and we were able to maintain it.  But we're on the road next week and it's altogether a different animal every time you travel.  We feel good that we didn't extend the match by being careless and not being ready to play.  We had a tough match last night against Michigan State, and last week we had a really tough match with Ohio State, and I thought we were really beat-up against Maryland.  When those things happen, you're exposed to get beat — not because you don't care, but because your kids are just a little beat up as the season goes on.  I'm glad that tonight's effort was good and we spread the ball around and we found success.
On the performance of Kendall White against Michigan
I didn't think she was very good [against Michigan State], but I thought she played really well tonight.  A part of it was that one of her former teammates was on the other side, and she had a little fire in her belly tonight.  Kendall's a tough kid.  She's gonna play hard and I thought she had a great effort tonight.  I thought her serving was a little better too.

Ali Frantti
On tipping strategically as the match wore on
Yes, I was telling Simone too, they were kind of far back on our hits, so I was trying to tip it, keep them off.  I've been trying to work on different shots.  [Coach Rose interjects "She was tired of seeing Simone get blocked.  She was saying 'I'm not going to let that happen to me.'" [Editor's note: Simone Lee hit .393 for the match, with 15 kills.]

Simone Lee
On moving to the jump/top spin serve this weekend
I'm just trying to mix it up.  Coach always says you've got to serve tough and you've got to serve aggressive.  I feel like this new serve I have is very aggressive, and I want to keep working on it as much as possible.  If Coach likes it I'll definitely keep doing it.
Match Stats
(Courtesy of GoPSUsports.com)