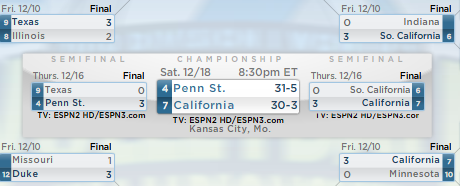 Oh What a Night!
This wasn't the match people were expecting.  That match would have gone to five sets, with the fifth set won, 15-13, on a cross-court sizzler.  Instead, Penn State rocketed out of the gate, grabbed a 10-1 lead in the first set, and never looked back, as it swept Texas 25-13, 25-13, 25-22. 
Surprised?  Penn State Head Coach Russ Rose certainly was, as he told Randy Covitz of the Kansas City Star:
If I had to list my top five things I thought were going to happen, I would have never picked a pair of 13s, other than if we would have split and won one by 13 and lost one by 13.
Leading up to the match, a key question was whether the high-pressure atmosphere of the NCAA Semi-Finals would affect the play of Penn State freshmen 6-1 OH Deja McClendon, 6-5 OH Ariel Scott, 6-6 MH Katie Slay, or 5-6 DS Ali Longo.  
Not to worry — if it did, it was all positive.  McClendon, Scott, and Slay combined for 24 of Penn State's 45 kills and 12 of 19 blocks. McClendon, the newly-minted AVCA Freshman of the Year,  led the way with 11 kills on 15 swings, with zero errors, for a season's best .733 attack %.  Slay paced the Nittany Lions with 6 total blocks.  
Capping things off, 6-2 Fr. OH Maddie Martin , who, according to commentators at the Duke Regional Final match, has excelled at serving during practices, aced the Longhorns in her first serve attempt (well done Maddie!), though her second was just a tad long. 
The seniors did alright too.  6-5 Sr. Opp. Blair Brown (AVCA 1st-Team All-American) led the team with 12 kills (.235 attack %), with 6-3 Sr. Arielle Wilson (AVCA 1st-Team All American) totaling 6 kills (.465 attack %) and 3 blocks.  5-9 Sr. L Alyssa D'Errico recorded a match-high 11 digs, while 5-1 Sr. DS Cathy Quilico added 6.  5-6 So. S Kristin Carpenter set a fine match with 38 assists, plus 9 digs, 3 kills, and 2 blocks.    
Match Stats: A Near-Palindrome and Other Factoids
Penn State registered a .365 attack % against Texas, with 45 kills, 8 service aces (6 service errors), 50 digs and 9.5 total team blocks.  
In a near palindrome statistic, Penn State held Texas, which had a .311 attack % for the season to .131 hitting.  To achieve the rare, and much coveted palindrome, the statistics would have had to be .311 to .113.  So close . . . . Texas had 31 kills, one ace, 47 digs and 3.0 team blocks.  
Saturday night's match against California will be Penn State's fourth consecutive (and seventh overall) appearance in the Women's Volleyball National Championship match.  (The Nittany Lions were in the Championship Match in 1993 (3-1 loss to Long Beach State), 1997(3-2 loss to Stanford), 1998 (3-2 loss to Long Beach State), 1999 (3-0 win over Stanford), 2007 (3-2 win over Stanford), 2008 (3-0 win over Stanford) and 2009 (3-2 win over Texas). 
Below are the final statistics from last night's Semi-Final match.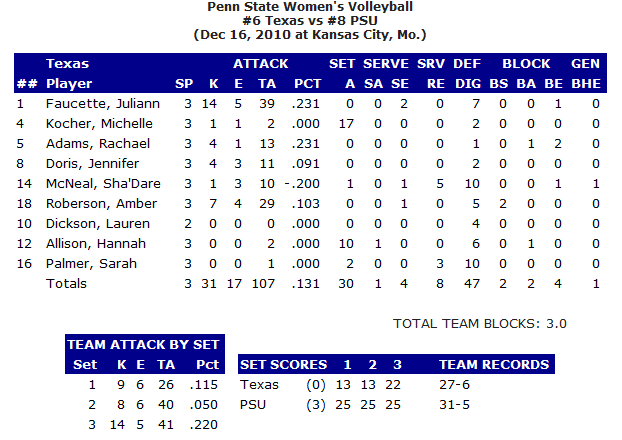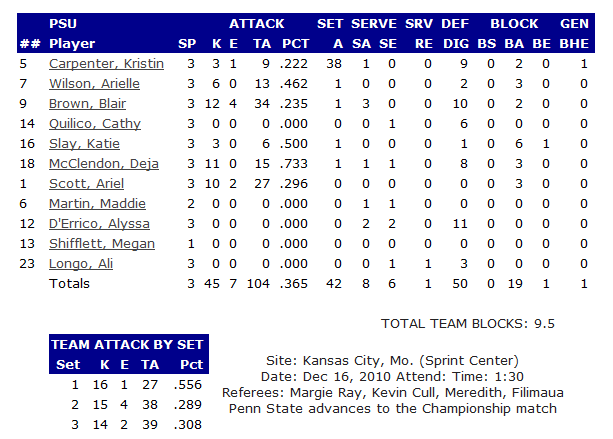 Post-Texas Match Video    
Below is a video, courtesy of GoPSUsports.com, showing the match introductions and Penn State's post-match press conference.  Love the "ate my wheaties" comment by Kristin Carpenter!  And in case anyone is wondering, this team appears to have everything in proper perspective: they know there is one more match to play, and there is no way they are taking anything for granted.
Transcripts — Post-Match Press Conferences (Transcripts provided by Accuscript, Inc.)
Below are the transcripts for the Penn State and Texas post-match press conferences.  One thing that really jumps out at us: all the coaches and players are very, very classy — gracious in victory and defeat.  Some fans (and perhaps others) might benefit from a quick read-through.  Our hats are off to both teams.
Russ Rose opening statement:    
It was a match where I thought that the things we really needed to do well that we spent time talking about, serving and passing, really proved to be the key points for us. I thought our ball control in those two areas was pretty good. A couple of kids came in and struggled passing. The serving was good. I thought we had a really nice game plan for Texas. Deja [McClendon] had a great night offensively and Ariel had a great night. I thought that Carp [Kristin Carpenter] set a great match. We played hard; you have to play hard in a match like that. I thought we great the first couple of games and we started a little soft in the third game. Once we got a hold of the ball again, I thought that we controlled the ball on our side at least.    
Kristin Carpenter on serving

: 
Well, I ate my Wheaties this morning. Other than that, we serve a lot in practice. There wasn't anything special. I started out jump serving like you saw, but we needed a tough, low serve. We all served pretty well, I thought.
She [Kristin Carpenter] twisted her ankle in the early part of the first game and I didn't really want her jumping anymore than she had to when she was in the front row. 
Alyssa D'Errico on Texas not being able to find a rhythm
: 
I think one of our goals for this game is that we know Texas was a big, physical team and we knew they would have the ability to drop a few balls on us. We didn't want that to affect us in a negative way where we would allow them to score points in bunches. Our goal was as soon as they scored a point, stop them at one and get the next ball. We were focused on that before the game and that was one of the things we talked about, so I think we executed that very well throughout the night.   
Russ Rose on keeping the ball away from Texas' Rachael Adams
:
She was a factor on the ball, she bounced one in front of Blair [Brown] that hit her in the head. We thought that she's a fabulous athlete. I recruited her so I followed her for quite a number of years. You don't have a game plan to stop her, you have a game plan to serve her tough when she's in the front row and try and limit the opportunities that she has. If we were going to make some mistakes, it was going to be when she was in the front row and try to make some points when she was out of the game. Both her and Juliann [Faucette] are great offensive players and when they take some swings, there's really nothing that you can do about it.  We have a few players that I thought were great in the game. In the second game we had a triple block on a one-ball. People don't normally do things like that. We thought that if they had a good pass, there were certain things that we had to take chances on. We took some chances and tonight they paid off for us.  
Blair Brown on being in the finals all four years
: 
Right now we're really concentrating on the next match. We're really focused. We want to get out there and watch these next two teams play, watch some film and really prepare for this weekend.   
Alyssa D'Errico on being in the finals all four years: 
It's what you dream about. It's a great feeling, but we're not celebrating yet. We have one more match to play. Our goals are the same; the program's goals are the same. It's about tradition and upholding that tradition and getting to a final is not our goal. Our goal is to win. We're going to go out there and watch Cal and USC and see what we can do against whoever wins that match.    
Deja McClendon on being in the finals for the first time
: 
When I came to Penn State, I came for this kind of program. I expect us to get to theFinal Four. I expect us to play hard.  As exciting as it is, I still have to keep working hard.  
Blair Brown on the recent history between Penn State and Texas
: 
We don't like to talk about the history because these are two completely different teams that are playing this year. We have nine new freshmen and they have a lot of new people on the floor. These are two different teams playing each other in a different year. That's what's we really focused on, the team that was in front of us.    
Kristin Carpenter on the recent history between Penn State and Texas
: 
 I agree with Blair. In all honesty, it is two completely different teams. We obviously don't have Alisha [Glass] and Megan [Hodge] and they don't have Destiny [Hooker] and Ashley [Engle]. It's really difficult to talk about because it's so different.   
Kristin Carpenter on Texas' confidence: 
I think you want to jump on any team. We don't focus on the other team. We focus on controlling what we can control. I thought we did what we wanted to do.  
COACH ELLIOTT:
I'd like to congratulate [Penn State head coach] Russ [Rose] and his program. They played exceptionally well tonight and, you know, it's just, for us, we've gone through so much with the program this season and to lose this way obviously is very disappointing, but as a coach you reflect what this team was able to, the leadership we had from the seniors to get to this point and the lasting impression that they'll leave in this program — they'll continue to be able to give back to this situation and learn from this experience.  We just didn't feel like we ever got a rhythm on the serve/receive and serving, and when we give up almost 50 percent errors to a team of that quality, it's going to be very difficult to compete with them, but I'm going to try to erase this match from my mind and look back in terms of what Juliann and Jen Doris and Lo were able to do for this team, and when everybody wrote us off at 5-4 and we came back and won 19 matches in a row, that doesn't happen without great leadership, without great confidence and without the commitment to being great, and we made a lot of people proud at our university.  Ultimately, we wanted to finish on top and, you know, we didn't have a lot of options as the coaching staff with so many people hurt and we ran into a buzz saw with Penn State.
Q. You just never got on track early and you think it just kind of snowballed from there, Jerritt?
COACH ELLIOTT:
Carpenter went back and served some balls, we thought our passing tempos weren't there, we got really tight. Our approach speeds and our tempo setting weren't as crisp as I would have liked them and we just were on our heels the whole night. I was hoping that in game three, when it got somewhat tight, that we could get in and pull that game out to relax a little bit more. Sometimes you get in this environment, remember we've got a lot of young players that haven't been in this situation and we got tight and their block intimidated us a little bit because of their size and we weren't able to respond.
Q. Juliann, could you just tell us what you kind of saw out of Penn State, out of their defense that kind of limited you all so much offensively?
JULIANN FAUCETTE:
Well they were picking up everything. They have a really good libero over there, senior libero, and she was controlling the back court. It was hard for us to get a rhythm putting things down and they were picking everything up including the tips and just really good on their feet, and so it was hard to come back from that because we weren't responding with our defense until the third game and it was too late.  So hats off to their seniors on that team, you know, they've done a really good job with that team.
Q. Juliann, with how good you guys were down the stretch, how surprising was the way tonight's match played out?
 JULIANN FAUCETTE:
Well, it was surprising just because of how hot we were coming in and just how good we were in the crunch time, but we really never gave ourselves a chance to push in those crunch times because we didn't really tighten it up until late. And, so, you know, like Jerritt said, we have a lot of young players and I think the environment and Penn State being such a good team intimidated us with their block and their defense and we didn't respond. You know, we knew it was going to be a battle coming in, but the outcome is the outcome.
Q. For Amber, can you talk about that third game, how you guys tried to get in tempo and set the early tempo in that third game?
AMBER ROBERSON:
Well, it was basically us just trying to figure out a way to come back and show that we are fighters, not just roll over and let them take control of us. We had to find a way to control that. It was just kind of us starting early rather than them starting the game.
Q. Can you talk about the net violations and, Jerritt, what was happening there?
COACH ELLIOTT:
Well, what happened was Michelle [Kocher] was in the back court there and there was a play at the net, and they ruled that Michelle was below the tape. If she's above the tape, it's considered a back row attack, but they — even though she set the ball, they blocked the ball and that didn't dictate the match, and it was unfortunate at that point in time, but it is what it is.
Q. It has been a while since you guys have played a game away from Austin. Does going on the road have anything to do with maybe not finding a rhythm or getting off to a slow start for your team?
JENNIFER DORIS:
We've always been good in big arenas, so I don't think I'd attribute that to any of it. I just think we got in a funk and we couldn't figure out early on how to get out of it and it just kind of lingered and got to the point where it was too late and we tried to turn things around in game three, it was just too late by that time. But we still had a good crowd turnout. We still had a big Texas following, granted it wasn't Gregory, but I don't think it played that much importance.
Q. Jerritt, especially in the first game, you called early timeouts, at that point did you kind of sense things were slipping away?
COACH ELLIOTT:
 I couldn't let it get away too far. It was 4-0 and you usually try to get a timeout at four or five, and I was just wanting us to get a rhythm on that. I think my second one was at 10-1, and that's still pretty far down. If I don't take that second one, it's pretty difficult to get back in. We just were trying to calm them down. We haven't given up runs like that in a long time and we weren't passing, we weren't taking good swings and we weren't making plays on the defensive side and, you know, with the rotation that we have, defensively we had some struggles there, but I made those timeouts to try to get back into it a little bit more and calm us down a little bit.
Q. Juliann, could you talk about Kristin Carpenter with the jump shots, set shots there?
 JULIANN FAUCETTE:
We scouted that. We were just so preoccupied with the other hitters and what they were doing. And she's a good setter. She has been really well implemented into that program and I think that she just knew what our defense was doing on the other side and that she could score with that, and we got her late in the game, so we started to respond, but she got some good points on us.
Q. Juliann, I think you just had one kill in the first set and you really seemed to kind of heat up after that, can you talk about getting into the match and the reason it took you a little longer?
JULIANN FAUCETTE:
Well, it's really hard to get some good swings when the passing tempos aren't there, when we're out of rhythm, if our passing's not there, then setting's not there and it's hard to get speed into the approaches, but it was a different block than we've seen for a while. It's a bigger block. And we haven't really played that many big players on the other side of the net, so it was hard to adjust at first, but I think it was just a mentality type of thing and you have to come out swinging regardless, so I clicked in at that point.
Q. Coach, was this loss similar to the early season losses or was it kind of in its own category?
COACH ELLIOTT:
No, I mean, this was better than the early season losses, I mean, Penn State had something to do with it. We just couldn't get comfortable. Some of that had to do with the size of their blocks, when you're not passing well, with their physicality, and we weren't able to — we were trying to attack higher seams and we were pulling the ball back in the block, and they were getting a lot of good touches because of it. Anytime you're not passing like we did against a team of that size, it's going to be a struggle. You've got to be — when it comes down to so much serving and passing and they've got a lot of good DSs [defensive specialists] they were subbing in and we didn't have that luxury on our side of the net. So when you have that many DSs [defensive specialists] to come in and substitute on their side to control that, they were a little bit better off in their situation and their rotations because of that.
Q. Jen, Amber and Juliann, seeing these guys close up, what does Cal or Southern Cal have to do to beat these guys, what can they do?
JENNIFER DORIS:
Just focus on their side of the net. I thought we came in with a good game plan, we just weren't able to execute well. Penn State's a very good team, they put the pressure on us, so hopefully whoever wins this match out there, they can execute and best of luck to them.
JULIANN FAUCETTE:
Yeah, I think it's all about the serve and pass game at this point. When you get to a high caliber level, everyone's physical. Everyone can block. Everyone can put the ball away, but it's all about defense and passing and serving, who can serve tests and get the system game going and who's better at a system, so each of these teams will have to be able to do that.
Q. Hoping all the players can answer this. How does this loss affect what you think about the season as a whole?
JENNIFER DORIS:
Well, I'm proud of our team because early in the season we lost and we could have either taken it and wrote the season off or we could have come together and we fought, and that's what we did. I'm extremely proud of the way our team stuck together through the entire year, and it sucks to be in here. It stings so bad knowing this is the last time that I'll ever be able to put on a Texas uniform, but I'm proud of our team for getting to this point. They're going to be very good next year, so I'm excited to watch them and I'll be one of those Longhorns texting Jerritt next year good luck as they hopefully get back to the Final Four.
JULIANN FAUCETTE:
This loss, it hurts, but looking back on the season and really recapping on what we have done, it's just been real exciting, really up and down, but that's what you want. You never think as a senior you want to have injuries and you want to have adversity in front of you, but to be able to overcome those. That's really what makes it sweet, and to be able to actually make the Final Four with the season that we had is not something that a program, I don't think could do. With our coaching staff believing us, with this team being so close, I've never had a group of girls so tight-knit in any of my teams in my volleyball career. Regardless of the outcome and the game, that stings. Looking back, the journey is what counts and I'm really, really proud of these girls. I'm really blessed to be able to have led this team and feel a part of such a tight-knit group.
AMBER ROBERSON:
I agree with J [Juliann Faucette]. I wouldn't say this game dictates our season at all. We've had a wonderful season up to this point. 
Q. Amber, you're going to lose Juliann [Faucette] and Jennifer [Doris] next year, but what have you learned from them over the course of this season in terms of leadership that you can bring to the team next year as a senior?
AMBER ROBERSON:
Obviously looking at them, you have to learn how to take control of a team at a certain time when there's young players and they're going to be looking up to you. You have to be the one to step up to that and be the one they can count on rather than you counting on them.
Q. Jerritt, can you say what you've learned from this season, how you apply it for next year and feel like you've established this program in Texas.
COACH ELLIOTT:
I take so much pride in our captaining program, our leadership and it's become a culture now. We've been able to build trust. We've been able to teach these players how to communicate, and most importantly, I would say my job is about managing people. I've taught them to become young adults and that's what I'm proud of, them leaving this program. These younger kids have got a lot more matches in them with this NCAA tournament. They learned a lot from adversity and going through that. It's something.  We'll continue to get back to the books. We'll be meeting the first week of school to reestablish and set new goals and figure out what we did really well this season and what we didn't do well, areas that we need to work on from their standpoint or to what we can help them be better at from our staff. It's always kind of going back and rewriting the book, but every year my mind management skills are less and less because of the quality of women that they've been able to establish over the years. We're going to keep getting back here and we're close to cracking this. We need to keep getting back and getting opportunities to do that. I believe our program is very healthy, but again, that being said, we have new players and the culture will change dramatically each year doing that. We have to teach them, as a family, what it means to be a Texas Longhorn and represent this university because there are standards and they all have to live by them in the same way.  That's what we've done really well.