Match Recap
The #17 Purdue Boilermakers tried to pull off a switcheroo on #1-ranked Penn State last night in West Lafayette — moving 6-4 Sr. OH Danielle Cuttino at MB, and 6-5 RS Jr. OH Sherridan Atkinson around the front row — which may have momentarily confused the Nittany Lions, but did not change the outcome of the match, taken by Penn State 3-1 (25-22, 25-14, 21-25, 25-10).  Cuttino finished the match with 15 kills and a .273 hitting percentage with three blocks, while Atkinson chipped in with 11 kills, a .269 hitting percentage and two blocks.  Purdue totaled 41 kills and hit .172.
Penn State put forth another solid team, with 6–2 Sr. RS/Opp Heidi Thelen recording a career-best 14 kills (hitting .542!!) with 5 blocks and 4 digs.  6-1 Sr. OH Ali Frantti led the Nittany Lions with 15 kills — including several thunderous hits. 6-1 Sr. OH Simone Lee totaled 13 kills and 12 digs, while 6-3 Sr. MB Haleigh Washington had yet another exceptional performance with 10 kills (.450 hitting %) and led the team with 6 blocks.  5-5 So. libero Kendall White, who was relentless on cover plays, led the team with 19 digs, and served very effectively.  The setter tandem of 6-0 Sr. Abby Detering (34 assists), and 6-0 Sr. Bryanna Weiskircher (20 assists) guided the Nittany Lions to 61 total kills and a .336 team hitting %.
The complete box score follows the Q&A with Talking Head, below.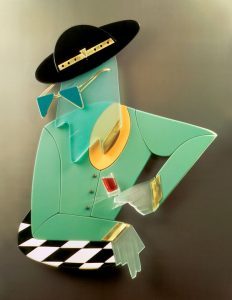 Q&A with Talking Head
We're talking with Talking Head, who played D1 volleyball and has coached the sport for many years, about the Purdue match and the Penn State Women's Volleyball team in general.
DigNittany: First things first: Purdue tried to pull a switcheroo on Penn State, moving Cuttino and Atkinson from their regular spots.  Your thoughts about those moves?
Talking Head: I understand them.  When you're playing against the #1-ranked team, sometimes you've got to throw that team for a loop, and especially a team like Penn State that's been playing so well the past couple of weekends.  I think that was the mindset.  But it could have just been about matchups.  Purdue can put up a very formidable block with Cuttino in the middle, and we saw that a few times in the match.  In terms of how it may have affected Penn State, they've seen Purdue play all season long, and do certain things, and then all of sudden the match starts and what you've been expecting isn't what's happening.  It can energize the team that does it — in this case, Purdue — and it can also hamper the production of the opposing team — in this case, Penn State.
But there were a lot of factors at play: Purdue was playing at home and they were moving well.  I didn't think Penn State was playing poorly.  In fact I thought both teams were playing solid side-out/side-out volleyball.  Both teams were going really hard and diving all over the court.  I thought the level of play for both teams was pretty darn high.  But when things settled down, you started to see the cracks in Purdue's game — some of which may have been created by those changes — with players not being totally familiar with where they were supposed to be, and where their teammates would be at any given moment.  Someone having to take an out-of-system crack at a ball when they're not really ready.  Indecision creeping in now and then.  I think all of that started to affect their ability to transition — certainly from the later part of game 1, through game 2 and into the early part of game 3.  It was clearly evident in game 4.
DigNittany: When Purdue was able to transition well and get relatively good looks to Cuttino and Atkinson, it seemed like those two were pretty much automatic.
Talking Head: If you can get them a clean, they are really hard to stop.  But there are other players like that throughout the NCAA.  The two Florida middles [6-4 Sr. Rhamat Alhassan and 6-8 So. Rachel Kramer].  So yes, those two are really good, but it was the whole Penn State system that really wore Purdue down.  We're getting swings on balls.  If Bryanna Weiskircher has to take the first ball, we are still getting a good set — whether it's from Abby Detering, or Kendall White.  Heidi Thelen, and Haleigh Washington, and Tori Gorrell and  Simone Lee and Ali Frantti are all playing really well without the ball and working hard, because they know that the person who is handling the first or second ball is working really hard to get them the ball.  I didn't see that from the Purdue team, and I think that may have been because of that lineup change.  The attackers were just a little bit unfamiliar with what was going on, and the people delivering the ball were just a little bit unfamiliar.  There setter, 6-1 RS Sr. Ashley Evans, had only 35 assists — in our two-setter offense, Detering alone had 34.  So the changes probably cut both ways, good and bad.
DigNittany: You just touched on this (no pun intended), but Coach Rose has said this year's squad plays more of a ball control game than in past years — not the biggest team, not the best blocking team.  Your thoughts?
Talking Head: That's one of the benefits of the maturation process of four-year players.  As I mentioned, we have three excellent second-touch players who are playing at a very high level — Bryanna Weiskircher, Abby Detering, and Kendall White.  If we keep the ball off the floor, they're getting somebody a decent ball to hit.  On top of that, I think all of our players are comfortable setting the ball and getting a hittable ball to the next player.  I've seen it from Haleigh Washington, I've seen it from Heidi Thelen, I've seen it from both of our outside hitters.  If those players have to handle that ball in an emergency, they know where to go — whether it's setting someone in the back row or setting someone in the front row, and they're setting a hittable ball.  I'm not sure many teams in the country are at that level.
Another thing is that the support system on defense is very high right now for Penn State.  When one of our players is going down to get a ball and pop it up, there's someone else going with them, knowing that the ball may not come up very high, and you've got to be there to support.  When a player is going up to swing, they know that they're being covered.  Yesterday there was a play where there was a reverse flow, and Haleigh Washington wasn't able to get all the way over to cover the block, but she still was able to get over and cover the play.  Purdue tipped, and Haleigh covered that tip perfectly, so that our setter could set the ball.  Penn State is supporting, and moving to the ball, and getting to the right spot.  Give credit to the starters who see most of the playing time, and to the coaches, and also to the backup players who are pushing the starters in practice every day.
DigNittany: Not to raise a sore subject, but to raise a sore subject, how was the Nebraska match different?
Talking Head: Those things weren't really happening against Nebraska.  But, Nebraska played great — almost a flawless match.  They got tremendous production from a player, 6-1 Sr. OH Briana Holman, who was questionable to play, and a great match from 6-0 Sr. OH Annika Albrecht, whose play has tailed off recently, but who played at a very high level against Penn State.  Right now, I think Penn State and Nebraska are playing some of the best volleyball in NCAA D1.
DigNittany: What is making the difference with Heidi Thelen's play this season versus last season, beyond the obvious "more experience"?
Talking Head: I can't put my finger on what's changed, but the ignition has started, and she's now driving the bus.  I think for awhile, she was more passive.  Right now, she's an active member of the offense, and we're trying to get her the ball.  That's a terrific sign for this team and for Heidi.  Kudos to her for saying "I'm going to be a difference-maker on this team."  And she really is.  Last night, she hit some really nice shots.  She hit some balls down the line.  She's seeing the block well.  Her footwork has really improved a lot, so that she's getting to balls — last night there was a set that was at a funny angle, kind of going outside the pin, and she got there and buried the ball.  She would not have been able to do that last year.  And her blocking has been really impressive.   Even when she's not getting the block, she's setting up a good block.  And that helps Kendall White and the rest of the team in the backrow.  You can't play effective backrow defense when the block is wide apart and not well-formed.
DigNittany: So, talk about the recent play of Kendall White.
Talking Head: Kendall White is a very important part of the team's formula for success.  She has been all over the court, and not only has she been getting the tips, but she's been getting them under control.  These Penn State players really like to play with each other, and they're celebrating, and feeding off of each other's performances and skill.  Kendall White embodies that.  She is definitely establishing an attitude of toughness and defiance, which is part of what the team is becoming.  Looking at the team last night — on the road, in a pretty hostile gym — and they were smiling, and laughing, but with an aggressive determination about them.  That's a really good sign for this team right now.
DigNittany: 5-7 Jr. DS Keeton Holcomb and 5-8 Sr. DS Lainy Pierce both played briefly, but they seemed like strategic substitutions, with a purpose.  Your thoughts?
Talking Head: Keeton did a nice job.  She passed pretty well, she defended pretty well, and she gave Ali Frantti a nice little respite.  With both Keeton and Lainy, they've been standing all match, and they come in, and there's pressure on them rev it up and perform.  And I think both of them were prepared to go in, and both of them did a nice job.
DigNittany: Final point — Ali Frantti has been playing really well.  Your thoughts?
Talking Head:  Ali Frantti clearly had some "pop" last night — she was generating some serious heat.  But what I liked about what Ali was doing was her hand torque.  She was turning her hand to a flatter ball — centimeters or millimeters to the right or centimeters or millimeters to the left.  That's what I'd like to see a little bit more from Simone Lee.  Ali was very tough to stop last night because she was hitting that high, hard seam, and was turning a hard angle.  Even the ones that she missed on the hard angle were barely out.  For me, those were good rips.  Those were not bad misses.  Ali looks energetic — I wish she'd chew bubble gum more, it seems to work.
DigNittany: Thanks so much.  We appreciate your time.
Match Stats
Courtesy of GoPSUsports.com