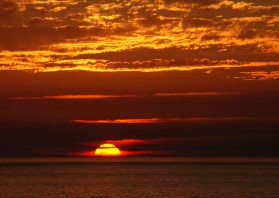 What Goes Up Will Come Down     
As the sun proves every day, what goes up will come down.  And last night, with Penn State's five-set loss (25-17, 14-25, 19-25, 25-14, 15-17) to Illinois at a sold-out Huff Hall, another Penn streak came to an end.  This time it was the 65-match Big Ten winning streak.    
This isn't entirely a bad thing, because even though the target probably isn't completely off of the Nittany Lion's collective back, the end of this streak means that another ghost from the past has vanished, leaving the Nittany Lions with one fewer distraction as each of them focuses each day on getting better individually and on playing better as a team.     
Perhaps because Penn State had a match point opportunity at 14-13, and was unable to convert, there was internet chatter by frustrated and, in some cases, angry Nittany Lions fans that PSU "blew it."  Would they have been happier if Penn State had lost in four sets?      
Although Russ Rose undoubtedly had, and will have, some pointed comments for the team about missed opportunities and ways in which they could have played smarter and better to give themselves a better chance to win the match, we think it's way over the top for a fan to be angry about this loss.     
Without intending to make any excuses — the simple fact is, Illinois was the better team last night and beat the Nittany Lions fair and square — last night seems, to us, to be the prototypical situation in which Coach Rose told us his young team might experience a "bump in the road" during the course of the season: a match on the road, against a very talented Illinois team, in front of a packed house, with almost everyone wearing orange and yelling their lungs out to cheer on the Illini.    
Could Penn State have overcome those odds and won?  Of course.  Will they need to win in situations like that if they want to contend for the NCAA Championship?  Absolutely.  Does their failure to do so last night doom them to failure for the rest of the season?  No way.      
And, amid the gloom of the defeat (gopsusports.com called it a "setback"), there were bright spots.  Senior Arielle Wilson hit .536 (which, astonishingly, is below her .540 attack % average for 2009)  on her way to racking up a match-high 17 kills.  Alyssa D'Errico had a personal career-best 26 digs (and received a number of call-outs from the Illinois radio announcers admiring her play — though they repeatedly mispronounced her last name and said she was from Byron, New Jersey rather than Byron, New York).   Blair Brown managed 16 kills but hit only .151.  And Penn State hit .229 while holding Illinois to .198.      
But  the bottom line statistic is this: Penn State lost three sets.      
For the complete match writeup from gopsusports.com, Click Here.     
Match Statistics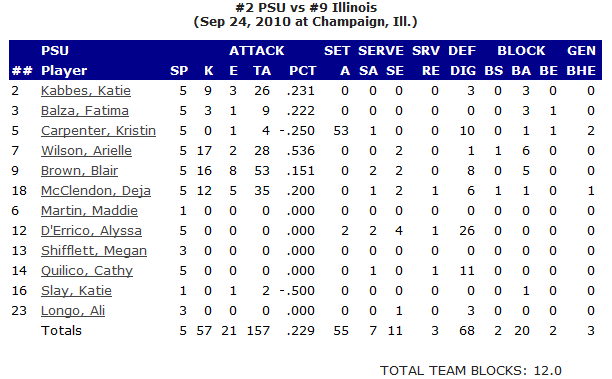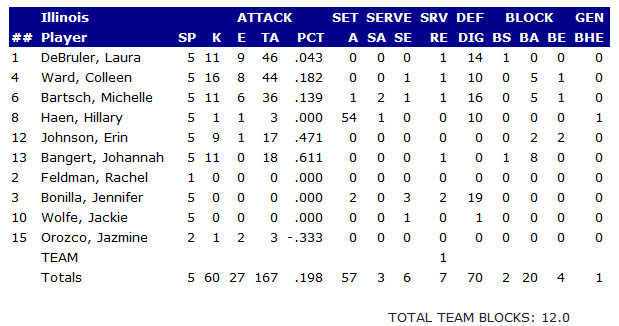 What Goes Down Will Come Up     
Just as we are confident that the sun will rise tomorrow morning (click below for a short, but excellent example of what we anticipate in the sunrise department), we also are confident that Penn State will learn from the loss to Illinois and become a better team for it.  Not that we wouldn't have preferred the Nittany Lions to win.  Come on, we're fans!  But this is a young team that is still learning how to play together.  Give it time.  In the meantime, enjoy the sunrise.