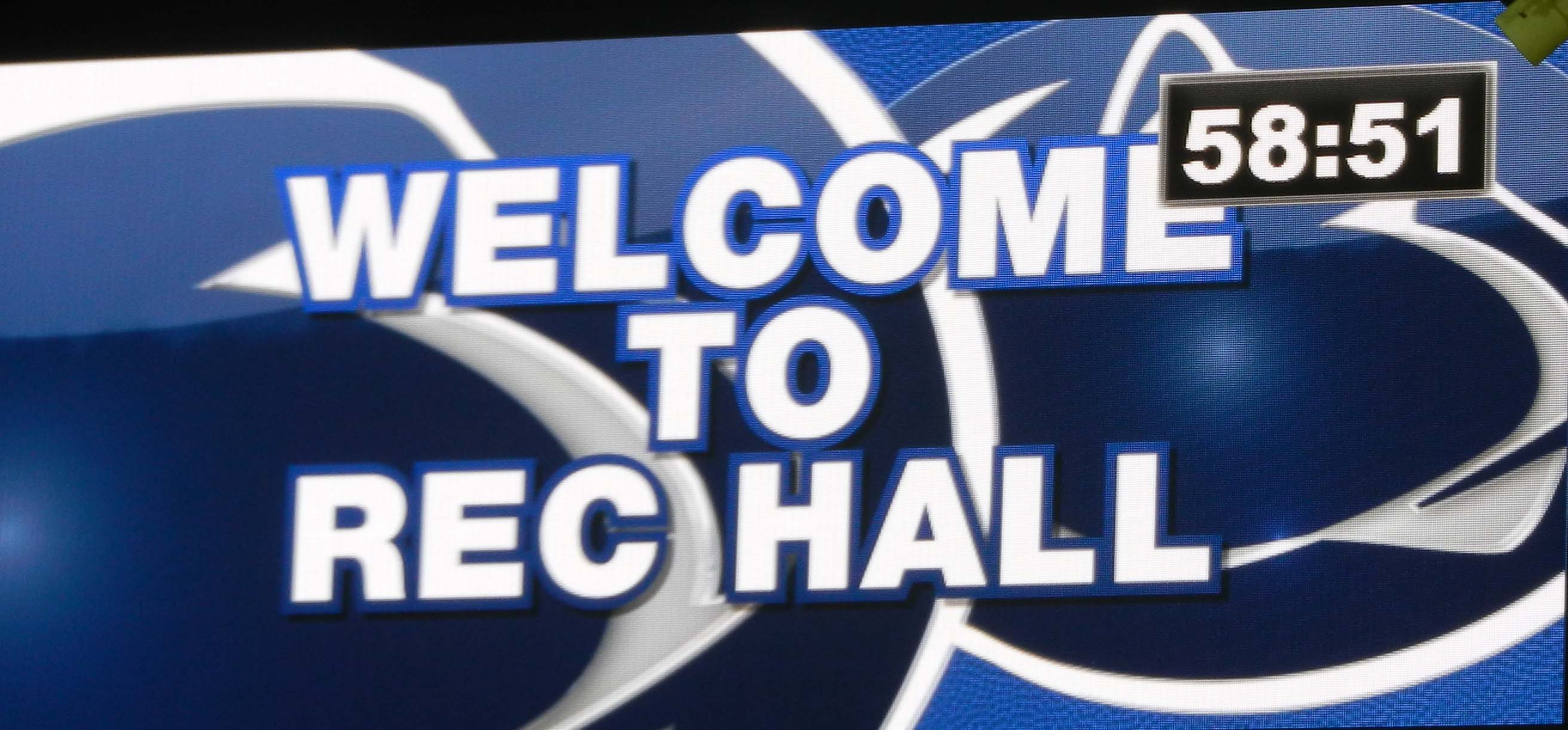 Upset Saturday (and Sunday)
Wow, that was fast!  The AVCA August 13th preseason coaches' poll had UCLA ranked #1, with 54 out of 60 possible first-place votes.  By August 27th, after only one weekend of play, the Bruins had dropped to #3 (with one hold-out first-place vote), after having lost to Nebraska, 3-2 (25-20, 25-23, 23-25, 19-25, 15-13).  The Huskers were rewarded in the AVCA's August 27th poll with the #1 ranking.  Penn State, which was ranked #3 in the preseason poll, is now ranked #4 (with one first-place vote — is that you, John Dunning ? Or you, Jerritt Elliott?).
Meanwhile, then-#6 Stanford, which will face Penn State Friday evening in the Nike Big Four Volleyball Classic, lost to then-#8 Hawaii 3-1 (17-25, 25-23, 25-15, 25-17).  In the AVCA's August 27th poll, Hawaii is ranked #6 and Stanford is ranked #9.
Texas, Penn State's other opponent in the Nike Big Four, continues to be ranked #2 (but it added 23 first-place votes, for a new total of 24).
What does this mean for Penn State in the Nike Big Four?  Zip, nada, nothing — or, put another way, it certainly doesn't mean Penn State will have an easy time with Stanford.
Stanford was a really, really good team before its weekend loss, and it is a really, really good team now.  It may be an even tougher opponent than before the loss to Hawaii, with Stanford wanting to prove that the loss was an aberration.
And Texas?  Texas received 24 first-place votes in the AVCA poll for a reason — they are a great team, and so far this season, they have been unstoppable.  They will be very tough to defeat this weekend.
So bring your "A" game on Friday and Saturday, Penn State.  Stanford and Texas certainly will.
Lost Weekend for Illinois? (We Don't Think So)
Illinois was ranked #7 in the AVCA's August 13th preseason poll, and #5 in the B1G's preseason coaches' poll, which left many people (including us) wondering whether there really were four teams better than the Illini in the B1G.
We still don't know the answer to that question, but after dropping back-to-back matches in the Dayton Flyer Classic — 3-0 to host Dayton (25-14, 25-17, 25-21) and 3-0 to then-#11 Pepperdine (25-15, 25-21, 25-20), Illinois must have been wondering whether anyone got the number of that truck.
Still, it's a bit premature (actually, alot premature) for the Illini to panic.  With the graduation of Colleen Ward and Michelle Bartsch, Illinois knew it would have alot of adjustments to make, and that takes time.  And Illinois did defeat Ohio 3-1 (25-23, 19-25, 25-22, 25-18) in its final match of the tournament.
So we're still penciling in the October 6th match between Penn State and Illinois in Champain-Urbana as one to watch, against a team that will be very tough.
It's going to be an exciting year in the B1G.
Q&A With Coach Rose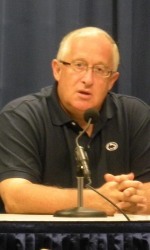 Photo courtesy of GoPSUsports.com
DigNittany: Before the season started, and throughout last year, you spoke about the team's need to develop leadership, to communicate better, and to overcome adversity.  It's still very early in the season, but what are your thoughts on the team's progress in those areas following the matches against Morehead State, Western Kentucky, and Louisville in the Active Ankle Challenge?
Coach Rose: Leadership shows itself when things get tough.   We will have a much bigger test this weekend, as Stanford and Texas are two teams that not only beat us last year, but have great talent and coaching.  The loss of the seniors and transfers was noticeable to me last weekend, but each team has its own pulse and we'll see how things evolve.
DigNittany: You've said that Ariel Scott will be one of the major keys to Penn State having a successful season and placing pressure on opponents.  She won the MVP award at the Active Ankle Challenge.  She certainly impressed the other coaches.  What are your thoughts?
Coach Rose: I thought Ariel had a good weekend and is one of our key players both offensively and at the net as a defender.
DigNittany:  At the Active Ankle Challenge, Deja McClendon was playing in her hometown, Louisville.  Do you think that placed added pressure on her, and were you pleased with her performance?
Coach Rose: I thought Deja did a very good job of handling the pressures of going home and playing a major role for our team.
DigNittany: Moving from high school/club to college is a big adjustment.  True freshman Megan Courtney started the Morehead State and Western Kentucky matches and played sparingly against Louisville.  The other freshmen (Lara Caraway, Paulina Prieto Cerame, and Kendall Pierce)  saw limited playing time in the tournament.  Are the four freshmen developing as you'd expect?
Coach Rose: I think the biggest challenge for the freshman is the physical nature of both the pre-season and the speed of the game.  We also have to monitor their energy levels, as they normally are wrapping up their high school seasons in November and we still hope to have a strong conference finish and then the NCAA's.
DigNittany: Thanks for your time, and good luck this weekend.