Russ Rose is a perfectionist —  he always demands more (and has the vision to know what "more" can be).  So we're not surprised that even after Penn State swept Michigan Saturday night, hitting .330 for the match, with nice performances by Katie Slay, Nia Grant, A. Scott and Deja McClendon up front, and Ali Longo and Dominique Gonzalez in the back row (and three service aces by Micha Hancock), his focus was on where the Nittany Lions need to improve. 
Case in point, in an article by Gordon Brunskill in the Centre Daily Times, Rose had this to say about Hancock: 
Her distribution's getting a little better.  She has to do more than distribute the ball. She has to serve a little tougher than she did tonight, keep the ball in play, she has to play defense — tonight was a really bad defensive performance by her.
Nor were his comments limited to Hancock.  Coach Rose sees big room for improvement across the board:
I haven't been confident with this team all year.  All I'm confident in … we finished the first half of the Big Ten (schedule) and we got better in some areas and we still are floundering in some other areas.
For the complete article, Click Here.
His comments in an  interview in the Daily Collegian with Stephen Pianovich echoed that theme: 
We've gotten better in some areas and we're still floundering in some other areas.  We'll have to be in a situation where were playing a little better next week. We'll have to up our level of play at all positions and hopefully some of the younger kids will get healthier and get a little tougher and we'll be able to go out and win some tough matches.
For the complete article, Click Here.
If our Russ Rose Decoder Ring is working (and to date, it has worked only by chance), it sounds like he believes a win against Nebraska on Saturday is possible, but the stars will have to align in just the right way, plus Penn State will absolutely have to bring its "A" game in all sets, or they will lose.  Maybe lose badly.
Our decoder ring says he doesn't see any point in sugar coating that reality.  He wants this team to battle hard — as a team — every point of every set of every match, and that it will take that kind of competitive fire to reach the team's potential.
That will mean communicating, communicating, communicating.  Cutting down on attack and service errors (but still serving tough — so easy to type; not so easy to do).  Improving serve-receive, and mounting a consistent block. 
We'll have more on all of that later in the week.
Match Stats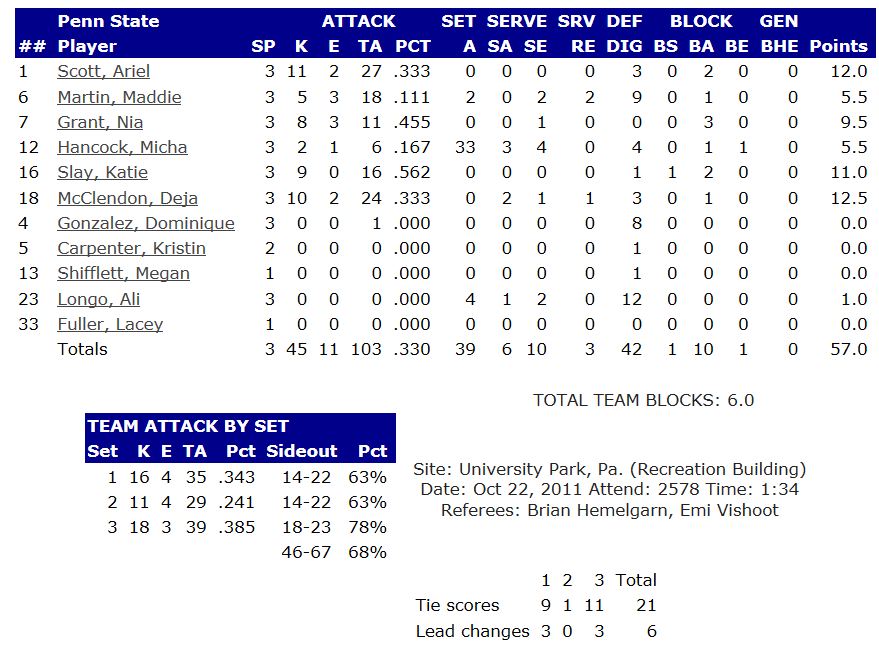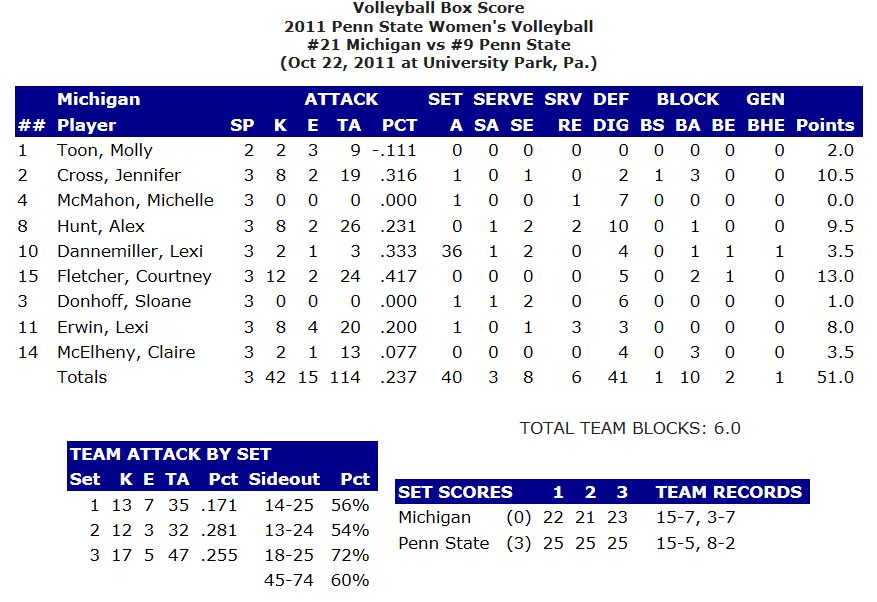 Micha Hancock Interview (Post-Ohio State Match)
Here's a short interview with Micha Hancock after the Ohio State match.  Our favorite quote:
We see our ceiling and we're trying to reach it.