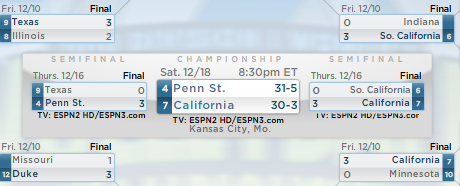 The Match: Penn State (31-5) vs. California (30-3)
When & Where: December 18, 2010, 8:30 p.m. ET.; Kansas City Sprint Center
Media Coverage: TV: ESPN2 HD (live); Streaming Video: ESPN3.com ; GameTracker
Match Snapshot
We both have earned the right to be here.  You can't really compare them like that, but I think that [Penn State's loss to Minnesota in five sets in its regular-season finale, compared to Cal's sweep of the Golden Gophers in the Seattle Regional semifinal] helps us with some of our confidence. We know that that team is not unbeatable.  (California's Head Coach Rich Feller, on tonight's NCAA Final match with Penn State)
I think most matches come down to how the team is playing.  So if you're playing well, you have  a chance to win, if you don't, you don't.  It doesn't matter who you're playing.  We have to play well.  The statistics from the beginning of this season for both teams are not as relevant as the post-season statistics, and even those sometimes are misleading.  We've had matches where we've lost the stats and won the match, and vice versa.  (Penn State's Head Coach Russ Rose, on the statistical similarities between California and Penn State).
If you go by statistics, Penn State probably shouldn't even show up for tonight's Final match against California.  Well, admittedly that is a bit of an exaggeration, but, as Rich Feller pointed out, Cal swept Minnesota in the Regional Semi-Final, while Penn State lost to the Golden Gophers in the last match of the regular season.  OK, Penn State's match was at Minnesota, and Cal's win was on a neutral court, but a loss is a loss is a loss. 
More to the point, Cal hasn't lost a set in the NCAA Tournament.  Penn State has only lost one, but it was at home.  Cal is 30-3, led by 5-11 Sr. S Carli Lloyd, who is only the National Player of the Year and a 1st Team AVCA All-American, and 1st-Team AVCA All-American 6-3 Jr. OH Tarah Murrey, who Penn State Head Coach Russ Rose says could have stolen some votes from Lloyd for the National Player of the Year award.  Sure, Penn State has 6-5 Sr. Opposite Blair Brown (the Big Ten Player of the Year) and 6-3 Sr. MH Arielle Wilson (both AVCA 1st Team All-Americans), and 6-1 Fr. OH Deja McClendon (National Freshman of the Year), but heck, Cal was ranked #4 in the November 29th AVCA poll, and Penn State wasonly  ranked #8. 
So, plenty of observers have mailed this in as a victory for Cal.  They don't think Penn State freshmen 6-1 OH Deja McClendon, 6-5 OH Ariel Scott, and 6-6 MH Katie Slay, who against Texas combined for 24 of Penn State?s 45 kills and 12 of 19 blocks (led by amazing Deja, who had 11 kills on 15 swings, no errors, and hit .733 for her season's best attack %), are likely to repeat that performance.  And they don't believe the Penn State seniors — Brown, Wilson, 5-9 Sr. L Alyssa D'Errico, 6-3 MH Fatima Balza, and 5-1 Sr. DS Cathy Quilico, will be able to make up the difference.   
The "Penn State is done" narrative has one more theme: the comparison between the setters for the two teams: Cal's Carli Lloyd and Penn State's Kristin Carpenter.  During the pre-season, Carpenter wasn't expected to be Penn State's setter — she was slotted for duty as a defensive specialist/libero, but she stepped in when other options weren't working out, and has kept on improving as the season progressed.  One observor put it this way: he doesn't look at her as a setter as much as a great player and competitor who is setting. Listening to the announcers during the Texas match, she clearly has earned the respect of many people in the volleyball world.
But, having said that, Cal's Carli Lloyd clearly is the better setter, so Cal has the advantage there.  As another observer put it, if this comes down to which team has the best setter, Penn State is in trouble.  But Kristin Carpenter doesn't have to be the best setter for Penn State to win — she just has to be good enough.
We think it's almost a toss-up, with the gravitational pull of the court probably leaning slightly in Cal's direction.  So if we were following our head, we'd say Cal wins in 4 or 5.  But we're fans, and we also know its not just about the players, it's also about how well those players are prepared, and which team is better able to adjust to what happens during the match.  
When adding Coach Russ Rose (who we think is the best coach in Division 1 Women's Volleyball) and his staff into the calculation, we think the balance tips ever so slightly in Penn State's direction.  So we"re going to go with Penn State, in an Instant Classic, 5-set victory.  We'll be the ones in the intensive care recovery room, with oxygen tubes and all sorts of wires going everywhere, but a happy look on our face.
Expect the Great
No, this isn't about overconfidence.  It's all about positive thinking and great expectations.  So go on, clap clap clap your hands and cheer on the Penn State Women's Volleyball team!
Video Match Preview (Courtesy of GoPSUsports.com)
Here's what Penn State Assistant Coach Kaleena Davidson had to say about tonights match:
Pre-Match Press Conference
Here's a video of Penn State's Friday press conference:
Penn State and Cal Press Conference Transcripts
Penn State Head Coach Russ Rose

Opening Statement
(Cal) is a great representative of a strong conference.  We recognize that we're going to have our hands full.  We've played Cal for the last three seasons, so we have some familiarity with some of the players.  Certainly, as I watched them play yesterday, I thought this is the best Cal team that we've played.  Of course, it would be easier for them to judge that.  They have two players, as we have, that could be stealing votes from each other for the Player of the Year in Carli Llyod and Tarah Murrey.  They have a great system, and defensive package that allows them to cause a lot of teams problems.
On statistical similarities of Cal and Penn State
I think most matches come down to how the team is playing.  So if you're playing well, you have  a chance to win, if you don't, you don't.  It doesn't matter who you're playing.  We have to play well.  The statistics from the beginning of this season for both teams are not as relevant as the post-season statistics, and even those sometimes are misleading.  We've had matches where we've lost the stats and won the match, and vice versa.
On scouting Cal
I don't have a great scouting report (on Cal) right now.  I didn't come into the weekend with a good knowledge of anything except what we needed to do against Texas.  I wasn't going to take away from the Texas preparation by thinking about Cal or USC. Since yesterday, I've spent a lot of time looking at Cal.  I'm not finished with my scouting report.  I don't really have a definitive answer on how to beat them, but I'm sure we're going to need our players to play well.
On intimidation of Penn State
I don't think (the other teams are intimidated).  I think what's happened has happened, and doesn't really impact the future.  I look at it (beating Cal in past tournaments) like that was then , this is now.  (The)two teams are totally different.  We have new players, everybody has new players. What we have in our program is that we work hard, and have certain core beliefs about competition in what our expectations are and what we do control, but I really don't look at it like we're in the head of the opponent… Every match is different.  You can't really predict things.  In the past few years when we had a few players that had the attitude that they could take all comers, it was maybe a little bit different than the confidence level that this group has.  (This group) has had some trouble, has lost some matches, has had some sand kicked in their face, and you have to get back up.  This group is totally different.  I don't start this season with last season's notes.  I start the season every year with a new book, new players, new scenarios, … everything's different.  I think it's great (for this team).  I hope they're enjoying it.  I hope they come out and play a good match.  Our goal is to win.  We're going to go out and play as hard as we can.
Jr. OH Katie Kabbes
On the break between matches
I think it's nice having the day break.  It kind of let's us refocus and know what's us ahead, but like coach said, our coaching staff is taking that time to prepare for Cal.  This is kind of nice for us.  It's not really a nerve thing.  I think it's more time to get excited and focus on the match that's ahead.
On advantage of defeating Cal in last three NCAA Tournaments
I think it gives us a confidence boost.  We have a lot of young player that don't know what it's like to play Cal at this stage in the game, so I think it's good for the older player to have experience with Cal, so it gives us a lot of confidence going in knowing that we've handled them in the past, and that we can do it again as long as we come out and play our best.
On pressure of winning fourth title in a row
The players before us have left a wonderful legacy that we were a part of, a few of us, now going for that fourth title, it's what we want, it's what we worked so hard for all season.  They left their legacy, we want to leave ours.  Hopefully, we can do that tomorrow night.
Sr. L/DS Cathy Quilico
On the break between matches
To get a lot a rest and to be able to watch film on Cal and have another team practice to get our focus back on a different team and a different everything.
On how you prepare defensively for Cal
I think our coaches our good at our scouting reports, and they'll tell me where I need to be standing when I need to play defense against an opponent.  I don't think you can compare them to any team in the Big 10 because everyday, I go, my goal is to dig the ball and pass the ball so well.
On advantage of defeating Cal in last three NCAA Tournaments
Each year it's a new team.  We're a new team this year, but there are upper classmen that have played them the last three years, and they have people at Cal they know we have beaten them the last three years, and at the same time, tomorrow's a whole new match.  We both have different teams.
On pressure of winning fourth title in a row
I don't think there's any extra pressure.  We work hard everyday, and we're glad to be here in this position, and hopefully win another national championship, but I don't think there's any added pressure.  We go into practice the same.  Our team works hard everyday in practice.
Sr. DS Jessica Ullrich
On the break between matches
I just think it's a great time for us to get refocused and get prepared for the match ahead, get our girls rested and ready to go for Saturday's match.
On advantage of defeating Cal in last three NCAA Tournaments
It's a whole  new ballgame when it's two new teams going to play each other tomorrow night, so we've got the 2010 season.  This is a totally new group of girls that we all haven't played Cal together, so we just looking forward to our first opportunity to do that this season.
On pressure of winning fourth title in a row
I don't think the past can affect us here.  I think it's awesome what everyone's accomplished.  Penn St. has a great tradtion of winning.  But this is our team now, and this is our legacy and both Katie and Cathy stated that this year is what matters for us.  We're just focused on this weekend, and we look back and hopefully make a lot of Penn St. people proud.
Head Coach Rich Feller
Opening statement
Obviously it is a great pleasure and honor to be here and having the opportunity to compete for the National Championship tomorrow night. It's great to be facing Penn State. They are a very great team with an amazing tradition. Coach [Russ] Rose and I have known each other for probably 30 years. I was an assistant at UOP [University of the Pacific in Stockton] and coaching a sports festival team and he was already the head coach at Penn State and the head coach at the opposing team. I can vividly remember this guy pulling a  referee stand and pulling in on to the court because there weren't any boxes for coaches to stand on. He was standing on that referee stand hitting balls at his players repeatedly. I was thinking, 'that's an innovative good coach'. I think it's a great story that the only team we have lost to in the NCAAs in the last three years is Penn State and now we have a chance of redemption. I'm very excited; I know the team is very excited. It should be an outstanding match tomorrow night.
Compared to other three Penn State teams faced in the past, compare to this team to other teams faced
They've all been great. Any team that is playing in December, at this late stage is a worthy team to be here. They have had some changes in personnel, but they have a couple players that were on one, two or three of those championship teams. They be a little less experienced than last year's team, but certainly they are not really less experienced than the first championship team they had. It's all about how you play that night. It's a good team; they're big. When you get out there you'll see a size difference between them and us, but that doesn't matter to us any more. They are all very good at each of their positions.
On going into Cal versus the other Pac 10 teams and getting to this point
I accepted the job because of the challenge and opportunity. Cal is such a great academic institution and is in the heart of a lot of really good volleyball programs. The Pac 10 obviously speaks for itself with all of the championships that they have had up to that point and had won after that.
I really felt that with the quality of the education, the school itself and the athletic department, there was a chance to do something special there. I knew it was going to take some time. I brought in probably the best recruiting coach in the country, Chris Bigelow. That was my first recruit. We had to go about finding recruits that athletically could at least see eye-to-eye over the net with the likes of USC, UCLA and Stanford, and maybe learn the volleyball skills down the road. Slowly we built that program to be better and better volleyball players that were also the athletes and pretty soon some top athletes like Carli [Lloyd] and Tarah [Murrey], and others before them, wanted to come to Cal because we had a little bit of a history building. Certainly it's rewarding for me to look back on 12 years of hard work and now be in a position to win a national championship with this group here. They will leave a legacy as their predecessors have that Cal is one of the top collegiate volleyball programs in the country. Maybe this year we can say we are the top.
It has definitely been worthwhile. I am a Northern California guy, that's my roots. My dad is a Cal grad. I grew up watching Stanford and Cal play each other. That was kind of a dream come true, to come back and now this is kind of living it out to the end.
On Tarah [Murrey] and Adrienne [Gehan] being in the zone against USC Thursday
Yes, we had players, Tarah included, in the zone like that frequently. I don't know if in the zone in quite right, I'm not sure I would use that, but it's related to the whole sequence of events that lead up to Tarah finally terminating the ball. It's a pass or a dig or a set location. It's knowing the defense on the other side. Quite often one of the unseen things, is Carli [Lloyd] is seeing what their blockers are doing. So she's feeling that there is only going to be one blocker out there or the blocker has hesitated. Tarah and Adrienne are really good hitters. They can see the block, they can accelerate their arms, they can change their approach a little bit. Carli is a great setter who can locate the ball where they can seem to be in the zone. I thought that was a great performance. We didn't connect a lot with our middles last night with the scheming that they [USC] were doing. It didn't matter because the middles were holding long enough to have free reign out there for a little while.
On the two setters Saturday night, Carli [Lloyd] and Penn State's Kristin Carpenter, and how they impact the match
The one thing that is obvious is that the setter touches every other ball. She's the intermediate contact in the game of volleyball if you have a three-contact rally. Quite often that contact is error correction. She's making up for something that wasn't quite right if it was an off pass, the dig is off, something not perfect; she's making up for someboy else's mistake. Both Carli and Carpenter are fast players. They are quick to the ball. They can accelerate and go get a bad pass or they can jump high and get a ball that is tight to the net. They both have a bigger impact on the sport than some might think. They call every play. There's 15 seconds between serves. They're like a quarterback who has a huddle, who gives the play and gives assignments. Well, they don't have a huddle. They call a play in five or six seconds in an accelerated, action-packed event. They have to tell each hitter what play to run. You'll see Carli hold out her shirt and call signals. Every single time there is a serve, Calri is making a decision and calling the play. In the split seconds of the pass to the setter's hands, making the decision of who to set out of that called play. There's a lot of activity going on in between plays and between whistles.
On how the sport has changed with a libero
The libero position has certainly changed the sport. It gives the opportunity to have a defensive minded player in there 11.5 rotations out of the 12. It gives you an opportunity to maybe put someone in a place to dig more balls. We find it interesting that Penn State and Cal use a three DS system. We both have a libero and use two defensive players. There's some similarities there. Coach Rose and I have discovered that for our specific teams, it's a good system that works for us in many rotations. It creates more rallies. We're a pretty good blocking team, so if we don't' stuff a ball, we're getting a touch or channeling and that gives the defensive players opportunities to make some smaller moves to get balls. We have lived on that this year quite a bit. It gives us opportunities to give the ball to Carli [Lloyd] to run our offense the way we want to. It's been a pretty good formula for us.
On Penn State's intimidation factor versus Cal's confidence level
We're confident. We're not over confident and we are not going to assume that we're going to do anything until we do it. Penn State has for sure, I think, intimidated teams in the tournament in last four or five matches. They are a great team. There are two teams left standing right now. We both have earned the right to be here. We had three stumbles during the course of the year; they had five. It's hard to say. They lost to Minnesota in their last match in five; a very tough match. We beat Minnesota in three in the regional. Is that the same two teams? You can't really compare them like that, but I think that helps us with some of our confidence. We know that that team is not unbeatable. We have a lot of trust in ourselves and in our teammates. If we do our job, we can beat anyone.
Who does Penn State remind you of from Pac 10?
USC. They have two big left sides, big middles that hit over the block, a good setter and good defense.
Sr. S Carli Lloyd
On wanting to face Penn State after having suffered season-ending losses to the Nittany Lions in three consecutive years
We're really excited to play Penn State. They've been a good competitor the last three years. When we were watching the bracket and saw that they were on the other side of the bracket, we wanted to meet up with them at some point. I think we're ready for it. Yes, it's Penn State. Yes, they're a good team. But, again, it's just another volleyball match and we'll be ready to play.
On the decision to play volleyball at Cal four years ago
When I was doing my recruiting process, my uncle was by my side. When I was doing my unofficial to Cal, we left there with a really good feeling about the coaching staff, particularly [Cal head coach] Rich [Feller]. My uncle was very comfortable with him and and he felt like he would be a good coach to leave me with, since it would be my first time without him by my side. I wanted to be part of an up-and-coming program. My uncle and I talked about it and I wanted to be a part of the first national championship that Cal would get. I've really enjoyed my four years here. Obviously, academics were important as well and there were a lot of things that go into it, but I wanted to be part of a good team. Angie Pressey was a big idol at the time and I wanted a year with her as well.
On the match-up with Penn State on Saturday
Penn State is like a lot of teams we have played. I feel like they have a handful of big guns that are going to need to be slowed down to be effective on our side of the net. I want more time to scout them – I feel like I haven't seen enough of them yet. We've got two days, so I'm excited about that. We will definitely be ready by tomorrow night. It's just another volleyball match. Yes, they're a good team, but it's more about how we go out there and execute our game plan.
On playing in the Sprint Center, a bigger arena than Cal is used to playing in
The difference is that the fans aren't as on top of you as they are in the Pac-10. When we're in the Pac-10, we get a lot of heckling and a lot of fans in our ears all the time. The fans are really close to the court. I feel like this year, I really haven't noticed crowds as much as in previous years. Last night, I don't really even remember the crowd. When we're out there, we're in the zone. It's like tunnelvision.
Jr. OH Tarah Murrey
On the match-up with Penn State on Saturday
Penn State is a great team, but we're very excited to play against them. We're going to have some good scouting reports, and this is a great arena to play in. I think both teams are very excited to play against each other. We're ready to win a title, so I think that if we just focus on our side of the court, have fun and play for each other, that it will be a very successful night for us.
On being 'in the zone' against USC on Thursday night
Setters, I feel like, are kind of behind the scenes and they don't get all t he glory. Carli [Lloyd] is an amazing setter and she really puts up amazing sets. I felt like I could see the court so much better because she was dishing out such great sets to me and Adrienne [Gehan]. We work together so well. Her defense – along with the other defensive specialists – they just pick up the ball well. She runs a great offense and we just want to go out there and perform well for her and for our team. I think all of us were in the zone.
On how senior setter Carli Lloyd impacts her team's matches
Carli just has really good anticipation and a keen sense for how fast or how slow the hitters are coming to her. I feel like when I pass the ball and when I go into my approach, I go faster. For some reason, she just knows to set me faster or to set me higher, or to pull me in more to get past the blockers. She makes up for so many of our off-digs or our plus-passes and turns them into in-system plays, so she's very important to this team.
On playing in the Sprint Center, a bigger arena than Cal is used to playing in
[The fans are] really just is so far away and it's so big that it really does feel like it is just us on the court. Everyone just wants to see a great match. Obviously, you have your teams that you are rooting for, but the fans are very respectful. When they see a really good rally and then a great kill, whoever won the point is going to be cheered. It's cool to be in a gym where people really know volleyball, so it's a lot of fun.
On the importance of defense and the impact it plays in a match
With our block, I feel like the front row and back row really work well with each other. We try to be a successful, functioning unit as much as possible. Each hitter really appreciates the digs. We just really play for each other and it's so fun.
On Cal's confidence heading into Saturday's championship vs. Penn State
Our confidence lies within our training and the tons of reps that we've all done, and how hard we've worked in the spring and in pre-season. I don't think it's an intimidation factor or anything like that. We put our confidence in how hard we've worked together as a team. That's what we base our preparation on.
Sr. L Megan Schmitt
On the decision to attend Cal, with both her parents being Cal graduates
I knew pretty much my entire life that I wanted to go to Cal. It's been really nice having both my parents come to all these games to experience it and root for the Bears, just like they did when they were there. It's been really nice.
On playing in the Sprint Center, a bigger arena than Cal is used to playing in
Last night was the third time we have played on that court since we've been here, so we were pretty much used to the setting. I feel like we all felt really comfortable.
On the importance of the libero and how that position can impact the match
Our assistant coach Sam [Crosson] always stresses that if you can play it, go for it and get it. It took us a while to get that in our heads, but having that mentality really allows us to get more balls. Robin [Rostratter] is playing so well this season. Having a great block put up really makes digging that much easier.