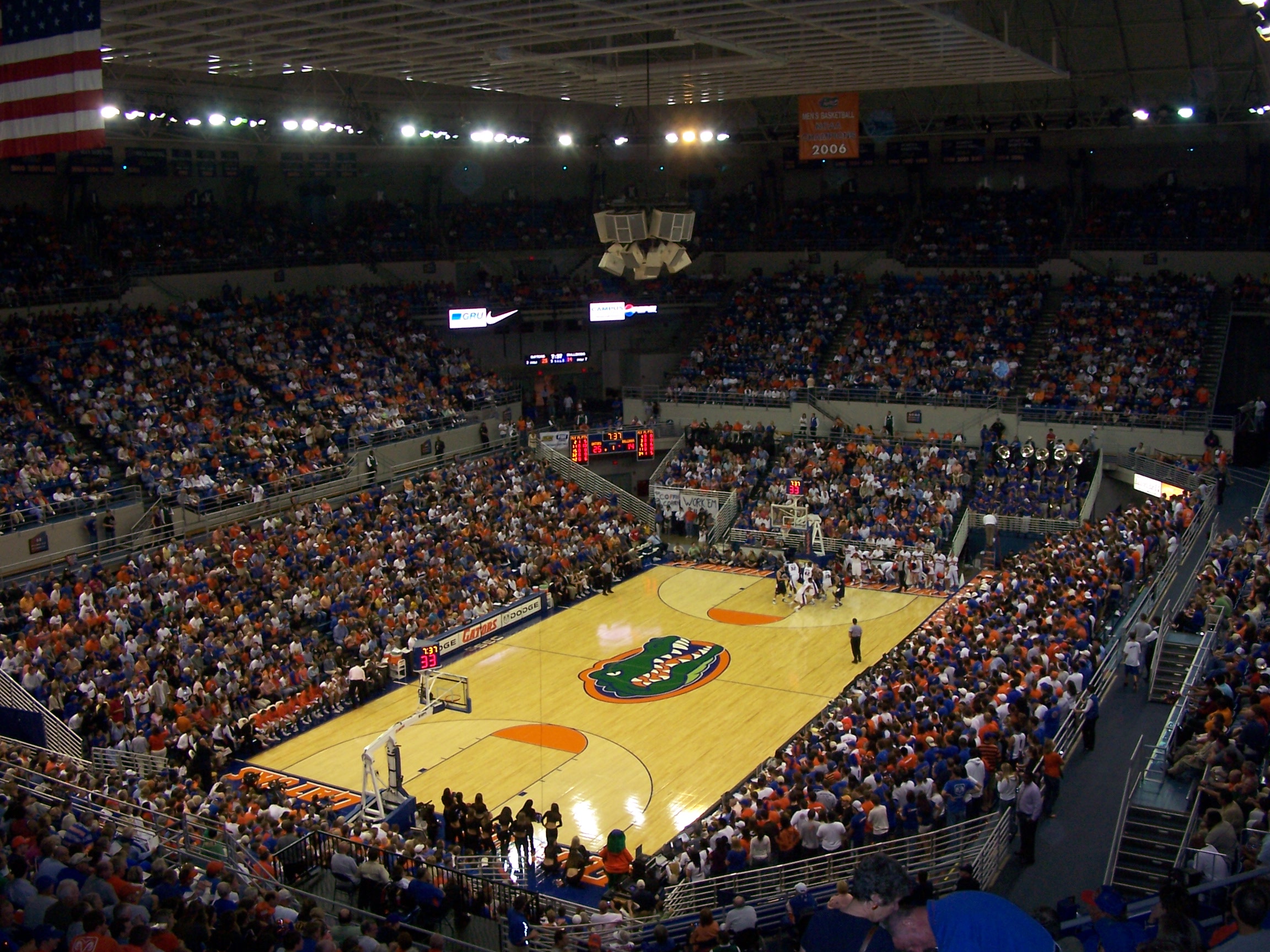 We asked two volleyball fans – Thrill of the 'ville (in case you hadn't guessed, a Florida Gators fan), and MaskedFan, DigNittany's resident analyst (and a Penn State fan) — to give us their thoughts on what to expect, and why, in Friday's match between the University of Florida and Penn State University in the Nike Volleyball Big Four Classic, and they kindly accepted.  Here's our Q&A with these two fans:
DigNittany: Penn State lost as much star power as any team in the country when Megan Hodge and Alisha Glass  took their NCAA Championship trophies and All-American awards and moved on to the U.S. National Team (not to mention the injury to Darcy Dorton).   Still, they have First Team AVCA All Americans Blair Brown , (Sr., Opp., 3.56kps, .345 hit %, 2.00 dps, 1.06 bps) and Arielle Wilson, (Sr., MH, 2.67 kps, .472 hit %, 1.22 bps), and standout defender Fatima Balza (Sr., MH, 1.69 bps, 1.15 kps)  returning, along with  backrow stalwarts Alyssa D'Errico (Sr., L, 5.22 dps, 0.94 saps) and Cathy Quilico.  Newcomer   Deja McClendon (Fr., OH, 3.67 kps, .413 hit %) and sophomore Kristin Carpenter (So. S, 9.59 aps, 2.12 dps) also have played big roles in the first two weeks of the season.  Who do you look at as the keys to the match against Florida?
MaskedFan: Very simple – Deja McClendon and Kristin Carpenter. It's pretty obvious that Deja is playing a huge role for PSU this season, very similiar, in fact, to the role Megan Hodge played in 2006 as a freshman: primary passer and a go-to player. She's going to be targeted by the Florida servers – that is a given. Deja is going to need to play very well and have a good passing match in order for PSU to have a chance. She's done well so far, but Penn State has not played a team like Florida yet. This is their first test and to be successful, Deja needs to have a good match.
If the setter is Kristin Carpenter, she, too, will need to be outstanding. So far, she's been fantastic running the show and being a very good floor general. A lot of people are questioning her effectiveness as a blocker, but as long as she's putting up great sets and bettering the ball, anything lost on the right-side block will be made up by giving great opportunities to her hitters. So far, she's been fine as a blocker. She seems to set the block and read the hitters well. Kristin happens to have the highest vertical on her team at only 5'6″ and she has some crazy long arms. I don't see her being a blocking liability as long as she stays disciplined.
Thrill of the 'ville: I have a strong feeling that people in the O'Connell Center will be hearing the name Arielle Wilson  and that the public address announcer will be saying her name in his sleep. She is a great presence on the court and will really have Florida's blockers working overtime. Florida's blocking in the middle has been improving, which means that Penn State will most likely also look to Brown to put the ball on the floor. Penn State's entire roster is deep with talent though, so anyone could step up and make a big impact.
DigNittany: Florida is a perfect 5-0 so far this season, is ranked #4 in the latest AVCA Poll, and has knocked off three ranked teams in the first two weekends of the season: then-No. 9 Iowa State (Aug. 28th 3-1), then-No. 2 Nebraska (Aug. 29th 3-2) ,and then- No. 15 Colorado State (Sept. 4th 3-1).  They have plenty of star power too, led by Kelly Murphy (Jr., RS/S, 2.58 kps, .356 hit %, 5.63 aps, 1.84 dps, 0.53 bps), Lauren Bledsoe (Sr., MB, 1.67 kps, .393 hit %, 1.28 bps), Kristy Jaeckel (Jr., OH, 2.32 kps, 1.95 dps, 0.47 bps), Callie Rivers (Sr., OH, 2.33 kps, 0.50 saps, 2.28 dps, 0.61 bps), and Tangerine Wiggs (So., RS, 1.68 kps, 1.16 bps).  Who do you think will be the keys for Florida, and who will be the hardest player for the Gators (this one's for you, Thrille of the 'ville) or Nittany Lions ( your turn, MaskedFan )to match up with?
Thrill of the 'ville: Anyone who follows college volleyball knows the  name Kelly Murphy and how multitalented she is with her numerous triple-doubles. I'm sure Penn State has watched a lot of tape on her and has spent an extended amount of time in practice trying to figure out how to contain her. How well she does against this resistance will be a key aspect of this match.
But in my opinion, she is not the player to watch on Florida's side of the net. As I mentioned, Penn State's number one priority is to limit Murphy's offense, but Florida is well aware of that, which means they will have a Plan B and that B is for Bledsoe. Lauren Bledsoe has really started to step it up in her senior season and is quickly becoming a leading force in this determined Florida team. With her combination of blocking and hitting, she is going to keep Penn State busy all night long, which could successfully open up opportunities for other Gators to steal the spotlight.
The hardest player for Florida to match up against will be whatever Penn State hitter goes after Florida's libero Erin Fleming.  Although Erin plays with a tremendous amount of heart, she is adjusting to her new libero position, as well as Dave Boos' new defensive system. Her inexperience and ball control issues have led to bad passes, which in turn have led to bad sets and attacks.
MaskedFan:  Obviously, Kelly Murphy is their star. She's one of the most complete players in the country and currently leads the nation in career triple-doubles. She does everything for Florida and is one of the premiere college players in the game right now. She's finally getting some recognition for her skill; before this season, she always seemed to fly under the radar despite being the No. 1 recruit for her class and a two-time All-American. I think she'll pose the biggest problem for the Nittany Lions, considering their left-side block isn't their strongest weapon (and never has been). However, she's a great player and great players are always going to get their kills. I think it would be silly for PSU to try to "stop her." It's more important that they just convert on the opportunities they're given. Murphy is gonna get kills – probably quite a few.
With that said, the keys for Florida are: 1) Get solid production from the other five hitters –  Murphy can't do it all on her own. She's going to set her teammates so they can be effective as well.  2) Avoid Alyssa D'Errico — on the serve and when attacking. D'Errico is an excellent libero — one of the best in the country — and she, too, flies under the radar every year. She's an amazing passer and her serve is one of the best in the college game right now. She plays ruthless defense and putting the ball down near her is not going to be easy for the Florida attackers.  3) Serve and pass — always a key for every team. Serve and pass better than your opponent and you're going to have a great foundation to win the match. Put pressure on the new PSU passers and don't give up runs of points on D'Errico's or Carpenter's serve.
DigNittany: Coach Rose  has said he thought in the previous two or three years that, at least on paper, Penn State had teams that could legitimately compete for a national championship, but that this year's team is different –  it has the potential to improve throughout the season, but he expects it to hit "a lot of bumpy roads" along the way.  Which Penn State players do you see as having the greatest potential to help the team improve – either as returning players who improve on their own performance, or newcomers who develop  throughout the year.
Masked Fan:  Deja McClendon and Kristin Carpenter. If those two players can have outstanding seasons, this PSU team may not be as "different" as that quote would suggest. Deja needs to pass well, take big swings from the front and back rows, and stay positive and confident. She's going to make mistakes – she's a freshman. She just needs to have a "next play" mentality and move on. Kristin Carpenter is a baller and is one of my favorite athletes. I love what I've seen from her so far. If she can stay connected with Arielle Wilson, feed Blair Brown  when she's hot, and provide good opportunities for McClendon, this is going to be a very good team.
DigNittany: Coming off a 25-6 season in which they advanced to their 18th NCAA regional semifinals in the last 19 years in 2009, the Gators were picked to finish second in the Southeastern Conference (Tennessee earned the top spot in the preseason poll, with nine first-place votes). Yet here they are, ranked 4th nationally in the latest AVCA Poll. Where do you think Florida will end the season in the SEC and nationally – before the NCAA Tournament, that is.
Thrill of the 'ville: First, I need to point out to those who are unaware, Tennessee could have potentially had another vote had they been allowed to vote for themselves. I think Florida not being picked to finish second in their conference really shows how strong this conference has become.  Coach Wise  has stated for years that Florida couldn't win a national title until they lost the SEC because she believed that her team needed tougher opponents during the season to prepare them for the tournament.  I also think that losing the SEC really placed a chip on the shoulders of all the returning Florida players. No one ever wanted to be part of the team that ended the streak of consecutive SEC titles, and now that these players have gone through that they want to redeem themselves. They are hungry and battle-tested.
It is, however, hard to predict where this team will be in December because although they have already obtained some success by knocking off three ranked opponents, they still have a lot of tough work ahead of them with PSU, Stanford or Texas, FSU, Tennessee, Kentucky, and LSU.  But based on the potential I have seen so far in the preseason, I see them reclaiming their SEC crown and making some noise in the NCAA tournament. Depending on what regional they are a part of, I see them making the Elite Eight if not the Final Four.
DigNittany: Both Coach Rose  and Coach Wise  have enjoyed enormous success. Compare and Contrast.
MaskedFan: You could not have picked two more different coaches to "compare and contrast" (haha). Example? Look at how animated each is on the bench!! Each has been successful for many years in different ways. To compare/contrast them wouldn't be fair. They're very different, yet very similar when it comes to the success of their programs.
Thrill of the 'ville: Mary and Russ have indeed enjoyed enormous success, with winning percentages of .841 and .864 respectively. Although Mary is by no means new to the game, it's her 20th season at Florida alone, Russ has been at it for much longer and is part of an elite club of 1,000 win coaches. These statistics really show how great they are at recruiting and developing talent consistently year after year.
But winning is where the similarities end. I have been lucky enough to not only see both of these great people coach but also chat with them. Rose is very laid back and relaxed both on and off the court, while Wise is very energetic and animated. People often debate what type of demeanor is better to have in a coach but these two are a testament to the fact that you can have players buy into your system and breed success regardless of what your approach is.
DigNittany: So, what's your bottom line on the Penn State – Florida match?  Who wins and in how many sets?
MaskedFan: Penn State in 4 or 5. Penn State has five players with national championship match experience. Three of those five have been there three times!!! These girls know how to win and no one has been better at it than them. They have the will and you KNOW Russ Rose will have them mentally prepared for this kind of environment. I think experience will win here. As long as PSU passes well and gets a good match from McClendon and Carpenter, I think they'll win. Their blocking is better, their attacking is better and they definitely have the advantage in the backrow. The big question marks are the three new players. This is a home match for the Gators and Florida is going to be drooling at this opportunity for revenge on the Nittany Lions and to be the team that ends the NCAA record winning streak – the PSU players cannot let that affect them. Expectations are a scary thing, especially with new players, but PSU has been better at dealing with expectations than anyone, so we'll see . . . .  
Thrill of the 'ville: I think this match will definitely live up to the hype surrounding it and the fans will get their money's worth. I see each set being highly contested with numerous lead changes as both teams will bring the A game. There is a lot of pressure on the Nittany Lions, as they are the number one ranked team in the nation, but haven't faced a quality opponent yet this season to prove whether they deserve that ranking. Luckily for them, they have the same personality as their coach: they are very relaxed, and don't appear to be worrying about the streak. As mentioned previously, the expectations that have been placed on this Florida team by others are low and they have taken on a "we have nothing to lose" mentality along with all the vigor and energy that their coach possesses. That being said, I think Florida's energy and conditioning helps them snap Penn State's unprecedented winning streak with a 3-1 win in the O'Dome. 
DigNittany: Thanks again to both of you for taking the time to share your thoughts with us.  We're excited about the match, and look forward to a great time Friday night, regardless of who wins (though we confess, we do have a preference).