It's that Wednesday night volleyball thing again, as  #1-ranked (unanimously in the latest AVCA poll) Penn State women's volleyball team will take on Indiana tonight at 7:30 p.m.  It's your last chance this regular season to see the Nittany Lions in Rec Hall, so come on down!
Coach Rose Pre-Match Quotes
On what the team needs to do to be successful against Indiana
Obviously we need to play well and have confidence.  In essence, this will be senior night for the seniors because this is their last official, scheduled home match.  I think they need to get their emotions in check, and be ready to compete, and not look at their opponent's record, because every team has talented players and has a plan.  Certainly Maryland came in and had a great plan.  Although we won, we struggled in certain areas.  It was a good example of you need to be tuned-in to what the other team is doing, and be ready to defend it and be ready to play.  I'd like to think that the players understand that as well, and they don't need me to discuss it.  They're adults, and they have a lot of skin in the game, so I hope they're ready to go.
On the challenges of playing Indiana
Elizabeth Asdell [6-3 Jr.] is very strong at the right-side position and they're athletic in the middle.  They have three or four outside hitters that they try to play at different times of the match.  Each of them poses a different [challenge].  They take big swings.  They're not afraid.  The energy has been good with this Indiana team even though the results may not be what they want.  They're playing hard.  I think that every team that plays them is wise to respect the opponent.  I have never spent any time looking forward to matches. . . . I don't get started [scouting Rutgers] until I'm done playing Indiana.  Right now I'm going to make sure we're ready to play Indiana.

On what he'll miss from Lainy Pierce when she graduates
You miss all of the individual personalities.  They're all different.  Lainy, like her older sister, was always in a good mood, always tuned in to what the team needs, so if I get sent anything — requests — I send them to Lainy, the same as I sent them to her older sister. because they understand the importance of the team representing itself in the right way.  As a player, Lainy's always had a really good serve, passes well.  You miss the contribution that people make to the program more than [the contribution they make] to the game itself.  My intent in coaching is to try to develop people in different ways, not just make them a better server or passer, or something like that.  There is some kind of crossover where you're trying to work with them to be better prepared for the future and not just focus on their athletic contributions.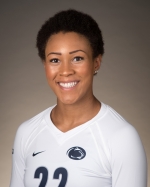 On the defensive play of Simone Lee
I thought she was really tuned-in against Iowa.  She had a great match against Iowa.   I think she was one of our best passers in the match — we've had matches where she was our best passer.  I think a lot of times people want to serve the outside hitters to slow them down a little bit, and try to influence their ability to be available to take a quality swing.  She's good enough to pass and still get herself in a good position to take a quality swing.  I think she's ready for the load of being a passer-hitter.  She's developed all of her years here.  Ali's [Ali Frantti] a more comfortable passer and Simone has developed into a very strong passer.