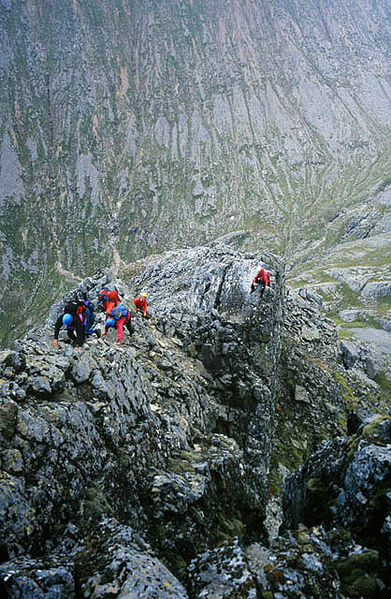 There may be room on the ledge, but Penn State fans are still looking to reach the top.
No Ledge for Us
After #8-ranked Penn State (11-5, 4-2 Big Ten) was defeated 3-2 (25-21, 21-25, 25-23, 21-25, 12-15) by #1-ranked Illinois (17-0, 6-0 Big Ten) Saturday night, we braced ourselves for doom and gloom from Penn State fans who may be frustrated by the team's up-and-down performances this season. 
But for the most part, the doom and gloom didn't surface.  Rather, the reaction was more that the Nittany Lions are a work-in-progress: they've proved they can play with anyone, but have a lot of work to do to get to the point where they end up winning the match. 
To be sure, there were plenty of things to criticize about the team's performance last evening – 39 attack errors to 21 for the Illini, to name just one.  But we're fans, so we're allowed to be optimists without the responsibility of turning our hopes into reality.  And as fans, we believe the team will get better.  We think that by December, Penn State will be in a position to compete successfully with the elite teams in the country. 
So, while there's undoubtedly plenty of room out there on the "panic ledge," we're not going there.  We'll be cheering this young Nittany Lion team on for what we hope (we're fans, remember) will be a successful climb to the top.    
Penn State Recap
We weren't among the 5,200 fans who attended the match, and weren't able to watch it on the internet because, for some inexplicable reason, BTN decided it couldn't stream the match on the Big Ten Digital Network (the match will air on the Big Ten Network on Monday, Oct. 10 at 8 p.m. ET).  But unencumbered as we are by the facts, we feel eminently qualified to tell you what happened.   
All we have to go on are statistics, and statistically, the best team won – though not by much.  Illinois had a .184 attack % compared to Penn State's .134.; the Illini had 17.0 blocks to 12.5 for the Nittany Lions.  Illinois had a 58% side-out % for the match compared to 55% for Penn State.  One bright spot for Penn State was service aces.  Led by 5-11 Fr. S Micha Hancock's career-high 7 aces (which ties the individual single-match program record and gives her 49 for the season — the Penn State single-season record is 72, set in 1988 by Noelle Zientara, an AVCA All-American in 1988 and 1990), Penn State did top Illinois in that category with 9 compared to 8 for the Illini.  If there's a better server in NCAA Division 1 than Hancock, we want to see her.
But the 39 attack errors are probably as good a marker as any for why the team lost, and we imagine that eliminating those kinds of mistakes will continue to be a singular focus for the Penn State coaches during practice in the coming weeks. 
Several Penn State players did record personal bests in the match:  6-4 So. RS/Opp Ariel Scott  registered 27 kills on 74 attacks – both career highs (but also had a .189 attack % for the match).  In addition to her record-setting 7 service aces, Micah Hancock's 19 digs were a personal best.  Among back row players, 5-6 So. L Ali Longo's career-best 24 digs led the team, while 5-6 Fr. DS Dominique Gonzalez's  14 digs were her best at Penn State.
6-1 So. OH Deja McClendon continued to struggle offensively, totaling 12 kills but registering 9 attack errors on her 60 swings, for an .060 attack percentage.  On the positive side, she was fourth on the team with 11 digs.  6-2 Fr. MH Nia Grant may have had her best match of the season, totaling 10 kills on 16 attempts for a .500 attack %, and adding 1 solo block, 3 block assists, and 5 digs.  The only real negatives for Grant, statistically speaking, were her two service errors. 
6-6 So. MH Katie Slay led the team with 7 total blocks, and added 10 kills.  With 5 attack errors, she hit for an uncharacteristically low .200 attack %.  Not a great match, but not the reason Penn State lost, either.
Oh, and the loss ended Penn State's Big Ten home winning streak. 
Illinois Recap
The Illini Report rather gushingly described the match as "one of the best regular season contests in Big Ten history."  Maybe we'd be more inclined to agree if Penn State had won (or if we'd actually witnessed the match), but it certainly was hard-fought.  After the match, Illinois head coach Kevin Hambly had this to say:
It was just an epic battle.  I thought [6-6 Fr. Liz McMahon] in that second set took over and [6-3 RS Fr. MB] Anna Dorn took over the match blocking late, but it really took a lot of players who made big plays throughout the match.
Those two players had the statistics to back-up Hambly's praise: McMahon had 14 kills  (.270 attack %) and 6 block assists and Dorn tied an Illinois record with 13 block assists (four in the 5th set alone).  6-3 Jr. MB blocker Erin Johnson also came up big for the Illini, with 11 kills (.417 attack %) and 4 blocks.  But the statistic that  jumps out at us is 25 digs by 6-3 Sr. OH Michelle Bartsch.  That's not really fair for someone her size, is it?
The Takeaway
 Illinois is a very talented and experienced team and they played that way – solid blocking and team defense, playing at their best when the match was on the line.   Penn State is a very young team, starting three sophomores and three freshmen, and they played that way, making critical errors when mistake-free play might have enabled them to put the match away.  It's very, very tough to win on the road in the Big Ten, and Illinois deserves all the credit in the world.  Congratulations to the Illini.
We're eager to read what Coach Rose has to say about the match and his team's performance (we probably wouldn't have been as eager to hear it after the match).  As we said in the lede, we're fans, and we're optimists.  There are lots of things this team needs to correct if it's going to compete in December.  We have no idea whether the light bulbs will come on in time or whether players will make the necessary adjustments.  But we'll be hoping they do, and cheering them on.  Go Lions!
Here are the match statistics: