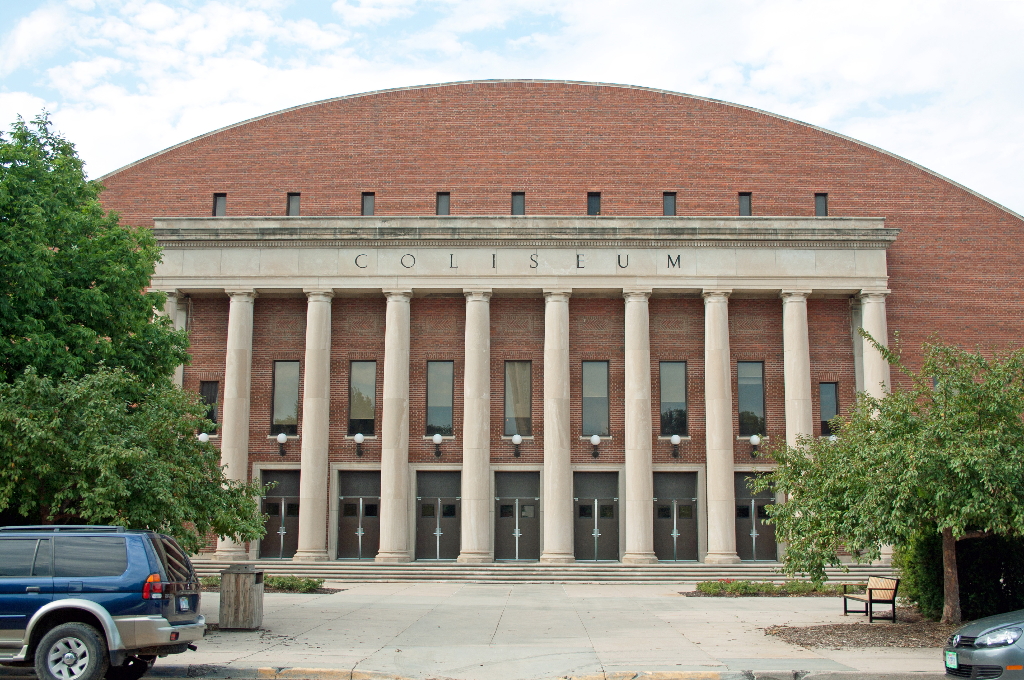 For a Penn State fan, this one was painful in the first two sets, exhilarating in the third and fourth sets, and ultimately disappointing in the fifth set, as Nebraska held on for a 3-2 win (25-18, 25-16, 23-25, 19-25, 15-10) over the Nittany Lions.  We have no idea what Penn State Head Coach Russ Rose had to say to the team after the match, but our "fan" reaction is that there are real positives to be taken from this match: the team is able to compete against a really good team in a hostile environment — there certainly have been doubters on that score — but this is a team that can't afford to wake up half-way through a match.  This team needs to fight, and communicate, and connect, right from the opening volley.
Which it didn't do (or at least, not well enough) in the first two sets last night against the Huskers.  Statistically, there were some bright spots, however.  6-4 So. RS/Opp Ariel Scott continued her improved play, as she had a career- and match-high 23 kills and added 4 blocks.  S6-1 So. OH Deja McClendon chipped in with 16 kills and 13 digs.  5-11 Fr. S  Micha Hancock totaled 53 assists and 12 digs, while 5-6 So. L/DS Ali Longo led the team with 16 digs.  5-2 Fr. MH Nia Grant led the team with five blocks, while 6-6 So. MH Katie Slay had 4 blocks.
Nebraska outhit Penn State .229 to .182 for the match.  Penn State had 56 kills, three aces, 60 digs and 9.0 team blocks compared to Nebraska's 62 kills, three aces, 66 digs and 11.0 team blocks.
For the complete match statistics, Click Here.
But back to the "fan" perspective.  We received the following e-mail from PSU fan Phillytom, with his reactions to the match.  Neither he, nor we, claim particular volleyball expertise or analytic insight.  But if there is one place where thoughtful fan opinion (and we want to stress that this is opinion) is valued, it is here on this site.  So we wanted to share it with you:
I'll admit to being pleasantly surprised by last night's match. I was expecting a Nebraska sweep, but when the team wasn't making freshman (or sophomore) mistakes, it played its best VB of the season by a wide margin . Too bad Penn State dug itself such a hole the last set — they really had a chance to win this match.

I can hardly believe how much better the back row is playing — Ali Longo is doing well at Libero. A lot of it may be due to better blocking — the block appears to be getting organized and the back row knows where it needs to be.

Turning to Nebraska for a moment, Mancuso is a fabulous offensive player — athletic but also creative and clever like Blair Brown was in her last 2 years.

It was a great night for Ariel Scott. It's the best she's played this season, in my opinion, if not her career at PSU.  Always a talented, intelligent player, she showed more explosiveness and power and played with tremendous confidence. It is worth noting that Nebraska was really focused on McClendon and Slay. But in my opinion, Scott showed all-American potential tonight.

Micha Hancock,  Wow!  Plenty of freshman mistakes, but so many really fine athletic plays all night. A serve that can change the direction of games. Turns poor passes into great sets. Wonderful crosscourt sets.  Strong at the net.  She is really strong physically and mentally.  There's an awful lot of the setter's job that she is still figuring out, but look how much she's learned in the last three weeks.

Blocking is still just OK by recent PSU standards, but again, I think it is improving rapidly.  The freshmen have a long way to go on blocking technique, but this is good experience for them.

Too many service errors, but when the serve was working for PSU, it was the key to everything.  The fourth set in particular was won by tough serving.  Obviously, the Nittany Lions need to cut down on errors, but they will have very good serving this year with Hancock, Longo, Carpenter, and Maddie Martin.

PSU's biggest weakness, I would guess, is not enough offensive variety: not enough quick sets, not enough options in the middle.  I think the players can do it but it will take more time for Hancock, Slay and Grant to work together. They really could have used Arielle Wilson tonight, but then again, who couldn't?

For PSU to put in a respectable showing at Nebraska, they had to improve their defense a lot, and they did.  So now there is a lot of work to do on offense.

Nebraska will be better in December. Penn State will probably be a LOT better in December. Anybody who saw them the first weekend against Oregon and USC, and then tonight, can see how steep their learning curve has been. And they learned a lot tonight.

All in all, an awesome start to the B10 volleyball season.  A win would have been better but it was a really enjoyable early season match in a great venue.