Penn State women's volleyball held its second weekly media availability of the 2022 season Tuesday afternoon before practice at Rec Hall.
Head coach Katie Schumacher-Cawley, junior middle blocker Taylor Trammell, and senior pin hitter Zoe Weatherington fielded questions before the Nittany Lions travel to Baton Rouge, Louisiana, this weekend for the Tiger Challenge at LSU.
Penn State will play a doubleheader Friday against Iowa State (1 p.m.) and Troy (6 p.m.) before facing tournament host LSU Saturday at 4 p.m. Penn State sophomore Erika Williams will have the chance to play against her sister, Alia, and the Tigers in the finale.
Schumacher-Cawley, Trammell, and Weatherington discussed Penn State's 3-0 opening weekend, how the newcomers made an immediate impact, including Leisa Elisaia's all-tournament team performance at setter in wins over UConn, Loyola, and West Virginia.
Weatherington was named the MVP of the Penn State Invitational after leading the team with 31 kills over the weekend. Maddy Bilinovic also earned a spot on the all-tournament team. Trammell had 17 kills, 13 blocks, and hit .359. The Nittany Lions were ranked No. 21 in the latest AVCA coaches' poll, which was released Monday — down one spot from the preseason rankings.
Katie Schumacher-Cawley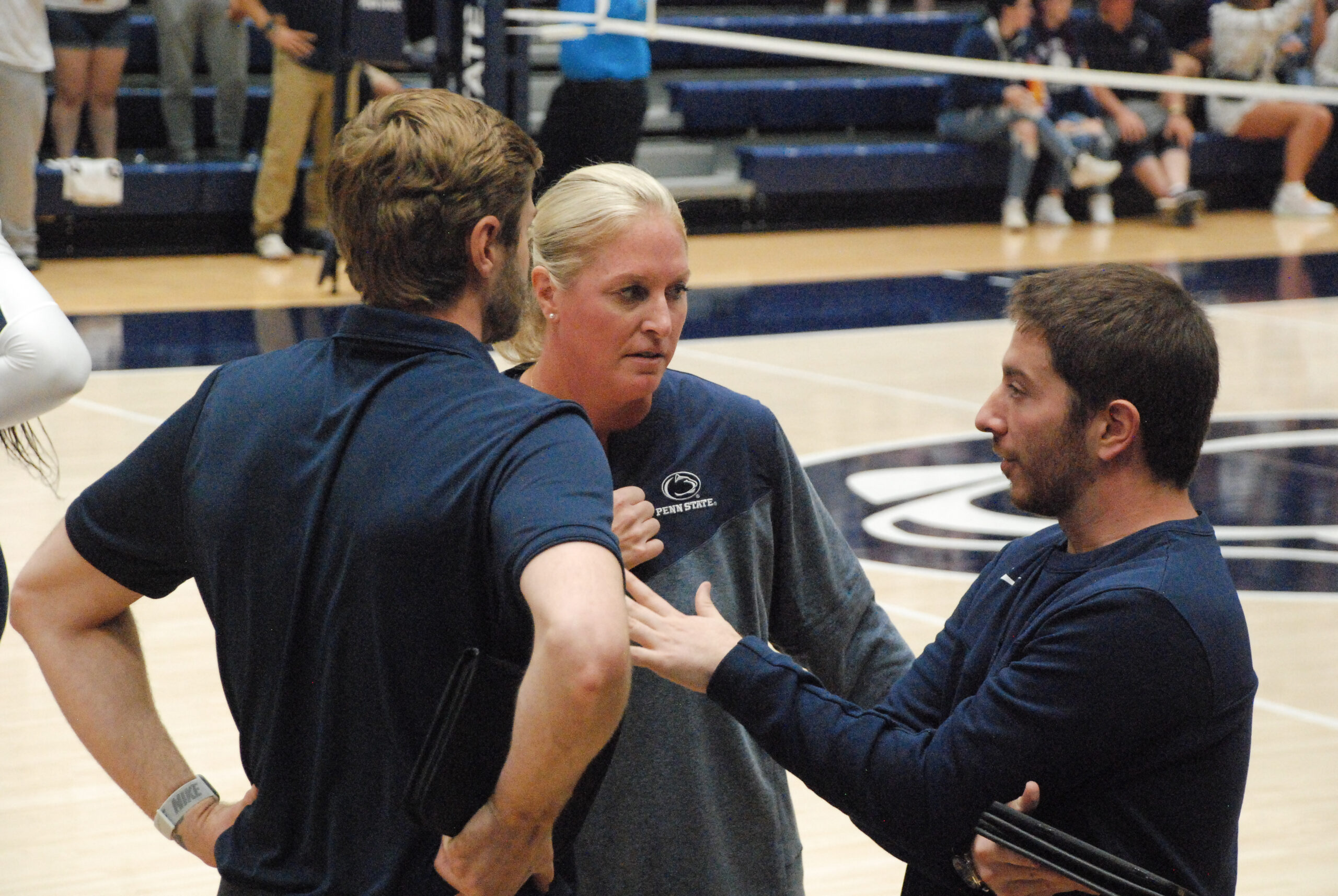 What were some of the positive takeaways from last weekend for you?
"Well, I think it's always nice to win. We'll say it a lot, winning is hard. It was nice to get a lot of players in just to get some experience playing on our home court. A lot of them haven't played here, so I think it was great experience, good competition. It pushed us a little bit, but I thought we did some good things being able to bounce back after losing a set or losing a few points in a row. I thought the team showed some fight."
You have the Tiger Challenge down in Baton Rouge this weekend. What are the key points to repeat the success you had last weekend?
"Yeah, I think anytime you add in the travel piece, I think it's being able to get down there and practice in their facility and really take care of ourselves these next couple days, so that we are prepared to go. I think our athletic trainer and our strength coach do a great job, and the girls have really been committed to taking care of their bodies and doing the extra things that they need to do to be prepared."
Going into that preparation, what has it been like the past couple days at practice just getting ready for three more matches this weekend?
"Actually, yesterday was our off-day, so we have Tuesday-Wednesday of practice. The girls came in on their own yesterday and did some things. They had treatment and a lift on Sunday, so we'll be back at it today. Hopefully, their legs should be fresh and they should be ready to go."
Have you ever been to Baton Rouge before?
"I was at Tulane. Actually, when I was here at Penn State, we played there in a spring tournament when you used to travel to do spring. I'm looking forward to it. It will be a great tournament, competitive teams. It will be a great experience for our girls."
Are there any food spots or beignet places you want to try down there?
"You know, Tina [Readling's] in charge of that, and I'm sure she's finding all of the hot spots. We need to get some wins in, and then I'll let you know when I come back all of the tasty treats."
In one of the press conferences last weekend, you keyed in on how connections and chemistry are very important. What is the feeling like when you see, day after day in practice, the connections getting stronger?
"I'm proud of the group. I think they've been doing a lot on their own, not having the coaches with them all the time. That's when it really gets better. I think that they're focused, especially after this weekend and being able to compete against someone else. I think, now, they'll be even more excited to get back in the gym and to compete again."
What are some of the things you're hoping to see from your team this weekend?
"I'm hoping that we are ready to go from the first whistle. I think that was something we struggled with on Saturday morning. We weren't really ready to go and fresh. And to continue to create your own energy. I don't think we're going to have a ton of fans like we have here in Rec Hall, but to be able to compete in different environments and to be focused, I think that will be a challenge, and I'm looking forward to seeing how we handle it."
What was it like catching up with Bayleigh Hoffman last weekend?
"Oh, it was great. Bayleigh's awesome. I love her. I'm so happy she's coaching. Obviously, we kept in touch a lot when she left. Her dream is to coach in college. I'm happy for her, and I think she'll have a great experience there [at Loyola]. She'll bring a lot to their gym as well."
What are some of the key points where it's another weekend with three matches in two days and you add in the travel to Baton Rouge? What are some of the key points to keeping the team fresh and keeping their stamina up?
"Yeah, I think it's what we do every day leading up to the travel. We'll leave Thursday afternoon, we'll get down there and we'll practice, they'll eat, and then they'll be resting and doing homework until the next morning. I think it's a daily task to do that. It's not just the day of travel. We really emphasize taking care of your bodies, doing your extra lifts, and conditioning, whatever it is that you need to do. They all have a plan with the strength coach. I think it's them being committed to their process."
What do you think some of the next steps forward for this team are through the next few matches? Do you want to see more communication or an emphasis on playing better at the net, stuff like that?
"Yeah, I would like to see our passing game continue to be really good. I thought we did a good job with that this weekend. I think they'll be a little bit tougher serving this next weekend, so that will be a challenge, but I think all of those players have been working really hard on it. I would like to see us not lose strings of points. You guys saw this weekend, we would be up five and then give away four points. I think just being able to focus on one play at a time is something that we've been talking about."
What are your thoughts on how the newcomers performed? Seven of the eight got in.
"I think they did great. I'm really happy about all of them being here. I said from day one that they'll all be able to contribute. I think, obviously, the way that they can block and move at the net, as hard as Kash [Williams] and Zoe [Weatherington] hit the ball, it's pretty impressive, and I think the gym likes that. I think Taylor did a great job blocking. Leisa, I think she ran the show and she did a good job. I think she's feeling a little bit more comfortable."
How much fun has it been getting all of the new transfers involved and trying some different lineups?
"It's been exciting, just because preseason was so short for us, and we weren't really with them a whole lot until preseason started. I think we have a lot of good characters on the team. We have a lot of funny kids, but they're also willing to put in the effort and the time to get better. I think, for the transfers, this is the second time around for them, and you find a different appreciation for what you have. I think all of them were so excited to play at Rec Hall wearing the blue and white, instead of being on the other side. I'm happy for them that they enjoyed that experience."
Talking a little bit about those transfers, what has their veteran leadership meant to this team?
"It's an intangible thing that they just have. Leisa's really calm and steady. I think that's something that that position needs when it gets tight. I think all of them have brought a different level of play, but also a sense of maturity on the court."
Gillian Grimes was the first to serve Friday. What went into that decision and what do you think she did well last weekend?
"I think Gillian is an excellent player. She's full of energy. She is a great backcourt player, server. She's not afraid. She steps up and competes. She brings a ton of energy to the team and to the floor, so, you know, we wanted to see what that looked like in that rotation."
Alexa Markley went on a nice serving run against Loyola. What did you think of her performance?
"I thought Alexa, to come in off the bench like she did and be able to take some big swings and feel comfortable serving, I'm super happy about her and excited about where we can get her by the end of the season."
What's your relationship like with new athletic director Pat Kraft?
"Pat's great. I think he's a super energetic, fiery guy. He was at our matches this weekend and he's met the team several times. I think he's just really outgoing and wants to be in the mix with everyone. I've enjoyed him, and I know he has his hands full, but we're excited he's here."
What are some of the important things you've stressed to him that this program needs from him?
"I think just the continued support. I mean, we're lucky with what we have. Obviously, the tradition of winning and the expectations for the program haven't changed, so I think the funding and all of those things that he can provide for the team are something that we need to maintain and continue."
What's the message to the team going to be this weekend? I know it's going to change from match to match, but what's the overall message going to be like?
"I mean, for me, it's always to compete. It's always to compete and be a great teammate. I think we have a lot of players who can contribute, so being able to be okay with not starting and then coming in, and then maybe starting the next match, I think that's something that we are always emphasizing is that everyone will contribute to the success. Just be ready to go."
Erika Williams' sister, Alia, plays for LSU. What do you think that will be like for their family?
"Oh, I think it will be great. They were here last year. They're a close family and I'm excited for her. I think that's a special opportunity to play against your sister at this level."
We haven't had a chance to see a lot of Erika. What are some things that stand out about her game?
"I thought Erika had a great preseason, and she'll definitely have some opportunities this weekend. I know she'll take advantage of them, but I thought she came along great. She had a really good preseason, so I think she'll be able to contribute. You'll hear about her this weekend."
You mentioned the preseason being shorter this year. Do you think that had any impact on the team at all?
"No, I just wish we had a little bit more time with them before the competing part, but I'll tell you what, they handled it well. We just have to use our time wisely. I always say that to them in practice. We're not here just to punch the clock or waste time. We have to get some things accomplished so that we feel good about ourselves and what we're doing."
Taylor Trammell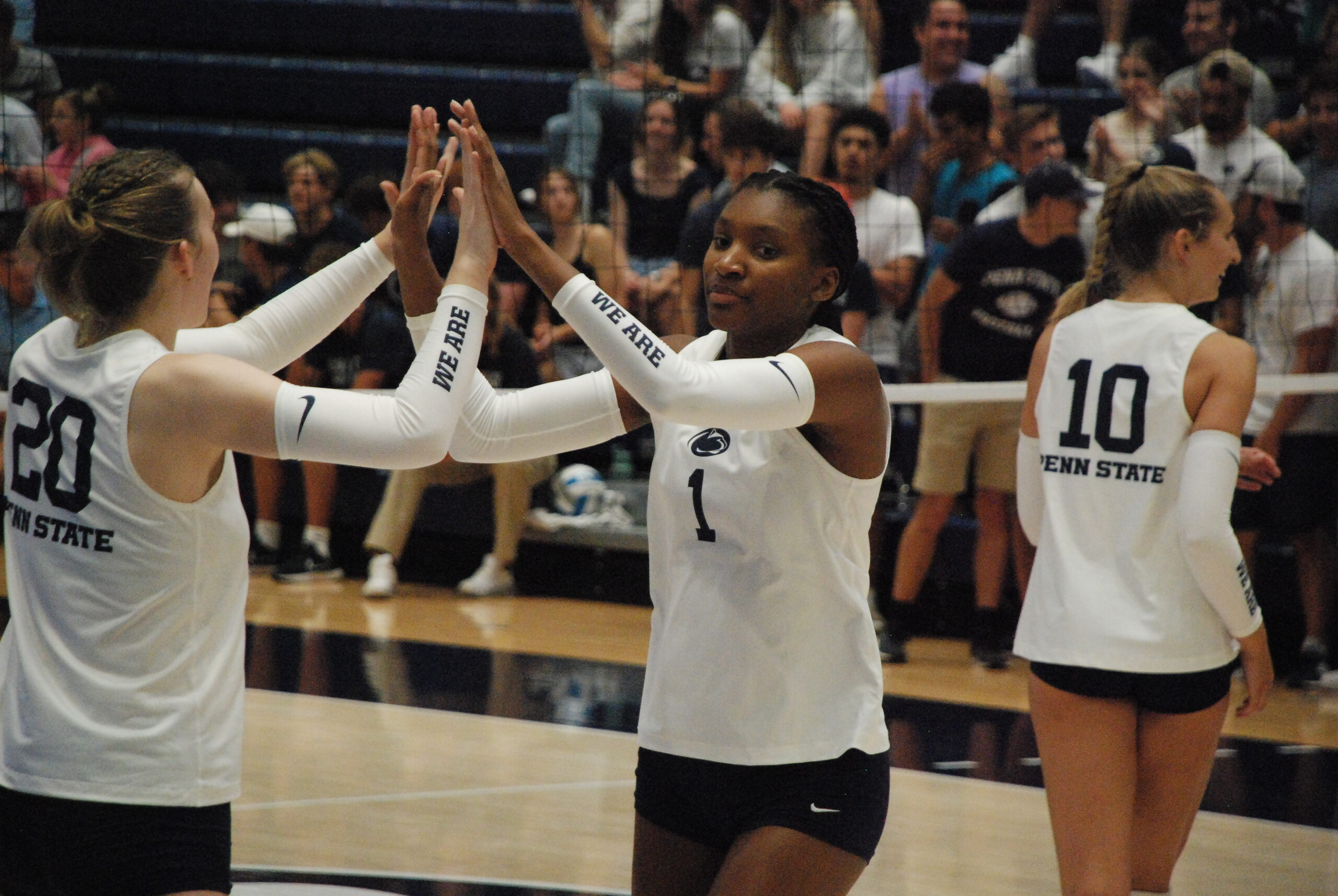 What were some of the positive takeaways from the weekend for you?
"Some positives, I think we gelled really quickly together for that being the first time we played. I was super excited to see all the fans, too. The student section was way bigger than what I expected. I thought we gelled really well, and everyone who had the opportunity to touch the court I thought did what they needed to do. I'm excited to see us go out there and win."
What are some of your main focuses as you go down to Baton Rouge for the tournament?
"Honestly, I hope we have fun. This is the first away match now. I'm excited to see everyone. My family's coming down, so I'm excited to see them, and, obviously, get to play against LSU and all the other teams there. But yeah, I'm excited to sightsee more, I think."
What has the preparation been like in practice honing all your skills?
"Right now, I definitely feel like our preparation has been either serve or pass, if you want to get technical, but I feel like, still gelling together as a team. We're all new. That's the main focus we've worked on is making sure we can all trust each other and we know who's accountable for what and that we're all on the same page."
What's your connection like with Leisa?
"Well, considering she's my roommate, I would hope it would be really good. But no, we worked on that all summer long, especially I feel like everyone, because she's new, but yeah, I think I have a pretty good connection with her, and every day we're just working on it to get better and better."
How are you looking to build off the success you had last weekend?
"After going 3-0, I hope this tournament we continue this winning streak, obviously. I think that our skill level is just going to go up, and like I said, the trust of everyone on the team and knowing who has what ball, I think we'll just become like a well-oiled machine."
What has the communication between everyone been like on the court and off?
"Well, I think communication has been really great. I feel like, for me, I have half of my classes with Zoe, so we get to talk a lot. Obviously, with the team, a lot of people have classes together, and we spend a lot of time off the court just going to eat. On the court, we work on communication as well. Just again, the trust is key. We know that we can count on everyone on our team to do what they need to do."
Speaking of Zoe, what does she do particularly well?
"Obviously, she hits the ball really, really hard. Zoe, she's a high-IQ player, I would say. She's really smart with how she places the ball. She knows what she's doing, for sure."
What are your thoughts on Maddy and the defensive specialists?
"Maddy is fiery, as everyone can see. I think Maddy is doing great. I think that she's only going to get better. For this being her first year in the libero spot, she's killing it already."
How has it been as the connections with everyone have grown stronger and stronger each day?
"It's been great. Starting from the first day that we got in the gym versus now, it's totally different, and I think those connections are just going to help us in the long run. Hopefully, even just after this preseason, I think we'll be a pretty solid team."
What's it been like learning from this coaching staff?
"This coaching staff, they're teaching me a lot of technical things that I feel like I didn't know before. It's the simple things, like my left hand or just knowing your place on the court if you're a passer. They're really key on keeping things simple, but just making sure that it's very strict."
What are some of the things you hope to accomplish beyond a 3-0 record this weekend?
"This weekend, I hope that we get to accomplish having some memories. As a team, I think that's important, because when you look back at this, you're going to think, 'Oh, what did we do at LSU?' Not how you did at LSU. Yeah, I think, obviously, winning is going to be key, but making memories, for sure."
What are some things you like to do on a flight? Do you listen to music, read, or do something else?
"Okay, on a flight, I'm probably watching TV. We're probably going to watch Breaking Bad or something. Right now, that's the main show. Or we'll listen to music, if I feel a little motion sick. And order ginger ale, if they allow it."
What kind of music do you like?
"I would say anything pop, R&B, and '90s. Anything '90s, for sure."
What's your relationship like with Kash Williams and Anjelina Starck? What do they bring to the team?
"Kash and Anjelina, they're definitely totally different people off the court, I would say, but on the court, I feel like they're pretty similar in just the way that they're both going to attack the ball hard. They're both here to do great things for us. Starck, she's been in the game. Her mom and her IQ, again, I just feel like she's that smart type of player. I think Kash, she's that pizzazz and funk everyone needs sometimes, just to get us rowdy, up. The energy on the court, you can feel it when she steps on. It's totally different. So I feel like those are key things they both bring together that we need."
Zoe Weatherington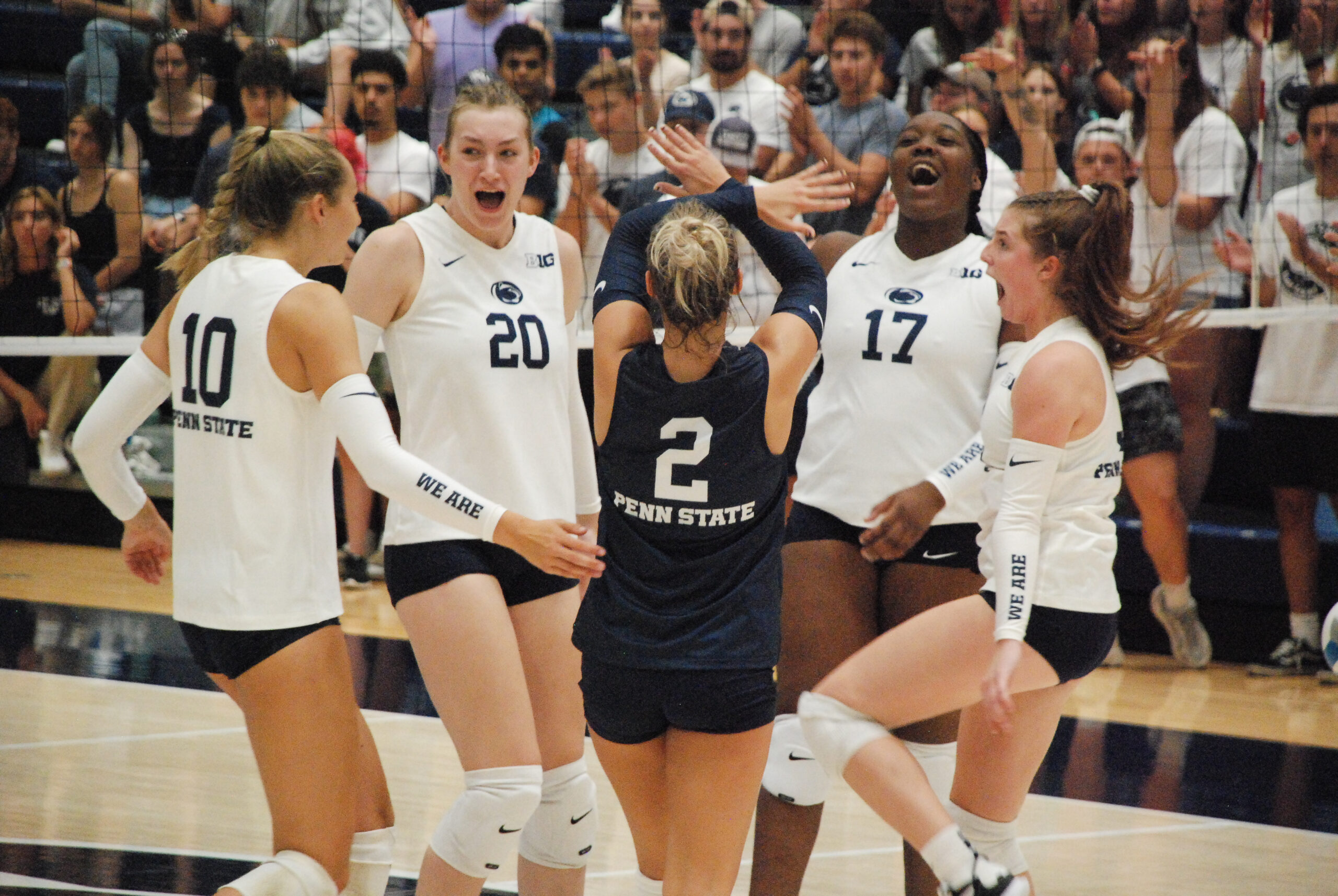 What were some of the positive takeaways from the weekend for you? It was your first time playing in Rec Hall.
"I had a good time. I did not expect the fans to be as engaged as they were. That was very refreshing. I don't know, it's the extra little boost you need to get through a game. Even though we can do it by ourselves, it's just so nice to have people who are actually interested in the game, because that doesn't happen everywhere. I love the environment, I love the energy, and I love the mascot crowd surfing. That was new. I had never seen that before. Yeah, it was awesome."
You had three great matches this weekend in your first few as a Nittany Lion. How has it been the past couple weeks getting in the groove of everything and finding your role and just being here in general?
"Joining this team has been a lot easier than I thought it was going to be, to be honest. I thought it was going to be hard, because moving to a new school, you know, getting new teammates, going to the other side of the country is not something that usually comes easily for people, but everybody's been really welcoming. I feel like I've been integrated into our system pretty well volleyball-wise — and, technically, I think we're working out some kinks, but it's been a pretty smooth transition, and everybody has been very supportive and welcoming and helpful. I've loved it."
Last weekend, there were a ton of momentum swings. Every match was back and forth. How do you plan to manage those this weekend?
"I mean, volleyball's a game of errors. If no one makes a mistake, the rally doesn't end, no one gets a point. We're not going to score 25 points in a row, which is just being realistic, but we're going to go on some runs. The other team will go on runs, but I think it's just all about being resilient and coming back and being very disciplined in our game. The ebbs and flows, they happen, but we want to have the most consistent game as we can, and I think that's what we're going to do."
What was it like playing with Dani Drews at Utah? What's your relationship like with her?
"Oh, my gosh, I love that girl. I have no bad things to say about her. She's awesome. She was always a great teammate and a great leader. Obviously, she's on Team USA, and she's there for a reason. I'm very honored to say I got to play with her. But, you know, I'm in a new chapter now. I have teammates who are here for me, just like she was there for me. That's part of the reason it's been so easy to transition to a new school."
The team had a strong offensive attack last weekend in all three matches. What were some of the key reasons for that?
"Good connections with your setters. Obviously, Leisa and I, we were on it this weekend. I think that's just a preview of this whole season, because there's communication, there's eye contact, there's just being a good teammate in general, and then, obviously, repetitions when we come into practice. We get a lot done when we work in the gym. It just translates on the court, and I love that."