Penn State women's volleyball held its fifth weekly media availability of the 2022 season Tuesday afternoon before practice at Rec Hall.
Head coach Katie Schumacher-Cawley, sophomore outside hitter Anjelina Starck, and freshman defensive specialist Gillian Grimes answered questions ahead of this weekend's matches against Indiana and Michigan at Rec Hall.
Starck is currently second on the team with 105 kills and fifth on Penn State's defense with 53 digs. Starck and setter Leisa Elisaia are the only Nittany Lions to start all 11 matches during non-conference play. Starck's emphasis on strength and conditioning this offseason has helped her become more physical at the net.
Grimes has started nine matches and is third on the team with 77 digs, trailing only Elisaia (82) and libero Maddy Bilinovic (157). Grimes, who's often Penn State's first server of the match, is tied with Elisaia for second on the team with 10 aces.
Penn State (11-0) rose two spots to No. 9 in this week's AVCA coaches' poll after sweeping Howard, UAlbany, and Coastal Carolina in last weekend's Penn State Classic. The Nittany Lions are among five Big Ten teams ranked within the top nine this week.
Editor's note: A handful of reporters attended this week's media availability. The transcript of questions and answers, lightly edited for clarity, can be found below.
Katie Schumacher-Cawley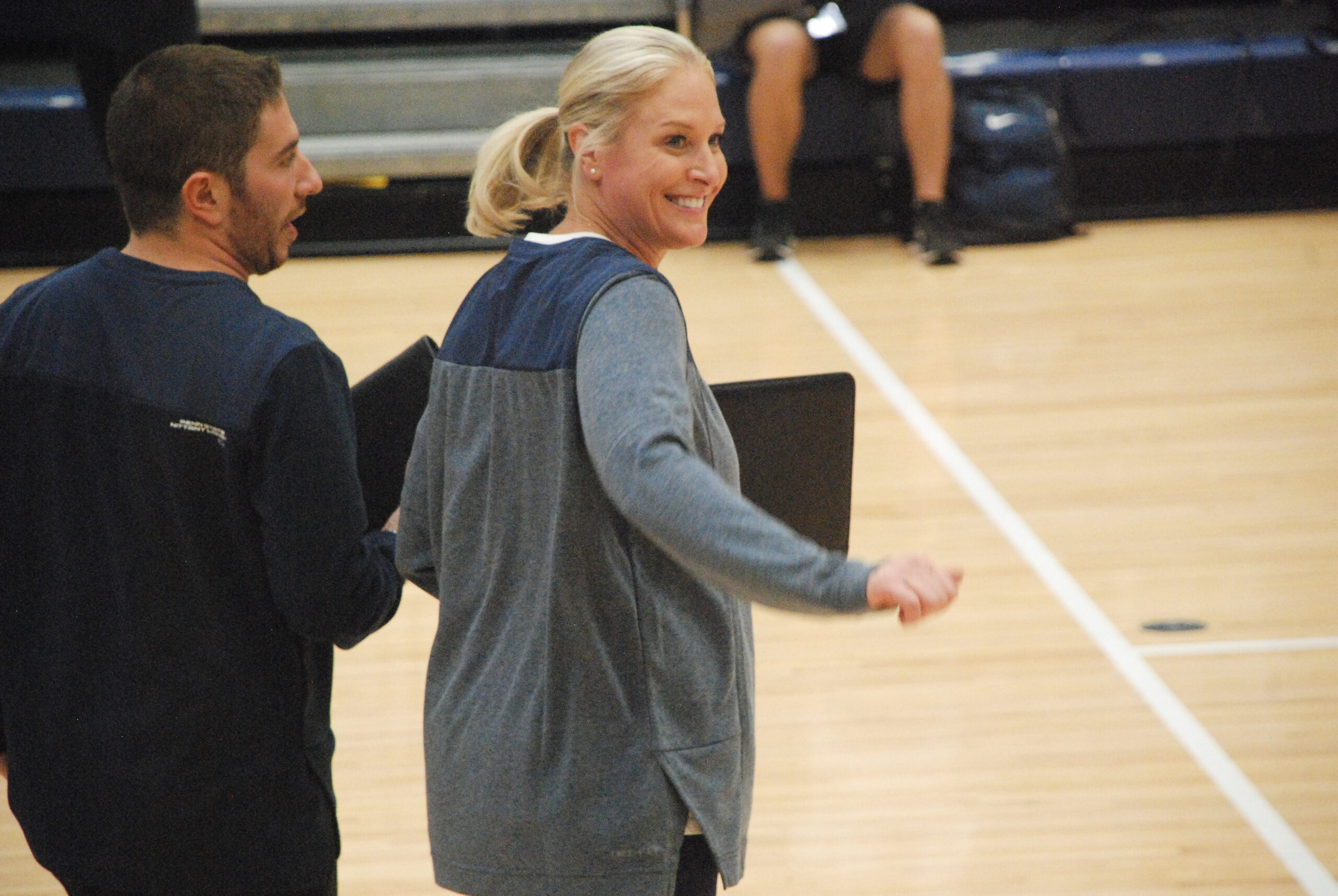 With the start of Big Ten play coming up, what are you hoping to see from your team this weekend?
"I'm hoping to see that we embrace being at home and playing against two really good opponents. There's nothing like the Big Ten. We talked earlier in the week that this is a new season now. Obviously, preseason was great. I think we learned a lot, but the Big Ten is relentless every night. I'm excited to see us play at home. I'm excited to get this conference [schedule] rolling. I'm looking for us to play well and to continue to build on what we did in preseason."
What about those opponents have you seen that you're preparing for the most?
"I think I've said this before, as cliché as it is, everyone in the Big Ten can beat everyone. I think that we have to continue to work on our great game plan. We have to serve tough. I think, defensively, if we continue to do some good things at the net with blocking, I think we can beat a lot of teams. But I think our focus has to be coming out right from the start. I think we started a little bit slow in some of the matches this past weekend. We can't give up too many points. I think just being focused from the beginning."
What were some of the more valuable lessons you guys learned as a team during preseason?
"I think the mentality of just being able to compete every day. We talk about it in practice. I think having everyone available on the bench to be able to contribute and to know their role, and I think just being able to fine-tune some of the things with the setting and the hitting, just everyone being able to contribute. We had a couple preseason matches that were five sets and put us over a little bit. I think we learned a couple things during those matches. I think we walked away from every match looking at what we did well, but also seeing what we can do better, so that, with Big Ten teams, we can force some points and just be better."
I know you've touched on this a bit, but what else do you want to do better in preparation for these upcoming matches against Big Ten teams?
"The players will do more video. We hold them accountable to do some more video with the coaches. Obviously, practice. For us, it's taking care of their bodies. We have a couple lifts going on this week. And paying attention to the details. We'll watch a lot of film. We'll be as well-prepared as we can in helping them to know what's going on on the other side, but injuries happen. I think some teams are still kind of playing around with their lineups. I think it's just being able to control what we can on our side to win."
Macy Van Den Elzen made her debut last weekend. What stands out to you about her?
"I think Macy's a phenomenal woman. She comes to practice every day and gives her very best. I think that she's a great role model, on and off the court, here at Penn State. She understands her role. You never know when you're going to have the opportunity. But I do know she's always ready to go."
How does a hot start like this instill confidence in the team and your coaching staff?
"I don't know, I think I said to you guys, winning is hard. I think it's always hard. Of course, after having a couple wins, you feel good about what you're doing. I think it's also being honest with the group, like, 'Hey, there are a lot of things we need to improve on if we want to do well in conference.' I think it's the constant communication of getting better in each position, and holding them accountable to have some ownership in that."
Being presented with back-to-back matches after having all these tournaments, how vital is it for the players to take care of their bodies to help you guys get out to a hot start in Big Ten play?
"Like I said, I'm so happy we're home, so this week has been great for us. I think this is the first Monday that we've had practice, because we were traveling, so we were off the last couple Mondays after being on the road. Having this extra day for them to get a lift in, we did practice yesterday, we'll get after it a bit today. I think just being here and being home with our strength coach and our trainer, I think they've been doing a great job of taking care of the girls and giving them the tools they need to stay healthy."
What's it been like watching the Penn State alums play for USA volleyball?
"It's awesome. They're all heading back overseas now to play. But I think anytime you can have a Penn Stater representing USA volleyball is awesome. Nia Reed was someone who, I think she's a great example, she didn't play a whole lot here until her senior year, and then she goes overseas and has two great years, and then was playing on the [Pan American Cup] team. I'm happy for them. I'm happy for Micha [Hancock] and Haleigh [Washington], and hopeful that they'll get one more shot here at the Olympics, if their bodies hold up. Those two have been playing for a long time now. I'm excited for all of them."
What do you enjoy most about watching Kendall White compete?
"Actually, it's funny, we were just messaging yesterday. She's on her way back to France. Kendall's a fiery, aggressive player. She's the type of kid you would want on your team. I'm happy for her. I'm not surprised. She's worked really hard to get where she's at. I'm excited for her season overseas."
In what ways have some of the younger players, especially the freshmen, been learning from the veterans?
"I think the group is all learning from each other, to be honest with you. We have a lot of new faces, but a lot of returners. I think maybe the upperclassmen are a little bit more relaxed. I mean, you see Leisa [Elisaia], she's more of a calming player. I think she's been really helpful with the younger ones. But I think all of them have made an impact on the program. I think the younger kids are just embracing it. They're each going to have a vital role here, too."
What differentiates Gillian Grimes from a typical freshman defensive specialist?
"I think she's a great player. I think she has a great attitude. I think that she steps up to the challenge and just wants to compete. She's not afraid to compete. I'm really happy with her. I think she's gotten better every match she's played in here, and I'm looking forward to seeing what she can do in the Big Ten."
How valuable is the spark that the underclassmen are able to provide to the team?
"Oh, I think it's great. You guys have been at the matches. You see our bench. I think they're so in tune with each other and help each other and are so supportive. I think, when it's their time, they'll give the best effort, too. It was nice to see all of them get in last weekend. I think some of them are a little nervous, as to be expected. I think it's a big deal playing in front of crowds here. I think all of them will get the experience they need this year to continue to be successful."
How valuable is it that Quinn Menger is able to set, especially during the spring when you guys were pretty light on setters?
"Quinn's a total utility player. She was a setter in high school. I mean, obviously, you've seen her come in and serve and play defense. I think she's someone who works hard every day as well. I'm not afraid to put her in. I know she's paying attention. She knows the game. She's a coach's kid, so she's always paying attention to what's happening. I think she's a really helpful teammate."
What does it mean to you and the staff to have this much depth?
"It will help us tremendously, and it has. It's nice that we can flip players in and out and not skip a beat. Whether it's Alexa [Markley] or Nasta [Kudryashova] or Katie Clark, I think all of them can come in and know what's going on in the game, and also have opportunities to score points, just to give us a different look."
How would you assess the play of your middle blockers so far this season?
"I think they've been doing a great job. I'm really pleased with all of them. I think Allie [Holland] and Taylor [Trammell] are difference-makers. They find ways to score. I think both of them do a very good job blocking. I think Taylor has come a long way with her attacking, and is finding other ways to score. Allie is an emotional leader out on the floor, and I think the players look to her for that. Katie Clark and Erika [Williams] both have played this preseason, and every day in practice, they're pushing each other. Like I said, I'm not afraid to put any of them in."
Gillian Grimes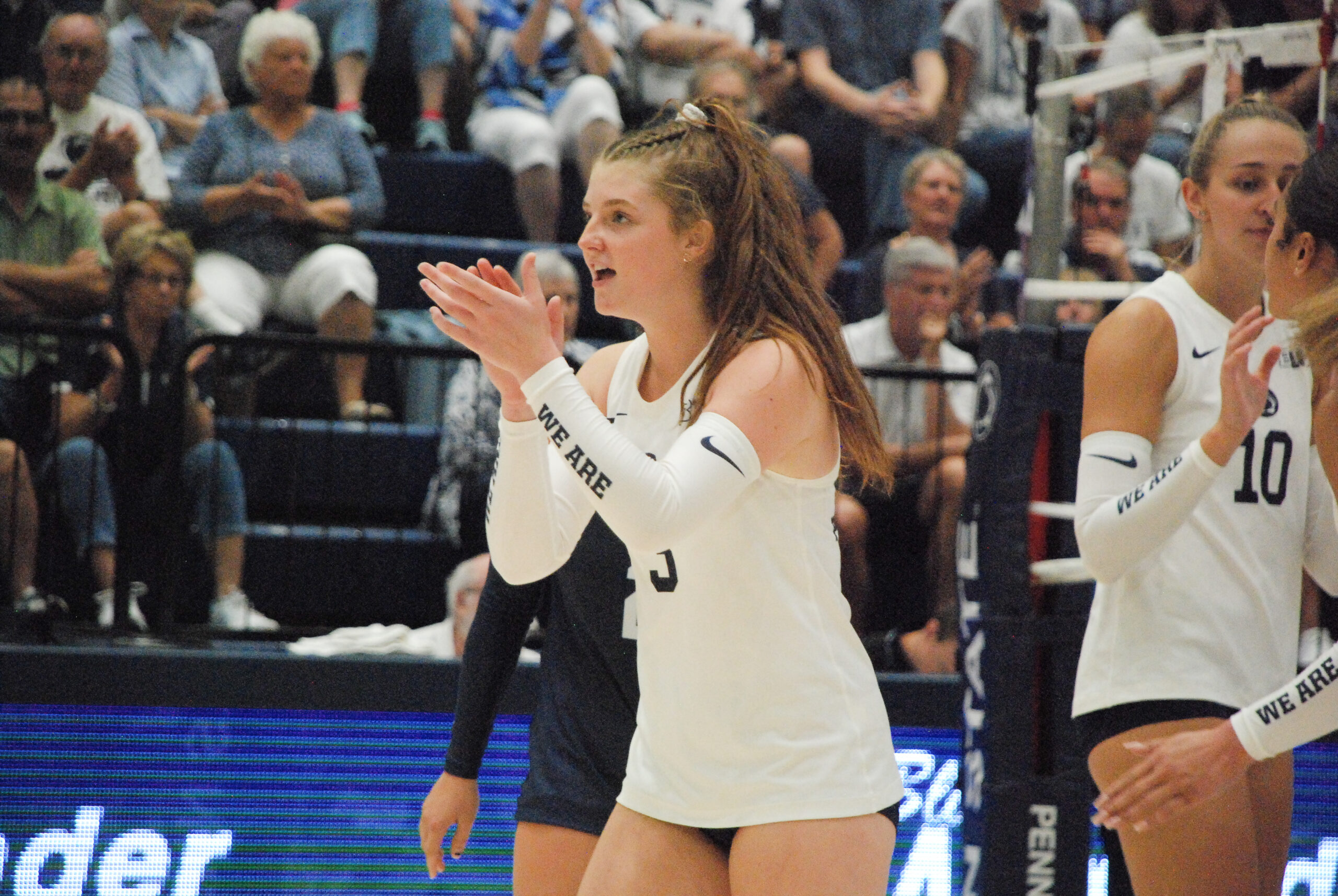 How have your expectations for Penn State compared to the reality of actually being here and playing in matches?
"I would say the expectations here are, obviously, what we're doing so far. In the practices, I feel like we really prepare for what the expectation is. Even when we go to games, the crowd is just something that I wasn't prepared for, but it's so much fun and so cool to really experience. I feel like the experience of being a Penn State athlete really exceeds my expectations, too, just by the crowd and having so many people here to support us."
It's your first time playing in the Big Ten this weekend. What are you looking forward to?
"I'm really looking forward to competition. It's been a dream being here ever since, too. Just playing against our first opponent, IU, that's just a dream to me. It's going to be really fun."
What have you done to prepare for Indiana and other Big Ten teams?
"I would say I definitely watch film [of opponents], on myself in the gym, too, to help the team. I just focus on my passing or my serving, because I think that's what I bring to the table for the team, just to help while the competition gets better in the Big Ten."
How much of a benefit do you think it is to open up Big Ten play at home?
"I think it's a huge benefit, just because I feel like we play a lot better in bigger crowds, and we perform at our best. I think that's going to be a huge benefit."
How do you guys not get wrapped up in the great preseason and focus on a new season starting right now?
"I think having a great preseason really shows what our potential is as a team, but also, we kind of have to forget about it, just because this is a whole different conference. I think we just have to really focus in practice, knowing that we're going to be playing one of the best teams in the country."
What are some things you've learned from Maddy Bilinovic and the other defensive specialists?
"I would definitely say I've learned from Maddy just being a leader and trusting each other in the backcourt. Just because I feel like our connection, Maddy and my connection, she really trusts me, and I trust her, so that's why we tend to get it done in the backcourt."
What was going through your head when you made the first serve of the season and started things off against UConn?
"I was honestly just like, 'Over and in. Over and in.' So we could get the game started. That was what was going through my head, because it was my first serve ever as a freshman, so I was really excited."
Before a match, what do you do to get ready? 
"While we're serving in warm-ups, I kind of think, like, 'Okay, game-situation serve.' I tend to just quiet out the band when we're in warm-ups, so I can really focus in the game."
What's your relationship like with Katie Hurta?
"Katie and I are best friends. We live together now. We've been on the same team since we were, like, 8 years old, so our bond is just crazy. We're basically sisters by this point. It's so much fun."
What are some things you've learned in your first 11 matches as a Penn State Nittany Lion?
"I would definitely say that I need to keep my confidence high, because you're playing against girls who are a lot older than you. If you don't have high confidence, or trust in your team, or trust in yourself, then that's when your mental game goes down."
How has it been adjusting to Penn State as a freshman?
"The team has helped me a lot with that, because they trusted me as a freshman, too, to not freak out or be nervous. I would definitely say the team has helped me the most with that."
What are some of your favorite things about playing for this coaching staff?
"They're always the type of coaching staff to tell you when you're doing well and stuff like that. I would say the benefit that I get out of that is knowing that they trust me, too. They're going to put the best girls out there who are going to get the job done. I think just having them trust me is what I really like a lot about them."
Anjelina Starck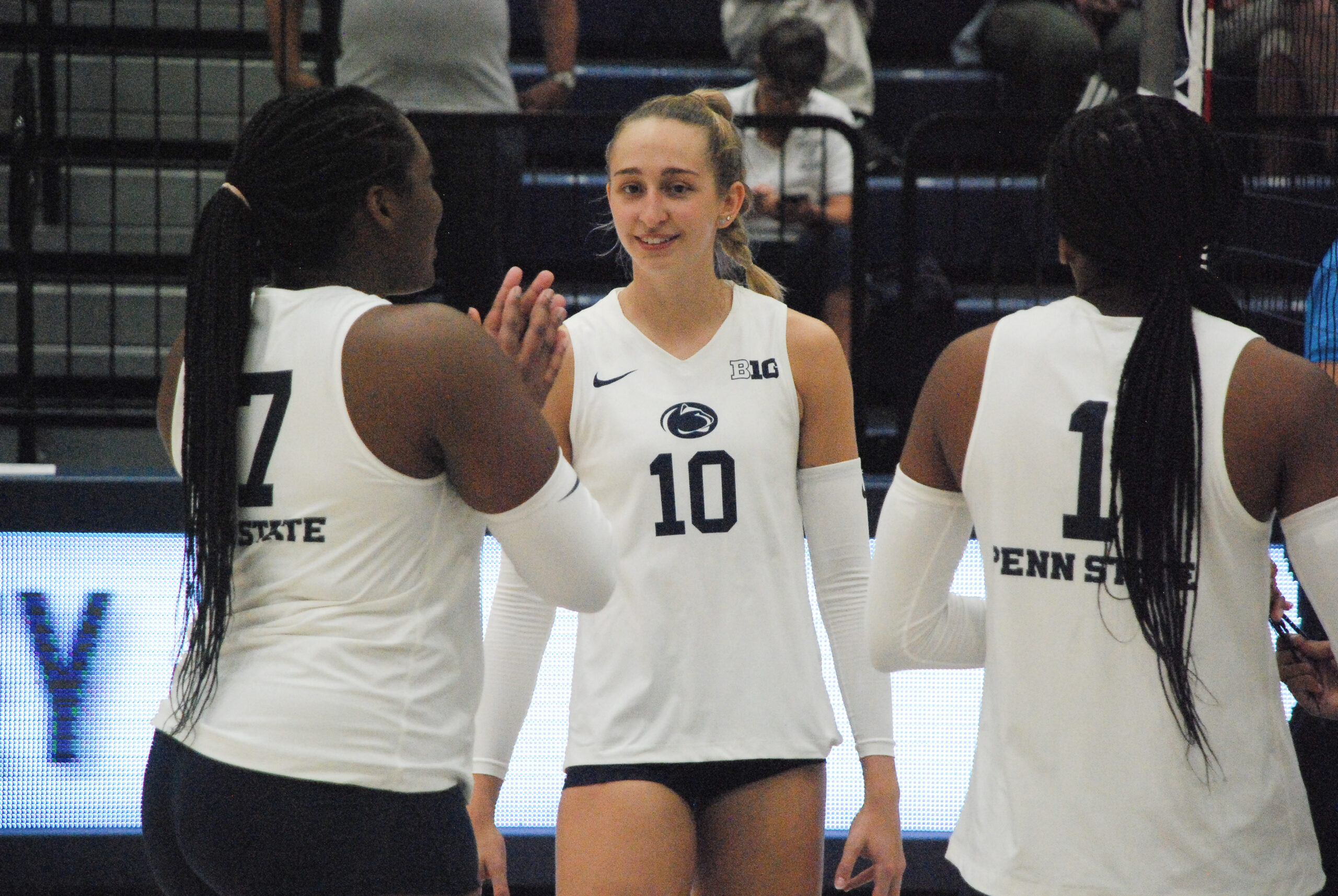 Heading into Big Ten play, what do you want to work on personally?
"Still mostly my out-of-system hitting. I think it's improved a lot since last year, but that's one of the biggest things I've been working on."
What advice do you have for your teammates who haven't gone through a Big Ten season?
"It's always playing 100 percent every game. As long as we have fun and work together, I think we'll be good."
Throughout last weekend and the preseason, the offense has had positive spurts and momentum. How much of a confidence-builder is that for you guys?
"I think that's a really big confidence-builder, because that will help us beat some of the better teams. As long as our passing and defense stays strong, I think it will continue to get better."
With an 11-0 start, what's the feeling around this team right now? How much trust do you guys have in each other?
"We all have a lot of trust in each other, and I think we always have from when we first started. We first got on the court and gelled super quickly together. Knowing that we could come back when we were down against Stanford and Oregon, it just makes it even easier to play with each other."
Speaking of that, what have you done off the court to get closer as teammates?
"We've had a lot of team dinners. We'll do movie nights and we'll just do little, different things as a team."
How important are those team dinners and movie nights when it comes to gelling with everyone?
"I think it's super important, because then, when we're on the court, we know each other better. We know how to talk to each other better, and what people like and what they don't like."
With a great start under your belt, what other goals do you guys have as a team?
"Just continuing to work hard and get better every time we step in the gym."
What stands out to you about Alexa Markley?
"I think she's a really good player, especially for only being a freshman. She always comes in the gym and is always positive, always works as hard as possible, and I'm excited for her to continue to keep growing."
What do you like most about playing with Leisa Elisaia?
"She always makes me laugh when we're on the court, and she always works super hard."