Penn State women's volleyball held its sixth weekly media availability of the 2022 season Tuesday afternoon before practice at Rec Hall.
Head coach Katie Schumacher-Cawley and redshirt senior pin hitter Anastasiya Kudryashova fielded questions ahead of the Nittany Lions' trip to Madison for a big match against No. 8 Wisconsin Friday at 9 p.m. ET.
Kudryashova has played in seven matches so far this season, including one start, recording 18 kills, five digs, and two blocks. The Novosibirsk, Russia, native transferred from Rutgers to Penn State prior to the 2020 season, which was played in spring 2021, and brings plenty of versatility to the Nittany Lions in the front row.
Penn State (12-1, 1-1 Big Ten) dropped three spots to No. 12 in this week's AVCA coaches' poll after sweeping Indiana and losing to Michigan in straight sets last weekend at Rec Hall to begin Big Ten play. Schumacher-Cawley subbed in Kudryashova at times against the Wolverines when Penn State's starting outside hitters were struggling to terminate.
Editor's note: A couple of reporters attended this week's media availability. The transcript of questions and answers, lightly edited for clarity, can be found below.
Katie Schumacher-Cawley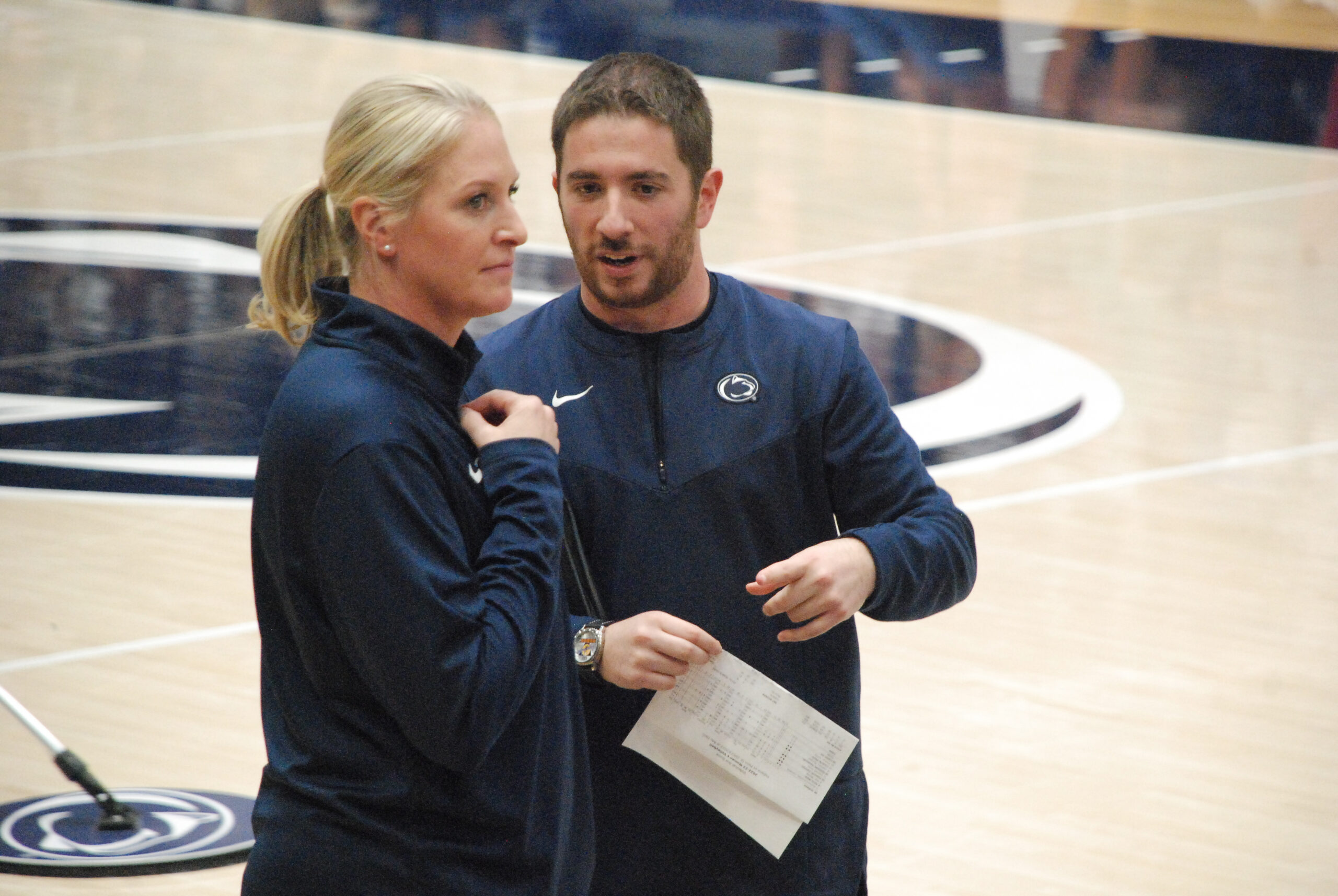 What were the main takeaways from last weekend? What have you guys been working on in practice?
"I think it was an eye-opener for the girls, not that they were comfortable winning, but I think just to acknowledge that the Big Ten is so competitive. Especially when you're at home, you have to be sharp and you have to be ready to go right from the first whistle. We did a lot of film work. They saw some things that could be better, that we've done better in the past. I think just paying attention to the little details. We had a great practice yesterday. They're eager to get going. They've acknowledged what they need to work on. So, for me, that's good. They watch film and they do those things that are small, little tools that will help them get better."
What would you like to see from your outside hitters moving forward?
"We need to find a way to score. I think when our passing is good, Leisa [Elisaia] has opportunities to set different players. But I think when you're one-on-one as a hitter, you have to find a way to score. We put them in some drills yesterday, and we will the rest of the week, to be able to hit different shots and to move the ball around a little bit more."
What was different from the Michigan team as compared to other good teams like Oregon and Stanford?
"You know, it's funny, I think Michigan should be ranked. We don't really look at the rankings, but they're competitive. We knew they were very good coming in here. I think the Big Ten is just a different level of play every night, and it's so competitive. Not that anything was different. I think they played really hard and they did some great things. They served really aggressively. I don't think we've seen serving as aggressive as that up until this point. I think they had a great game plan, and we didn't respond too well to some things. I think it's a learning experience."
What stands out to you about Wisconsin's team this year?
"They're big. They're physical. I think they're a very good team. I think they have a lot of depth in all positions. I think it will be a great match. It will be competitive. We'll have to serve aggressively and take advantage of being able to win a long rally and do some things like that to be successful."
Traveling to Wisconsin on Friday and then coming back here on Sunday, what are some of the key focuses for staying fresh this weekend?
"It's a late night for us Friday night. The match is at 8 o'clock there, 9 o'clock here, so we won't get back until pretty late. I think having Saturday at home, they'll get to sleep in a little bit. We'll have a practice on Saturday during the day, then they'll have Saturday afternoon and evening to rest, because it's a quick turnaround. We play at 1 o'clock on Sunday. I think just being back home in your own environment will help them. We'll definitely take some time to recover and be fresh for Sunday."
What are some things that you like about Mandi Morioka's game and her as a person?
"I think Mandi brings great energy. I think she's been really working on being an aggressive server and being able to come in and serve receive, because that's where we've been struggling a little bit, in some of those areas. I think she works hard in practice. She was injured a little bit during preseason, which kind of held her back, but I think she's been doing great these last couple weeks in practice. I know she's ready to contribute. We'll use her when we have to."
What are some of the things from your team that have made you the proudest this season?
"I just think that they're great teammates. I think they're really encouraging of one another, whether they're playing all the time or they're not, or they're getting in for a couple points, I think that they really help each other out and are supportive. I think that creates a good atmosphere, but also to stay competitive in that the person right next to you might be taking your spot next week. I think they understand when we're in the gym how competitive we are, but also, outside of it, to be a great teammate."
How valuable is Nasta Kudryashova's versatility and experience?
"I think Nasta has the ability to come in and play on both pins. Her serve receive has been getting better. I think that she has the experience and she's played quite a bit, so I think her coming in off the bench, I'm not surprised when she comes in and has a kill or a block. I think she's paying attention to what's going on, so she'll help us."
Wisconsin is a very offensive team. What are some of the defensive strategies or things we could see from the defense?
"I think our blocking has been very good. We had a little hiccup on Saturday [against Michigan] with it, but today we'll work on all-team defense. We'll do some film and then work on some blocking and what our game plan will be. I think our backcourt is really scrappy and picks up a lot of balls and will help us find ways to transition and score. We're going to have to be focused from the start."
Who are some coaches, regardless of the sport, who inspire you?
"I think I have a lot of different coaches who inspire me, both basketball and volleyball. I would say, women who we've played this preseason who I respect, Tonya Johnson at LSU and Christy [Johnson-Lynch] at Iowa State. I think they're both females who have been in the game for a long time who I know I can ask questions to and things like that. I really like [Michigan's] Mark Rosen in our conference. I think that he's really knowledgeable. I think he's someone who's just an advocate of good volleyball and helpful. I know that I can bounce ideas off of him, too. There are a lot of coaches who I can talk to. One of my good friends is Marci Jenkins Byers, who's at Virginia Tech. She's a good friend of mine and we talk a lot of volleyball. She has great perspective on players and the conference."
What are some of your general thoughts on the Big Ten this year?
"Oh, gosh, that it's relentless. I think I said that. Every match is going to be so competitive. Everyone has players, whether they're players who have been there or transferred in. It's going to be pretty wild here to see in the next couple weeks what everyone's doing. We can only just take care of ourselves right now."
Despite the defeat last Saturday, were there any positive takeaways?
"I think we look at the positives and the negatives from both wins and losses. Even when you're winning, there are things that you can work on. I think we did a couple things against Michigan in the beginning that were good, and then we kind of went away from it and lost a little bit of focus. I think wins and losses, you can go back and learn from all of it."
Ali Frantti had a really nice match for the U.S. yesterday against Canada. What's your impression of her?
"She's crushing it. I'm so happy for her. I think she's had a great pro career that's led her to competing with the USA team now. I think that she's aggressive and feisty. I think she competes. I'm happy for her."
What are some things you like about Haleigh Washington?
"I think Haleigh's one of the best of the best. I think she's just a competitor. She's a team leader. I think she's a player who her teammates want to be around. I think that she brings something special like that to the table."
What are your thoughts on how close-knit the volleyball community is?
"Oh, it's great. It's a small world we're all living in. I think everyone knows everyone, whether it's the club world or where your previous coaches have been and stuff like that. I think it's a great community. I'm excited to see as much of it on TV as it is now. I think that it's only going to get better. I'm happy for our players to have that experience to be on TV multiple times this year, for families who are near and far."
What are the biggest differences between the high school, college, and pro game?
"High school, for a lot of these kids, is different than club season in that maybe there are only a couple great players on their team. I think the speed of the game, the serving. I think Ali is a prime example. Ali Frantti was very good here, and I think was injured a little bit, and then goes on to her pro [career] and she's stronger, she's jumping better. I think as you mature and play with better players and get stronger, it's a different speed."
Anastasiya Kudryashova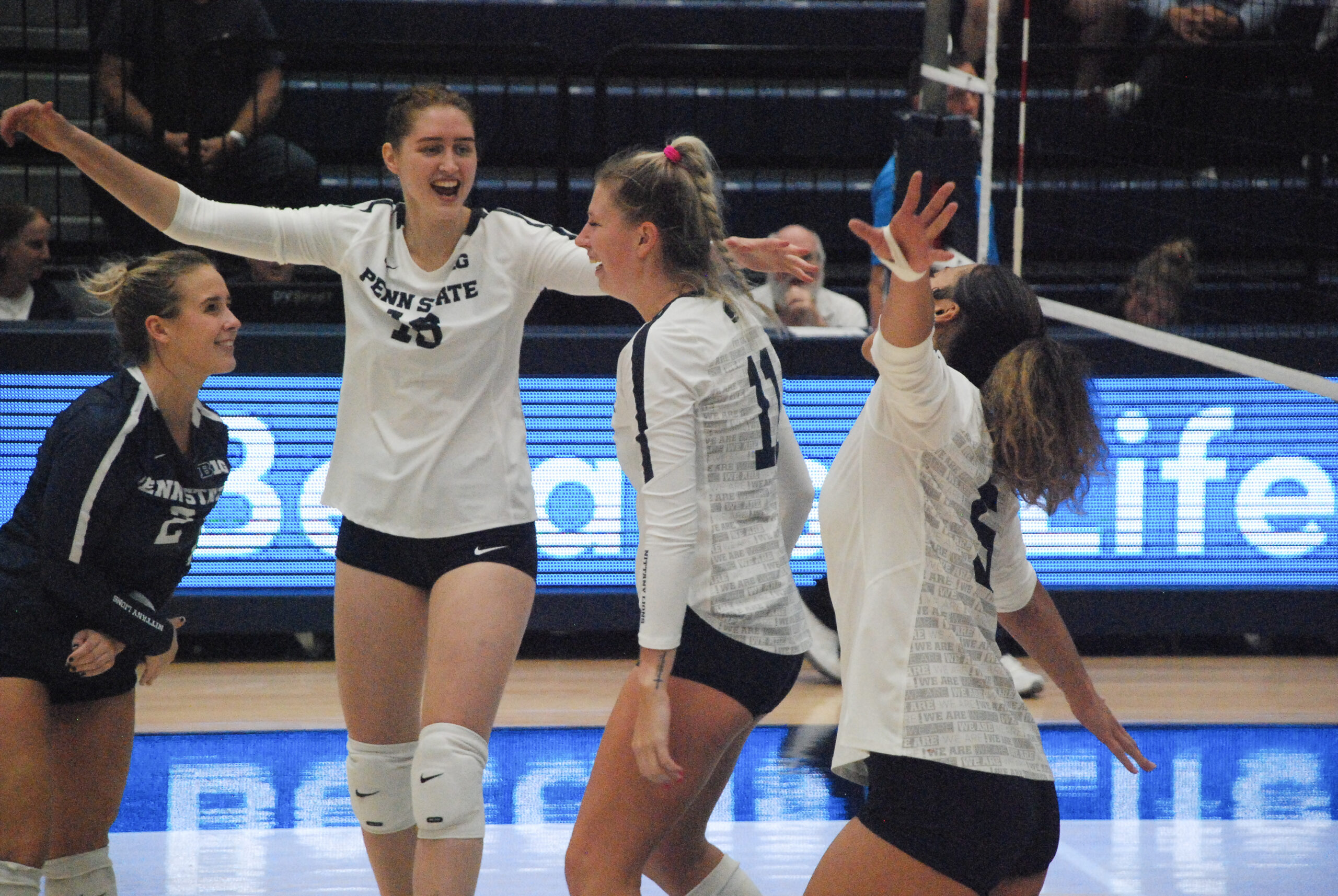 What are some of the best things about playing for this Penn State team and being around your teammates?
"I think that we have great chemistry on the court. I always feel very supported by my team. It comes down to the small details. When we're really down, you don't feel like you're alone. You always feel like you have your team with you. Even if you're losing, you're losing together. This unity I think is very transparent and we can feel how much we depend on each other."
Is there any specific thing you think you should improve as a team before next match?
"I think we should definitely work on our strategy. Of course, we scout our teams, and we always have film, and you saw Brian [Toron] was carrying these papers of where we have to serve, where we have to block, but sometimes during games, the strategy doesn't work. So we have to work on adjusting our strategies and trying to change the game during the game if it doesn't work. This is probably going to be the main point today and until we play Wisconsin on Friday."
What's your relationship like with Allie Holland? It seems you two are pretty close.
"I love Allie. I think we're really similar. It started with when she [arrived] on our team, we went to Target together. We have similar musical tastes. We have similar interests. We both love friends. We both want to travel. We have the same life perspective, the same goals, and we both are kind of similar. On the court, I think that because we've played so long and we both went through Russ Rose's school of volleyball, basically, I think we bonded through that. I think that of all my teammates, Allie is the closest to me, because we're so alike and similar."
What are your expectations for the next few matches as a team?
"I think that we're definitely going to play better than we played with Michigan. The game with Michigan taught us a lot and showed us our weaknesses. We've already started working on it. I think just because everyone — we're not frustrated, we're more mad that we didn't have a chance to overturn that game, so we're more oriented toward the next game. I think that we're actually going to perform really well because of the way our team energy kind of shifted, and we became more aggressive on the court since the game with Michigan."
What's it like celebrating with your teammates on the court after a big point?
"I think that the best part of it is I always look at Maddy Bilinovic, because she's the most energized one. She's always happier than me for my goals and my points and everything. I love Maddy."
Were there any positive things you learned about yourself in the last match?
"I think that I'm always very judgmental and I didn't really like the way I came out on the court, and I didn't like the way I played, so I don't think there were any positive moments. I think the balls that I scored were on accident, honestly. I don't think that I performed really well. I would say that it just showed me the things that I have to work on more."