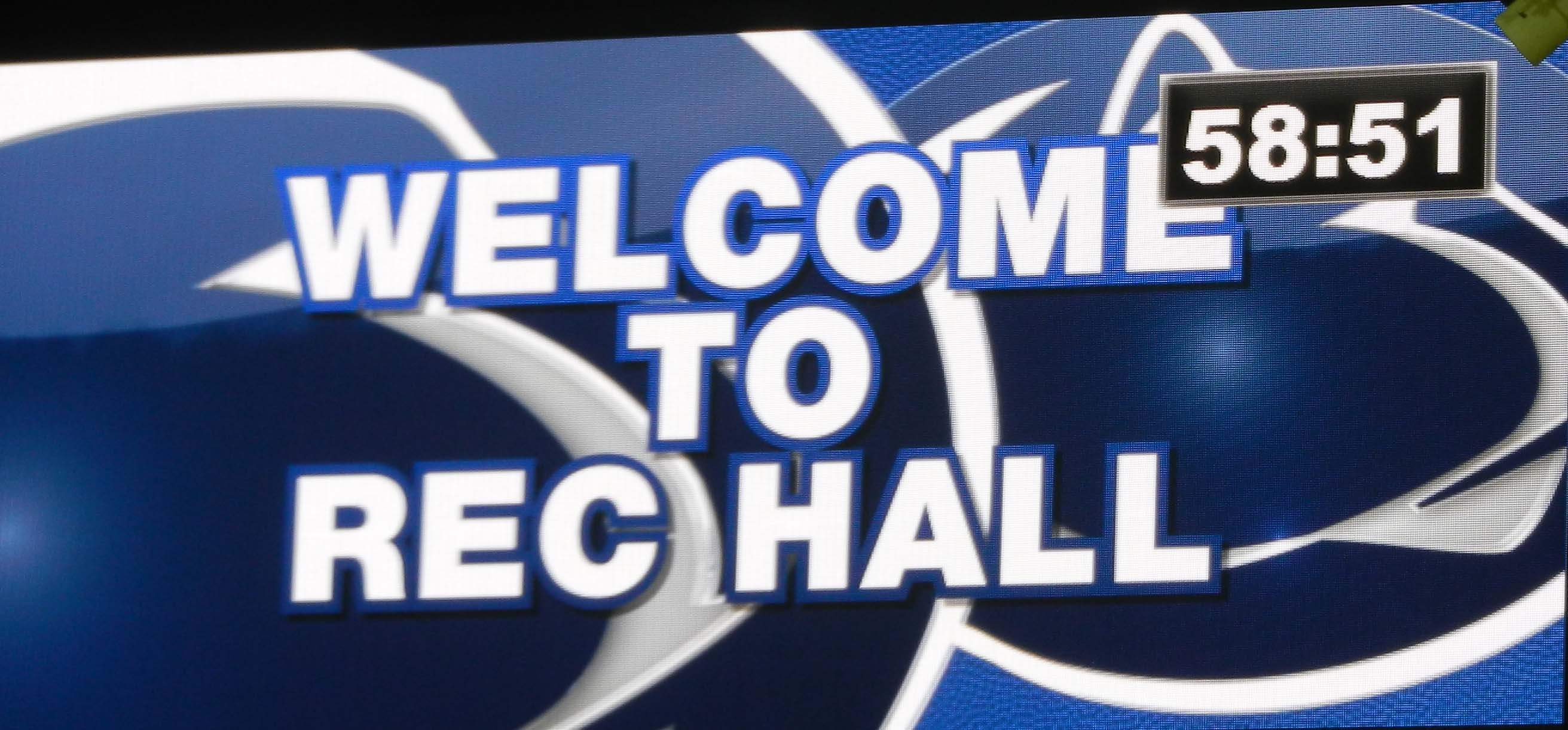 Penn State is ranked #2 in the AVCA poll (and DigNittany's North Pole Poll – it's Cold at the Top), with a 23-2 overall record, and a 13-1 record in the B1G. The Nittany Lions will take on Illinois Thursday evening at 8 p.m. in Rec Hall.
The match will be broadcast live on the Big Ten Network – with streaming audio on GoPSUsports.com featuring Brian Tripp, the voice of Penn State Women's Volleyball. Brian is a Penn State graduate who has worked as a producer at Forever Broadcasting/State College's ESPN Radio 1450, and as a broadcaster for the Penn State Sports Network.
Our Illinois Match Preview starts with a video interview with Penn State assistant coach Steve Aird, courtesy of GoPSUsports.com, followed by a Q&A with Brian Tripp, and a Stat Joust, comparing the stats of Penn State and Illinois as of today.
Video with Steve Aird
Q&A with Brian Tripp
(Player photos are courtesy of GoPSUsports.com)
About Megan Courtney

DigNittany: There are plenty of story lines here – 5-11 So. S Micha Hancock's award as AVCA National Player of the Week, 6-4 Jr. RS/Opp A. Scott's  offensive performance last weekend, Illinois' chance for redemption following their fifth-set meltdown against Penn State after leading 14-10.
But we're going to go with one that isn't exactly under the radar, but is somewhat difficult to put in a sound bite – the contributions of 6-2 Fr. OH Megan Courtney this season. [Editor's note: after we finished this Q&A, we found a blogpost by Megan Courtney on GoPSUsports.com, which you can read here]
For those who aren't as obsessively conversant with Penn State's statistics as we are, Courtney is fourth on the team with 2.07 kills/set (and a .238 attack %, right behind 6-1 Jr. OH Deja McClendon's .244), fourth on the team with 1.95 digs/set, 3rd on the team with .77 blocks/set (and, the statistic that jumps out to us, first on the team with 18 solo blocks – 6-6 Sr. MH Katie Slay is second with 12), and fourth on the team with 2.66 points/set. These are pretty darn good stats for a true freshman – albeit one whom Head Coach Russ Rose has said has the highest volleyball IQ on the squad. Based on what you've seen over the course of this season, what are your thoughts on Courtney and her prospects for the future?
Brian Tripp: As is the case with almost all freshmen, there are ups and downs over the course of the season. Megan Courtney is no exception, but she is consistently putting together stronger performances over the past 3 weeks. Courtney is a complete player, especially for a freshman, and the stats you list help demonstrate that. She has a strong swing, great approach to the net and covers the floor extremely well. Most importantly, I've been impressed with Courtney's confidence and toughness. She has the intangibles to become an extremely special player. While her numbers on the road are down compared to at home, she does not get intimidated by the moment. Her 5th set blocks at Illinois propelled Penn State to the victory in the first meeting between the two squads this season. Courtney is destined to be a star and it will be interesting to see how Russ Rose utilizes Courtney and her versatility down the road.
About A. Scott

DigNittany: In interviews this week, Russ Rose downplayed the success this past week of 6-4 Jr. RS/Opp Ariel Scott, who led the team with 4.86 kills/set. There are matches where Scott seems unstoppable, and others where she is relatively quiet. From what you've seen, how much of her inconsistency (without meaning to criticize a player who is 9th in the Big Ten with 3.73 kills/set and 9th in the Big Ten with 4.19 points/set) is due to other teams keying on her, and how much on other factors?
Brian Tripp: One of the reasons Penn State is difficult to beat is because of the team's depth and extent of talent on the floor. For me, Ariel Scott is the most physical hitter in the nation. Obviously, teams are going to focus on Scott and that contributes to lower numbers.
Also, Scott has only led Penn State in total attacks in 10 matches this season. By comparison, Deja McClendon has led the Nittany Lions 15 times and Megan Courtney 1 time in that category. The flow and tempo of a match can dictate where setter Micha Hancock sends the ball — there are matches where Hancock utilizes middle attackers Katie Slay and Nia Grant more than to her pin hitters.
Finally, players have nights off and that happens to Scott as well. Fortunately, the Nittany Lions have shown an ability to win in spite of those trying circumstances.
About Katie Slay (and is she a Pirate?)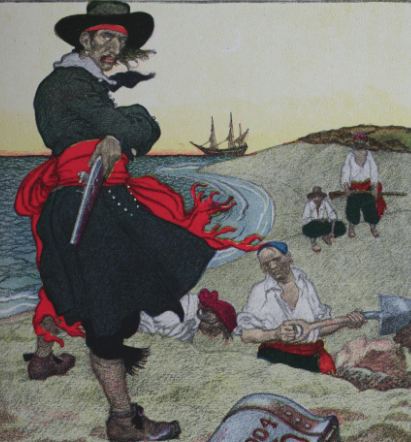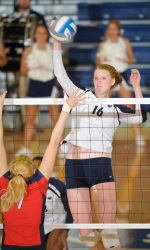 Is Katie Slay a pirate? "Katie's Maties" think so.
DigNittany: We recently noticed Rec Hall fans holding a sign that read "Katie's Maties" with a drawing of Katie Slay on what appears to us to be a pirate ship. Two questions: 1) is Katie Slay secretly a pirate? And 2) do you think she is among the most improved middle blockers in the Big Ten this season?
Brian Tripp: I have never seen Katie wearing an eye patch or carrying a sword, so I doubt she is a pirate.  Also, I don't think Raleigh, NC, Katie's hometown, is a hotbed for pirate activity. However, the name is extremely creative and those fans should run with the idea.
As for Katie Slay on the court, she unquestionably has improved in the 2012 campaign. She came to Penn State as a naturally gifted blocker. Her blocking ability has been an unquestioned strength since she first set foot in Rec Hall. Offensively this season, as I've discussed this on several broadcasts, Katie adds an extra dimension to the Penn State attack.  She has succeeded in hitting at angles only she can create with her 6'6" frame. She is a strong girl and is hard to stop on the wide slide hitting across her body.
The connection between Slay and setter Micha Hancock seems flawless at time this season and this has allowed Slay to read defenses and accurately hit a variety of shots.  Because of the added offensive component to her game (in 2011, she averaged 2.11 kills/set with a .386 attack %, whereas in 2012 she is averaging 2.49 kills/set, with a .429 attack %), Slay qualifies as one of the conference's most improved players, regardless of position.
About the Illini
DigNittany: Penn State has a long history of success against the Illini – its 38-9 record gives it the best winning percentage (.808) of any of Illinois' opponents. Of all those losses, the most painful may have been the last one, when Penn State pulled out a fifth-set victory after trailing 14-10. You were there. Tell us about that rally and whether you think it gives Illinois added incentive tonight against the Nittany Lions.
Brian Tripp: Illinois needs to win to have a shot at reaching the NCAA Tournament. Right now, it looks like last year's national runner-up will be on the outside looking in come tournament time.  That alone should be enough motivation for the Fighting Illini.
The rally from the 14-10 deficit brought back memories of the 2009 National Championship match against Texas.  Against the Illini, Penn State refused to lose with some amazing digs and clutch performances from some unsung heroes. 5-6 So. L Dominique Gonzalez served tough down the stretch, 6-2 Jr. OH Maddie Martin hit an incredible shot into the right back corner near the Illinois bench and Megan Courtney put up a stiff solo block.
I'm sure the loss bothers Illinois, if for no other reason than that given its current record and position, they could have used the "W."  There might be some added incentive, but the main focus of the Fighting Illini at this point in the year probably is on their current match.
Keys to the Match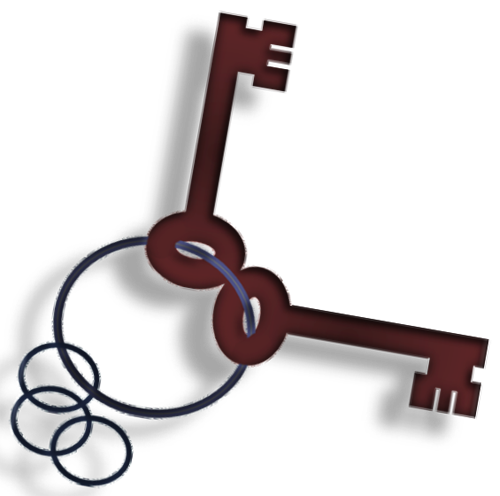 DigNittany: What do you see as the keys for Penn State, and for Illinois, and who do you think comes out on top?
Brian Tripp: Penn State controls its own destiny in the Big Ten race. The Nittany Lions need to finish strong, so I'd like to see Penn State start fast and show its potential. A strong start, especially at home, could bury Illinois.
Of course, serving last weekend for Penn State was phenomenal. That needs to continue the rest of the way. Particularly in this match, passing is critical because of Illinois' block.
Micha Hancock needs to have the ability to set each potential offensive attack on the floor to offset the block.  Bad passing prevents Hancock from doing that.  To counter that, Illinois needs to serve well to win the match.  Serving specialist #10 Jackie Wolfe (5-9 Sr. DS) will play a large role in the match if the Fighting Illini can pull off the upset.  Additionally, Illinois need 6-1 RS Fr. OH Ali Stark to be effective.  Stark is a quick lefty and a 6 rotation player. However, she has a habit of inconsistency and can disappear in the match.
6-6 So. OH Liz McMahon dominates Penn State and she will probably have a big match for Illinois, but I expect Penn State to win. The Nittany Lions are a deeper and more consistent team, especially at the setter position.
DigNittany: Thanks, as always, for your time. We appreciate (and judging from the response, so do our readers).
Stat Joust
Below are team and individual statistics for Penn State and Illinois, as of November  7, 2012, and their rankings in the Big Ten.