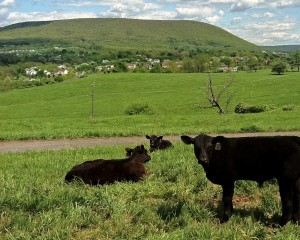 No, the Sky is Not Falling.
Yes, the Penn State women's volleyball team (26-5, 15-5) was swept (25-18, 25-18, 25-22) by Nebraska (26-4, 17-3) last night.  That's a very disappointing result — most of all to the Penn State players and the Penn State staff.  They all strive for the highest levels of achievement, and with six NCAA Championships in the past eight years, the bar has been set very, very high.
But no, the sky is not falling in Central Pennsylvania.  (In fact, we have photo evidence, from our crack Cow Reporters — pictured at right, that the sky continues to be in its traditional place above Mount Nittany.)
We've asked Talking Head, who played D1 volleyball and has coached successfully for years, to provide some perspective on the match, and you can read that below.  Before we turn to that, a few stats from the match:
Complete stats for the match are at the end of this post.
Match Rap – by Talking Head
Last night was the perfect storm in favor of the home team.   Hosting their arch enemy (and back-to-back National Champions) Penn State, with a packed house, on live TV and  taking advantage of a new lineup and an opponent that isn't 100% healthy in body and confidence.  (Not an excuse; rather, an explanation).  From the get go it was quite evident that Penn State had some inner demons that it was fighting.
Libero Kendall Pierce clearly was knocked off her game early, our hitters made some poor choices and we really started pressing.   As a team, Penn State committed 23 hitting errors, 4 service errors, 4 return errors and 8 blocking errors.  That's 39 total errors committed on our side.  Without question, Nebraska must be credited for helping to create many of these — but that is a very high total, and one that puts a team in a very deep hole.  In this case, the Nittany Lions weren't able to pull themselves out of that hole.
Negatives
Our four pin hitters combined for 14 kills.  Total.  Ali (3), Megan(9), Simone (1) and Nia (1).
Kendall Pierce was aced four times — two were poor touches/decisions, two were ridiculous, wicked serves.
Our Middles weren't closing on their blocks.
Our transition game was non-existent.
Observations
All this being said,  I did see traces of the team's early-season confidence and crispness in game 3, which had 8 ties and a possibly game-changing call (still baffled) that could have ….could have led to a PSU lead of 23-22, all things considered.   But you make your own luck, and no question Nebraska was the better team last night.
For stretches of the 3rd set, the Nittany Lions went toe-to-toe with a very confident foe and at times (yes) looked like the better team.
As painful as it was to watch, the whole team — and certainly newly-installed libero Kendall Pierce — NEEDED to experience a game and environment like this before heading into the NCAA's.  She certainly got knocked down, but got stronger as the game progressed and it was clear that Coach Rose was willing to allow her to experience these growing pains to and see if she could fight through it.
Outside of the middle attack from Aiyana and a little of the slide from Haleigh PSU, Bryanna could not get any semblance of offense in any rotation.
The better team won LAST night. Nebraska had a very balanced offense and they touched everything we brought over the net.
Looking Ahead: 11 Things to Consider
The NCAA's are upon us, and we will learn in the next 12 hours what path the 2015 team will be taking in their quest for a National Championship. For sure, for Penn State to win it all, the volleyball gods will have to be kind to us, but the girls must also work hard to create those chances.
The good news is Penn State has the pieces to make it happen.  It is really important for all of us to remember:
For the Regionals and Final 4, home court advantage might just be thrown out the window — so that part of the playing field will be leveled.
Penn State will host the first two rounds and work hard on their symmetry and confidence to remember who they are collectively.
The Nittany Lions will have the better part of week to get healthy for each round.
Coach Rose will have the better part of a week to gameplan and prepare for an opponent (nobody does it better).
Penn State has more experience than any team out there at this stage of the season.
Every team — I repeat every team — has a 0-0 record now. You can't drive a car looking through a rear view mirror!
The Nittany Lions do NOT have to beat every top 20 team to advance.
You are who your record says you are does NOT always apply…….especially in a crazy year like this one.
Dec 4/5 days from now is a lifetime from now,  Dec 13/14th a decade and Dec 19th/21st a century in D1 women's volleyball terms.
I have faith in the coaching staff and players that a sweet onion is under those layers waiting to be peeled!
In scenarios we have seen posted, Penn State could draw a favorable matchup.  How about this? Rnd 1: PSU over New Hampshire; Rnd 2: PSU over Dayton: Rnd 3: PSU over Kansas; Rnd 4: PSU over Minnesota/USC; Rnd 5: PSU over Wisconsin; Rnd 6: PSU over Nebraska.
Editor's Note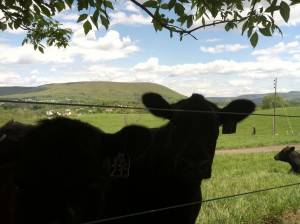 We love Talking Head's optimism.  Will that scenario come to pass?  Who knows.  But as we said in the lede, the sky is not falling.  The "sky is falling" crowd might take a cue from our cow reporters, who think everyone should just moooove on.
Match Stats
(Courtesy of GoPSUsports.com)