If it was a battle for all the marbles, then previously #1 Penn State (24-3, 13-3) doesn't have any marbles left, as then-#4 Minnesota (23-3, 15-1) not only defeated the Nittany Lions, it swept them on Saturday evening in Minneapolis, 23-25, 20-25, 21-25.
We have the stats, below, but first, we asked Talking Head, who played D1 volleyball and has coached successfully for many years, to give us his impressions of the Minnesota match.  Here are his 10 takeaways:
1. Minnesota Earned It
* First of all, a solid congratulations to the Minnesota Gophers.  They were really on their game and had a few stellar performances — they  earned the win.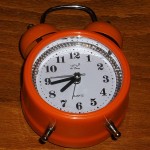 2.  Wake Me Up at Set Three
* Penn State, on the other hand, really did not do anything with consistency until the third set.  It was a team loss.
* In game 3, both 6-1 So. OH Ali Frantti and 5-5 Sr. DS/libero Kendall Pierce passed well, with nice high balls that kept the team in system.  Game 3 saw 11 tie scores and 2 lead changes.
3. Penn State's Serving
* All too often, Penn State's serving was in the 20 foot line range — placement that didn't force the Minnesota players to lunge, didn't put the ball at their chests, and for the most part didn't seem to stress the Gophers serve receive patterns.
* Consequently, both Minnesota's outsides often were hitting one-on-one off the quick tempo sets.
4.  Penn State's Transition
* Penn State's transition was very stale and the Nittany Lions weren't getting consistent heat on the ball.
5.  Penn State's Serve Receive
* For the first two sets, the serve receive was not good.
* 5-6 Fr. libero Keeton Holcomb was targeted 18 times, aced 3 times, and most of her passes were keeping us from being in system.
* 6-2 Sr. OH Megan Courtney was targeted twice in game 3 ……. and aced once.
* Ali Frantti was shaky early on, but passed very well, in my opinion, in game 3.  She was targeted 23 times with 1 RE for .958.
* Kendall Pierce, seeing her first action as Libero since the first match back in August, was solid in passing — she was targeted 23 times with 1RE, also at .958.
* 5-8 So. DS Lainy Pierce received 1 ball and passed perfect 3
* 6-4 RS. Sr. MB Aiyana Whitney received two balls, neither of which she handled very well, with one resulting in an error.

6. Backcourt Passing and Defense Were Not the Problems (We're looking at You, Sarah Wilhite)
* The backcourt passing and defense were NOT the problems.  The bigger problems were the unforced hitting errors, poor blocking and, I will say, the career match of Sarah Wilhite's life.  I have seen Sarah play since her Junior year in High School, and obviously the past few years, and I have NEVER EVER seen her have a match like the one she had last night against Penn State.   Kudos to her — she was the x-factor in game 3 and without that, the game could have gone another way.  That game alone I think she had 7 kills.

7. Shout Out to Wilma Rivera
*5-8 Fr. DS/setter Wilma Rivera has received alot of grief from Penn State fans over the past two months, but I would like to give her a shout out for her play against Minnesota.   She was solid, had good touches, and played with energy.  It was a good performance, and hopefully one she can build on.
* The area in which Wilma could improve is that she too often is passing an easy tip over the Libero or high in the middle of the court.  She needs to remember that she is NOT the setter in those situations — she has a front row setter and needs to give the setter a ball high at the net so that the team can have the options of running a 1 ball, a setter dump, or an outside set.  Instead, Wilma often is putting the ball between the setter and the libero, pulling the offense out of system when it doesn't need to be.
8. Both Teams Efficient in Third Set (Gophers More Efficient)
* Both teams actually played their most efficient in game 3, with PSU siding out at 60% and Minnesota at 71%.   I would say that PSU was in the 70's or more until around point 18.  The Nittany Lions had 8 more attempts than Minnesota (44 to 36) in game 3, but just couldn't put the ball away.
9. Minnesota Sealed the Deal
* Much of the inability of Penn State to terminate should be credited to Minnesota sensing blood and playing hard to seal the deal.
10.  Looking Ahead
* This loss was disappointing from many perspectives, but don't give up on this team.  I think the way Penn State played in set 3 showed improvement that they can build on to play better as a team in coming matches.
* There are clearly changes to the defensive, blocking and serving schemes that Penn State will make if they run into this team again, and with all due respect to Sarah Wilhite, if they do play Minnesota in the tournament, I do not expect a repeat performance from her.
* I really like the energy and fight from the lineup that Penn State ended with, but they will need time to do some fine tuning.
Match Stats
(Courtesy of GoPSUsports.com)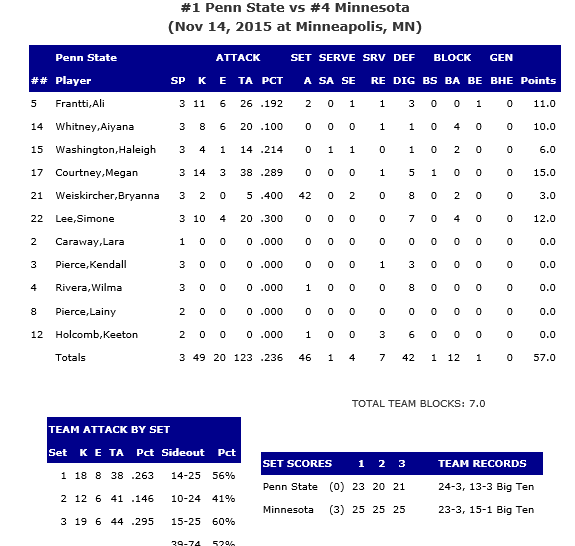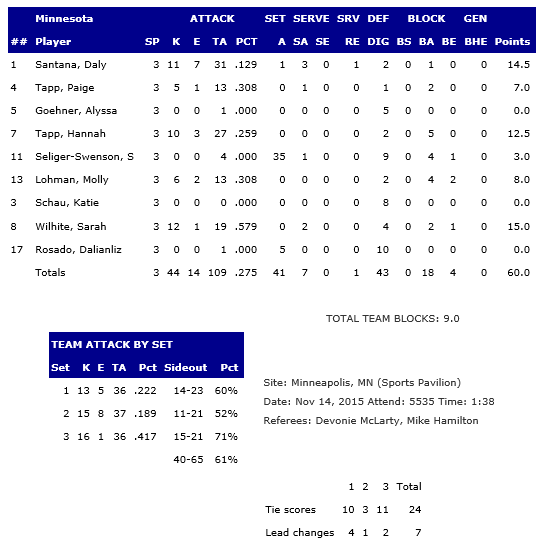 Credits