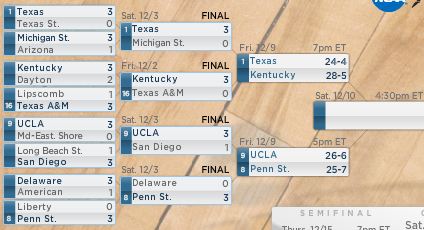 Goodbye Pete
It was inevitable at some point, but when it came, that didn't make it less disappointing.  For the first time in four years, the Pete family — Pete, Repeat, Threepeat, and Fourpeat — won't be visiting in December.  The #8-seed Penn State women's volleyball team (25-8) dropped a 3-0 (20-25, 22-25, 21-25) match to #9-seed UCLA, ending the Nittany Lions' string of 26 consecutive NCAA tournament match wins (an NCAA record) and its record four-consecutive NCAA titles.
On offense, at least statistically, Penn State played very much as it did all season, hitting .248 (coming into the match, their team attack % was .268).  But the serve-receive game was below par (credit UCLA) — only two aces, with nine service errors.  The Nittany Lions had 7.0 total team blocks.
6-5 Fr. OH Aiyana Whitney led the Nittany Lions with 12 kills (a .458 attack %), followed by 6-5 So. Opp/RS Ariel Scott's 11 kills.  5-11 S Micha Hancock, the AVCA Mideast Region Freshman of the Year, totaled 38 assists, and 5-6 So. L Ali Longo led the team with 10 digs.
Obviously, this wasn't the preferred outcome for Penn State (team, coaches, staff, fans, whomever).  But we're with Russ Rose, who in his post-match statement said "I'm a little disappointed with how we did some things tonight, but I'm not disappointed in the kids."
Neither are we.  We've been fans through the victories, and we're fans now too.  This year's team gave us great enjoyment throughout the season.  We appreciate their hard work and their dedication.
Thanks very much.
On the Assymetry of High Expectations
Before the match, RaymondLuxuryYacht had these observations about the season (we meant to post them earlier, but life has an annoying way of interfering).  We think they're worth a look:
This entire season, and much of last season, have been so filled with excitement (and anxiety) compared to the  previous seasons, when Penn State had a legitimate chance to win every match (and in most matches was a strong favorite to win).  In an odd way, though, the anxious tension of the past two years has really added something to the experience.

From 2007 – 2009, it was certainly fun to watch the Nittany Lions, but the emotional experience was assymetrical: the upside was not as far from the midline as the downside.  A win was fun, but that was the expected outcome, whereas a loss would have been devastating.

Compare that to the USC match this year, where many Penn State fans (including me)  expected Penn State to lose.  When they confounded all of us, and pulled off the five-set comeback after going down 0-2, it was one of my more thrilling moments in Rec Hall to see them win.  The home wins over Nebraska and Purdue this season were, to a lesser, but still significant extent, similar.  And certainly the home losses to Oregon and Illinois were something the home crowd had not experienced in . . . a long time.

So . . . the matches have been more "fun" (for me) because PSU has had the opportunity to lose.
And last night they did lose.  Which wasn't fun.  But let's also remember that each season is a new team (perhaps stating the obvious, but worth remembering): this year's Penn State team was a different team than the 2010 team, which was a different team from the 2009 team, and so on.
And let's remember how young this team was — of the 11 players who played in more than half of the sets this season, none were seniors, one was a junior, five were sophomores, and five were freshmen (we've included individual team statistics, by category, at the end of this post).
That's not an excuse for losing, nor is it intended to take anything away from UCLA, which outplayed Penn State and deserved the win.  But it is a fact.  It doesn't lessen the disappointment. But it does provide some relevant context.
Match Stats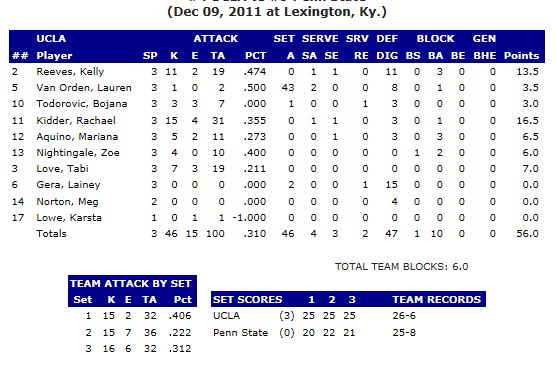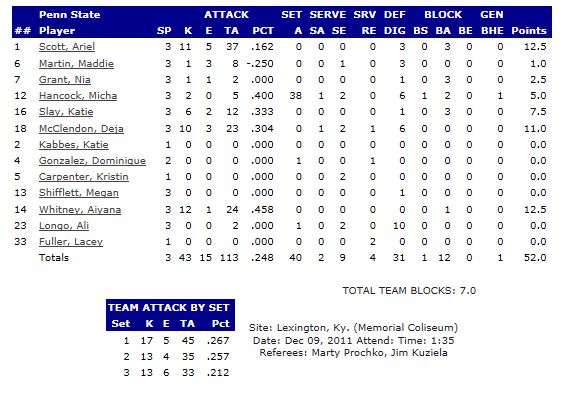 Post-Match Quotes
Penn State Head Coach Russ Rose
Opening statement …
I would first like to commend UCLA on just being better at the most important serve-pass component of the game. I thought they played really well, and they did the things I thought they were going to do. They are an exceptional ball-handling team, and they dug out a lot of balls. We really struggled in the serving and passing part of the game. I think we had a couple of flashes where we had some chances in each of the games to close the gap, and get us in a little better position, but in each of those cases, UCLA was up to the task with being able to make the play and then put the pressure on us from the end line. (UCLA) was what I thought they would be. I'm a little disappointed with how we did some things tonight, but I'm not disappointed in the kids. I thought especially with the run this program has had over the last couple of years that it would be really shallow of us not to say anything but good things about how UCLA played.
On what he will remember about the run of four National Championships …
 I think many of the players that were part of those championship teams are all playing professionally right now. I thought each time a team was weakened by graduation, that you would hope that some of the younger players would pick up some of those things and I think there were some lessons passed along, but there were times where we had three freshman in the front row and three freshman in the back row and I think that's a learning curve. UCLA didn't have very many errors, and we were averaging about eight a game. When you start putting yourself in that situation, against a team that is making three to four errors a game, that's where you are going to win and lose. We were minus eight in serving and passing. We needed to do better. We knew we needed to serve well to keep the ball in play. They were really well coached, and the volleyball IQ thing that I alluded to yesterday. We had a great stretch where we were able to counter other people like that. We have some young kids.
On the future of this program …
I'll have to get back to you on that. I have some things I have to think about myself. I think it was a great run that we had over the last couple of years, and there are some great kids coming in that are talented.
#14 Aiyana Whitney, Freshman, Outside Hitter
On her thoughts of the game…
I feel like we struggled a lot with things that we have consistently struggled with. We weren't able to make the adjustments we needed to make from the start. I am still proud to play with the girls. It didn't go in our favor, but it happens.
#1 Ariel Scott, Sophomore, Middle Hitter
On her thoughts of the game…
I mean I have to agree with what (Aiyana Whitney) said. We didn't make the adjustments that we needed to make. They played to their strengths, which is serving and passing, and we necessarily didn't play to our strengths. We definitely had way too many errors.
UCLA Coach Michael Sealy
Opening statement…
It's great for us. I was telling the girls going into the match that the key was ball control. They are a physical team. We were really concerned about (Micha) Hancock's jump serves. I've seen video of her just rattling off points and she actually just scored one real point all night, when we called a timeout and she used the jump float. We took the most impressive weapon I've seen all year and our passers really neutralized that with the ball control.
On the key to their victory…
I think the biggest thing was that we were able to get the matchups we wanted. Volleyball is a very unique sport in the sense that I can choose to start six different rotations. It's not like in basketball where you say, 'Hey you just got beat four times pick up this guy now.' I knew that with her lefty jump serve they were always going to start her as one of the first serves so we're able to spin our dial and put Rachael (Kidder) on (Ariel) Scott and get better matchups. If we had a poor matchup tonight it could have been an 0-3 loss, easy.
On preparation for the next game…
For the players it will be a lot of sleep and relaxation. Our staff has to watch this next game like cramming for a final. We have to look at these two teams and put together a scouting report.
On if he expected to win 3-0… 
I just didn't think about it. That was the one thing. Of course I am a coach so I am a professional worrier. It was just a quiet presence, we were just kind of in the zone. Even with our travel agent back at UCLA, of course they don't want to talk to you about if you lose and you have to leave early and start talking about flights. I remember looking at that text. It was just this numb, quiet place.
#2 Kelly Reeves, Sophomore, Outside Hitter
On her thoughts of the match…
First of all Penn State is a great team so give them credit, but we executed well tonight. We were just calm and having fun out there. We were just playing volleyball. It was a great match and we had fun. It was a good win for us.
#11 Rachael Kidder, Junior, Outside Hitter
On her thoughts of the match…
I think that game proves how much of a team sport this is. We definitely had each others' backs the whole time. We knew we were going to get blocked a lot. Those girls are very big, but we covered each other very well. Our passers controlled all of their serves well and made it easy for our front row.
On putting an end to Penn State's four-year run…
It feels nice. We aren't going to focus on that too much, but we definitely talked about how cool it would be to be the ones who finally put an end to their run. It feels good.
They'll Be Back
We noted above that of the 11 players on the 2011 Penn State team who played in more than half of the team's 122 sets this season, none were seniors, 1 was a junior, 5 were sophomores, and five were freshmen.  Here's a look at the statistics for all of those players:
Attack Leaders - 2011
Set/Serve Leaders - 2011
Recept/Dig Leaders - 2011
Blocking Leaders - 2011