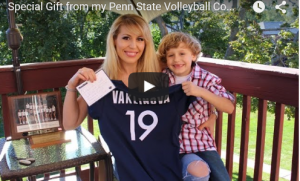 psumaui — the Penn State fan who never sleeps — posted this video on the DigNittanyVolleyball Forum early (early) this morning.  It's of former player ( OH Zoe Vaklinova) with her son, Denzin, opening a gift from Russ Rose, and talking about how she got to Penn State from Bulgaria and her experience with the team.
As this video shows, Coach Rose clearly has an impact on his players that extends well beyond their time at Penn State.
Take a look:
In addition to being a mom, Zoe is a wellness coach, who blogs, as GreenMomZoe, about health and wellness at ZoeVBlog.  For her complete post about the video and her journey to Penn State, Click Here.