As of noon, Sunday, August 11th, the Penn State Women's Volleyball team had practiced only three times, so when we spoke with Head Coach Russ Rose that day after the Booster Club picnic, he didn't have much data on the state of the 2019 team.  But with over 40 years of head coaching experience, Russ Rose has seen a thing or two and he knows a thing or two about a thing or two.  So there still were a few takeaways for DigNittany readers.  Here's a transcript of the interview, lightly edited for length and clarity: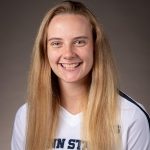 Takeaway #1: Filling the OH position is the biggest front-row challenge.
Coach Rose: "Through the summer, what I identified was that our strength would be that Serena [Gray] and Kaitlyn [Hord] have continued to improve and that they connect well with Gabby [Blossom].  Jonni Parker has already established herself as a player that can compete at a high level.  Our challenge will be trying to find people who can compete at the outside hitting position at the level that our schedule and conference demands.  There's no easy remedy for the level of competition that we face, so for the players that need to get better, they'll get better when they get better.  But until then, we'll be dealing with what happens with young players.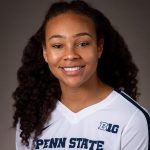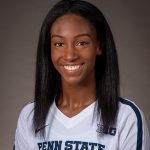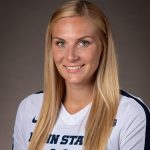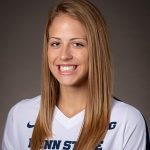 Takeaway #2:  As many as four front row players could be at different positions in the 2019 season — at least some of the time.  
Coach Rose: "At this point in the preseason, with only three practices, it wouldn't make any sense for me to have decided what we're going to do.  At our next scrimmage, Jonni Parker might start out at rightside, where she's an established player, and then we might try to mix it up a bit and she might play some rotations at leftside.  Tori Gorrell might play rightside and leftside.  Amanda Phegley might play middle and rightside.  Serena Gray will play middle and might play rightside."
Takeaway #3: How Tall is Good?
[Editors note: Fans have questioned whether height (or lack thereof) will be a problem for sophomore setter Gabby Blossom (listed at 5-10).  Before turning to Coach Rose's take on Gabby Blossom, we direct your attention to Rondale Moore (from the same town in Indiana as Penn State So. OH Allyson Cathey), who as a 5-8 freshman defensive back at Purdue could squat 600 pounds and is very, very fast.  (As a point of reference, in 2017, Penn State's Saquon Barkley, listed at 5-11 223, was squatting 525 pounds for five reps).  When the Purdue staff asked to measure Rondale's height during his official recruiting visit, he reportedly asked 'How tall is fast?'  So we ask, "How tall is good?"]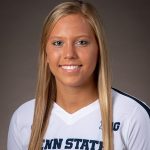 Coach Rose: "It's a given that people all have a level of skill when they advance beyond high school into college and that the top programs are going to be filled with players that have physical intangibles.  The different characteristics of different players are identified when they get into certain situations.  Gabby's strength, in my opinion, is her competitiveness.  Players like playing with her, and that is something I've seen in action that leads me to believe she'll be able to overcome some things.  I've had taller setters who couldn't block, so it's not all about height.  Gabby was a pretty well-decorated high school player.  She does some things really well.  I know there will be some matches where she struggles with matchups, but she's not alone in that.  I watched the Team USA men play a couple days ago and [former Penn State OH] Aaron Russell] was hitting over the Belgian setter, and he's hitting at twelve feet and the Belgian setter is 6-2.  So, bad matchup for the Belgian setter just because the hitter on the other side of the net is one of the top outside hitters in the world.  If Gabby is matched up against one of the top outside hitters, it's a bad matchup — but it's a bad matchup for whoever is on the other side of the net from that player, Gabby or anybody else."


Takeaway #4: Allyson Cathey will play a bigger role this season, as a strong net player who doesn't back away from competition.
Coach Rose: "Allyson Cathey is a young player.  I think she'll have matches where she leads us in points and I think there will be matches where she struggles because she's a young player, and people will be able to jam her up because of her inexperience.  She's an aggressive attacker — she likes to hit.  She's a strong net player, she's a good attacker, she's a good blocker and she doesn't back away from competition, so I won't be telling her to back away from it.  I recognize that we're going to need her to be aggressive, so even though there are going to be matches where she might get blocked two or three times in a row, we're going to tell her that she's got the green light to keep on taking big swings."
Takeaway #5: The freshmen have some skill, but it's too early to say how much they'll play.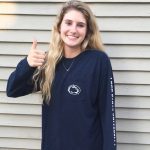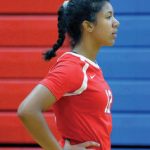 Coach Rose: "Gabi Bailey [6-1 OH] has a good volleyball IQ and knows what she's doing.  Lauren Clark [6-0 OH] hits the ball really hard but doesn't always have a real good handle on where she's going to hit it.  Sydney Ferguson [6-3 OH] had an injury her senior year in high school and lost a year, so we'll have to see how she develops.  Molly Russell [5-10 DS, who is the niece of former Penn State All American Bonnie Bremner, the setter on Penn State's first National Championship team] has really good skills and is very bright.  5-7 DS Macall Peed [who set the all-time digs record at Torrey Pines High School in California, where former Penn State DS Lacey Fuller also went to school], plays really hard and has a real nose for the ball.  Emily Oerther [who led Florida in kills with 538 her senior season] has some experience at setter."