Photos courtesy of HuskerVBfan93
Welcome Huskers!
In three weeks, Penn State and Nebraska will square off in Lincoln for the start of the Big Ten season and the start of a new chapter in the illustrious history of the Husker Women's Volleyball program.  Penn State welcomed Nebraska officially in the video below, but we at DigNittanyVolleyball wanted to add our own welcome the Huskers.  We're looking forward to the continuation of a great rivalry and many exciting matches in the years to come.  
Here's the official welcome: 
A Husker Fan's Guide to Lincoln
HuskerVBfan93 kindly provided the following photographs and guide to Lincoln and Nebraska's campus: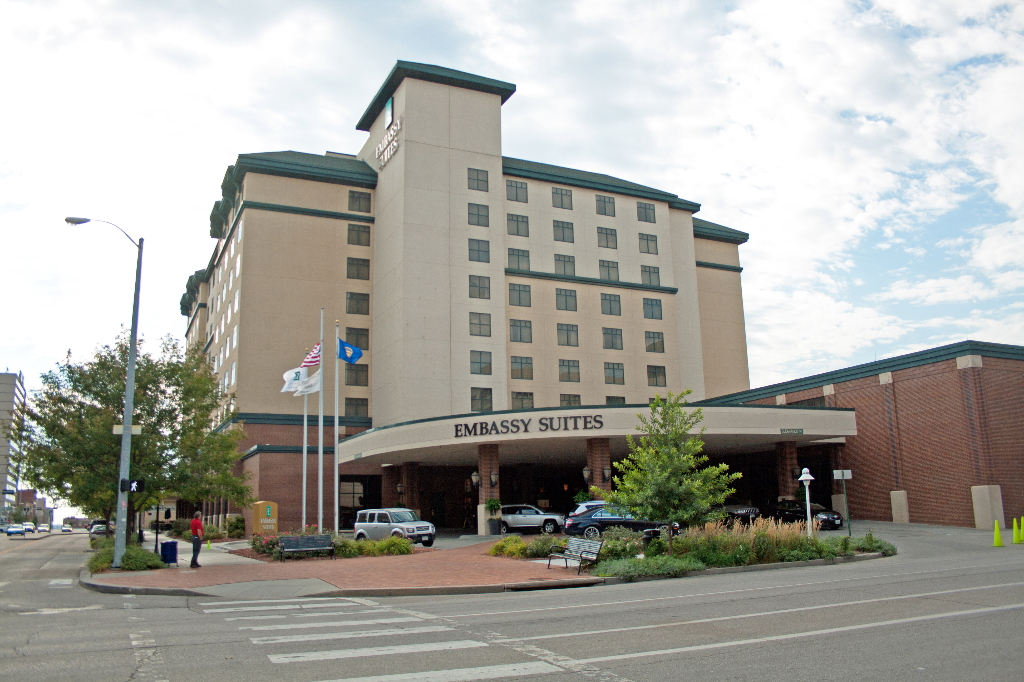 HuskerVBfan93: If the PSU vs NU game were on a football weekend, and reservations had not yet been made, I wouldn't even bother.  But visiting Penn State fans are in luck: the match is on a Wednesday.  I would say the Embassy Suites Lincoln (at left) is the best place to stay. Excellent accomodations and within walking distance to the campus and the other sites in this write-up (except the Steak House, pictured below left).  
 [Editor's Note: Sadly, neither we, nor HuskerVBfan93 receive any promotional consideration or payola of any kind for this Guide.  If you can figure out a way for us to cash-in, e-mail us at buynylineafancycar.edu.  HuskerVBfan93 is on his own.]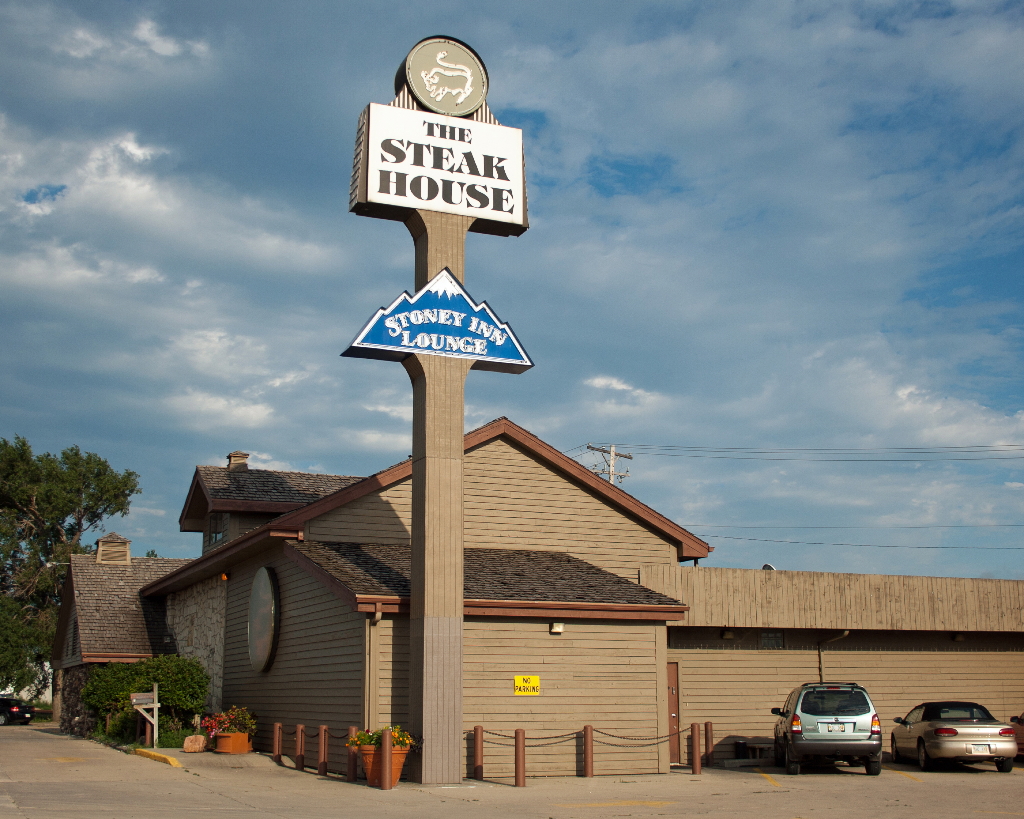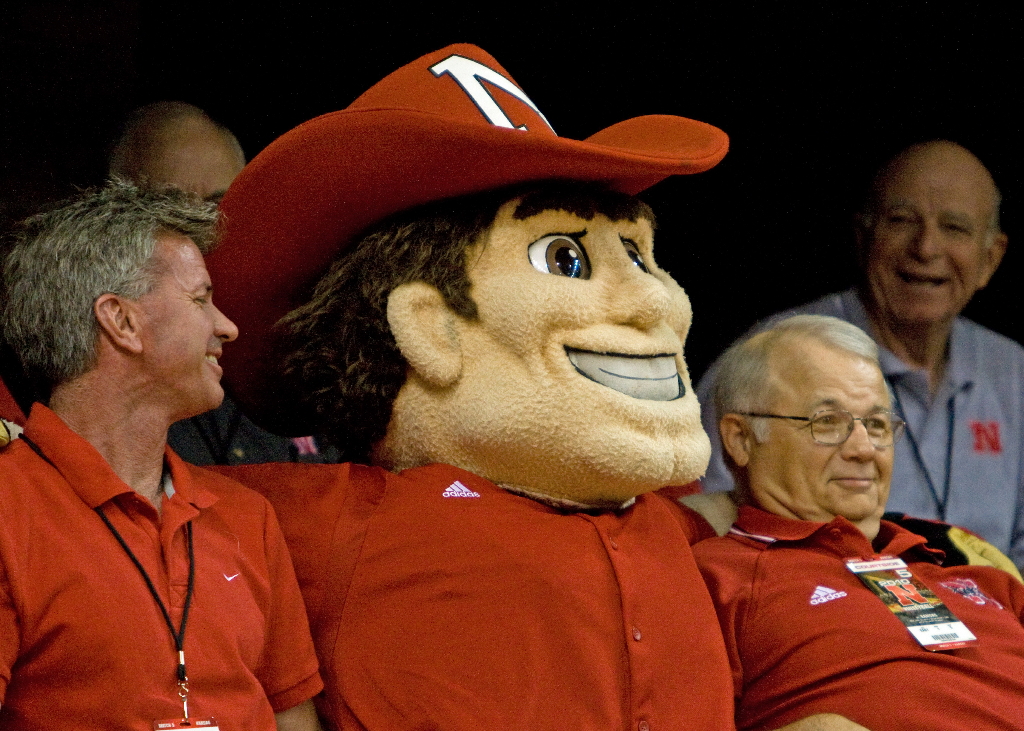 HuskerVBfan93: The Steak House. Great place to eat. Might even see a waitress with a beehive hairdo. NOT walking distance from Downtown. 
[Editor's Note: We're not certain whether Herbie Husker, the #1 Husker fan (pictured above, right), eats at the Steak House.  If he does, we think it is definitely worth the trip.  We also want to note that we are an agnostic when it comes to hairdos of any kind]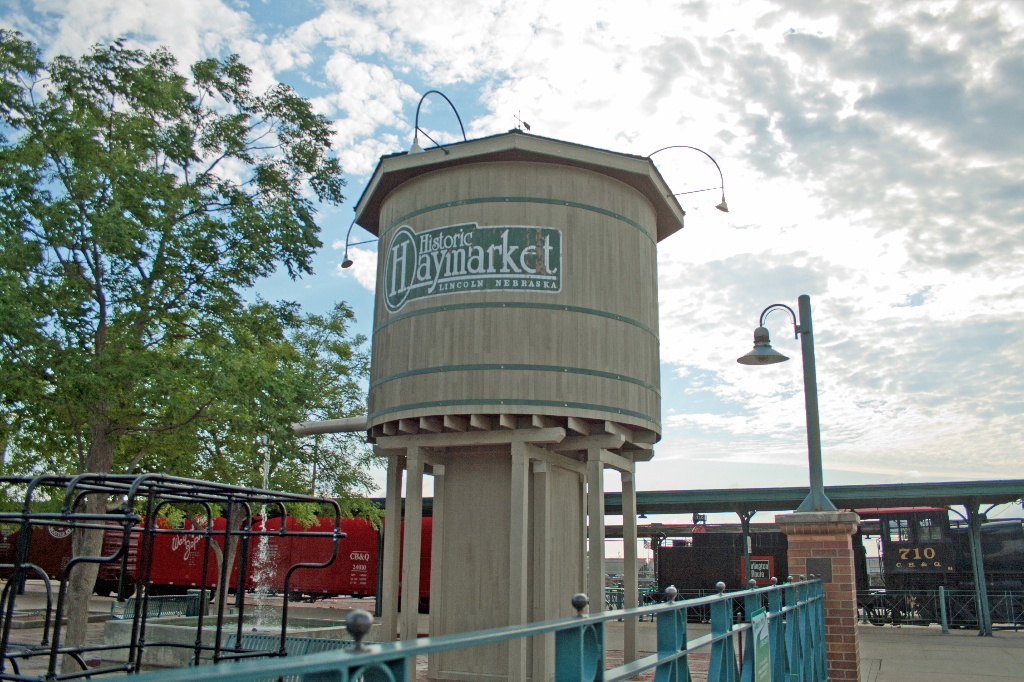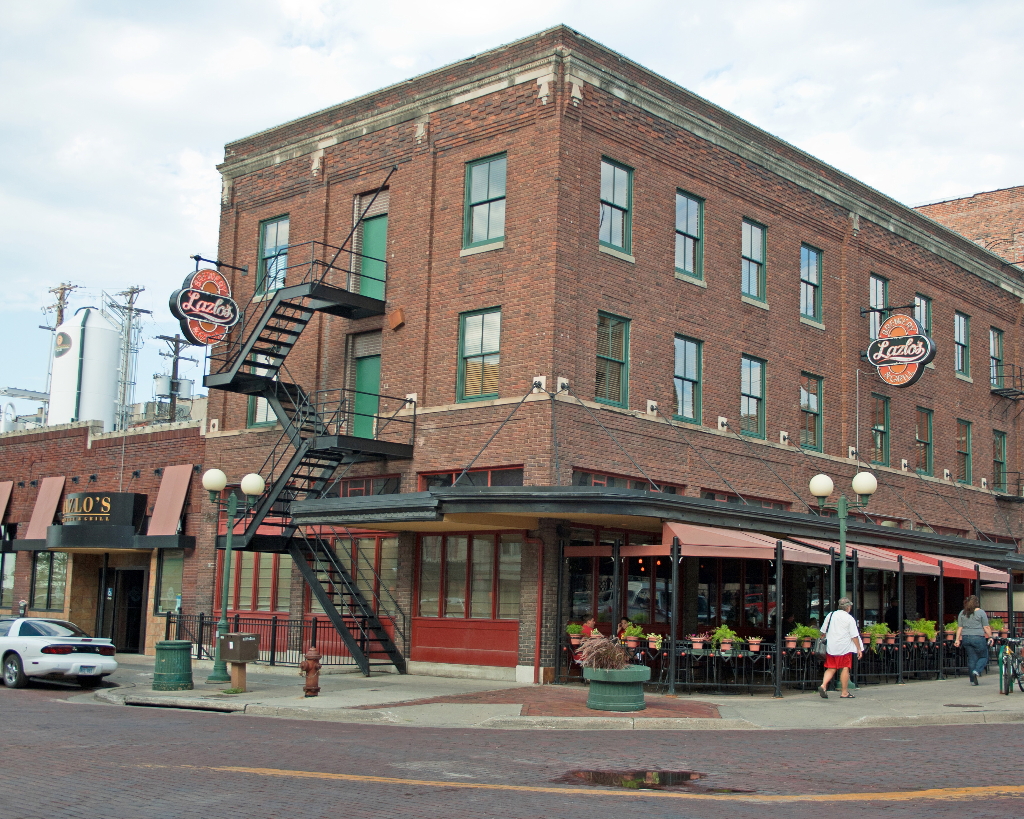 HuskerVBfan93: Historic Haymarket (pictured above). Several quaint little shops and good restaurants — the most popular being Lazlo's Brewery and Grill (pictured at right).  My personal favorite is Buzzard Billy's. Get the Armadillo Eggs for an appetizer and the Seafood Eggplant Pirogue for a main course. Not to be considered health food by anyone's standards but it is PHENOMINAL!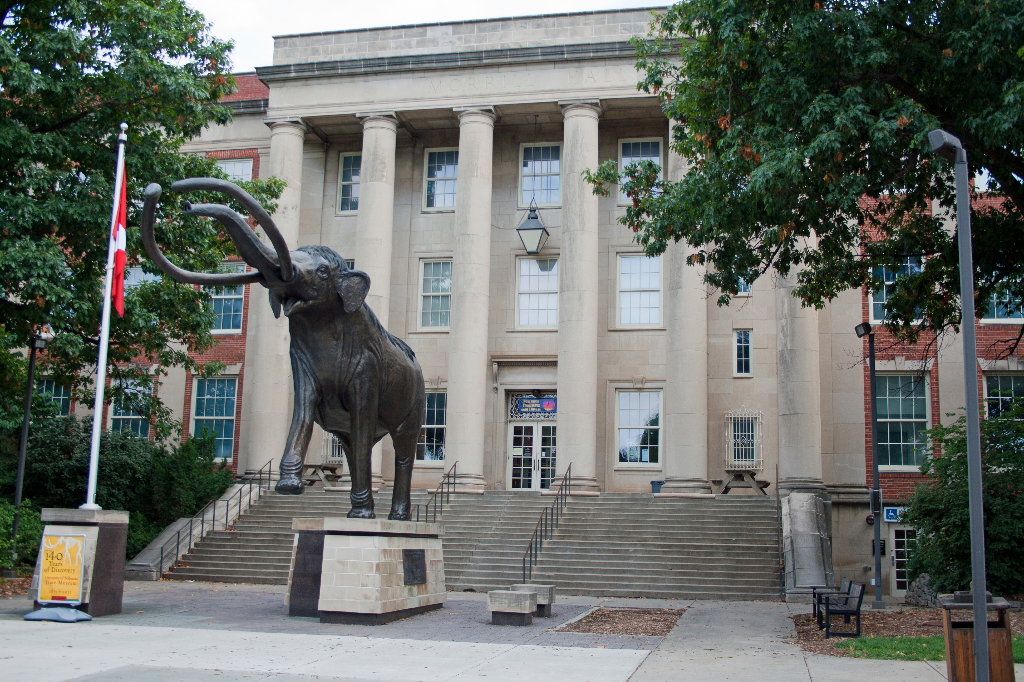 HuskerVBfan93: The University of Nebraska State Museum, affectionately known as Elephant Hall.  Across the parking lot from the Coliseum.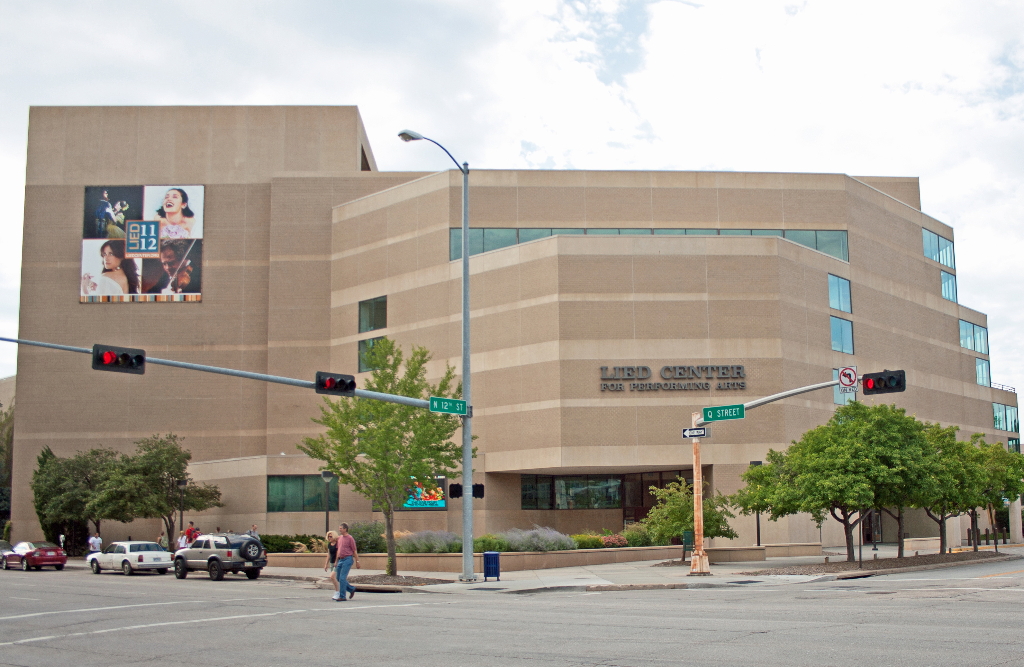 HuskerVBfan93: Lied Center For Performing Arts.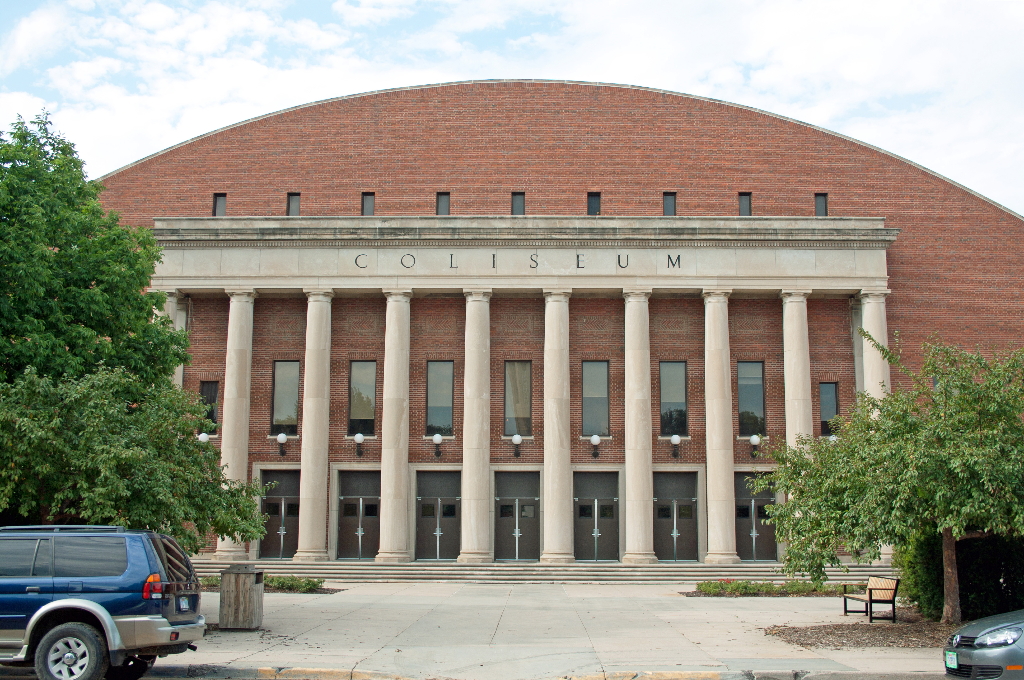 HuskerVBfan93: The Coliseum. Current home of the VB team.
HuskerVBfan93: Bob Devaney Sports Center. Future home of Husker Volleyball. Click this link and then go to Devaney Center improvements for pictures. 
The Best Route to University Park
We'll try to return HuskerVBfan93's kindness by posting an in-depth guide to University Park and State College prior to the October 29th match at Rec Hall.  But for now, we wanted to put to rest any concerns Nebraska fans may have regarding the supposed difficulty of traveling to Penn State.   As with much "conventional wisdom," this is a myth based on misinformation.
The truth is, it's easy to get to University Park (the town is State College, PA – Point G in the map below) from Lincoln (Point A), as shown in the map below. Some may question the wisdom of flying to Juneau, Alaska (Point B) or San Diego, CA (Point C), but trust us, it's the best way to go (and really helps with frequent flyer miles).
Ditto for the stopovers in College Station, TX (Point D), College Park, GA (Point E), and College Park, MD (Point F). There's so much confusion surrounding the name "State College" that it's imperative you see for yourselves that these are all different places!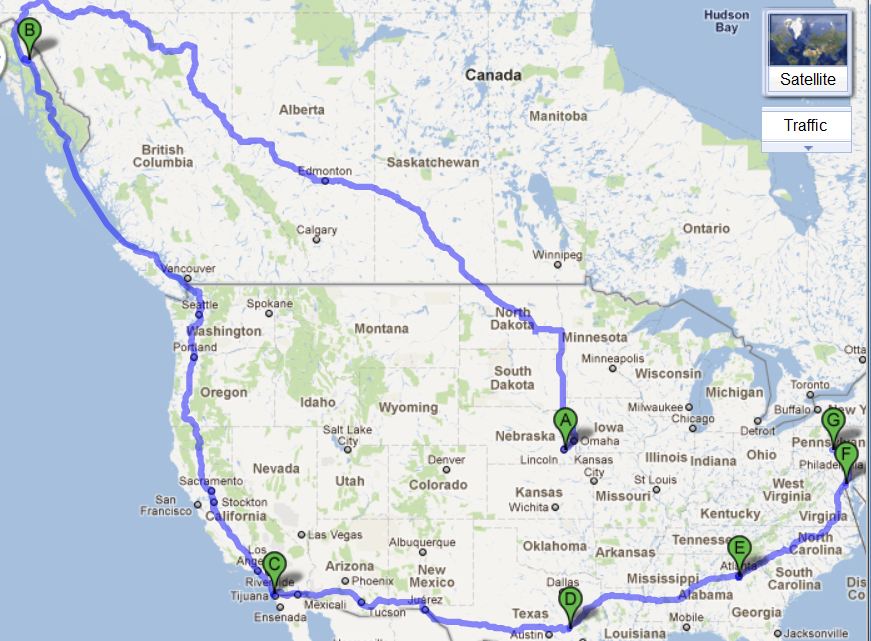 A Penn State Fan Looks Back at the Penn State-Nebraska Series
The final segment of our "Welcome Nebraska" Special is a look-back at the history of the Penn State-Nebraska women's volleyball series, from lionsfan, a fan of Penn State women's volleyball since 1993.  We thank lionsfan for the time and care in preparing this, and for graciously permitting us to include it here. 
                                                                                      *         *         *        *        *
Lionsfan:  In three weeks, Penn State and Nebraska will square off in Lincoln for the start of the Big Ten season—and the start of the Huskers' new life in the Big Ten.  It's not just the beginning of a new and exciting era for the Big Ten, but also for one of the greatest rivalries in women's college volleyball—one that will assuredly grow more intense and competitive in the years to come. The Huskers will make a great conference even better – I would be stunned if any team is able to run the table
If Nebraska had been sent to University Park for the NCAAs last year, it would have served as a great bookend to the "first era" of the rivalry.  But there will be plenty of battles to come. These two programs are not only perennial national powers, but they also have a rich history together.  
The first PSU match I ever saw was the 1993 regular season match in Rec Hall (the only match between the two teams played in Rec Hall) during my sophomore year.  It was a thrilling 5-setter, and the experience instantly made me a PSU volleyball fan.  Since then, I have enjoyed the thrill and agony of contests won and lost against Nebraska – no PSU opponent makes me more nervous or more excited.
For me, the three top matches in the series between Penn State and Nebraska are the 1986 NCAA Mideast Regional Semifinal (in Lincoln), the 1996 NCAA East Regional Final (in Lincoln), and the 2008 NCAA Semifinal (in Omaha).  Along with the 1998 title game against Long Beach, that 1996 match remains the most painful PSU loss ever for me, and that scar can only be healed with more wins against the Huskers, which have never been easy.  Nebraska is always great, and always amazing at home . . . no win in Lincoln or Omaha will come easy for anyone, ever.
Here's a look at the "tale of the tape" for the two programs:
 [Editors Note: lionsfan asked that we mention that these statistics are from the NCAA and AVCA record books, and that if you spot any errors, please let us know. We welcome your feedback.]
Nebraska and Penn State have met 17 times; 9 of those have been in the NCAA tournament
Nebraska has won 11, Penn State 6
13 of the matches have been played in Nebraska; 3 have been on neutral courts; 1 was in University Park, PA
Both programs have ended the other's undefeated season by defeating them in an NCAA Regional Final (Nebraska defeating Penn State in 1990; Penn State defeating Nebraska in 1994)
National Titles: Penn State 5, Nebraska 3
Title Game Appearances: Penn State 8, Nebraska 6
Final Fours: Nebraska 11, Penn State 9
NCAA Tourney Appearances: Penn State 30, Nebraska 29
All Americans: Nebraska 34 (1st in NCAA), Penn State 24 (5th in NCAA)
All American certificates: Nebraska 70 (1st in NCAA), Penn State 51 (3rd in NCAA)
Player of the Year Awards: 3 each
Poll History (prior to 2011 Preseason Poll):
Total Times Ranked: Nebraska 401 (Tied 1st), Penn State 351 (6th)
Ranked No. 1: Nebraska 81 (1st), Penn State 67 (2nd)
Ranked in Top 10: Nebraska 381 (2nd), Penn State 251 (6th)
NCAA Home Court Win Streak records:
1. Penn State: 94 (9/1/06 to 8/26/11)
2. Nebraska: 90 (9/11/04-9/11/09)
3. Penn State: 87 (11/25/95 to 9/16/2000)
4. UNI: 74 (11/1/97 to 9/18/04)
5. Nebraska: 63 (9/29/99 to 12/14/02)
[18. Nebraska: 43 (9/5/92 to 12/18/94)]
[19t. Penn State: 42 (9/23/89 to 9/27/91)]
Yearly Highlights
1981 (AIAW)
SW Missouri State Invitational, Springfield, MO; Oct. 2
Penn State (A10) def. Nebraska (Big Eight) 15-2, 15-8
1982 (NCAA)
NCAA First Round, Lincoln, Neb.; Dec. 4
No. 15 Nebraska def. Penn State 15-13, 15-5, 15-13
(only 20 teams ranked; PSU was ranked early in season)
1985
NCAA First Round, Lincoln, Neb.; Dec. 7
No. 4 Nebraska def. No. 20 Penn State 15-8, 15-7, 15-12
1986
NCAA Mideast Regional Semifinal, Lincoln, Neb.; Dec. 12
No. 7 Nebraska def. No. 14 Penn State 7-15, 15-4, 16-14, 16-18, 15-9
1987
Husker Invitational, Lincoln, Neb.; Sept. 12
No. 7 Nebraska def. No. 19 Penn State 15-12, 15-12, 15-17, 15-7
1990
NCAA Mideast Regional Final, Lincoln, Neb.; Dec. 8
No. 2 Nebraska def. No. 6 Penn State 15-12, 16-14, 10-15, 15-5
1993
Penn State Classic, University Park, PA; Sept. 4
No. 7 Nebraska def. No. 11 Penn State (Big Ten) 15-11, 9-15, 15-4, 15-17, 15-10
1994
NCAA Mideast Regional Final, Lincoln, Neb.; Dec. 10
No. 5 Penn State def. No. 1 Nebraska 12-15, 15-11, 15-9, 15-8
1995
NACWAA/State Farm Classic, Lincoln, Neb.; Aug. 28
No. 2 Nebraska def. No. 7 Penn State 15-4, 15-3, 15-6
NCAA Central Region Semifinal, Lincoln, Neb.; Dec. 8
No. 1 Nebraska def. No. 9 Penn State 15-7, 15-6, 14-16, 15-2
1996
NCAA East Regional Final, Lincoln, Neb.; Dec. 14
No. 4 Nebraska (Big 12) def. No. 3 Penn State 15-12, 8-15, 15-13, 9-15, 20-18
1997
Big Ten/Big 12 Challenge, Madison, Wisc.; Sept. 19
No. 1 Penn State def. No. 5 Nebraska 16-14, 15-12, 16-14
1998
NCAA Final Four Semifinals, Madison, Wisc.; Dec. 19
No. 2 Penn State def. No. 3 Nebraska 15-11, 15-8, 8-15, 15-11
1999
NACWAA Classic, Lincoln, Neb.; Aug. 28
No. 1 Penn State def. No. 3 Nebraska 11-15, 15-12, 15-8, 16-14
(John Cook takes over in 2000)
2005
Info USA/Arby's Players Challenge, Lincoln/Omaha, Neb.; Sept. 11
No. 1 Nebraska def. No. 4 Penn State 30-14, 30-27, 30-23
(Note: Penn State played at the season opening State Farm/NACWAA College Volleyball Showcase that year, also in Lincoln; they lost to Stanford 3-2 in the first match; a win would have put them against Nebraska)
2007
Holiday Inn Downtown Classic, Lincoln/Omaha, Neb.; Sept. 2
No. 1 Nebraska def. No. 3 Penn State 30-20, 30-21, 30-27
2008
NCAA Final Four Semifinals, Omaha, Neb.; Dec. 18
No. 1 Penn State def. No. 4 Nebraska 25-17, 25-18, 15-25, 22-25, 15-11