Connectedness — One team playing like six fingers on one hand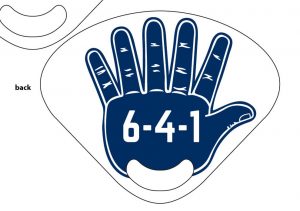 A couple of months ago, in a thread on the DigNittanyVolleyball Forum about Penn State's 2017 roster, there was a discussion about the struggles of the 2015 and 2016 teams. I had asked a former player who I happened to run into at a match last season, what she thought was the issue.
She started by saying she wasn't close to the team, and hadn't seen them alot, so she was really speculating.  But from what little she had seen, she thought it might be a lack of "connectedness."  Asked what she meant by that, she said something about a mix of communication, anticipation, teamwork.  I think leadership was in there somewhere too.  It was over my pay grade.
That elicited this response from gnu2vball:
I've given connectedness some thought.  In terms of communication, anticipating, and teamwork I think "connectedness" is an excellent term. It's having Lacey Fuller diving to the right place at the right time to dig a tip–it's not creating a donut hole in the middle of the court that all but says, "please tip here." It's having Ariel Scott swooping it to make a crushing kill that ends a rally. It's having players like Megan Courtney leading the team in solo blocks because she "knew" where to be. It's a team that seems to function like six fingers of the same hand–that just seems to do the right thing. It's having a player who continually got criticized for being slow being an excellent student of the game so that she knew where to be to make key blocks–like Katie Slay. For being so slow she sure got a lotta blocks and I think her study of her opponents was as or more important than her height. It's having setters who were hyper competitive–you could see they loved sticking it to their opponents–watch Carp against Texas in 2010 or Micha against Wisconsin's setter in the 2014 B1G opener. It's a team that's organic–that seems to function as if it's of one mind.

Put simply, you know it when you see it.
Which led to discussion of how to turn the "six-fingered hand" into a small sign or foam hand for Penn State fans at home (or away) matches.  It turned out that the foam hand was prohibitively expensive, but shown above is a mock-up of one idea for the cardboard fan version of the Six-fingered hand.  We think maybe changing the "4" to a vertical "for" would be clearer to most people.  What should go on the front side?  The current idea is "I'm a Fan of " on the top, with the Nittany Lion logo in the middle, and "Volleyball" on the bottom.
To voice your opinion or give us your thoughts on the DigNittanyVolleyball forum, Click Here.