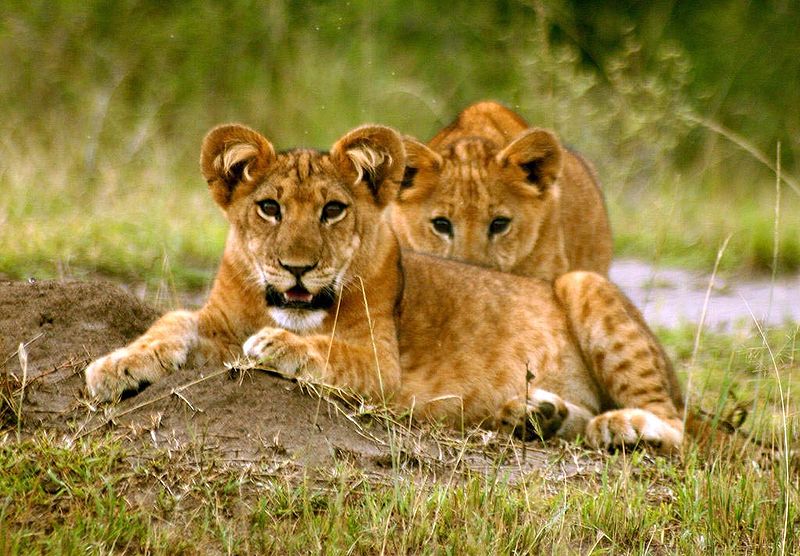 Some new Nittany Lions are on the prowl.  How are they doing?
 How Do You Like Them Apples-to-Oranges?
This 2011 Penn State Women's Volleyball team is so young (take a look at Penn State's 2011 statistical leaders: Attack Leaders – all sophomores and freshmen; Set/Serve leaders – one junior, one sophomore, one freshman; Recept/Dig leaders – one junior, three sophomores, two freshmen; Block/Points leaders – four sophomores, three freshmen). 
Looking at all those underclassmen made us wonder how the 2011 freshmen compare to several notable freshmen from previous seasons: OHs Nicole Fawcett, Megan Hodge, Darcy Dorton, and Deja McClendon; MHs Christa Harmotto and Arielle Wilson; and Setters Sam Tortorello and Alisha Glass.
Upfront disclaimers and disclosures.   First, and foremost, we are not suggesting that any of the current crop of freshmen will be as successful as our comparison group.  We simply were curious what the comparison would show. 
Second, we know we are making apples-to-oranges comparisons here, in two significant ways: 1) pre-2008 statistics from the 30-point per-set era (or was it per-game?), and 2) statistics for complete seasons to statistics for a 2011 season that is only 10 matches old. 
But, with respect to the first point, we don't have the statistical chops to make the adjustments to account for the points-per-set differential (plus we, and our crack team of DigNittany researchers and statisticians, are astonishingly lazy — especially the researchers!).  And second, we'll update these tables as the 2011 season progresses.
So, with full understanding that these are admittedly imperfect comparisons, and without making judgements about what we found (we'll save that for later), here are the results from our comparison: 
Debuts Compared - Attack Stats 10-8-11
Debuts Compared - Set/Serve - 10-8-11
| # | Name | Pos. | Class | SP | MP | MS | Ast | Ast/S | SA | SA/Set | SE |
| --- | --- | --- | --- | --- | --- | --- | --- | --- | --- | --- | --- |
| 6 | Tortorello, Sam | S | Fr. - 2002 | 107 | na | na | 1338 | 12.50 | 37 | 0.35 | 19 |
| 6 | Glass, Alisha | S | Fr. - 2006 | 113 | 35 | 35 | 1413 | 12.50 | 21 | 0.19 | 39 |
| 12 | Hancock, Micha | S | Fr. - 2011 | 60 | 16 | 15 | 570 | 9.50 | 49 | 0.90 | 29 |
Debuts Compared - Recept/Dig - 10-8-11
| # | Name | Pos. | Class | SP | MP | MS | RE | Dig | Dig/Set |
| --- | --- | --- | --- | --- | --- | --- | --- | --- | --- |
| 6 | Tortorello, Sam | S | Fr. - 2002 | 107 | na | na | 0 | 225 | 2.10 |
| 6 | Glass, Alisha | S | Fr. - 2006 | 113 | 35 | 35 | 2 | 230 | 2.04 |
| 12 | Hancock, Micha | S | Fr. - 2011 | 60 | 16 | 15 | 4 | 138 | 2.30 |
Debuts Compared - Blocking/Points - 10-8-11
| # | Name | Pos. | Class | SP | MP | MS | BS | BA | Total | B/S | BE | BHE | Points | Points/Set |
| --- | --- | --- | --- | --- | --- | --- | --- | --- | --- | --- | --- | --- | --- | --- |
| 3 | Harmotto, Christa | MH | Fr. - 2005 | 94 | na | na | 25 | 116 | 141 | 1.50 | 10 | 2 | 361.0 | 3.84 |
| 7 | Wilson, Arielle | MH | Fr. - 2007 | 83 | 30 | 21 | 18 | 131 | 149 | 1.80 | 11 | 1 | 281.5 | 3.39 |
| 7 | Grant, Nia | MH | Fr. - 2011 | 56 | 15 | 15 | 4 | 48 | 52 | 0.93 | 2 | 0 | 93.0 | 1.66 |
| 6 | Tortorello, Sam | S | Fr. - 2002 | 107 | na | na | 7 | 54 | 61 | 0.57 | 3 | 18 | 152.0 | 1.42 |
| 6 | Glass, Alisha | S | Fr. - 2006 | 113 | 35 | 35 | 12 | 117 | 129 | 1.14 | 9 | 28 | 222.5 | 1.97 |
| 12 | Hancock, Micha | S | Fr. - 2011 | 60 | 16 | 15 | 3 | 28 | 31 | 0.52 | 6 | 11 | 120.0 | 2.00 |