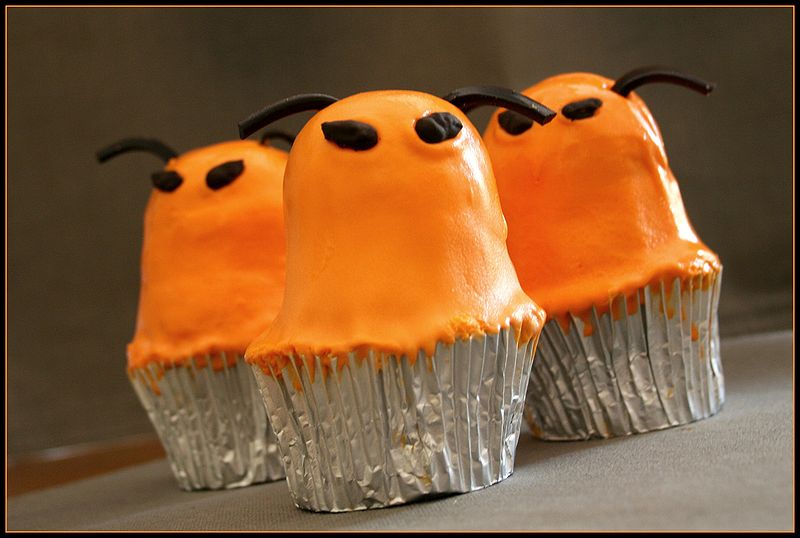 (Photo courtesy of Wikimedia Commons)
What happened?  We thought Iowa was supposed to be a cupcake! (Well, not entirely, we did post a bit of a warning yesterday).  Were those cupcake aliens Friday night who smacked Penn State upside the head in the second set (25-18), and could easily have won the first set (Penn State squeaked by 25-23), and generally had the Nittany Lions on their heels throughout the entire match?
That must have been it.  Cupcake Iowa Aliens.
Whatever it was, and not to take anything away from Iowa, which played with heart, and passion, and determination throughout the match, the Nittany Lions did not play well.  Actually, even though Penn State won the match 3-1 (25-23, 18-25, 25-16, 25-20), the Nittany Lions played poorly.
We thought about sugar coating Penn State's performance ("they're young," "it's not like they weren't trying," "they must have been distracted by the costumes in the stands"), but then we ran into the young girl below, who is a huge Penn State Women's Volleyball fan (well, she's not huge — she's rather small, but she'll grow), and asked her what she thought of the match.
She was not happy.  In fact — and this is a technical term — she was p#ssed.  The photo below is the only one in which she was not trying to break the camera (for some reason, she fixed on us as a target for her dissatisfaction with the team's performance).
She impressed us with her candor.  And her strength.
We're guessing the Penn State coaches had similar reactions.  Minus the attempted camera-breaking.  And, to be fair, the Penn State players probably did too.
For those keeping score at home, 6-4 So. RS/Opp Ariel Scott registered a match-high 20 kills, 6-2 So. OH Maddie Martin had 10 kills and 14 digs, and Katie Slay had 10 kills and six blocks.  5-11 Fr. S Micha Hancock totaled 47 assists, 16 digs, and four service aces.  5-6 So. L Ali Longoled the team with 18 digs and 6-1 So. OH Deja McClendon had 12.
As a team, Penn State hit .242 compard to Iowa's .191.
Match statistics after the photo.
                                                      Was this Penn State fan happy after the Iowa match.?  Hint: No. 
(Photo courtesy of Wikimedia Commons)
Match Stats