Anastasiya Kudryashova immediately stepped into the starting lineup for Penn State women's volleyball this spring and has helped solidify an outside hitter position that was a major question mark heading into the season.
Kudryashova enrolled in classes at Penn State last spring after transferring from Rutgers, where she spent her first two college seasons, but was only able to participate in a few training sessions with the Nittany Lions before students were sent home due to COVID-19.
Kudryashova stayed with teammates in the United States while Penn State's campus was shut down. After going through a traditional preseason training camp in early August, the Nittany Lions soon had to shift their focus to the spring when the Big Ten postponed fall sports on August 11.
The extended offseason gave players like Kudryashova and freshman outside hitter AC Fitzpatrick an opportunity to receive more feedback from the coaching staff and immerse themselves in the Penn State program.
Kudryashova hails from Novosibirsk, Russia, a city in Siberia where the record low temperature is -51.3 degrees Fahrenheit, so State College winters obviously don't faze her. She's started all 15 matches for the Nittany Lions this season, including her NCAA tournament debut Thursday, which featured five kills and a block in Penn State's sweep of North Carolina A&T.
Kudryashova, who said her first volleyball coach discovered her in a shopping mall when she was 10 years old, recorded double-digit kills in eight of her first 10 matches in a Penn State uniform. She currently sits in fourth place on the team with 132 kills heading into Sunday's Sweet 16 matchup against Texas.
Kudryashova's height at 6-foot-4 has also been beneficial for Penn State's blocking efforts, which often relied on somewhat undersized players the last few seasons. She has 26 total blocks so far this spring — good for fourth on the team behind Kaitlyn Hord (74), Jonni Parker (49), and Serena Gray (40).
Kudryashova made one of the best plays of the season in a 3-2 loss to Minnesota on February 14 when she dove to her knees out of bounds and somehow kept the ball alive with an overhead pass before circling back for an emphatic block of eventual Big Ten player of the year Stephanie Samedy in the third set. Hord discussed what stands out to her about Kudryashova during a press conference earlier this season.
"She's a different breed, that's for sure," Hord said. "She just hits high hands all day, and that's something that you can't really teach. It just comes with the frame you're given. She's tall, but she's got very good control over her body. She can pass, she can serve, so she's not just a big kid."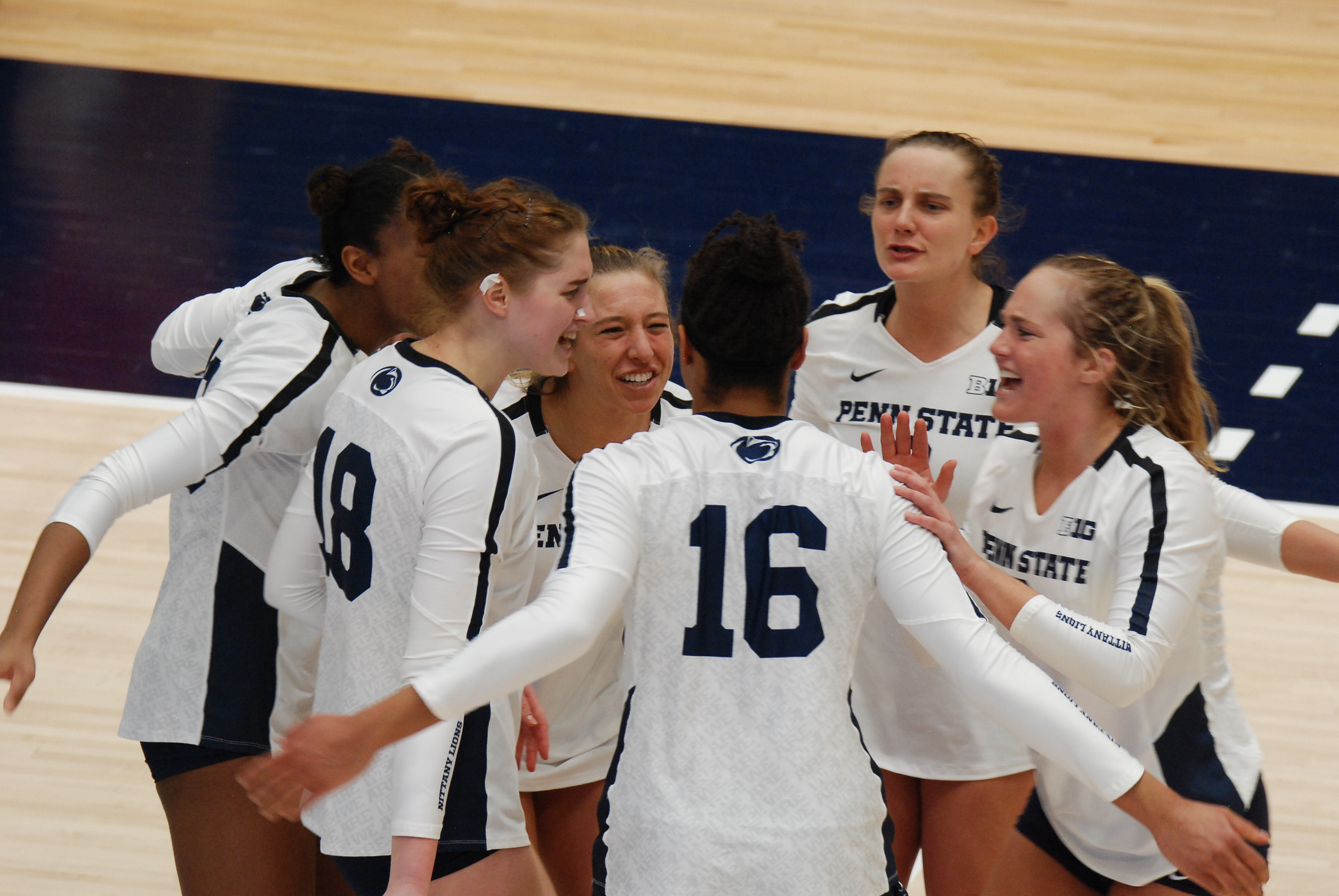 Russ Rose was also complimentary of what Kudryashova brings to the team from a versatility standpoint, saying she's had to adapt to playing outside hitter for the Nittany Lions after mainly playing right-side and middle blocker for the Scarlet Knights. She's proven herself as a capable passer, too, with 22 digs.
"I think Anastasiya is a well-skilled player," Rose said. "She's bright and has good size. I think every now and then, she shows pretty good fire. I think she's a key player for us. I think she's a really good passer."
Following a sweep of Indiana on February 20 at Rec Hall in which she tallied a season-best 14 kills and hit .444, Kudryashova reflected on what she likes most about playing with her new teammates, who welcomed her into the program right away and have all spoken highly of her when given the chance.
"They're just great people," Kudryashova said. "It's so easy to work with them. The communication on the team, the effort, everything — this is the best part, when your teammates work as hard as you."
Junior captain Jonni Parker, who leads the Nittany Lions with 174 kills and often shares the court with Nas or Nasta, as teammates call her, gave her thoughts on Kudryashova's game during her pre-NCAA tournament press conference last week.
"Nasta, she's a great player," Parker said. "She has great intelligence and IQ about the game. She's a very well-rounded player and versatile. She passes well and does great things for us across the net, blocking and hitting-wise."
After being granted a medical redshirt for one of her seasons at Rutgers, Kudryashova will be a fourth-year sophomore this fall given the NCAA's pause on individual eligibility clocks during the 2020-21 athletic year, meaning the journalism major could stick around for three more seasons in University Park if she desires.
"In Russia, college volleyball is not as great," Kudryashova said. "That's why I'm here. I wanted to combine education and sport. Russian volleyball is more of a professional sport."