Penn State women's volleyball starters Jenna Hampton and AC Fitzpatrick spoke to the media Wednesday night ahead of a weekend trip to Maryland.
Hampton leads the Nittany Lions with 80 digs so far this season, while Fitzpatrick has made an impact all over the court as a freshman with 69 kills and 67 digs.
The duo from Florida likes to fly around on defense and lay out full speed to keep the ball afloat, doing so often last weekend in a pair of wins over Indiana. Hampton set a new career high with 25 digs last week against Ohio State.
Annie Cate Fitzpatrick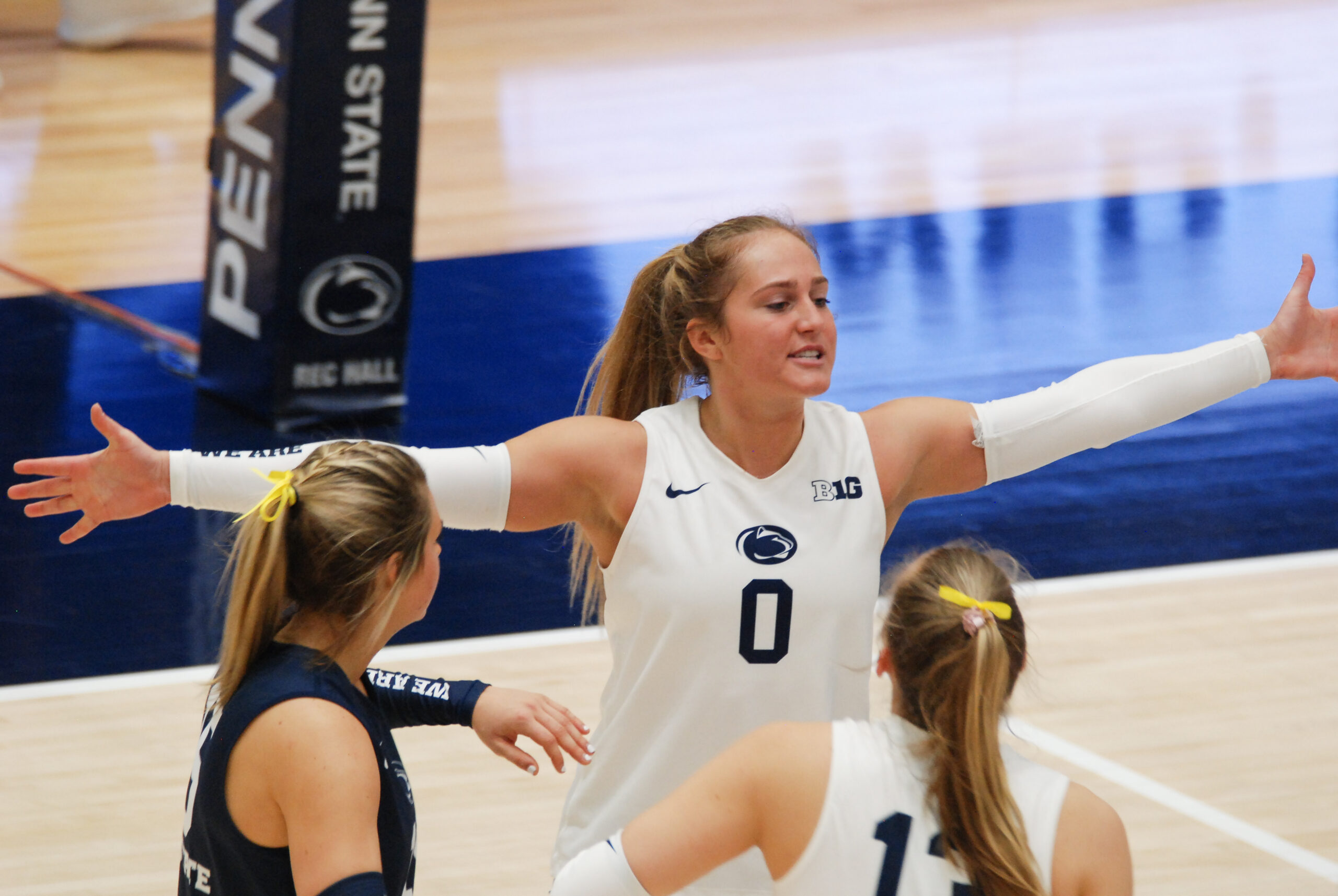 Q: How has Jonni Parker been a mentor for you this season?
"She's super helpful, especially toward me and the younger players. She's such a role model just because she has such a high IQ in volleyball. She really knows what she's doing. It's just really awesome to watch her play and see how she plays on the court, whether I'm on the court with her or if I'm on the sideline. Just watching how she plays. She just knows the court and knows what's going on. It's really cool to watch that and I'm hoping that I can get on the road to being like that, but she has such a high IQ and she's awesome."
Q: How much fun are you having in your first few matches playing in the Big Ten?
"I'm enjoying it a lot. I think traveling is super fun, but obviously playing at home is even cooler, even though we have limited fans. It's that whole competition drive that we haven't felt in a year, so it's super cool to get back into doing that. It's super exciting to wake up and be like, 'Hey, it's gameday. Time to do some stuff. Let's go.'"
Q: Has it been challenging beginning your college volleyball career without fans? What's that been like for the team?
"I think it does put a different aspect on the game, just because everyone's so used to always playing with fans, but I think that we create a really good energy. If we can't have fans, I think we do a really good job of making it up on the court and on the sideline just being loud and super interactive. I think we have a super loud team and we just find a way to make it fun and make it sound like there are a ton of fans there."
Q: Is there something that the coaches are preaching to you guys that you're going to have focus in heading into the later parts of the season?
"Just the whole thing. The Big Ten is one of the best conferences. You need to be ready for every single game. You can't take sets or points off. We've seen that with our team and every other team. It's a hustle. It's a grind. Everyone in the Big Ten is going to be awesome. That's just something you have to work through every single point if you want to succeed."
Q: What's the best piece of advice that someone's given to you so far at Penn State?
"Obviously I've gotten a ton of advice about physical things that I need to do, certain techniques like tweaking passing, hitting, blocking, but I think mentally it's just like if you're in a little rut, a divot, whatever, take a deep breath, slow down, forget the last play. Play how you know how to play. Because I find something in situations like that a lot, where I just need to take a step back and breathe and do what I know how to do and not overthink everything."
Q: Are there any positives at all to playing in this COVID era that we're in right now?
"I think it gave our team a lot of time to work together. Obviously we didn't have our season in the fall, so it just gave us an extra however many months of training to work together to be ready for this season, so I think that was a positive in a way."
Jenna Hampton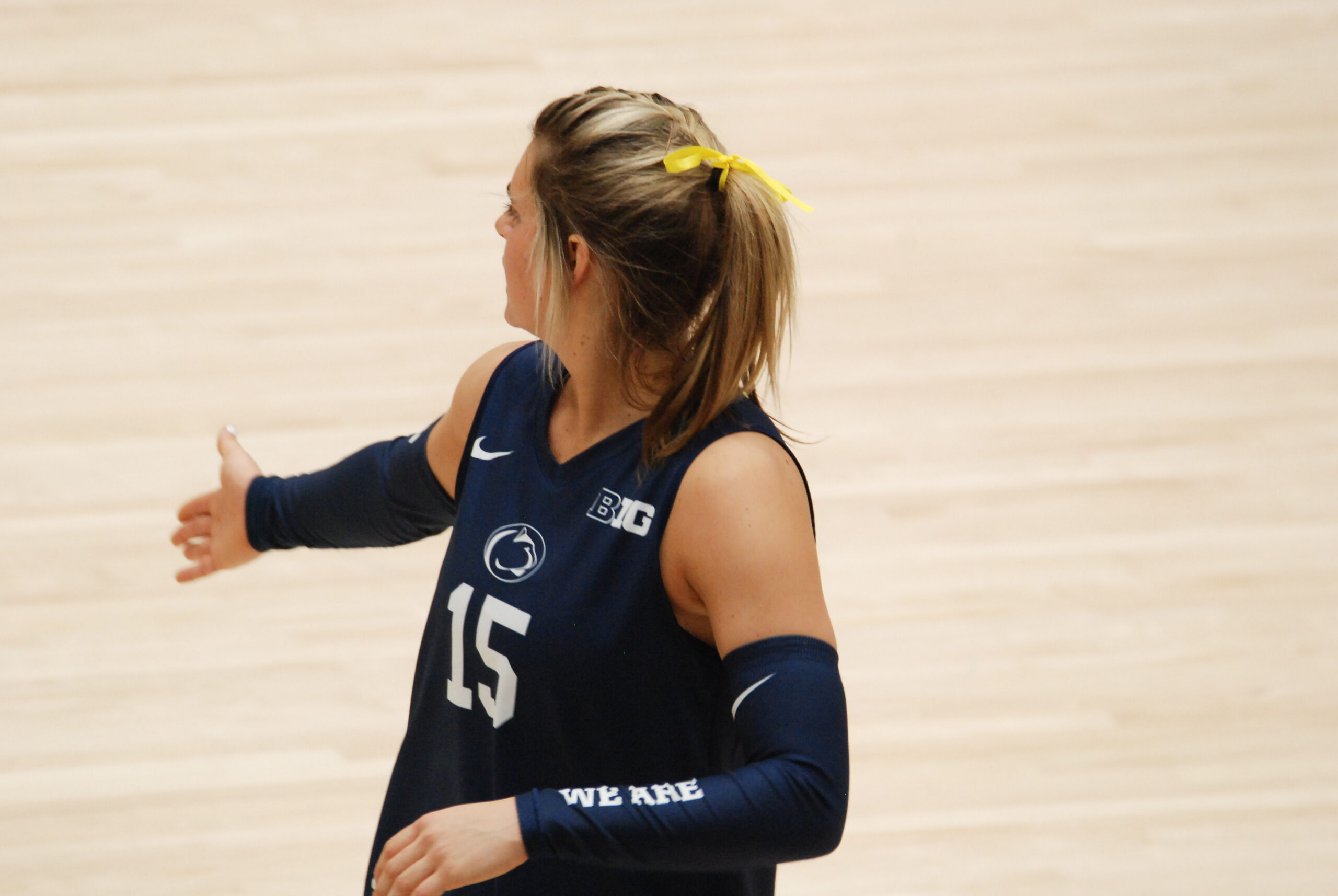 Q: What do you enjoy most about playing alongside Maddy Bilinovic?
"She's just a little firecracker. She brings so much energy. Something that stands out to me a lot with her is how much she talks. It's just really easy to play alongside her. I think one of the biggest things is definitely how much energy she brings, especially since there's no crowd, so she kind of is that little beast out there."
Q: What's it been like this year with no seniors on the roster and the juniors having to assume that leadership role?
"I think Jonni [Parker] and Gabby [Blossom] have always kind of taken up that leadership role, especially Jonni as a freshman. She's kind of already had that role, so I think there's not a huge difference, but a lot of juniors have stepped up to fulfill a senior spot I guess."
Q: Was it challenging coming back to Big Ten play after missing the first series of the season?
"It was definitely a little challenging, but it was more of excitement and just the opportunity to play, because it's been so long. I think that kind of put it in perspective. Things can happen randomly, so when you get a chance to play, you've got to give it your all."
Q: What's your assessment of the team's play so far this season?
"It's kind of been the same players, but just people playing different roles, like me stepping into the libero spot I guess has been kind of different, because I'm not as loud or as aggressive as Kendall [White]. I think we're coming together more as we practice and I think it's getting a lot better from the start of the season."
Q: What's been the most exciting part of this season for you?
"Just the opportunity to play. It's a whole different season with no fans, especially this weekend we're heading to Maryland and there is said to be no fans at all, so I think just being able to play is the most exciting part."
Q: How important would you say the series against Indiana was?
"I think it definitely was a big confidence booster for us. Ohio State, we started off really strong and you just can't let teams come back, because everyone in the Big Ten is good. You can't overlook anyone. I think beating Indiana and playing really well as a team together really brought more confidence to us. We can compete at a high level. We just have to take it one game at a time."
Q: What can you tell us about the Hampton "patio of pain" and your offseason training in general?
"My parents recently moved in Florida and we have this patio outside in our backyard near our pool. My whole family is really into fitness, so we have dumbbells and bands out there. My dad and I went out there like every morning and did HIIT workouts and the workouts Cam [Davidson] gave us. My dad actually named it the Hampton patio of pain. The weather was really hot, too, so we were sweating out there. I just did everything I could to stay in shape during the offseason."