15 Points
by Lionsfan
1.  Feeling Blue?
An uninspired effort against Michigan resulted in some history Penn State wasn't looking to make: its first-ever home loss to the Wolverines. The first matchup between the programs came in 1981, with the two schools meeting every year since 1991. In those 34 years, the Wolverines were 3-37 against the Lions, their last win a five-setter in Ann Arbor in 2002. The loss dropped Penn State three spots to #7 in the poll, and to #9 in the RPI. It leaves them tied for third in a tight conference race. If Penn State loses a match this week and Wisconsin goes 2-0, the Lions will have their lowest conference finish ever in the Big Ten.
2. No Worries . . . Two Chances for Redemption
Penn State's final regular-season week will give them a shot at redemption against two teams that beat them this year, both in five sets. But it won't be easy.
The Lions host Northwestern on Wednesday, and the Wildcats will be fighting hard—they need two wins this week (they also host Maryland) to qualify for the NCAA tournament.
If the Lions can get past them, they will look to maintain the momentum against their nemesis: the #5 Huskers, who have beaten the Lions 13 of the 17 times they have played in the state of Nebraska (who also hosts a tough Illinois team on Wednesday).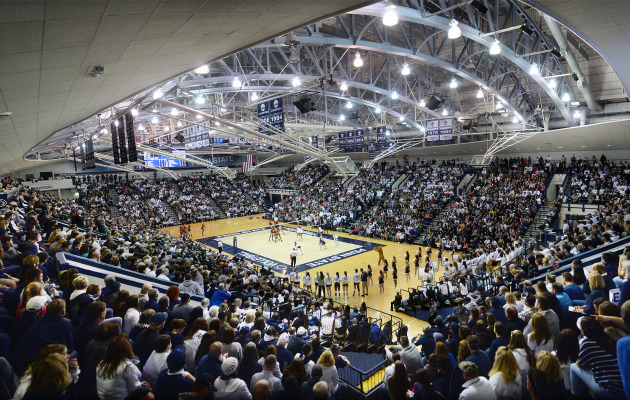 3. Wanted: 1,795 Fans (for the Northwestern Match!)
So far this season, Penn State has drawn a total of 58,206 fans to its 14 matches in Rec Hall.  So,  if 1,795 fans come to the Northwestern match,  total home attendance for the 2015 season will be 60,001.  Go Fans!
4.  For . . . . Penn State's Senior Night
Four Penn State seniors — Lara Caraway, Megan Courtney, Kendall Pierce and Aiyana Whitney — will be honored in a ceremony prior to the Northwestern match.  In their careers to date, these players have recorded a won-loss record of 128-12 (60-8 mark in the B1G), back-to-back Big Ten titles in 2012 and 2013, and back-to-back NCAA titles in 2013 and 2014, with trips to the NCAA Final Four for the past three seasons.  Sure, they had help (Micha, Nia, Dom, Lacey — we haven't forgotten you) but this is an impressive bunch.
5. Badger of Honor
After starting 12-6, Wisconsin faded from the limelight for a while. But with a 10-match winning streak, Wisconsin looks like a team that could win it all.  Five of those recent wins have come against ranked teams, including last week's five-set thriller at Illinois and last weekend's sweep of Ohio State. Wisconsin is now tied for third in conference with Penn State, stands at #10 in the poll (too low if you ask lionsfan) and has risen to #4 in the RPI. Where will they finish? A season-ending road trip will have a lot to say about that…
6. Boiling Point
…especially if Purdue plays like it did over the weekend. The Boilermakers got the statement win they have been looking for all season with a five-set victory over top Big Ten dog Minnesota. They nearly swept the Gophers before Minnesota fought back in an epic 3rd set (32-34), and then took the force set to force a fifth set.  In the end, Purdue prevailed 25-22, 25-19, 32-34, 19-25, 15-9 for its fifth straight win. The Boilers moved up a spot to #14 and are 13-5 in conference, just one match behind Penn State and Wisconsin.
7. Red Wolves Make History
After advancing to the finals of the Sun Belt Conference Tournament for the first time since 1999 (the last year the program made the NCAA tournament), Arkansas State found itself down two sets to second-seeded Appalachian State—and then won the next three for a thrilling comeback. That effort extended the Red Wolves' nation-leading win streak to 24 matches, the team's lone loss coming in five sets against Missouri. At 28-1, Arkansas State had been hovering in the "receiving votes" category for six weeks—and finally broke through at #25 this week, the first ranking ever in program history. The Red Wolves have had a solid RPI most of the season, currently clocking in at 18th. Congrats to the team!
8. Aggies Roll
Entering Sunday's crucial SEC match, Texas A&M was 0-11 against Florida in a series that dated back to 1988, long before the program joined the conference four seasons ago. That all changed with the team's come-from-behind win as the Aggies rebounded from 0-2 down. It is their 12th consecutive win, and followed last Wednesday's sweep of Kentucky, another ranked team. Texas A&M holds a one-match lead over Missouri—with the two meeting Wednesday in Columbia (before another tough road match at Arkansas to close out the regular season). A&M moved up six spots to #19, and moved up to #10 in the RPI. Kentucky, meanwhile, dropped five spots to #24.
9. Uncharted Territory
With the loss, the Gators dropped three spots to #17. The Gators are now in fourth place in the conference at 13-5, the most SEC losses under Mary Wise's tenure. Since she took over in 1991, the Gators went undefeated in conference 13 times, lost just once seven times, had two losses twice, and had three or four losses just one time each (in 2011 and 2009). Florida has completed its conference season and closes with Long Island, while the three teams ahead of them (Texas A&M, Missouri and Kentucky) each have two SEC matches left. How many of those teams will be seeded? The prognosis is good for Florida and Texas A&M, with Missouri holding hope at #17 in the RPI—and Kentucky not far behind at #19.
10. Bruised Bruins
Until two weeks ago, UCLA's only conference losses were to Southern Cal and Washington. But in two of their last four matches, the Bruins have dropped two five-set matches: one against Oregon in Los Angeles, and one at Arizona on Sunday. That dropped them to #13 in both the AVCA poll and the RPI, and has them a game behind Stanford for fourth place in the Pac. Those two teams have their only meeting of the year on Friday, while the Bruins also face #1 USC on Wednesday for a brutal final week.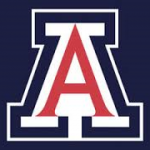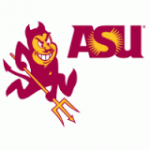 11. Room for Just One?
With identical 8-10 records, Arizona and Arizona State are tied for sixth-place in the Pac (with Oregon). The Sun Devils fought hard but lost two tough five-set matches to Southern Cal and UCLA last weekend, while the Wildcats managed a win over UCLA. ASU has lost 10 of 14, and closes at Oregon and Arizona. The three teams could be fighting for their postseason lives: Arizona State stands at 33 in the RIP, with Arizona in 41st and Oregon in 53rd.
12. ACC: Upset Free
The top three teams in the ACC all managed two wins, and will all be favored in their final two matches. That puts league leader Louisville in a good spot at 17-1, their lone loss earlier in the year to #2 North Carolina (16-2). Florida State sits in third at 15-3.
13. RPI Watch
The most recent RPI rankings: Texas, 2. Southern Cal, 3. Minnesota, 4. Wisconsin, 5. Florida, 6. Washington, 7. Nebraska, 8. Kansas, 9. Penn State, 10. Texas A&M, 11. Ohio State, 12. Stanford, 13. UCLA, 14. Louisville, 15. BYU, 16. Western Kentucky, 17. Missouri, 18. Arkansas State, 19. Kentucky, 20. North Carolina, 24. Illinois, 30. Michigan, 32. Purdue, 42. Northwestern
14. Bracket Predictions
Two wins this week would guarantee Penn State a two seed; a loss has them flirting with a three seed. Here are my predictions as we enter the final week:
San Diego Regional: 1. Southern Cal, 2. Kansas, 3. Stanford, 4. BYU
Des Moines Regional: 1. Minnesota, 2. Penn State, 3. Florida, 4. Missouri
Austin Regional: 1. Texas, 2. Washington, 3. Texas A&M, 4. Ohio State
Lexington Regional: 1. Nebraska, 2. Wisconsin, 3. UCLA, 4. Louisville
15. Lionsfan's Top 25
1. Southern Cal, 2. Washington, 3. Minnesota, 4. Texas, 5. Nebraska, 6. Stanford, 7. Wisconsin, 8. Penn State, 9. Hawaii, 10. BYU, 11. Kansas, 12. Purdue, 13. UCLA, 14. Ohio State, 15. Illinois, 16. Texas A&M, 17. Colorado State, 18. Florida, 19. North Carolina, 20. Louisville, 21. Florida State, 22. Michigan, 23. Arizona, 24. Missouri. 25. Colorado