#15-ranked Penn State (12-3, 4-0 B1G) enters tonight's match against #1-ranked Minnesota (12-1, 4-0 B1G)  having won 10 consecutive matches, and dropping only 1 set during that run.  They are playing well defensively (opponents have managed only a .100 hitting % — which ranks #1 in NCAA D1), and have been very efficient on offense, hitting .309 as a team.  6-1 Jr. OH Ali Frantti has started to make some noise, with 21 kills in the weekend matches against The Michigans (.383 hitting %), and has passed very well in serve receive.  6-1 Jr. OH Simone Lee, 6-3 Jr. MH Haleigh Washington, 6-2 Jr. RS Heidi Thelen, and 6-2 RS Fr. MH Tori Gorrell have all contributed to the Lions offensive success, led by 6-0 Jr. setter Abby Detering.
But Minnesota didn't gain its #1 ranking by accident.  The Gophers are 7-1 on the road this season, and during their non-conference schedule faced six teams that were either ranked or receiving vote.  So far in Big Ten play they have played one ranked opponent, then-#14 Purdue, last week in West Lafayette, Ind. and also .  They swept the Boilermakers, hit an aggregate .428 as a team against the Boilermakers and their other opponent last week, Indiana, and added 11 aces, including seven against Indiana. Sarah Wilhite led the Gopher attackers with 26 kills, with Hannah Tapp adding 21 and hitting .500 on the weekend.  For their efforts, two Gophers received B1G weekly awards — Samantha Seliger-Swenson was named B1G setter of the week (her fourth of the season)and Fr. OH Alexis Hart was named Rookie of the Week (her third award this season).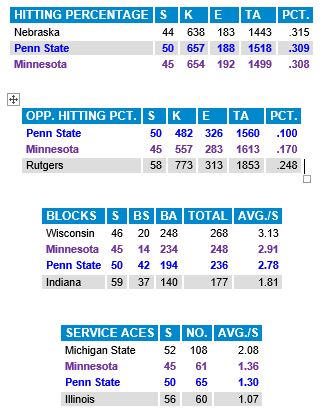 This will be a very tough match — Penn State is on an upward trajectory, but Minnesota is a highly skilled, veteran team, with an excellent coach.  The home-court and fans and band should give Penn State a boost.  We'll see if it's enough.
Q&A with Talking Head
DigNittany: Minnesota comes to Rec Hall tonight, ranked #1, with great players like Sarah Wilhite, Samantha Seliger-Swenson, and Hannah Tapp, to name just a few.  So it should be a great match, with hopefully a great crowd — it's a White Out.  Swenson has earned four B1G Setter of the Week awards, and she is certainly one of the keys for the Gophers.  Your thoughts?
Talking Head:  OK, where do you start.  They're just loaded.  You thought with the loss of their great 6-1 OH Daly Santana to graduation that Minnesota might slow down a bit.  But they seem to have taken on a "Next up" attitude, and that comes from the coach and also from great players like Samantha Seliger-Swenson, who is outstanding.  She right now is running a very smooth offense — they've been hitting .308 for the season to date.  They are efficient, in that they are swinging games clean.  Of course, the same could be said for Penn State.  When you look at the numbers, both teams are very close.  If you look at set losses, I think they have lost 9 and we have lost 12.  Penn State should feel good about themselves going into this match and they should feel excited for the opportunity to play against a team that was a pre-season choice to compete in the Final Four.  It will be a nice test to see where our girls are at.
DigNittany: Do you have a prediction?
Talking Head: I have a feel for what may happen, but I'm going to keep that to myself.  I am very optimistic that whatever the result may be, both teams will be better for having played each other in the match.
DigNittany: So it's sort of "Nostradamus Clams Up, But Feels Good About the Future"?
Talking Head:  I think we're too quick in sports generally to say "That's a defining game.  That's how the season's going to go."  You look at any sport — football, basketball.  Teams who have horrible losses early in the year, or even in-conference, and you say "There's no way they're competing for the championship."  And then the season moves on and they're in the Final Four.  That's why the successful coaches are who they are — they weather the storms.  They look at the long-term, they know what the Big Ten is like.  This is a great Big Ten match between a heavyweight and a heavyweight-used-to-be who is not down yet.  Penn State still has fight in them, and I'm looking forward to how Penn State comes out swinging.  I'm going to watch bright-eyed, with a smile on my face, just saying "Let's go!"
DigNittany:  The stats are close for these two teams, but in fairness, Minnesota has played a tougher schedule, haven't they?
Talking Head: I think so.  They've played Stanford, San Diego, Texas A&M, Florida State, Louisville, North Carolina, Purdue, so they've had a tougher season to date.  But both teams have been very efficient against their opponents (for Penn State, with the qualifier "since the Stanford match.")  They've been clean.  We've been pretty clean.  Certainly, for the past four matches, Penn State has, for the most part, played Penn State volleyball.  They've served well, they've passed extremely well, they've blocked well, and that's their game.  They've hit for a high hitting % and they've kept their opposition low.
DigNittany: Penn State hit very well against The Michigans (.383%).  Do you see a better connection lately between setter Abby Detering and her hitters?
Talking Head: I think she is feeling much more confident, I think she feels confidence from the coaches, I think she feels confidence from her teammates, and she has confidence in them.  Ali Frantti clearly is feelin' it, and Penn State now has five options to go to, which makes it really difficult for opposing teams.
DigNittany: One thing that has been striking this season is that when there is occasion for a Penn State player to look for clarification from the officials about a call — or to argue Penn State's case — that player has been Fr. libero Kendall White, not any of the upper-class starters.  Your thoughts on a freshman in that role?
Talking Head: I don't think I've ever seen it before, but Kendall clearly has a very high volleyball IQ.  She appears to have the ability to "stay in the game" and from her center-back position, she's ideally situated to see what's going on as it's happening.  So it makes sense from that perspective.  Plus, as the libero, in a sense she doesn't have to worry as much about what's going to happen next.  If a setter is involved in a frustrating discussion with the refs, it can be a distraction — everyone is still looking to the setter to make the call for the next play.  Similar issue for the hitters.  So having the libero in that role, takes responsibility off of other people, and maybe lets them do their jobs a little bit better, and you're giving it to someone who has a high volleyball IQ and is able to communicate effectively.  It strikes me as a smart move.
DigNittany: Who's a key player for Minnesota?
Talking Head: As I said before, Seliger-Swenson is outstanding, but I think the key for Minnesota is Sarah Wilhite.  She us definitely a prime, veteran hitter on that team, and I think Penn State needs to be able to slow her down a little bit.  If they can, it can be an interesting match.
DigNittany: Thanks, once again, for your time.  We appreciate it.
Talking Head: My pleasure.