Penn State – Ohio State
Summary – courtesy of GoPSUsports.com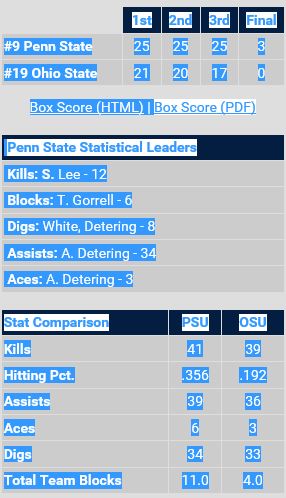 Postal Service (from DigNittanyVolleyball Forum)
"This match went just as I expected it to go. Ohio State seems to fall apart when playing Penn State. 20 hitting errors in 3 sets for tOhio State! I expect more of the same in the re-match. Penn State had some big runs and could have made it even more of a lopsided match if not for Sandbothe. She was only thing keeping this match from being a total blowout." psumaui.

"What a delight to see the hard working, never give up competing for playing time, Laura Broerman, have a good outing and some meaningful playing time.  Historically so many have tried  and not often gotten much time on the competitive court and yet despite such history they keep coming and trying.  Those maybe the inspiration that the full time players need to focus on and respond to.   Thanks, Laura!"  tillie.
Match Stats
Courtesy of GoPSUsports.com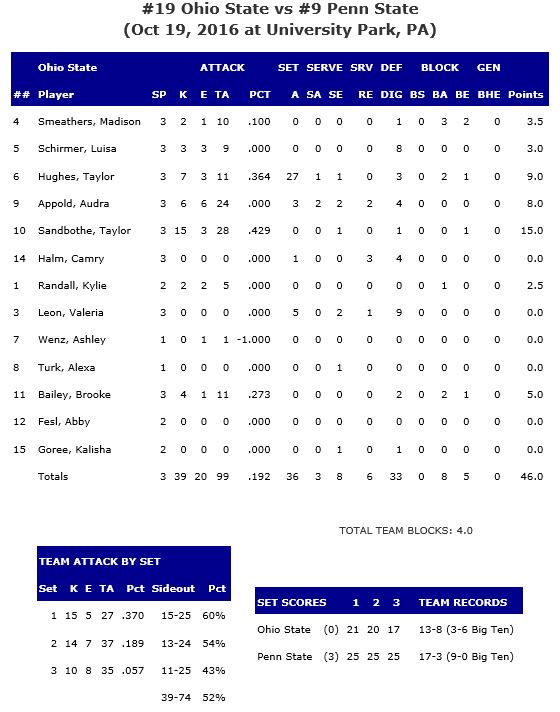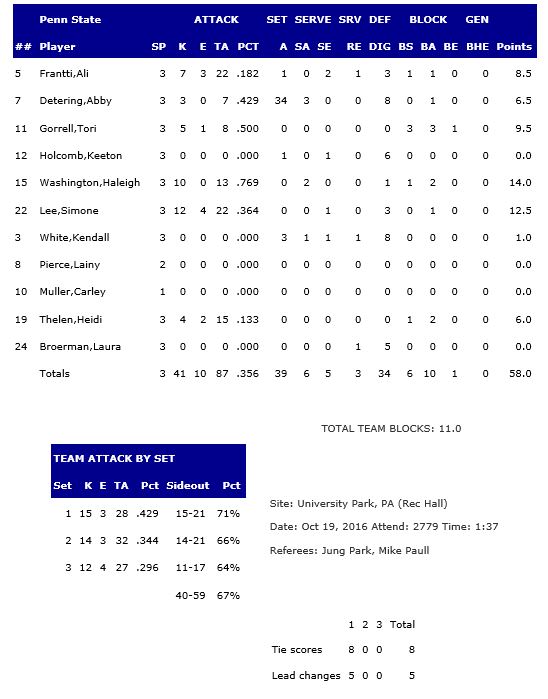 Michigan Preview – Q&A with Talking Head
Upcoming B
1G

Matches (click images for more info)
Date
(Time)

Opp.
Site

Media
10-22-16
(7:00 p.m.
ET)

Ann
Arbor
BTN+

GT
DigNittany: We're speaking today with Talking Head, who played D1 volleyball and has coached the sport for many years, about Penn State's win over Ohio State, and his thoughts about tomorrow night's match with Michigan.  In our recent conversations, we've focused on how the Nittany Lions have been getting tougher and more focused, both individually and as a team, and better able to withstand adversity that last year might have sent them into a funk.  With that in mind, your thoughts on the Ohio State match?
Talking Head: As Coach Rose said about the match, volleyball often comes down to how a team performs with its serve/serve-receive game, and in that regard, Penn State has been very, very good during its winning streak.  That sets the tone for everything else.  When your team serves tough, the opposing team often is not going to serve as hard as they otherwise would, because they're fighting so hard to get a sideout.  As a result, your passing will be better.  There definitely is a "push-pull" effect between service pressure and passing.  Aside from that, Penn State has some excellent passers who are playing with alot of confidence right now — in their own abilities, and also in the abilities of their teammates.  The coordination among the players on the passing unit has really improved — who will be taking what seams and angles — and for the most part, the communication kinks have been worked out (with a couple of exceptions in the first set, when balls that should have been played, dropped to the floor for Ohio State points).  Bottom line, our in-system passing has been very effective, and is giving [6-0 Jr. setter] Abby Detering the opportunity to give our hitters very hittable balls.  Even though Penn State hasn't historically been known for a highly deceptive offense, there were numerous times against Ohio State where good passing afforded Abby the opportunity to create one-on-one situations for her hitters, and she took advantage of those opportunities.  I can't tell you how many times Penn State attacks hit the floor untouched.
DigNittany: Speaking of serving, Abby Detering had three aces in the match (again!).  To our inexpert eyes, she appears to be doing a great job at the service line.  Your thoughts?
Talking Head: Detering is definitely one of those players who forces the other team out of their comfort zone.  But we have a group of servers — and I'm not talking about one or two, I'm talking about seven or eight — who are coming into matches and creating difficult situations for opposing team's passers.  I'll tell you from personal experience, that if an opponent only has one or two servers that you really have to pay attention to, it's one degree of difficulty.  But if you're facing a team with five or six or more tough servers, it's an entirely different (and higher) level of difficulty, which is really tough for passers to overcome.
DigNittany:  Is it mental stress?  Physical fatigue?
Talking Head:  It's everything.  It's mental and it's physical — just getting worn down.  A number of our servers were coming up to the line on Wednesday, and looking one way, to get the passers leaning in that direction, then turning ever-so-slightly to get the ball to go the other way.  And that slight lean was enough to get those passers a little bit off-balance and out of their line.
DigNittany: Let's talk about the Penn State block.  It's been steadily improving, and against Ohio State appeared to be very good.  6-2 RS Fr. MB Tori Gorrell had a very impressive match, including one play on an overpass where she seemingly flew out of nowhere for a solo block.  Your thoughts?
Talking Head: Gorrell definitely got the Penn State passer out of trouble on that one.  I know that feeling as a passer, you've just passed the ball over the net, and the opponents are lined up for a kill, and you're kicking yourself (or the verbal equivalent).  But Tori read the play, she's smart, and this is what we're starting to see not only from Gorrell, but from multiple players.  This is what good teams do — they have players that see the play develop, and they're in the right spot at the right time, before their opponents have time to adjust or react.  What looked like it would be a point for the other team is taken away from them.
DigNittany:  6-3 Jr. MH Haleigh Washington is another player who really seems to be on her game.  Your thoughts on her play this season.
Talking Head: The way Haleigh is playing, the way she's seeing the court, it almost doesn't matter what kind of set she's getting, she's going to get a kill.  I would say the same thing about Ohio State's 6-2 MB Taylor Sandbothe.  They are both All-Americans and both such great competitors!
DigNittany: When 6-2 Jr. RS/Opp Heidi Thelen came to Penn State, her offense wasn't as polished as her blocking.  And when she first moved to RS/Opp, she was, not surprisingly, somewhat inconsistent, and at times not very fluid.  But she looks much improved.  But she's always looked very athletic.  In a way, it reminds us of 6-1 Jr. OH Simone Lee, who has always been uber athletic, but prior to this season — when she has been dominant in almost every match — her play was up and down.  Your thoughts?
Talking Head:  Let's start with Lee.  When Megan Courtney went down last season with an injury, and Coach Rose put Lee in for her, all of a sudden, you saw tremendous growth, and you saw what that kid could do when she had the opportunity.  It's always been there for her, but one thing she's doing more successfully this season, and Heidi Thelen is also doing, is working really hard without the ball.  By that I mean when the ball is being played — first or second contact — you're getting off the net so you're available to get a good swing.  That's something that's very new to Thelen, but she's really getting good at it.  And Simone has been outstanding at it.  Where we used to see her get the one step up and swing, she is now getting a four step approach and just coming in like a train.  When you couple that with the power that Simone has, she has been just shattering blocks.  With Thelen, I'd give some of the credit to Detering, who has made some very smart decisions, where she has been able to place the ball in a sweet spot for Thelen.
DigNittany: Well, since this is called a match preview for tomorrow night's Michigan match, I should ask you at least one question about the Wolverines.  Are you worried this could be a trap-match for Penn State, with Wisconsin, Minnesota and Nebraska all on deck in the next few matches?
Talking Head: Well, Michigan just lost its fine 6-2 Jr. OH Adeja Lambert to injury (don't know her status for tonight). Penn State needs to be very, very, careful of a wounded Wolverine.  Penn State shouldn't make any assumptions about how Michigan will play other than that they will play very hard and would like nothing more than to end Penn State's winning streak.  And they cannot look forward to any of the upcoming matches.  All eyes need to be on Michigan.
DigNittany: Thanks, as always, for your time.  We appreciate it.
Credits
Tampa Bay Aquatics swimmers at University of Michigan pool.  Courtesy of Tampa Bay Aquatics.