We were able to catch up with Russ Rose, Penn State Women's Volleyball Head Coach, after his team swept Maryland Saturday night in College Park.  The following is a transcript of that interview, lightly edited for length and clarity:
DigNittany: Could you give us your quick take on the match.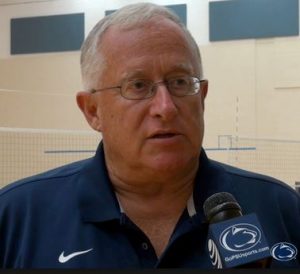 Coach Rose: Certainly we played a little better than we did last time [a 3-2 Penn State win in Rec Hall] but we had to make up for the fact that Allyson [Cathey] wasn't here.  I thought we were a little bit cleaner offensively, but we went from hitting 41% [in the first set] to 37% in the second set, and in the last [set] we hit 12%, so certainly I didn't like the trend offensively.  But every match and the big 10 is a tough match and you need to be ready to play.  We missed an awful lot of serves, but I'm pleased with the results.  I have a great affection for Adam [Hughes] and Kristen [Carpenter Steadman] and I hope they have great success for the remainder of their matches.
DigNittany:  Lauren Clark stepped in for Allyson Cathey.  Tell us about her play tonight.
Coach Rose:  I thought Lauren did a nice job.  I thought she played hard and she kept the ball in play.  It's her first real action, and she did a nice job.