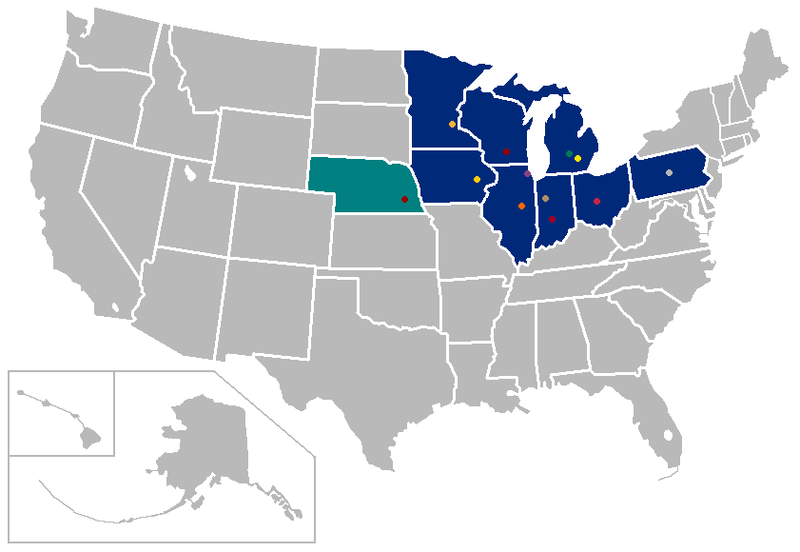 It shouldn't be surprising that it took the Conference that Can't Count (aka "The Big Ten") months and months to settle on its new Two Division setup.  As the Big Ten noted in its Press Release officially announcing the realignment (and the conference football schedules for 2011 and 2012) it was a complex problem that required consideration of "multiple models and countless permutations" (there's that counting problem, rearing its ugly head once again):
Over the past several months, Big Ten staff and directors of athletics have met on several occasions to discuss and finalize division alignments," said Big Ten Commissioner James E. Delany. "We focused on competitive equality, traditional rivalries and geography. We considered multiple models and countless permutations in an effort to achieve the most competitively balanced divisions while at the same time respecting our traditions, preserving existing rivalries, and creating opportunities for the establishment and growth of new rivalries. We have listened to the feedback from our institutions, alumni and fans, and while we understand that no final alignments could possibly satisfy all of our constituents, we believe that we have achieved a very exciting result.
Of course, they first had to deal with the overriding issue of how to divide 10 by 2 and get 6. Perhaps they should have watched this video first:
However they arrived at the answer, they've finally solved the math problem (at least for football), with the result that starting in 2011, the Big Ten will be divided into two divisions, one comprised of Iowa, Michigan, Michigan State, Minnesota, Nebraska, and Northwestern, and the other comprised of Illinois, Indiana, Ohio State, Penn State, Purdue, and Wisconsin. According to the Big Ten Press Release:
Each school will play the other five schools within its division and will also face three teams from the other division, including one cross-division matchup guaranteed on an annual basis. The guaranteed cross-division matchups are Illinois-Northwestern, Indiana-Michigan State, Ohio State-Michigan, Penn State-Nebraska, Purdue-Iowa and Wisconsin-Minnesota. Names for each Big Ten football division will be announced at a later date.
How this will play out for other sports is anyone's guess. The Big Ten ADs will wait until they've worked out the problems on the football side of the ledger (the income side) before they try to resolve how this will work for the 24 other Big Ten sports. It may be that divisions (and the Conference Championship Game that goes with them) will only be for football.
We'll see.