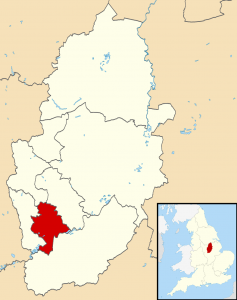 David James, a former Phys Ed teacher (and volleyball coach) from Nottingham England, first came into contact with DigNittanyVolleyball on August 24, 2019 when he started a thread on the DigNittanyVolleyball Forum titled "UK NCAA Volleyball Fan Needs Help . . . . ."  Unused to fans from the United Kingdom asking about Penn State matches, some DigNittany fans assumed it was posted by a fan of the University of Kentucky (which isn't on Penn State's schedule), and didn't read Dave's post. Those who did learned this:
Hoping someone will be able to help me…..I will be ticking something off my bucket list on Friday 13th September when I fly from England to JFK and then drive to Penn State to experience live, the incredible atmosphere at a college volleyball game that up to now, I've only seen on a TV screen via ESPN UK.

My flight lands at 1.20pm and then I've got to pick up my rental car, so there's no chance of getting to the Rec Hall for the Minnesota v Oregon game at 6pm; and anyway I don't want to be rushing when it's the first time I've driven on the 'wrong' side of the road! My aim is to get to Penn State for about 7.30, pick up my ticket from Will Call and then enjoy the build up to Penn v Stanford.

My problem is where to park as I'm told the Nittany Parking Deck will almost certainly be full at 7.30 Can anyone offer any help or advice? The Rec Hall staff haven't been able to help even though they've been great in all other queries I've had.

Look forward to lots of replies!! David
Although it took some time, eventually DigNittany viewers responded to Dave, included several who urged him to consider flying in on Thursday, September 12th rather than on Friday the 13th, as originally scheduled.  David also was communicating with Penn State fans on Facebook.  In the end, he changed his flight to Thursday, and arrived at Rec Hall on Friday, September 13th in time for the Minnesota-Oregon match.
What happened next clearly was fate.  As David tells it:
What happened was I got to Rec Hall with a good hour to spare.  I went and sat on a wall next to an older couple and started chatting with them.  They said "By any chance are you that English chap who flew over."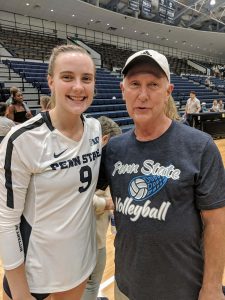 David said yes, he was, and introduced himself to the couple, who turned out to be Jonni Parker's grandparents — Nancy and Jim.  When the Rec Hall doors opened, David went through the line, chatted with the ticket taker, emerged into Rec Hall, and was trying to take in the atmosphere all at once when he noticed a woman in the stands waving at him energetically and motioning to him to come join her and a couple behind her — who, of course in this fate-infused story, were Jonni's grandparents.  That woman was Jonni Parker's mom.  David did join them, and in fact sat with them throughout the entire tournament.  Saturday evening, after Penn State defeated Oregon, Dave met Coach Rose (sharing the fact that he had coached a high school team to the English high school national title, and that his wife — Janine Beckworth James — had earned a spot on the 1984 English National Volleyball team, but had her career cut short by an ACL injury) and had a photo opp with Jonni.
When David returned home, he started another thread on the DigNittanyVolleyball Forum — "Just Arrived Back in England!!" from which we've included excerpts below.  Our take?  David James is a really nice guy, and a welcome addition to the Penn State Women's Volleyball Family.  We look forward to seeing him in 2020.
Hi Everyone – I've just woken up on Monday evening after catching up on lost sleep! I arrived back in Nottingham on Monday morning after a long Sunday drive to JFK Airport and a long overnight flight home.

Thank you so much to everyone who helped make my trip a truly memorable one – there are so many wonderful, friendly people in the PSU volleyball community but I particularly wanted to mention . . . Jonni Parker's grandparents, Nancy and Jim, who made me feel so welcome and invited me to sit with them on the two match nights. I also met Jonni's sister and mum who are were so vocal and passionate in their support for the team, and Kendall White's grandparents who are great people and so proud of their grand-daughter.

I was honoured to be introduced to Jonni and Kendall – not only are they truly great volleyball players but they are also both fine young women and a credit to their families and their coach. Russ Rose – what a legend – 41 years, wow! . . . [H]e seemed genuinely shocked but flattered that I'd travelled all that way just to watch his team! Russ, let me tell you, it was worth every penny of the £2000 it cost me. I've learned a lot though and reckon I could do it for half that amount when I come again. Penn are a young team and I'm already thinking about returning in two years when Jonni and many of the current team are seniors or juniors.

Talking of 'wow's' the atmosphere in the stadium was everything I hoped it would be after seeing it on my laptop at home. In fact it was even better than I'd hoped! I loved the band, the cheerleaders, and the student section. You are all so lucky to be able to be a part of that and when the Lions next play at home I will be truly sad that I'm not there. In England you would only see that level of support at Premier League Football (Soccer) and International Rugby.

Most importantly of all, what a great performance by the players. They scared the hell out of Stanford and I think coach Rose was right when he said that Minnesota's win was made possible by how much physical effort Stanford had to produce to beat Penn the previous night. I agree, but also have to say that Minnesota were superb.

Most people I met were amazed that I had come from so far away to watch the matches, bit it wasn't just for the matches, it was for the whole American experience and to use a word much used by Americans, the whole trip was…. AWESOME!!
Credits
Coach Rose with David James, by DigNittanyVolleyball Staff.
Map of  Nottingham England, Contains Ordnance Survey data © Crown copyright and database right, CC BY-SA 3.0, https://commons.wikimedia.org/w/index.php?curid=16089889. This file is licensed under the Creative Commons Attribution-Share Alike 3.0 Unported license.
Jonni Parker with David James, by DigNittanyVolleyball Staff.