When exactly the 2020 Big Ten volleyball season will get underway is still up in the air, but we do know today is the first day back at practice for the Penn State program.
The Nittany Lions' 2020 roster currently includes 19 student-athletes following a hectic offseason that featured the departure of nine players from last year's team and the addition of eight newcomers, including freshman middle blocker Allie Holland, who committed to Penn State last Saturday.
The Big Ten is planning to play a conference-only schedule this fall in order to help provide flexibility as far as the COVID-19 pandemic is concerned. If the Big Ten feels the need to push back its start date or pause the season, it would potentially be able to resume play once things improve from a health perspective.
Moving the volleyball season to the spring is also likely still on the table at this point and would certainly be more feasible than a spring football season, for example. Volleyball players are accustomed to playing a significant amount of matches in a short period of time from their high school and club days and wouldn't require as long of an offseason to prepare for next fall.
Regardless of when the upcoming season is played, here are three main storylines surrounding the program that are sure to get Penn State fans talking about the possibilities that lie ahead for this year's Nittany Lions, who are chasing their eighth national championship.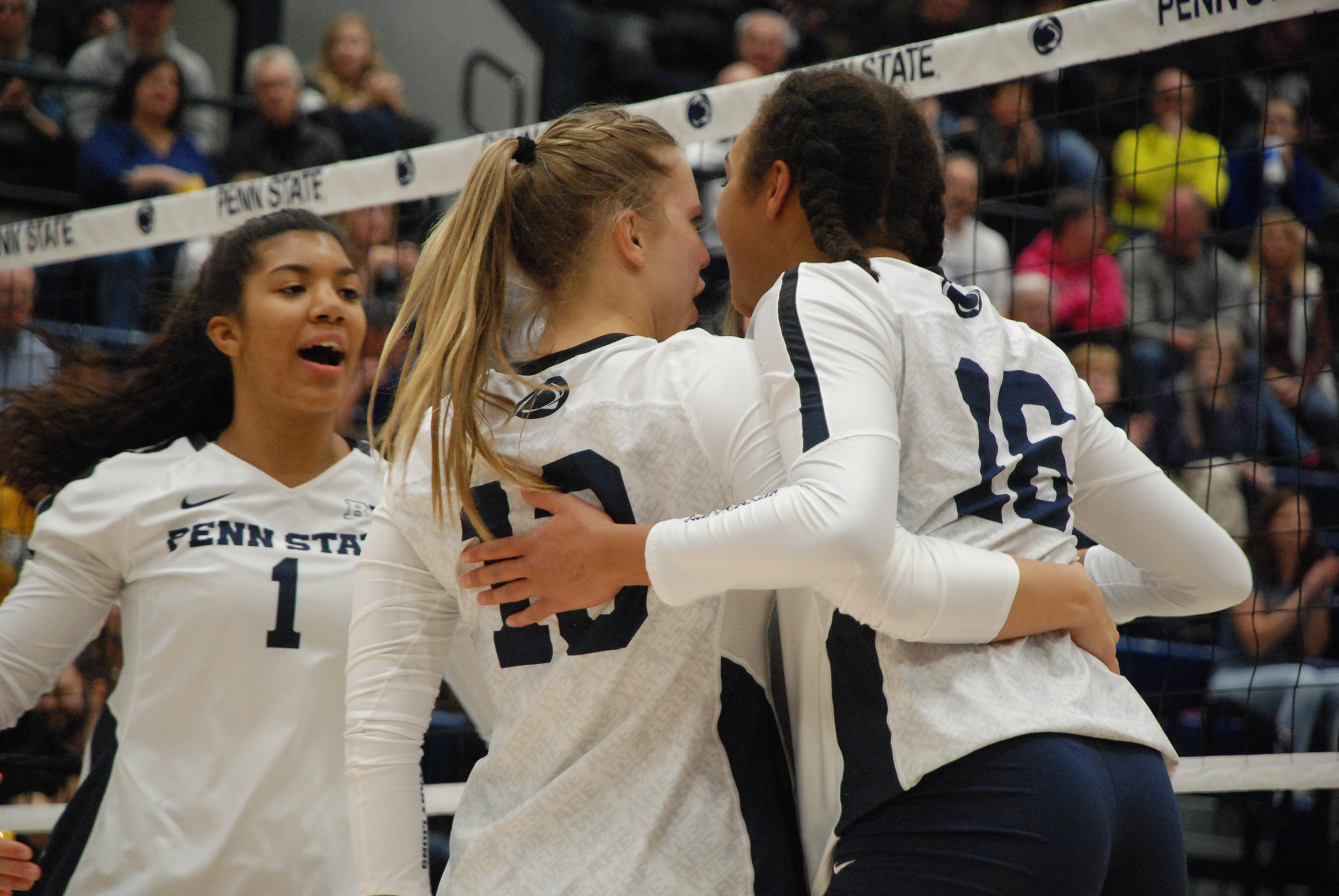 How good is Annie Cate Fitzpatrick and will she start at outside hitter?
Fitzpatrick is the headliner from Penn State's 2020 recruiting class and tempering expectations for the Ocala, Florida, native has been difficult at best heading into her debut season in University Park. Although playing time is never guaranteed under head coach Russ Rose, it's hard to imagine a scenario where Fitzpatrick doesn't see the floor in a significant capacity right away given the team's relative lack of proven depth at outside hitter heading into the 2020 season.
The Nittany Lions must replace multi-year contributor Tori Gorrell, who graduated from the university this spring after putting together the best season of her Penn State career in 2019. After getting acclimated to campus and going through voluntary workouts, Fitzpatrick will finally have a chance to show the Penn State coaching staff and her new teammates what she can do on the practice court starting today.
Fitzpatrick, who was named Gatorade State Player of the Year and participated in the Under Armour All-America Match, will have no shortage of competition for a spot in Rose's rotation at outside hitter. Despite the recent departure of Allyson Cathey from the program, the Nittany Lions still have plenty of options at the position. Jonni Parker has hit from all over the court during her first two years on campus and is a lock to start again as one of four returning All-Americans alongside Kaitlyn Hord, Serena Gray, and Gabby Blossom.
Lauren Clark came on strong toward the end of her freshman season last fall and has a chance to take a sizable step forward this year. Her energy and confidence were evident in her NCAA tournament debut when she started to make an impact from the service line and provided a boost offensively when Penn State's attack got stale at times. Fellow sophomore Gabi Bailey, Rutgers transfer Anastasiya Kudryahosva, and freshman Macy Van Den Elzen will also compete for reps at outside hitter during preseason camp.
Fitzpatrick has the tools to be a six-rotation player for the Nittany Lions during her career, but it will be interesting to see how she adjusts to the college game and whether she's able to separate herself in the competition for playing time. The thought of watching Parker and Fitzpatrick share the court is exciting. Fitzpatrick is going to wear No. 0 for the Nittany Lions, so that will help her stand out, too.
How big of a role will Hannah Flowers fill in her lone season with the Nittany Lions?
Flowers recently graduated from Memphis after three excellent seasons with the Tigers and is Penn State's lone senior on this year's team after transferring into the program this offseason. She led her team in kills each of the last three seasons and has the most of any returning player on Penn State's 2020 roster with 1,005 during her career. Parker has the second-most kills among this year's Nittany Lions with 764 so far.
Flowers and junior setter Gabby Blossom competed against each other in high school while playing for two of the premier volleyball programs in Missouri — Lafayette and St. Joseph's Academy, respectively. Building chemistry and developing timing between Blossom and Flowers likely won't take long during preseason camp, as they're already familiar with what to expect from one another.
Flowers is a right-side hitter who checks in at 6-foot-3 on the program's latest roster update, which is an inch taller than she was listed during her time at Memphis. As has been the case with Parker and Gorrell, Rose may ask Flowers to hit from different angles around the court in order to provide flexibility and use her height to Penn State's advantage in the always physical Big Ten.
Transitioning from the American Athletic Conference to the best conference in college volleyball is undoubtedly a difficult task, but Flowers has the pedigree and frame to make it as smooth a transition as possible. She will obviously have to earn it during camp, but Flowers is in a good position to nab a spot in Penn State's starting lineup alongside a bevy of talented juniors. The Nittany Lions join Wisconsin and Nebraska as the only three NCAA women's volleyball programs to have four returning All-Americans on their roster this season.
The addition of Flowers to the locker room is also excellent news for Penn State's younger hitters in that they can bounce questions off of a senior who has ample collegiate experience and knowledge of the game. If the regular season reaches its conclusion and isn't derailed by COVID-19 concerns, Flowers will be the only Penn State player recognized on senior night this year. Her lone season with the program could be a big one.
Who will step up at defensive specialist during a youth movement at the position?
The Nittany Lions lost four defensive specialists to graduation this offseason in Kendall White, Keeton Holcomb, Emily Sciorra, and Kristin Krause — all of whom were significant contributors as seniors in 2019. White, a three-time All-American, set the program record for career digs with 1,994 and is certainly the most decorated libero in Penn State history despite never leading her team to a national championship.
Holcomb, Sciorra, and Krause were reliable on the biggest stages for the Nittany Lions. Rose wouldn't hesitate to sub any of them in during a crucial point, trusting they had the experience and mental fortitude necessary to deliver under pressure. Holcomb turned in an excellent final season with 165 digs, while Sciorra had the two best performances of her Penn State career in five-set wins over Pitt and Wisconsin. Krause served as a team captain this past season alongside Parker and Blossom and was heralded by Rose for having an extremely high volleyball IQ and positive impact on the team.
Jenna Hampton, a junior from Tampa, Florida, is the perceived favorite to win the vacant libero job after collecting 372 digs her first two seasons on campus. However, the Nittany Lions added an experienced defensive specialist in West Virginia transfer Keatan Broughton (also a junior) to the mix this offseason. Hampton and Broughton will compete with junior Sophie Walls, sophomores Macall Peed and Molly Russell, and freshmen Maddy Bilinovic and Sam McCool for playing time.
Peed tallied 29 digs in 44 sets while showcasing her toughness and left-handed serve as a freshman in 2019. The San Diego, California, native has an excellent opportunity to step up and help fill the void at defensive specialist for the Nittany Lions — a position Rose likes to rotate heavily whenever possible. Peed played for the same high school program (Torrey Pines) as Penn State alumna and two-time national champion Lacey Fuller, who is now pursuing a professional beach volleyball career after graduating in 2014.
Bilinovic's arrival this summer should probably have received more hype given her impressive high school career in the talent-rich state of Ohio and the strong leadership skills she brings to the program. It's certainly possible Bilinovic could immediately carve out a significant role for herself in Penn State's defensive specialist rotation, especially if she serves as tough as her stats would indicate. Bilinovic recorded 232 aces during her career at Independence High School, per MaxPreps, and was a key component of her club team's success at Academy Volleyball Cleveland.