Penn State women's volleyball recently released its 2020 roster, so we thought it would be a good idea to devise an imaginary Blue-White scrimmage for the occasion.
Opting for schoolyard style with alternating picks, we set out to select starting lineups of seven players apiece. Five defensive specialists were left out of the mix due to the limited number of spots for back-row players, but rest assured that Russ Rose will likely rotate them often this season.
Although the Nittany Lions have yet to release their 2020 schedule, the Big Ten has already stated that its 14 member institutions will play a conference-only regular season this fall. It remains to be seen whether the Big Ten will push back its start date or schedule more than the usual 20 conference matches.
Blue selects Jonni Parker first overall
Parker has led the Nittany Lions in kills each of the last two seasons and enters her junior year with 764 kills, but that's far from the only impact she makes on the court. Parker is an all-around star who boasts an incredibly powerful jump serve as well as tremendous touch as a passer. She dives for balls all over the place, including running into the scorer's table, and puts up a strong block above the net. There's not much Parker can't do. She could be an All-Big Ten-caliber setter if Gabby Blossom didn't have that job locked down. Parker played the position at times in high school on top of her hitting duties. It's scary to think how much better Parker can be as an upperclassman after having such a good start to her career.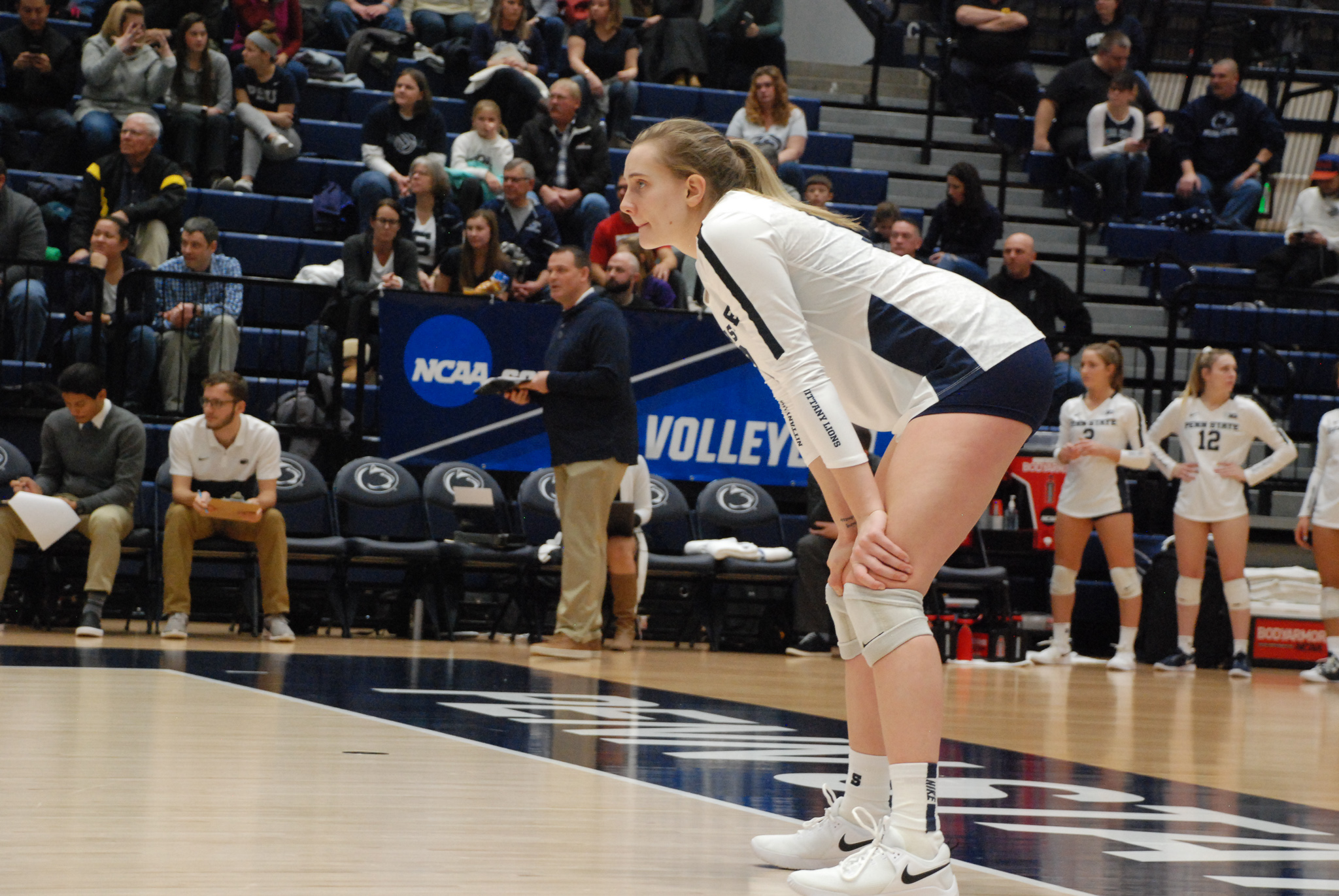 White selects Kaitlyn Hord second overall
Hord was arguably Penn State's most improved player last season, earning the lone AVCA first-team All-American honors for the program in 2019. She finished her sophomore campaign with the nation's second-best hitting percentage of .440 — tying Michigan's Cori Crocker. Hord tallied 310 kills (good for third on the team) and led the Nittany Lions with 149 total blocks. Perhaps only Wisconsin middle blocker Dana Rettke is more heralded at the position in the Big Ten heading into the 2020 season. Although the 6-foot-8 Rettke has four inches on Hord, the Lexington, Kentucky, native can jump out of the gym and is extremely efficient with her swings — just like Nittany Lion great Haleigh Washington. Hord was invited to the U.S. women's national team training camp scheduled for March 14-21 in Anaheim, California, but it was canceled due to the coronavirus pandemic.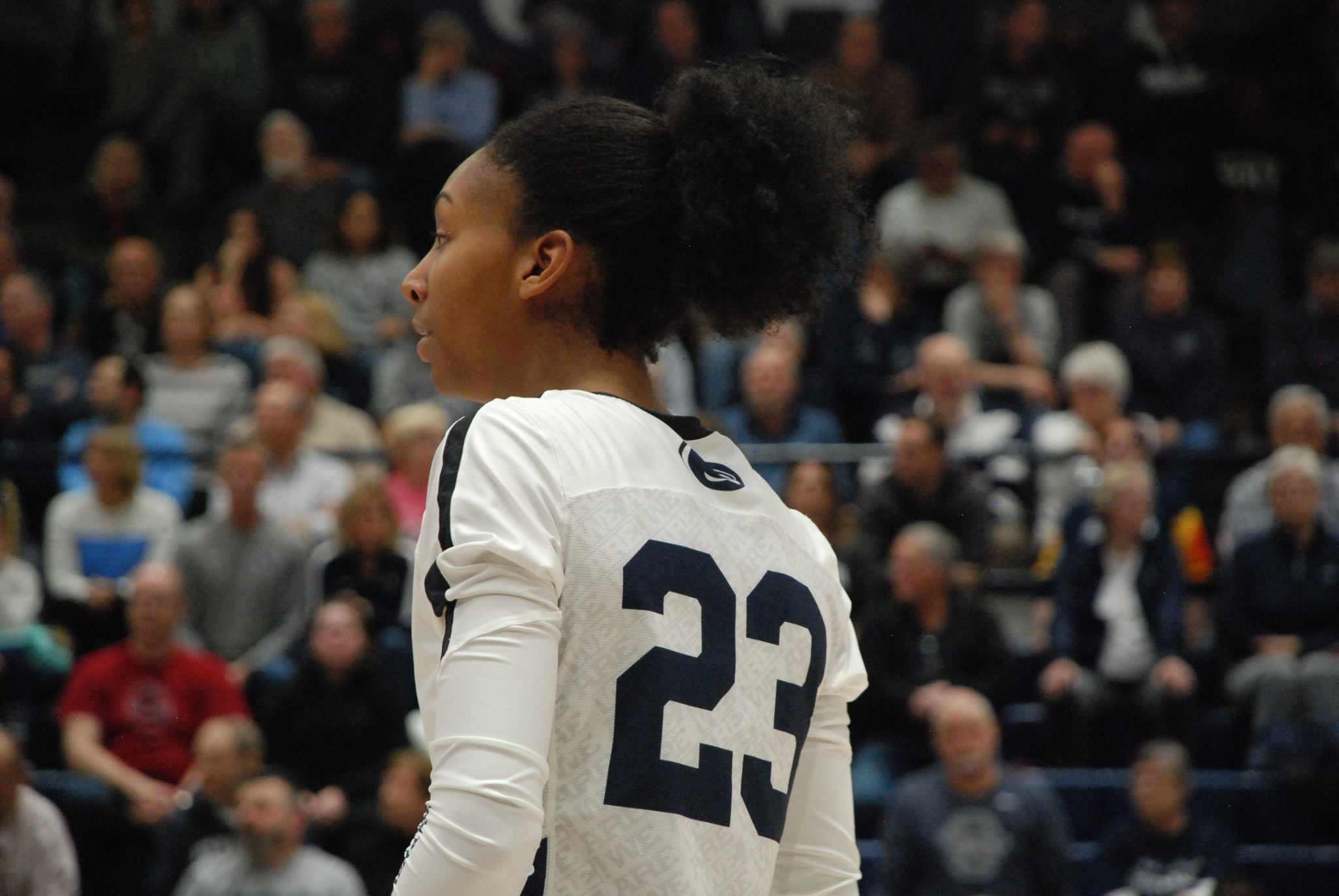 Blue selects Serena Gray third overall
Gray is another multi-talented middle blocker who can do everything Rose asks of her on the court. Aside from her 317 kills and 92 blocks as a sophomore on her way to All-American honorable mention for the second straight season, Gray added 60 digs and an impressive 34 aces — good for second on the team behind Parker. Gray also had an excellent hitting percentage in 2019 with a .382 clip and is pushing Hord and Rettke for the right to be called the Big Ten's best middle blocker. Nebraska's Lauren Stivrins and Minnesota's Katie Myers (a former Maryland Terrapin) also warrant consideration.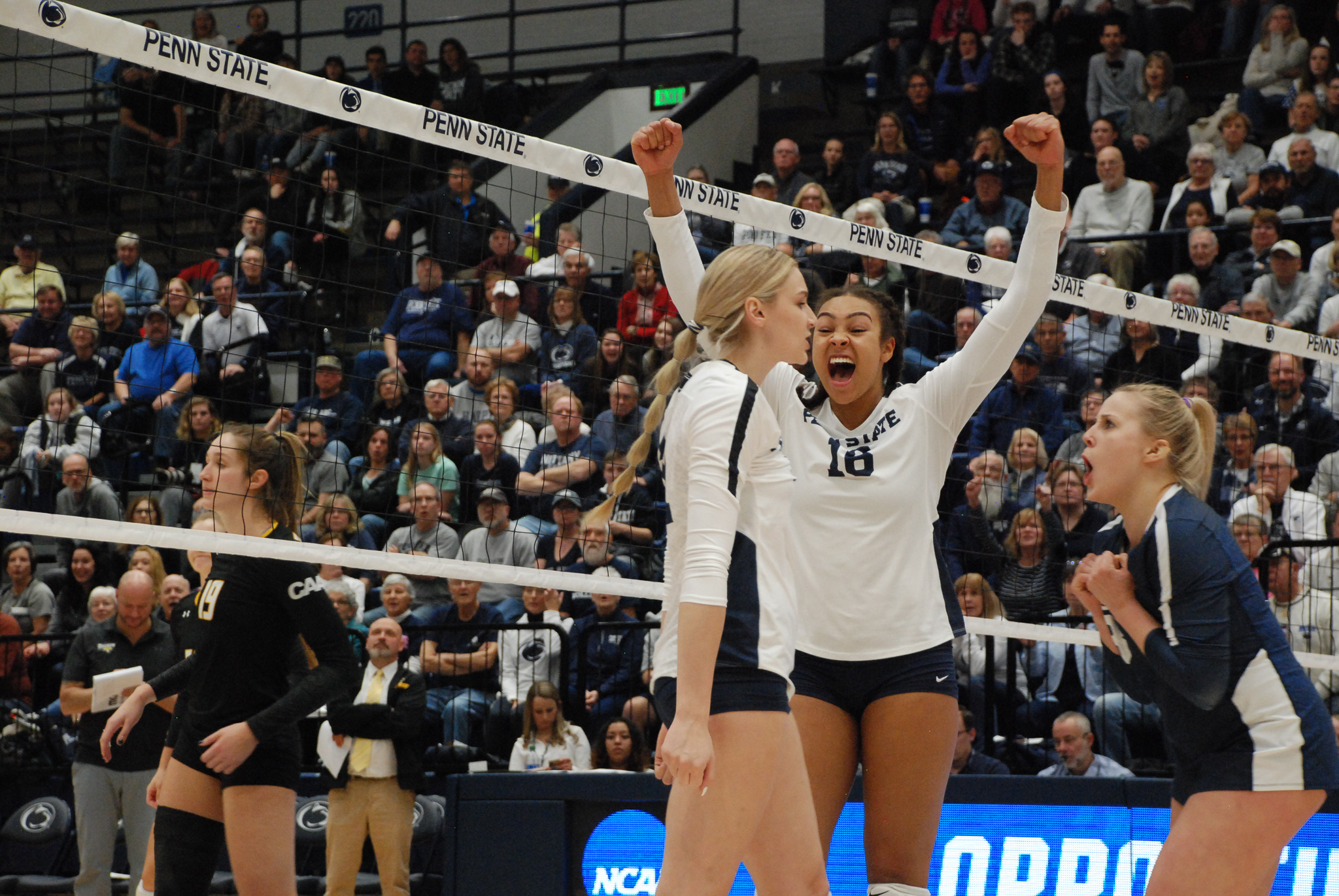 White selects Gabby Blossom fourth overall
Blossom has made it evident she loves to work the ball to Hord and Gray in the middle when given the opportunity, so pairing her up with Hord gives the White team a formidable first option offensively to combat Parker's high flying nature on the opposite side of the net. Blossom's energy on the court is infectious. After serving as a captain alongside Parker and Kristin Krause last season, Blossom will likely take over Kendall White's role as the vocal leader of the Nittany Lions considering her fiery persona and penchant for talking and keeping her teammates engaged. She's pressing Wisconsin's Sydney Hilley and Nebraska's Nicklin Hames for recognition as the premier setter in the conference.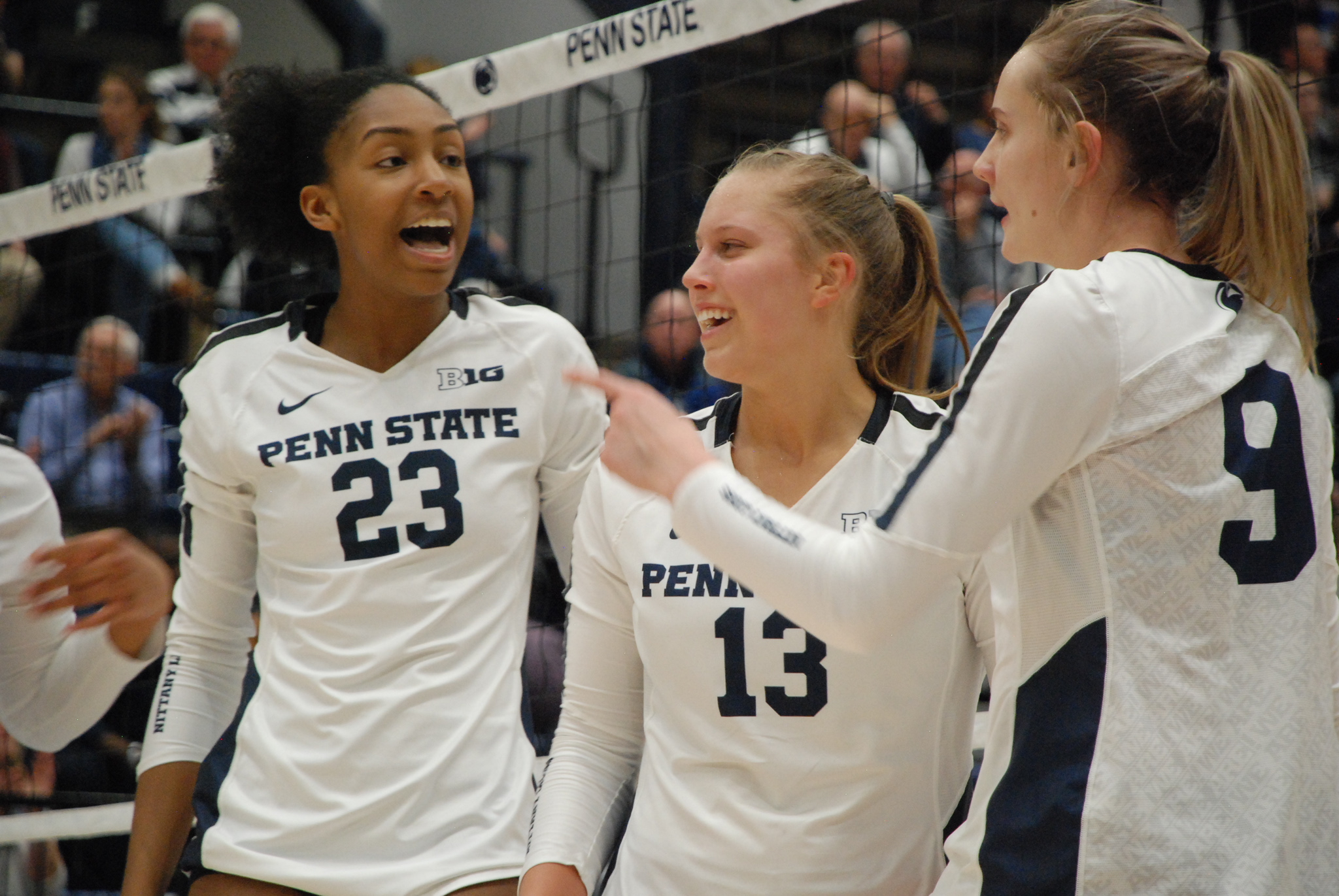 Blue selects Annie Cate Fitzpatrick fifth overall
Fitzpatrick is the first of Penn State's seven newcomers to be selected in this mock draft. Florida's reigning Gatorade State Player of the Year put on a show at the 14th annual Under Armour All-America Volleyball Match this past New Year's Eve in Orlando — roughly 80 miles south of her native Ocala. She had nine kills (.222), six digs, an ace, and a block assist in two sets of action against some of the best high school seniors in the country. Fitzpatrick is ultra-athletic and brings the same kind of toolkit to the gym as Parker. It will be interesting to see if she earns a starting spot at outside hitter at some point during her freshman season.
White selects Hannah Flowers sixth overall
Flowers, a graduate transfer from Memphis, is the only senior on Penn State's 2020 roster and is among three incoming transfers the Nittany Lions added to the program this offseason. She joined Anastasiya Kudryashova (Rutgers) and Keatan Broughton (West Virginia) in picking Penn State as their new home. Flowers was extremely productive during her time with the Tigers, leading the team in kills each of the last three seasons. She already has 1,005 kills heading into her final season of collegiate eligibility — the most of any player on this year's team. The right-side hitter from Wildwood, Missouri, played against current teammate Gabby Blossom during high school and could be an instant starter for the Nittany Lions.
Blue selects Jenna Hampton seventh overall
The Blue team gets its libero in the form of junior standout Jenna Hampton, who has 372 digs midway through her Penn State career. Hampton started 15 matches at defensive specialist last season and is the perceived favorite to win the vacant libero job following the graduation of White, who set the program record with 1,994 digs. Hampton has a similar mentality to White when it comes to flying into the crowd to save a ball or laying out full-speed for a spectacular dig. Although she didn't serve last season, Hampton finished second on the team with 27 aces in 2018. If Rose names her his new libero, the Tampa, Florida, native will be serving often this season.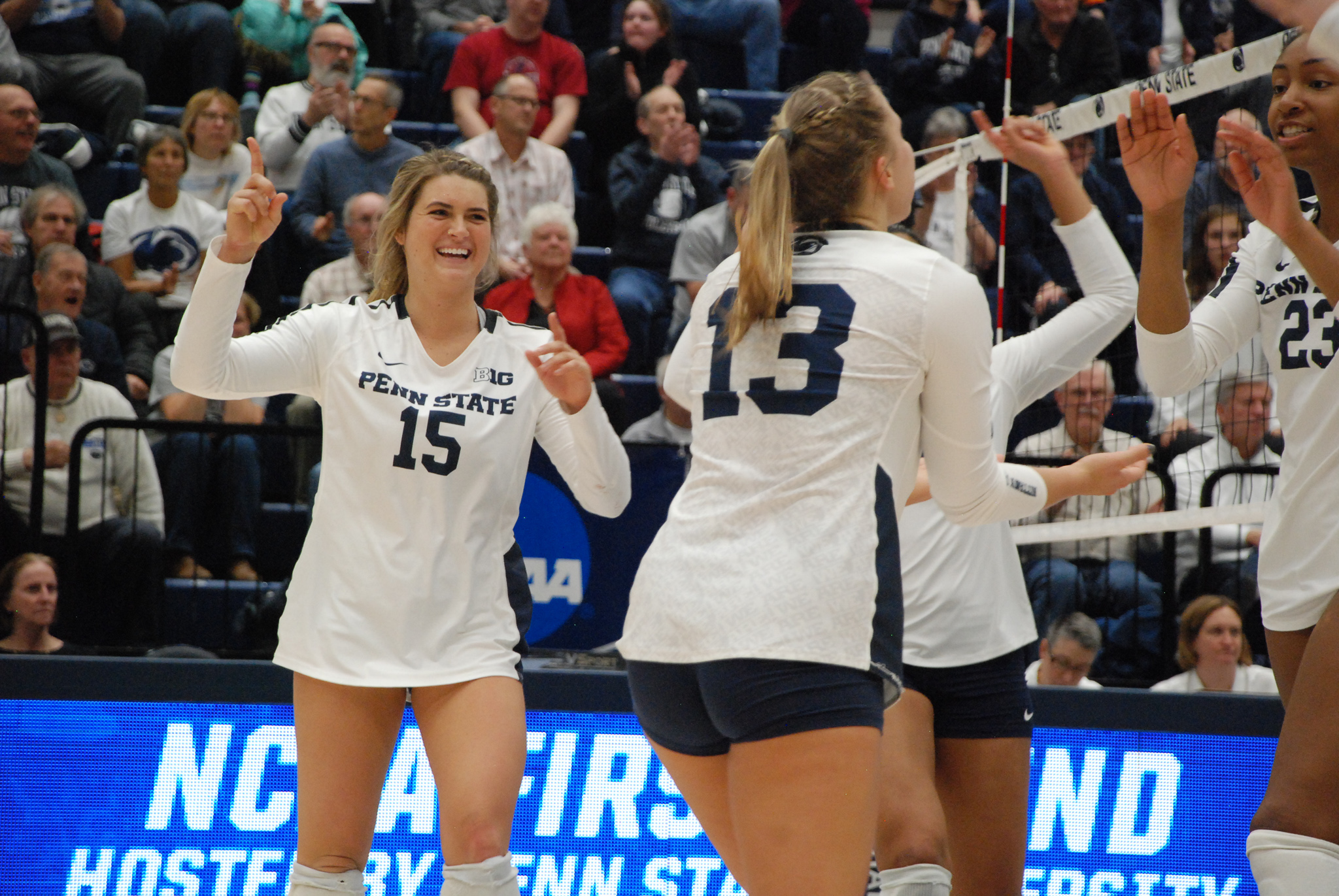 White selects Lauren Clark eighth overall
Clark came on strong toward the end of her freshman season after making an impact in small doses throughout the majority of her first fall on campus. The Champlin, Minnesota, native was high school teammates with Sydney Hilley for two years at Champlin Park before arriving at Penn State as an Under Armour All-American. Checking in at 6-foot, Clark has always had a strong arm, but it took some time for her to get comfortable swinging for efficiency in the brutally physical Big Ten, where dominant blockers make a habit of rejecting poorly placed shots. Heading into the second weekend of the NCAA tournament, Hampton explained how Clark had steadily gained confidence and wasn't afraid to share her energy with her teammates anymore. Clark also received more of a chance to serve down the stretch.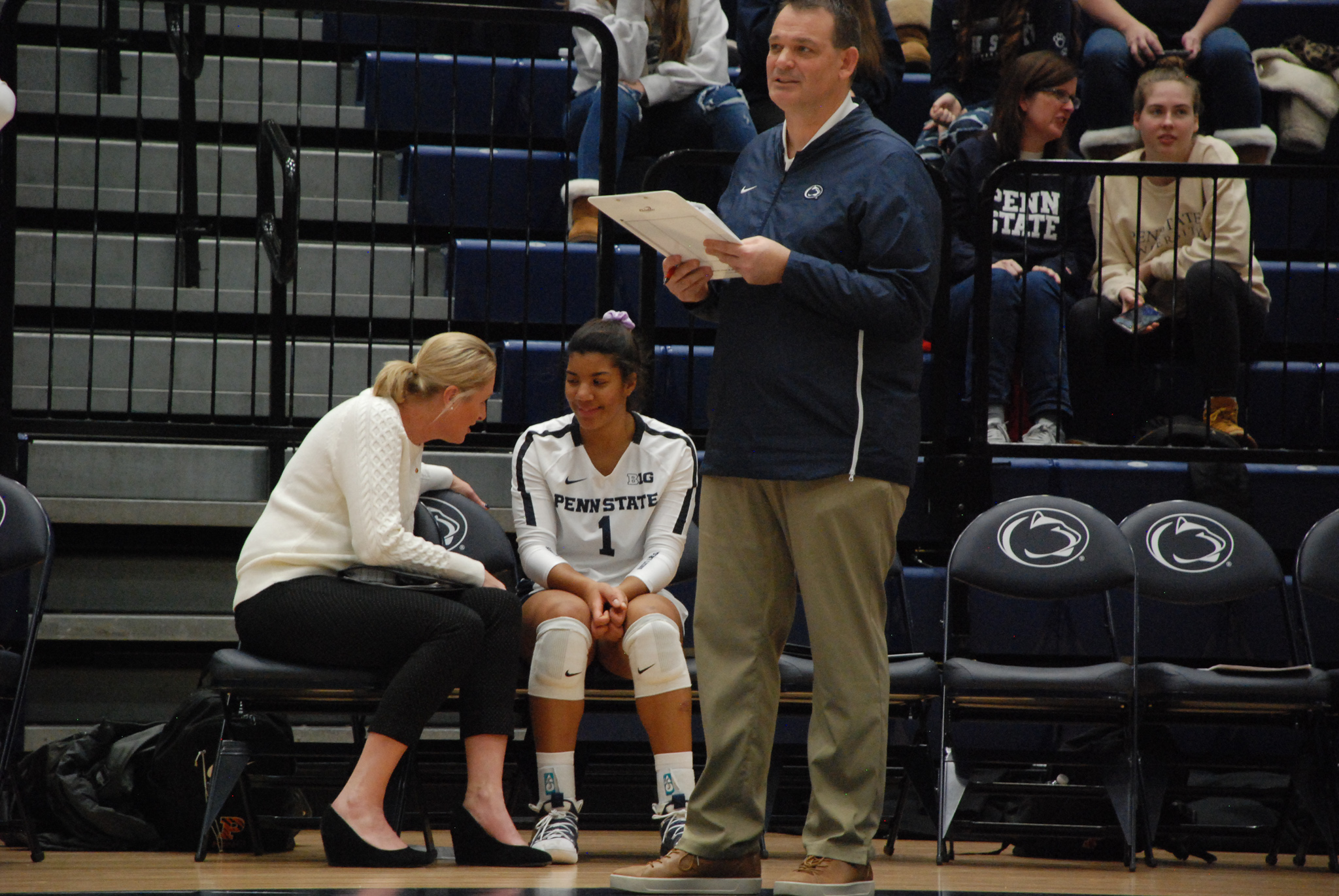 Blue selects Allyson Cathey ninth overall
Cathey took a significant step forward as a sophomore, recording 186 kills — 80 more than she did as a freshman. The tally put her comfortably in fifth place on the team in terms of kills in 2019. However, she was somewhat inconsistent and struggled to find a rhythm for one reason or another. Cathey wore a black sleeve under her left knee pad for part of the season and only played in one set (posting a single kill) during the NCAA tournament. Her lone appearance came in a 3-0 loss to eventual national champion Stanford in Maples Pavilion. Cathey's talent is evident and she showed improvement in her blocking as a sophomore, especially on the right side of the net, according to Rose. Can she take the next step and become a full-time starter at outside hitter after starting 18 matches last season? The opportunity is certainly there following the graduation of multi-year starter Tori Gorrell.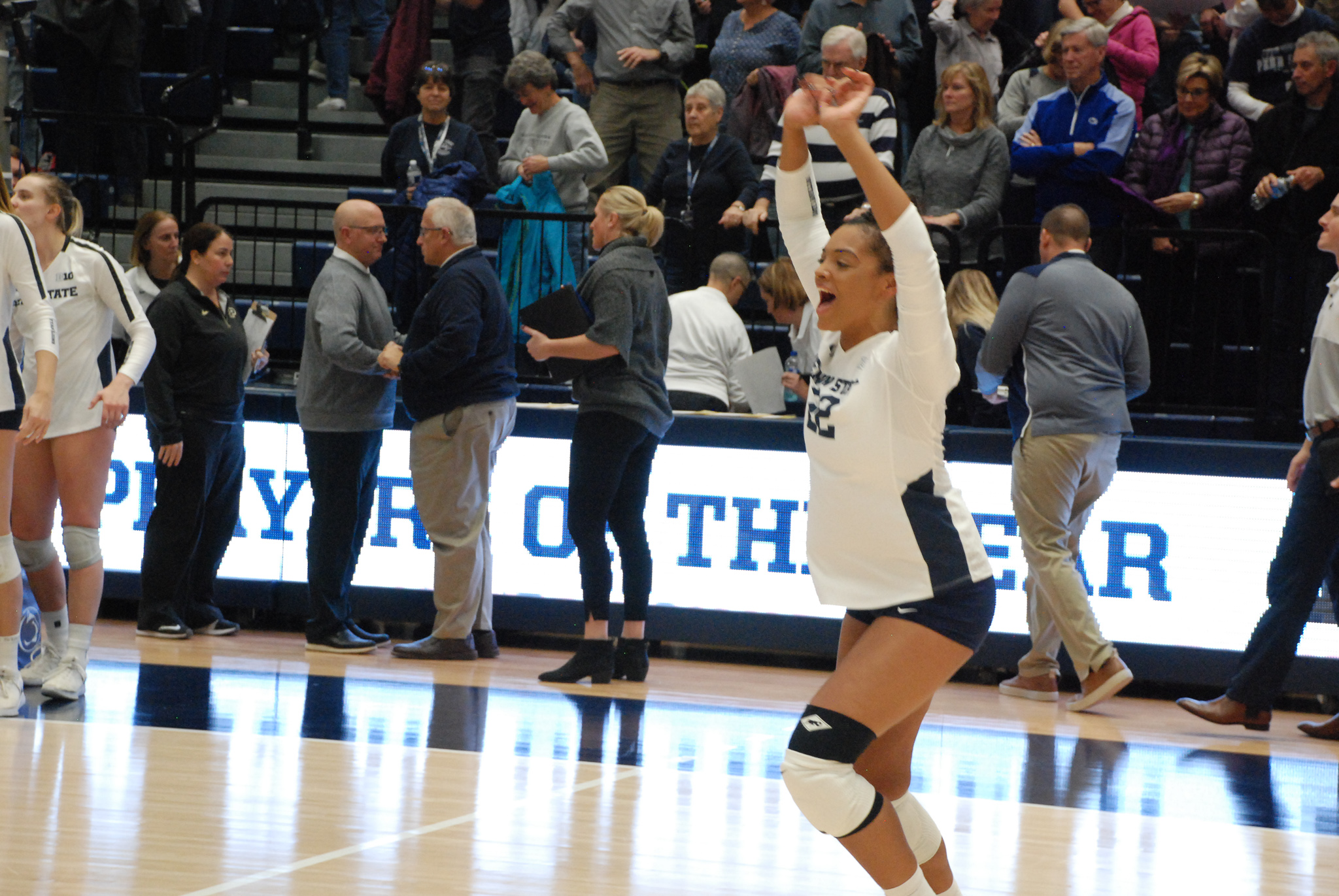 White selects Keatan Broughton 10th overall
Picking the White team libero was a difficult decision between Broughton and a handful of other formidable options at defensive specialist. Although it easily could have been Maddy Bilinovic, Macall Peed, Molly Russell, Sophie Walls, or Sam McCool who was selected here, we'll give the nod to Broughton because of her two seasons of experience in the always tough Big 12 with the Mountaineers. Broughton has 250 digs so far during her career, including 156 as a sophomore in 2019. The Charleston, West Virginia, native provides experience in a backcourt that is in transition after losing four seniors to graduation in Kendall White, Kristin Krause, Keeton Holcomb, and Emily Sciorra. Broughton could be a major contributor for the Nittany Lions this season alongside Hampton and a host of others.
Blue selects Anastasiya Kudryashova 11th overall
The fourth newcomer to be selected in this mock draft, Kudryashova is somewhat of a question mark heading into the 2020 season. The junior outside hitter/right-side hitter from Novosibirsk, Russia, is tied with Hord for the tallest player on the team honors at 6-foot-4, but it's unclear how much of a role she will initially have (likely coming off the bench) for the Nittany Lions to begin the season. Perhaps Kudryashova solidifies herself as a significant part of the front-row rotation or maybe she will provide a change of pace late in matches when the other team is starting to fatigue. Either way, her taller stature is a welcome sight for the Nittany Lions, who have lacked top-end size in recent years. For the purposes of this mock draft, Kudryashova will fill the empty middle blocker position on the Blue team, although that's not the position she's expected to play in reality.
White selects Macy Van Den Elzen 12th overall
Like Fitzpatrick, Van Den Elzen was named Gatorade State Player of the Year and represented the Nittany Lions at the Under Armour match in Orlando. She had three digs, two kills, and the only solo block of the night in the prestigious, invite-only showcase featuring 24 of the nation's best prep volleyball players. Van Den Elzen and Fitzpatrick helped Team Pressure sweep Team Savage in front of a large crowd at The Venue at UCF. Van Den Elzen is listed at 6-foot-3 on Penn State's updated roster and will split duties between outside hitter and middle hitter to begin her career. She's the only player on this year's team from Pennsylvania. Van Den Elzen grew up nearly three hours east of Penn State in Macungie — a suburb of Allentown, which is known for its volleyball prowess. She was tremendously productive during her time at Emmaus High School, tallying 1,499 kills and a .353 career hitting percentage, per MaxPreps.
Blue selects Emily Oerther 13th overall
The Blue team gets its setter in sophomore Emily Oerther, who served as Blossom's backup last season and will almost certainly fill the same role this fall. Oerther is a fascinating player for the Nittany Lions in that she led the state of Florida with 538 kills as a senior in high school at The First Academy in Orlando. The Windermere native has been Blossom's primary understudy so far during her time at Penn State, sharing the setting duties with her during pregame warmups. The two were very complimentary of one another last season, saying how they enjoyed competing and spending time together off the court. It's clear there's no animosity between them and that they are motivated to make each other better.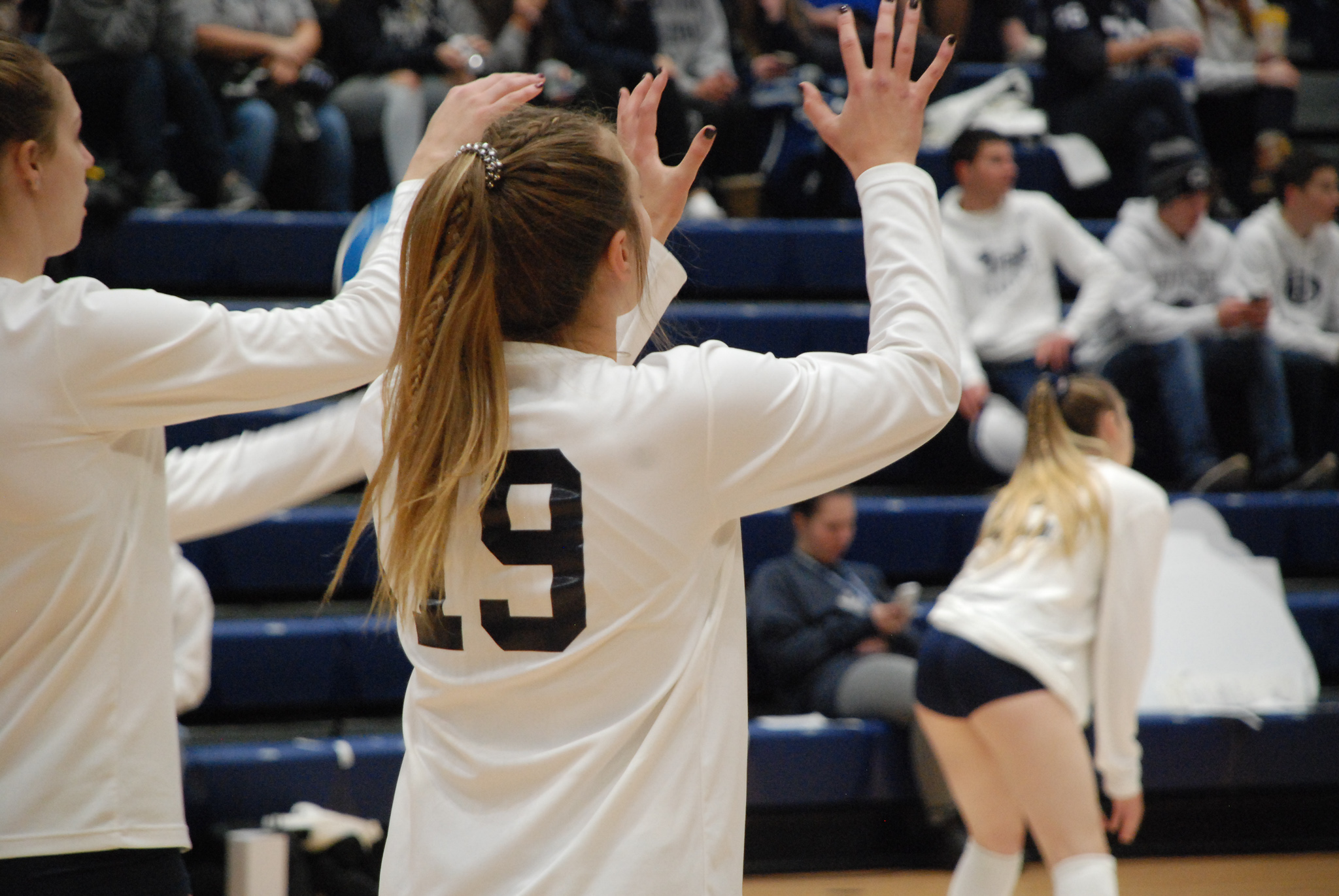 White selects Gabi Bailey 14th overall
Bailey had the chance to slowly work her way into the lineup without being rushed onto the court given the surplus of offensive options the Nittany Lions had at their disposal last season. She only played in three matches (four kills) over the course of her first year on campus, but the 6-foot-1 Bailey used her time in the weight room to her advantage as she worked on gaining muscle and filling out her frame for the Big Ten. Rose said last season that the Harvard, Massachusetts, native possesses a strong volleyball IQ and knows how to play well with others. Bailey's mother, Linda, played volleyball at Pitt, while her older sister, Brooke, played for Ohio State before transferring to Clemson, where she's currently a redshirt senior. Bailey is an intriguing option at outside hitter for the Nittany Lions this fall and could see the floor more often if she's able to handle the physicality of the conference.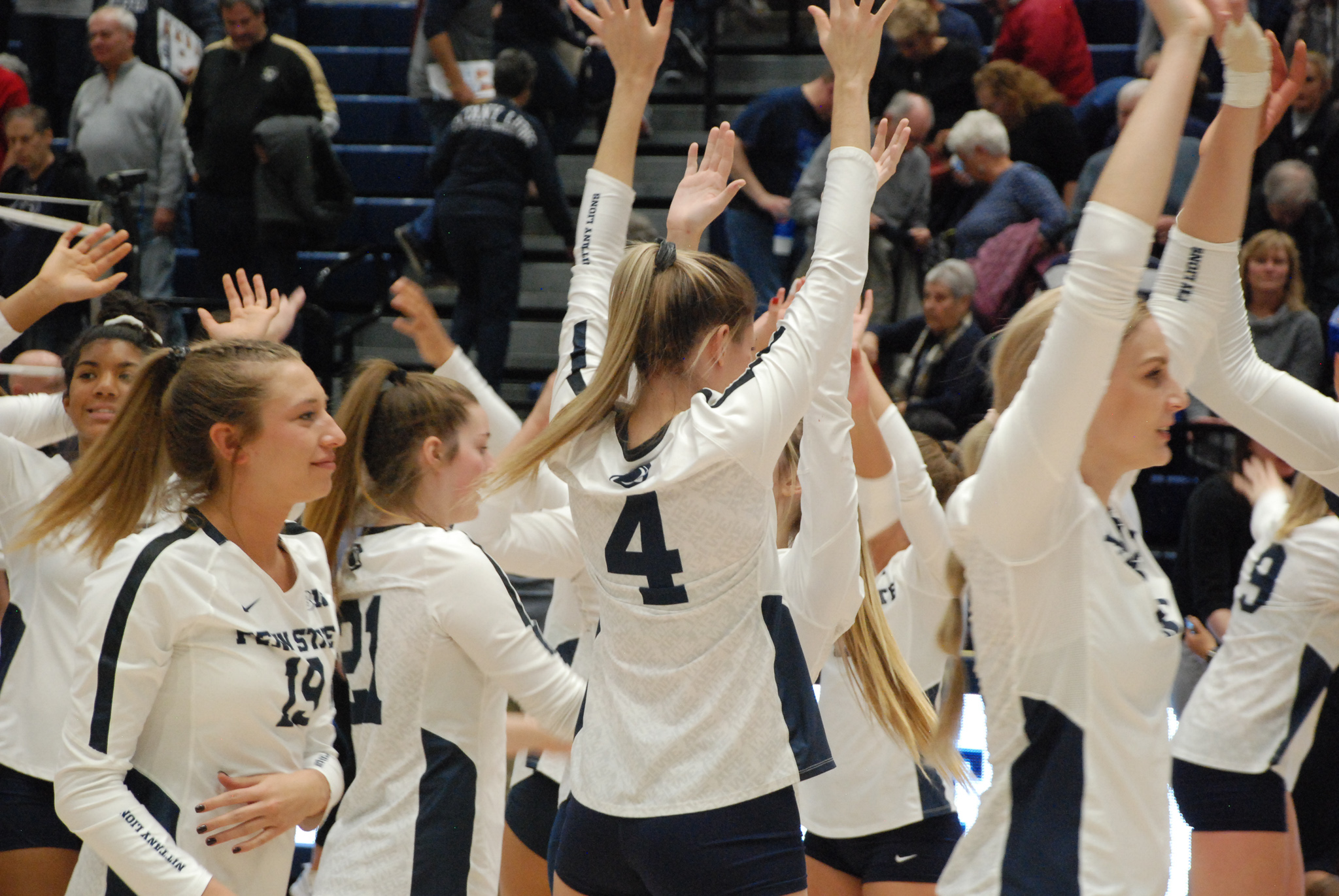 Blue Team:
Jonni Parker, Serena Gray, Annie Cate Fitzpatrick, Jenna Hampton, Allyson Cathey, Anastasiya Kudryashova, and Emily Oerther.
White Team:
Kaitlyn Hord, Gabby Blossom, Hannah Flowers, Lauren Clark, Keatan Broughton, Macy Van Den Elzen, and Gabi Bailey.
***
We hope you enjoyed this fun exercise. Let us know in the comments which team you think would win if this scrimmage were to take place in real life. What changes would you have made to the lineups? Was there a player who you thought was particularly snubbed or should have been selected higher? It won't be long until the Nittany Lions are back in Rec Hall resuming their chase for an eighth national championship in program history.
*Editor's note: Allyson Cathey is no longer listed on Penn State's 2020 roster as of July 20 and has reportedly entered the NCAA transfer portal.