This is Part 2 of our series comparing stats from the 2012 and 2013 seasons, to stats from the 2106 season — in this post, comparing blocking stats.  Part 1 (Click Here) compared attack stats.
Here's why we're interested in the comparison.  Think back to 2013. Penn State had come oh-so-close to making the NCAA finals in 2012, losing to Oregon, 3-1 in a tough match in which sophomore setter Micha Hancock was injured in the second set, limiting her effectiveness for the rest of the match.
In 2013, the Nittany Lions returned almost everyone from that 2012 squad — including Jr. setter Hancock, Sr. OH Deja McClendon, So. OH Megan Courtney, Sr. RS/Opp Ariel Scott, Sr. MH Katie Slay, and Jr. MH Nia Grant. That 2013 team built on their experience from the 2012 season to capture the NCAA Title in Seattle, taking down the home town Washington Huskies in a dominating sweep in the Semifinals, and holding off a tenacious and talented Wisconsin team 3-1 in the Finals.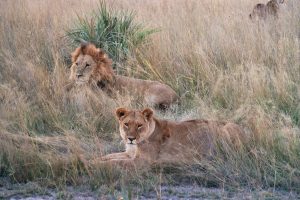 Penn State has pretty much everyone back in 2017, too.  We're not predicting an NCAA title for Penn State in 2017, and the point here really isn't to compare the 2012/2013 players to the 2016 players — although to some extent that's an inevitable conclusion some will make, given the comparison of their statistics.
Of greater interest to us was to see how the statistics from 2012 weren't necessarily all that different from the statistics in 2016.  And, equally (or more) important — how many of the players improved, statistically, from 2012 to 2013.  Although there's no guarantee, it's not unrealistic to anticipate improvement from 2016 to 2017 — without even taking into account the three new front row players: RS Kat Cather, MH Cami May, and OH Michaela Putnicki.
Quick Takes — Katie Slay was so talented and such a force.  Megan Courtney was truly special as a solo blocker.  Tori Gorrell was pretty darn good as a redshirt freshman.  Finally, no question the 2012 and 2013 teams were more proficient blockers, overall, than the 2016 team.  It will be interesting to see how the team improves in 2017.
Below is the table that makes the comparison for blocking statistics.
Returning Talent: Comparing Blocking Stats from 2016 and 2012/2013
Year
Name
Pos.
Cl.
SP
MP

BS
BA
TB
B/S
BE
2016
Washington,
Haleigh
MH
3/Jr.
121
34
20
120
140
1.16
11
2013
Slay,
Katie
MH
4/Sr.
127
36
30
177
207
1.63
19
2012
Slay,
Katie
MH
3/Jr.
122
35
19
145
164
1.34
12
2016
Gorrell,
Tori
MH
1/RS
Fr.
121
34
22
99
121
1.00
18
2012
Grant,
Nia
MH
2/So.
120
35
7
108
115
0.96
11
2013
Grant,
Nia
MH
3/Jr.
118
35
12
85
97
0.82
12
2016
Lee,
Simone
OH
3/Jr.
121
34
18
45
63
0.52
3
2013
McClendon,
Deja
OH
4/Sr.
126
36
22
55
77
0.61
6
2012
McClendon,
Deja
OH
3/Jr.
124
36
23
47
70
0.56
6
2016
Frantti,
Ali
OH
3/Jr.
121
34
20
42
62
0.51
2
2013
Courtney,
Megan
OH
2/So.
120
35
28
59
87
0.73
14
2012
Courtney,
Megan
OH
1/Fr.
120
36
32
69
101
0.84
8
2016
Thelen,
Heidi
RS

3/Jr.
118
34
8
86
94
0.80
4
2013
Scott,
Ariel
RS
4/Sr.
115
35
3
91
94
0.82
9
2012
Scott,
Ariel
RS
3/Jr.
125
36
11
91
102
0.82
3
2016
Detering,
Abby
S
3/Jr.
109
33
3
40
43
0.39
9
2012
Hancock,
Micha
S
2/So.
125
36
8
68
76
0.61
6
2013
Hancock,
Micha
S
3/Jr.
127
36
5
69
74
0.58
8
2016
Team
n/a
n/a
121
34
91
451
316.5
2.62
51
2013
Team
n/a
n/a
127
36
107
561
387.5
3.05
71
2012
Team
n/a
n/a
125
36
103
547
376.5
3.01
49
2016
Opp.
n/a
n/a
121
34
45
358
224.0
1.85
50
2013
Opp
n/a
n/a
127
36
38
369
222.5
1.75
66
2012
Opp.
n/a
n/a
125
36
47
355
224.5
1.80
53
Credits