Kendall White is without a doubt the most decorated libero in Penn State's women's volleyball history. Now, the program record holder for most career digs has her sights set on delivering an eighth national championship to University Park.
White is the only Penn State libero to twice be named an All-American, having done so the last two seasons, and she's the only Nittany Lion to claim Big Ten defensive player of the year honors two times during her career — following in the footsteps of Haleigh Washington, who took home the award in 2017. White's full list of accomplishments is simply too lengthy to rattle off.
Fellow senior Tori Gorrell aptly described White as the program's "rock" Tuesday while fielding questions ahead of NCAA regionals in Palo Alto this weekend.
"Kendall is always fiery," Gorrell said. "She's got great energy all the time. It doesn't matter if it was her first game her freshman year or her last game in Rec Hall. She's always brought the same energy. She's an amazing player and I'm going to miss playing beside her. Kendall's always been a really consistent rock and player for this program."
After chasing Kaleena (Walters) Davidson's Penn State record of 1,957 digs throughout her senior season, White finally surpassed her early in a 3-1 win over Towson in the round of 32 last Saturday at Rec Hall. White is currently 31 digs away from becoming the first Nittany Lion to reach 2,000 heading into Friday's match against Jordan Thompson and Cincinnati at Maples Pavilion.
"It's awesome," White said after breaking the record. "Now I'm going to cry. It's really cool. That's all I can say. There's a lot of great players who came to this program, so yeah, it feels cool."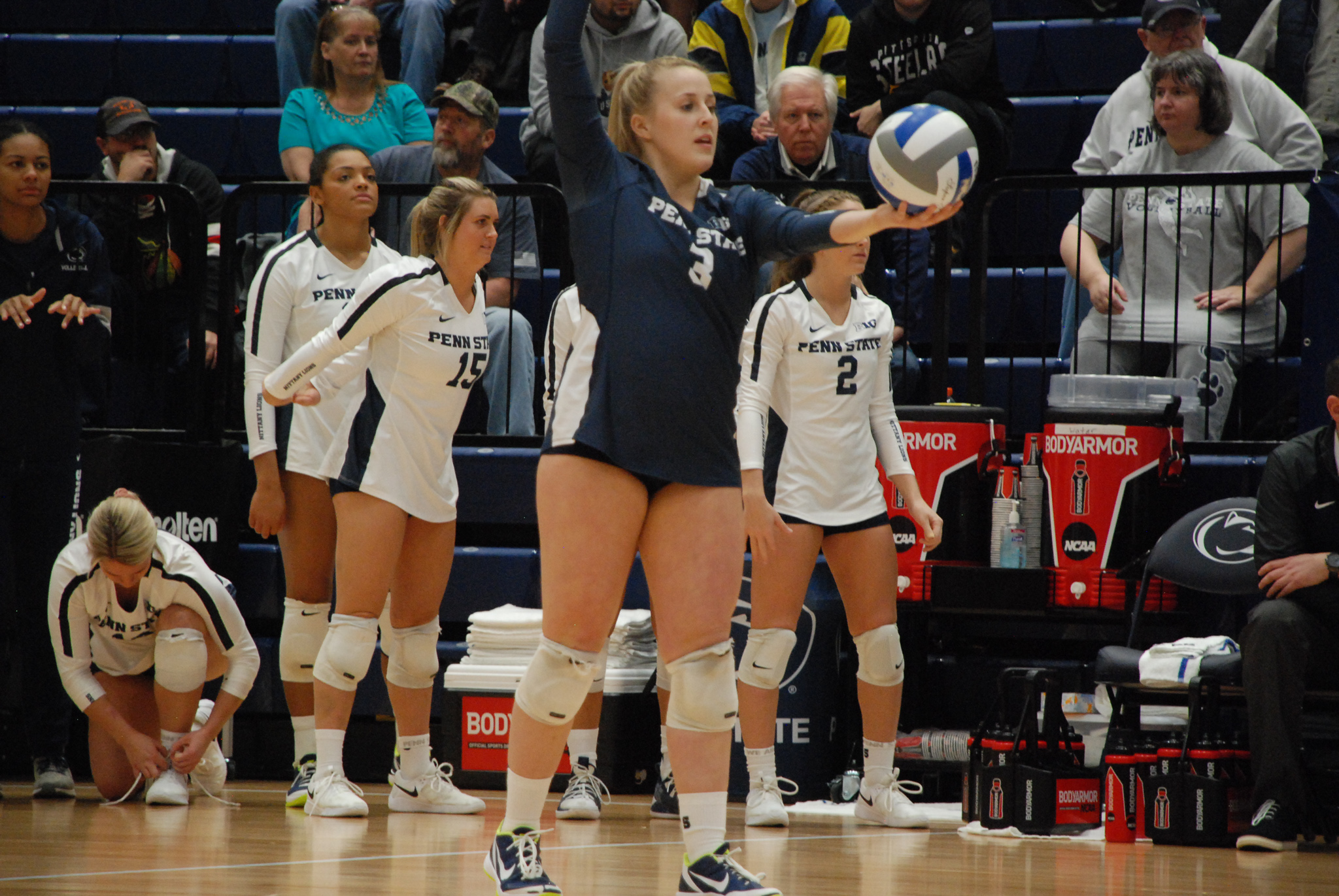 White, who chugs a Red Bull before every match and famously drives a white Hummer, has personality for days. Her teammates love playing with her because she's constantly in their face pumping them up after points. Her on-court reactions are the stuff of legend, prompting announcers to momentarily lose their minds during broadcasts of Penn State's matches. That being said, White's wired demeanor isn't for everyone, at least according to head coach Russ Rose.
"She's a very unique individual and plays really hard. She has one speed," Rose said. "She's been really resilient, very physically tough, very mentally tough. I recruited her for some specific characteristics and she is as I expected her to be. A lot of it is energy, a lot of it is toughness, a lot of it is things that I think other coaches might not have been as open to dealing with as I was.
"I think a lot of us are acquired tastes. I'm a big fan of what Kendall brings to the table. I'm willing to deal with that and have enjoyed the four years that we've been together. I would just say that, 'What you see is what you get.' She's very competitive, she's aggressive, and she's not shy."
Since arriving on campus and earning the starting libero job right away prior to the 2016 season, White has started every match and played in every set for the Nittany Lions, never missing time due to injury. The Zionsville, Indiana, native is tough as can be despite taking the usual bumps and bruises that come with hurling oneself onto the hardwood on a daily basis.
"I think Kendall has always played hard," Rose said. "Her father summed it up best on senior night when he remembered the talk that I had with her when I recruited her and that was that, 'Hey, part of being at that position is you need to play every match and play every set and be tough.' I think she's demonstrated that."
Clearly U.S. women's national team head coach Karch Kiraly sees the same value in having White around, as he invited her to train with the team this past summer in Anaheim, California.
White could someday represent her country in the Olympics if she continues on this trajectory and learns the nuances of the international game. Penn State alumna and U.S. libero Megan Courtney is a good example for White to follow as she transitions to the pro level after college, though they are two completely different players.
"I would say that I'm a pretty vocal leader on the court," White said of her role. "I mean, I'm a pretty loud person in general, and I'm a senior, so I'm the most experienced person on the floor. I guess just talking to the girls, telling the hitters and blockers what I see versus what they see. Just giving my opinion and trying to keep the girls motivated any way that I can."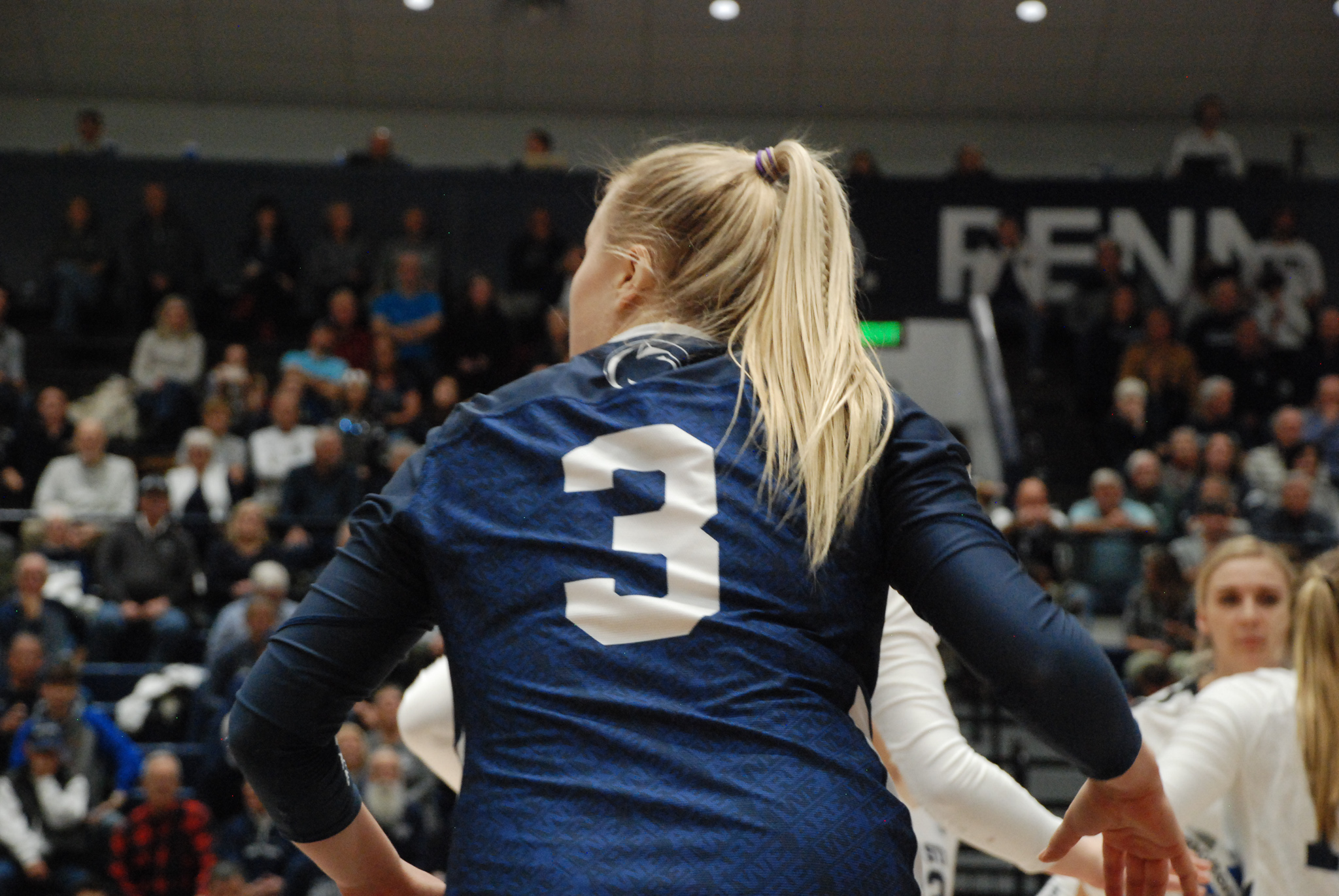 Sophomore middle blocker Serena Gray discussed the importance of White's leadership following Penn State's sweep of Princeton last Friday in the first round of the NCAA tournament, echoing Gorrell's sentiment on White's fiery nature and its impact on the team.
"She is definitely important to keep the competitiveness on the floor and make sure that everyone is holding each other accountable," Gray said. "She really brings that fire that makes people want to compete just seeing her scream. She brings a lot of emotional energy and you need that when it comes to the tournament when maybe you aren't as confident as some of the other players on the court and you need that fire power to count on."
Sophomore defensive specialist Jenna Hampton, White's likely successor at libero next season, said she draws inspiration from White's passion for the sport and has learned countless lessons from her about what it takes to wear the off-color jersey in the Big Ten.
"Like everyone says, Kendall's an amazing player," Hampton said. "She's someone who is definitely super inspiring, because her love for the game is just so strong. It makes you want to play harder for her, too, because of how hard she goes for her teammates. I'm definitely going to miss her a lot. I've learned so much from her. She's definitely going to be missed. She's an amazing player and really embodies a true Penn Stater."
The word "amazing" often comes to mind for White's teammates when they try to pinpoint the special ingredient that makes her so uniquely talented as a player and magnetic as a person.
There's just something about her charisma that keeps people coming back for more. Unfortunately, White's days as the face of Penn State's volleyball program are numbered, regardless of whether the Nittany Lions make it to Pittsburgh for the Final Four, but her legacy will live on forever in Rec Hall.
"She's so amazing and I just hope somebody wants to carry on a piece of the Kendall tradition of being fiery at all moments," Gorrell said. "Kendall is a player who people will know forever, because she has such a legacy here at Penn State, so I think it's really cool playing alongside her. She's somebody who just upholds this Penn State tradition."