We're speaking today with Talking Head, who played D1 volleyball and has coached the sport for many years, about Penn State's upcoming Sweet 16 match against Cincinnati.  Yesterday, we covered the Bearcats.  Our write-up of that conversation can be found here: https://dignittanyvolleyball.com/talking-head-talks-cincinnati-and-penn-state-part-1/.
DigNittany: So, What are your thoughts about Penn State?
Talking Head: Well, I think two things.  First, Jordan Thompson is going to get her kills.  So I think you need to slow down Adria Oliver (Cincinnati's 6-1 So. middle blocker) or Maria Mallon (their 5-9 So. OH).  If you look at the stats from the matches they lost, one or the other of those two did not play very well.  Teams often times live in threes.  As I said, Thompson's going to get her kills — I think she's a future Olympian — but if Penn State can slow down Oliver and/or Mallon, I think they have a very good chance of winning the match.
DigNittany: Penn State dropped a set to Towson on Saturday.  After the match, Coach Rose said "It's always tough no matter who you're playing. Whether you're playing, sometimes yourself, and you're dealing with your emotions and you're dealing with, for the older players, the emotional scenario of having to play your last match in Rec Hall — there are just a lot of factors that come into play." Your thoughts on the Towson match and whether it is predictive of how Penn State may play against Cincinnati.
Talking Head: I know fans are worried about Penn State having lost a set to Towson.  I know they are concerned.  But I remember a couple of times in recent years where we didn't play very well at home in that first weekend of the tournament.  And I'm not saying that isn't relevant, because it is.  But I think it needs to be looked at in context.  To me, in the Towson match, it looked like some of the Penn State players maybe were getting a bit frustrated that we weren't getting the "easy" points, and that actually hampered our performance.  I think sometimes in the tournament, teams can play "above themselves" — and, not to take away anything from Towson — they played hard and they played tough —  I think to some degree, that may have happened with Towson.  Coupled with that, when things didn't quite go as the Penn State players expected, it looked to me like some of them were playing "annoyed," and that's one of the worst ways to play.  Things were not going the way the players thought they should, against a team that wasn't seeded, and all of that was taking place in front of the home fans.  And, as Coach Rose noted in the comment you quoted, it's the last time some of those players are going to play at home in a Nittany Lion uniform.  And all those things add up.  For this year's Penn State team to succeed, it needs to be in the right place both athletically and psychologically.  That's true to an extent for all teams, but it's more true for this year's Penn State team than it was for some prior Penn State teams, because this year's Penn State team isn't quite as athletic as some of the teams in past years.  Some of those teams, playing at 75% or 80% efficiency, would still physically dominate opponents.  This year's team has to win differently.  It has to win close games.  It generally doesn't blow out opponents the way fans have gotten used to and expect.  This team has to be efficient — and that includes dealing with things that don't go your way.  And I think Penn State will be able to do that against Cincinnati, so I expect them to play better than they did against Towson.
DigNittany: Which players are the offensive keys for Penn State?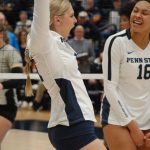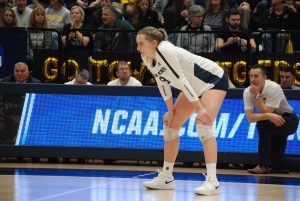 Talking Head:  Can we all agree that Tori Gorrell has turned out to be very good and one of our offensive leaders?  Looking back at her recent matches — Rutgers, .529, Wisconsin, .357, Minnesota, .256, Princeton, .200, Towson, .385 — to me, that's a terrific trend line.  That means that kid is playing with great confidence, and that has been the number 1 key to her success.  I don't see her regressing.  [Editor's note: see "Tori Gorrell Having Senior Season to Remember for Penn State Women's Volleyball," by Ethan Kasales, December 10, 2019].  Serena Gray is one kill ahead of Kaitlyn Hord (296 to 295), so both of our middles have been very good.  And of course, there's Jonni Parker, who leads the team in kills-per-set (3.54 to 2.72 for Gray and 2.71 for Hord).  Jonni can be really, really, really good for a set or two, and then kind of disappear for a bit.  If you go to her season stat line, you'll see 10 matches where she's hit .375 or better.  And then you'll see almost as many matches where she's hit under .200.  I think those are the matches where she feels she has to put too much on her own shoulders and carry the team.  I think she likes to play against Stanford and other very good teams.  But maybe sometimes she gets a little too wound up.  So the key for a kid like that — and she is a really, really good player — is to get her in the right mindset, where she's only going to focus on the things she can control, and not worry about anything she can't control.  I think once she does that, she'll be fine.  As a comparison, I think players like Gabby Blossom and Kendall White are more able to focus on the flow of the team, the mindset of the team, how another player is looking and feeling, the body language of other players, and that doesn't affect their own play, no matter what the environment is.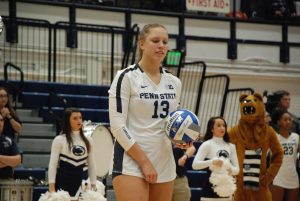 DigNittany:  Speaking of Gabby Blossom, your thoughts on how she's played this season?
Talking Head: Gabby has been very good this season.  I'd like to see a little bit more production from the service line.  I think she has a good serve, but I think sometimes she plays it a little bit safe and could take a few more risks.  Then again, maybe that's what the coaches are asking from her.  As far as running the offense, and understanding flow, and getting to and bettering balls, I think she's done a really good job.  She's been quoted on several occasions as saying she knows who this team is, and she's going to force the middle, and she's admitted that sometimes it's not going to connect and it's going to look ugly.  But I think that's alright.  In my observation, Coach Rose generally doesn't try to hide who his teams are.  Teams know that this Penn State team that is going to force the middle, but we have two middles that can play that way.  We haven't been as successful on the outside, so if we have to set a middle on a not-so-ideal pass, I think we're OK with that.  Maybe one of the reasons Gabby has said that is just to calm people down a bit when they question why she's doing it when it isn't successful.  But I think if you look at the numbers for Hord and for Gray, it has been pretty successful. [Editor's note: 2019 Stats here: https://gopsusports.com/sports/womens-volleyball/stats]
DigNittany: How would you describe Penn State's offense this season — it seems that players are hitting from different places along the net more frequently than in previous seasons.
Talking Head: Well, we saw bits and pieces of that with Nia Reed, and before that sometimes with Aiyana Whitney, where we would take a player who normally was a pin, and run them into the middle and keep them there.  The dilemma for opponents of this year's Penn State team is that we've got three or four kids who see a lot of playing time who can play middle, can play right side, can play outside, and they all present different angles, different swings.  How do you design a defense to stop that?  How do you practice for that?  It's certainly not impossible (Penn State isn't undefeated, after all), but it makes the job more complicated for opposing coaches and players.  So even though it may look odd to fans that we don't have typical rightside hitters, or typical outside hitters, or typical middles, I think that has been one of the keys to our success this season.
DigNittany: Final thoughts?
Talking Head:  I think people are probably saying "We're not winning like we should," but as we discussed earlier, this year's team is built differently than the National Championship teams.  We've won a lot this season, but we've won differently than we did in the past.  I don't want to take Cincinnati for granted, because they are a very good team with a truly great player and are playing very well.  But I don't foresee Cincinnati playing two incredible matches back-to-back, so I think we're going to win.  If we do, I think this year's NCAA Tournament is wide open.  Penn State has as good a shot at making it to the Final Four as a lot of teams — I'm not saying all the teams, but a lot of the teams.  If we get into the Final Four, it will get really interesting.
DigNittany: May we live in interesting times.