(click images for more info)
Date (Time)
Opponent
Site
Media
11-21-15
(7:00 p.m. ET)
Rec Hall
Univ. Park,
PA

No TV






Coming off two consecutive losses (to Minnesota in Minneapolis on November 14th, and to Michigan in Rec Hall on November 18th), #4-ranked Penn State (24-4, 13-4) will take on Maryland (13-18, 3-14) tonight in Rec Hall Saturday at 7 p.m.
Penn State fans have wondered what's going on (check that, unbelievably spoiled Penn State fans who  have had the privilege of watching the highest level of NCAA D1 women's volleyball for so many years, we've lost count).  Head Coach Russ Rose spoke to that question in an interview with Jill Beckman of the Daily Collegian:
When we rest them, it doesn't seem that they're ready to play after that. It's kind of a balancing thing. You can do it for a long time, but it doesn't mean you're going to do it right. I think the kids are very tired. A couple of them are just gassed. Obviously I didn't do a very good job trying to rest them.
Penn State won the first match against Maryland this season, 3-1, in College Park.  In that match, Penn State had 51 kills vs 47 for Maryland, hit .343 to .207 for the Terps, and out blocked Maryland 11 to 5.  6-4 RS Sr. MB/RS Aiyana Whitney and 6-3 So. MB Haleigh Washington both recorded double-digit kills.
Match Preview
The Terrapins' current record is only 13-18 overall and 3-14 in the B1G, but they have been playing better as of late, with a 3-0 win over Ohio State.  Maryland also took the 1st set off Penn State in the match against the Nittany Lions on November 5th.
Statistically, Penn State has not been getting blown out in the matches they've lost. The most notable statistic to prove that is the sideout %.  Predictably, in the matches they've lost, Penn State has suffered a significant decline in their sideout % vs their season average (although their opponents' sideout % has not been much better, usually within 3%.)  The Minnesota match was different, with a 9% differential.
In the Michigan match, the Nittany Lions had a better overall sideout %.  This means that PSU was still in the match, but couldn't close the deal. A marginal improvement in the serve-receive could mean the difference between winning and losing some sets.  Again, if you win the sideout battle in a game/set, you win that game/set.
Difference Makers – Maryland
MD has some quality hitters, though, who can really push PSU.  6-3 RS Sr. OH Adreene Elliott and 6-1 Fr. OH Liz Twilley are averaging 3.95 and 3.00 kills/set, respectively (conference play).  6-1 Fr. Angel Gaskin is also averaging 3 kills/set.
The two middle blockers — 6-1 So. MB Hailey Murray  and 6-2 Jr. MB Ashlyn MacGregor   — are only averaging a combined 2 kills/set.  You can bet the Nittany Lion block will be keying on the pins.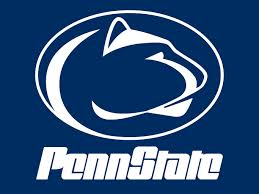 Difference Makers – Penn State
Penn State has a much more balanced attached, which they have maintained even in matches they have lost.  It has appeared that Megan Courtney has been tipping more recently — although that could be a function of not getting the ball where she is comfortable swinging away.   Is she 100% since her injury?

Player name             Avg kills/set (conference-only)
Haleigh Washington    2.65
Aiyana Whitney          3.03
Simone Lee               2.16
Megan Courtney        3.20
Ali Frantti                  2.46
Serving Is Key for Maryland
Maryland has 154 total service aces on the season, 12 more than the next team.  The Terps lead the conference with 1.3 service aces/set.  This is an area Maryland will look to exploit against the Nittany Lions, as Penn State has struggled at times this year withserve-receive.
The Terps' serve leader is senior Adreene Elliott with 0.44 aces/set, and there are three other Terps averaging at least 0.20 service aces per set:
Kelsey Wicinski (0.24), Abigail Bentz (0.22) and Amy Dion (0.21).
Penn State is in the middle of the pack with 1.0 service aces/set.  6k-0 RS Fr. Bryanna Weiskircher leads Penn State with 0.35 aces/set, with Haleigh Washington next with 0.24 aces/set.
Stat Joust: Penn State vs. Maryland
I have compiled a stat chart for both Penn State vs Maryland, with conference-only matches.  The chart shows a significant differential in most stats with the exception of aces/set, which is pretty even between the two. Maryland is one of the best serving teams in the conference and Penn State has been struggling in the category.
Once again, a key point is that the statistics mean nothing if the team is not mentally in the game.  From my observations, PSU is struggling with mental errors and communication as the season wears on. This could be caused by several factors.  My guess is that one of the reasons is there are only two seniors in the starting rotation and all the others are sophomores. This is a young team.