Penn State women's volleyball signee Karis Willow, a 6-foot-4 pin hitter from the 2023 recruiting class, was in attendance for the Nittany Lions' match against Wisconsin last Saturday at Rec Hall.
The Arlington, Ohio, native set the Liberty-Benton High School record for kills in a single season as a senior with 508. Willow helped the Eagles win two Ohio Division III state championships in 2019 and 2021, finishing her high school career with 1,377 kills (.419), 833 digs, 199 total blocks, and 164 aces.
Penn State volleyball announced Willow's signing on social media on November 9, the first day 2023 recruits from Olympic sports were allowed to sign national letters of intent. Defensive specialist Jocelyn Nathan and middle blocker Catherine Burke are the other members of Penn State's 2023 class.
𝙒𝙚𝙡𝙘𝙤𝙢𝙚 𝙩𝙤 𝙃𝙖𝙥𝙥𝙮 𝙑𝙖𝙡𝙡𝙚𝙮⁰
🔵 3-time all-state
⚪️ 2-time district and conference Player of the Year
🔵 2-time Ohio State champion
⚪️ 1,377 kills, .419 hitting, 833 digs, 164 aces
⁰#WeAre | #NationalSigningDay pic.twitter.com/JF0rAmnoMu

— Penn State Women's Volleyball (@PennStateVBALL) November 9, 2022
Willow verbally committed to the Nittany Lions toward the beginning of her junior season on September 8, 2021. She represents Impact Volleyball Club, based out of Fort Wayne, Indiana.
A talented multi-sport athlete, Willow placed fifth in the OHSAA Division II girls' high jump at the state track and field meet last June. Willow and Penn State commit Ava Falduto participated in the program's 7 Star Camp to begin the summer.
Willow caught up with the current Penn State players and coaching staff following Saturday's match against the Badgers, a close 3-2 loss, listening to Katie Schumacher-Cawley and Jonni Parker speak at the booster club social afterward.
Schumacher-Cawley shared her thoughts on Willow's signing and what stands out about her as a player during last Tuesday's pre-practice press conference in her office at Rec Hall.
"Karis hits a heavy ball," Schumacher-Cawley said. "I think she's a really good athlete. She'll be able to play multiple positions. We're happy she's a Penn Stater."
Willow discussed a variety of topics, including her relationship with her fellow Penn State commits, playing basketball this winter, and the upcoming club volleyball season, in an exclusive interview with DigNittanyVolleyball. The transcript can be found below. We also talked to Willow in late June.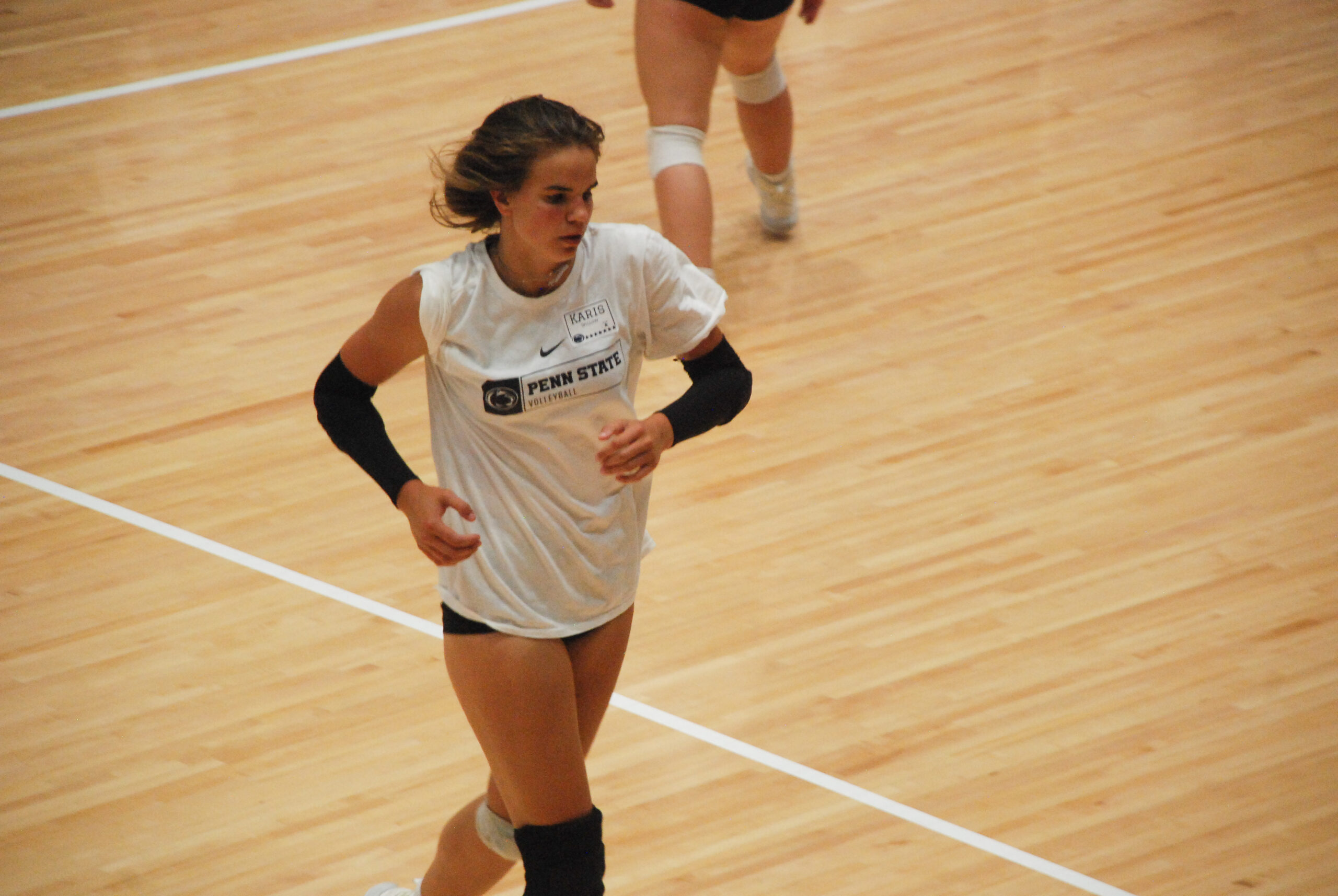 What was it like being in Rec Hall tonight? Were you here last night, too?
"I wasn't here for last night's match, but the environment of Rec Hall, especially tonight when it was packed, it's unmatched. I've been to a sold-out Ohio State game, I've been to so many high-level matches, but nothing matches this environment. The fans are crazy. It's so fun to be in here watching. I bet it's going to be even better to play in here with such a great fanbase."
How many times have you been to Rec Hall in the past?
"This is my fourth Penn State match at Rec Hall."
What was it like seeing Jonni Parker promoting her foundation Chasing Greatness during tonight's Silent Set?
"Jonni Parker was such an inspiration to me while I was being recruited. The way she carries herself, the way she performs, she's just so selfless, and it's very inspiring. Watching her continued success and watching her thrive in whatever she does, I'm just so happy for her. I hope that she continues to do well. I love her purpose. I take ASL (American Sign Language) in high school, so seeing people coming together to represent the deaf and hard-of-hearing community and deaf awareness is just so cool. I don't think there's anybody else in the country who does that. It's cool to be a part of that."
You had a pretty special senior season and broke some records for your high school program. What was that like being with your teammates for one last season?
"I still have so much love, and I will always have so much love for my high school team. Every single one of those girls, it was such a privilege to fight alongside them for four years. I know that they're going to do great this next year even without me."
You have basketball season going on now. What's it like to cross-train and play multiple sports?
"Basketball was definitely a last-minute decision. I didn't know if I was going to be able to play, if they were going to let me, because basketball is such a high-contact sport, and I already had a knee injury. Being able to play with some of my volleyball teammates again and finish out the sport that I once loved so much is so cool and so special to me."
What are some of your goals for club season in the spring?
"Just get better, get a bid to nationals, place at nationals, what most people want, you know? Joining a new team, just getting to know more people, and building more friendships throughout volleyball, because friendships make volleyball volleyball."
You just signed with Penn State a few weeks ago. What was that signing experience like for you?
"It was almost surreal. You verbally commit and you're like, 'Yeah! I'm committed.' But then once you sign that paper, it's like, 'This is real. This is reality. This is going to happen.' It's just so exciting."
What was the transition like from coach [Russ] Rose to coach Katie? How did that go in your recruitment?
"As most assistant coaches are, they're the head recruiting coordinator, so I got to speak to Rose a few times, and our relationship was pretty good, but I got to know Katie better through all the phone calls we had. Knowing the coaching staff better than what I did beforehand, I feel like we already have a personal relationship, so we don't have to develop that. I think that's going to be good. But obviously I have so much respect, as everyone does, for coach Rose for the program that he's built."
How has your relationship with Katie and the rest of the staff grown over the last year?
"Katie is almost like an aunt to me. She's looking out. The staff has always been so supportive. I'm just super excited to play under them."
What's your relationship like with the other 2023s, Jocelyn Nathan and Catherine Burke?
"Jocelyn and I are really, really good friends. We talk on the daily. She's just a great human, a great person all around, and she works so hard, so I'm super excited to play with her. I've gotten to know Catherine a little bit better. She's very, very sweet. I bet we'll become even closer when we finally meet in person."
What's your relationship like with the 2024 commits, Ava Falduto and Izzy Starck?
"All of us talk. I don't know Izzy as well, but Ava and I went to the camp together and we've really grown our relationship from it. I love all my teammates. I'm super excited to be fighting alongside them here and just being with them every day."
How would you describe the volleyball culture in Ohio? What's it going to be like being teammates with fellow Ohioans Allie Holland and Maddy Bilinovic?
"Volleyball in Ohio is so competitive. The culture, I feel like people are so supportive of one another. Sure, you have that rivalry, but once that's over, we have so much respect for one another. I actually played Maddy in the championship [in 2019]. I feel like we have more respect for each other after that than we did before. It's going to be cool, knowing that there are people who know some of the schools that I'll talk about, and we've played some of the same teams. Ohioans versus the world."
Katie said the other day that you hit a heavy ball. What do you think are some of the strengths of your game?
"I used to hit straight down, and then it was farther out, so I think a strength for me is knowing and being able to switch up my shots. I've been working on delayed tips and rolls, so it's harder to read. On defense, I'm long and I can get to most things. I don't know about it coming 80 miles an hour at my face. I'll leave that to Maddy."
Who were some of your volleyball inspirations growing up?
"Penn State, man. Haleigh Washington, Micha Hancock, Dominique Gonzalez. It was great watching them. They really inspired me to want to do it. I originally saw Micha and I was like, 'I want to be a setter.' Obviously, that didn't really work out. But seeing her thrive here, it really helped influence my decision, and just pushing to work toward getting to that level of volleyball."
What are some things that you like most about campus and the facilities here?
"I love the mountains. Coming from Ohio, you can just see straight for miles. This campus is so pretty. It's a college town, so you get that hometown feel, but there are so many people in such a small area that you can have that city feel as well. It's just pretty. It's not a huge campus, so you can get to places faster. In the cold winters, it's going to be nice. The facilities are so pretty. I like the tradition of here, like not completely renovating it, which is cool. Penn State volleyball is all about tradition. Just seeing that and knowing that all these players have walked through the same places is just a cool feeling."
What's your relationship like with the current players and getting a chance to interact with them? 
"I know some of them a little bit. It's kind of hard since both of our seasons line up. I've really gotten along well with the team when I've been here."
Lastly, do you have any thank yous or shout-outs you want to give to anyone?
"Thank you to all my coaches throughout the years. Thank you to Katie and the coaches for taking a chance on me. I know I'm not where I could be yet, but just seeing that potential in me, it's cool to know that someone that high up believes in you."