Penn State women's volleyball held its first summer camp under new head coach Katie Schumacher-Cawley Sunday at Rec Hall, hosting more than 100 athletes from grades 8-12 for its 7 Star Camp.
The single-day camp featured a lengthy schedule of activities, including individual position work, a tour of campus and the facilities, the opportunity to try on Penn State's uniforms and pose for photos with its seven national championship trophies, and an afternoon of scrimmaging.
Penn State's coaching staff invited DigNittanyVolleyball to attend the six-on-six scrimmages in the main gym, which offered a chance to observe Penn State's lone 2023 commitment, outside hitter Karis Willow, who performed well alongside several other top recruits from around the country.
Some of the other notable prospects in attendance were Ohio middle blocker Alec Rothe, Illinois libero Ava Falduto, Michigan setter Zoey Dood, Maryland libero Mailinh Godschall, New York outside hitter Marin Collins, Indiana outside hitters Morgan Gaerte and Addison Tindall, and Pennsylvania outside hitters Gianna Reamer and Reese Hazelton, among others. It was hard to keep track of all the action with four courts playing at once.
Izzy Starck, a 2024 setter from Colorado and the younger sister of Penn State sophomore outside hitter Anjelina Starck, was invited to the camp but was unable to make it due to a conflicting club tournament with the Colorado Juniors in Kansas City.
Before play began, assistant coach Dan Gwitt gave an insightful talk to the athletes (and their parents seated up in the stands) about the recruiting process, what it's like to play for Penn State, the typical training schedule the Nittany Lions follow during the season, and some of the qualities the coaching staff is looking for when evaluating prospects at camps and club tournaments.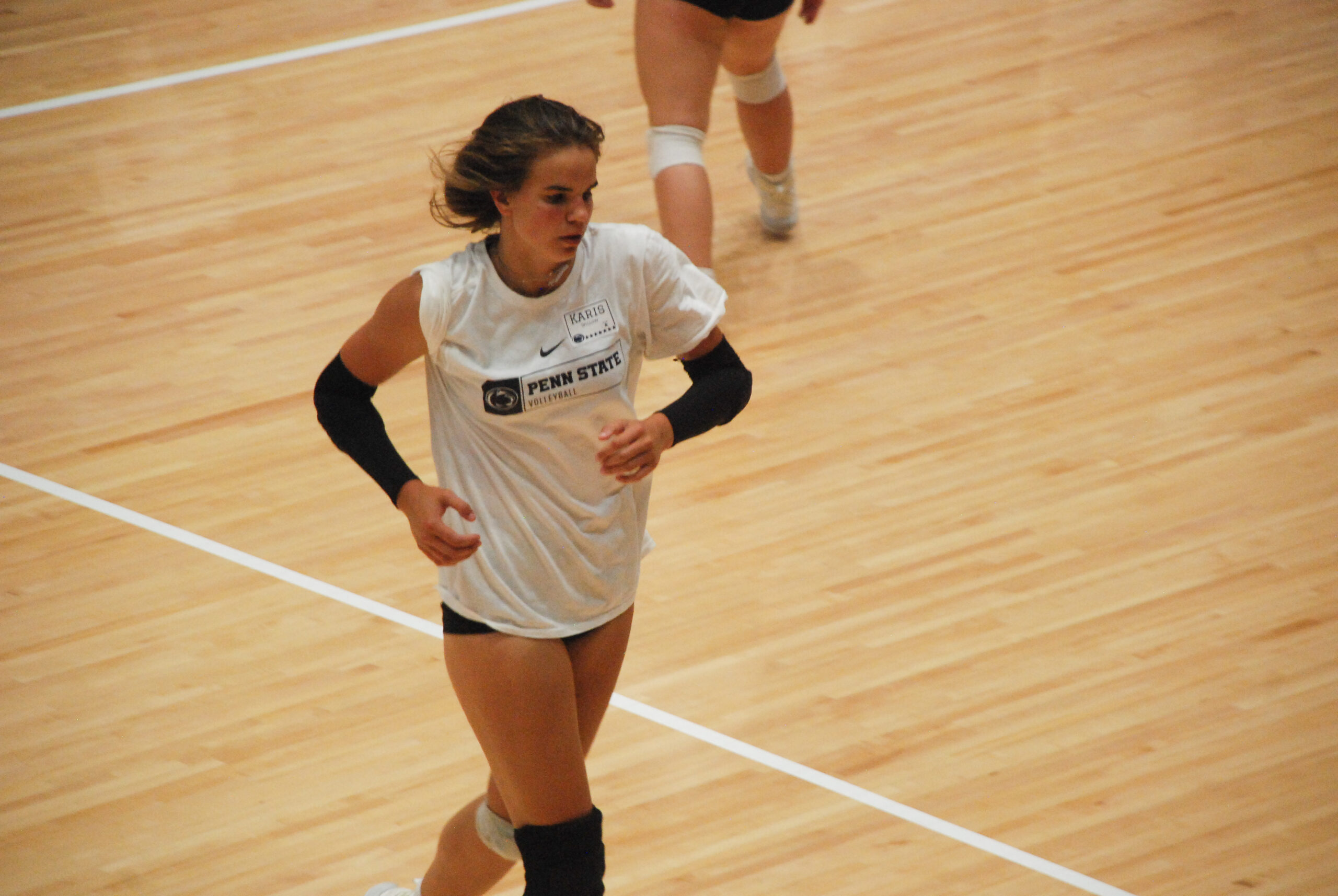 A group of Penn State players also answered questions from the campers and helped things run smoothly as counselors throughout the day. Several even participated in the scrimmages, allowing the prospects an opportunity to see what kind of competition they would be going up against at the Division I level.
Schumacher-Cawley discussed a few of the traits that comprise Penn State recruits during her introductory press conference at Rec Hall in January, emphasizing competitive spirit and being a good teammate as particularly important factors.
"Well, I think the first thing is that we always want players who want to be here at Penn State," Schumacher-Cawley said. "We're looking for players who are committed to what we're trying to do, and it's getting better every day. It's being a great teammate, it's being helpful within the athletic department and the community. We want players who are going to compete every day."
It was evident the campers were having plenty of fun meeting new friends and showcasing their skills in front of the coaching staff. The return of a normal camp schedule also means the staff can better evaluate prospects in-person — something they were unable to do during the extended COVID-19 recruiting "dead period."
As the campers were leaving Rec Hall, many flocked to the Lion Shrine across the street for photos or took a trip down Curtin Road to the always popular Berkey Creamery. Some even discussed who their favorite Penn State players were. They also had a chance to purchase some Penn State volleyball merchandise to add to their wardrobe before returning home.
The 7 Star Camp was Penn State's only prospect camp in June, but July will be an incredibly busy month for the staff and players, who will welcome hundreds more athletes to campus for elite camps, high school team camps, position-specific camps, and finally a youth camp for grades 4-6 to finish up the summer on July 20.
The complete list of Penn State volleyball camps and information on how to sign up can be found here.