Penn State women's volleyball held its first scrimmage of preseason training camp Sunday afternoon at Rec Hall.
Earlier in the day, the team attended the annual booster club picnic at the Penn State golf courses, where more than 200 people showed up to support the Nittany Lions and hear from the coaching staff and players. There were memorabilia auctions and raffle ticket prizes announced after lunch.
Head coach Katie Schumacher-Cawley shared some thoughts on this year's team and how pleased she was with the work they were putting in a week into training camp. She also thanked the attendees for their support of the program before introducing assistant coaches Dan Gwitt and Brian Toron, as well as director of operations Tina Readling and performance analyst Sydnie Mabry.
After the staff said a few words introducing themselves, the players had a chance to say hello to the crowd and thank them for showing up. During the picnic, the team spread out around the different tables under the pavilion and chatted with the booster club members, showing particular care to make it a meaningful interaction for the fans.
Later that afternoon, the booster club was invited to Rec Hall for a four-set scrimmage lasting about an hour and a half. All 17 players participated and the staff shuffled everyone around quite a bit to try out different lineups. The staff tried to make it as close to a real match as possible, utilizing a scorer's table and referees. Mabry was also hard at work taking extensive stats during the scrimmage.
It was the first time we saw Penn State's setters, Seleisa Elisaia and Katie Hurta, live in action playing with their new teammates. Both looked very athletic and showed impressive touch while distributing the ball around to a host of different players, including Kashauna Williams and Zoe Weatherington, both of whom displayed the ability to terminate.
Hurta and the rest of Penn State's freshman class appeared at ease and made some nice plays, not letting the first-scrimmage jitters get to them. Gillian Grimes and Mandi Morioka were flying around the backcourt diving for balls, while pin hitter Alexa Markley's vertical turned heads, too.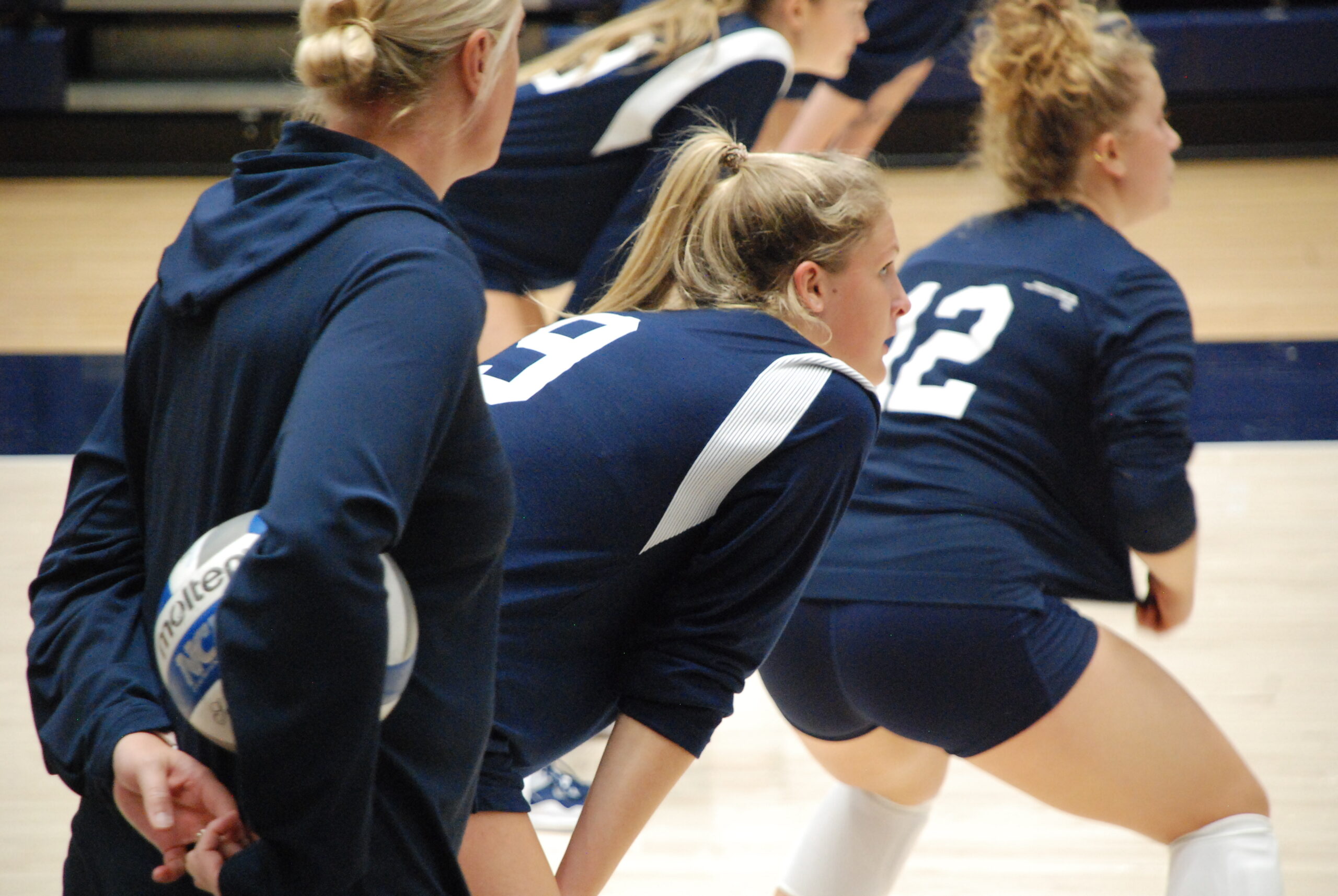 Fifth-year senior Katie Clark, who's competing for playing time at middle blocker and right-side hitter, recently celebrated her graduation from Penn State during the summer semester on Saturday. Clark transferred from TCU to the Nittany Lions prior to last season and will have an opportunity to carve out more playing time for herself this fall.
Penn State could boast one of the strongest middle blocker tandems in the Big Ten and all of college volleyball this season with juniors Allie Holland and Taylor Trammell. Holland finished the 2021 season with the fifth-highest hitting percentage in the conference at .372, while Trammell's transfer from Purdue to Penn State was one of the biggest storylines of the offseason.
The competitive energy was noticeable and players were clearly excited to be in the main gym in front of some fans, though there will be significantly more of them in attendance on August 26 when UConn comes to Rec Hall for the season opener at 7:30 p.m.
It will be interesting to see how the position battles at setter and libero shake out over the next week. During the inaugural Big Ten volleyball media days in Chicago on August 2, Schumacher-Cawley said it's still up in the air who will start at both positions.
The Nittany Lions were among seven Big Ten teams ranked in the preseason AVCA coaches' poll, which was released Monday, checking in at No. 20 nationally. Nebraska (No. 1), Wisconsin (No. 3), Minnesota (No. 5), Ohio State (No. 7), Purdue (No. 13), and Illinois (No. 17) will also be ranked to start the 2022 season. The conference's coaches picked Penn State to finish fifth in the Big Ten.
There are several unknowns about this year's Nittany Lions, but the talent level and amount of personalities on the roster should give fans plenty of reasons to pack Rec Hall for Schumacher-Cawley's first season as Penn State's head coach. This year's team could surprise the rest of the Big Ten if it can mesh and establish strong connections on the court during non-conference play.