Penn State women's volleyball arrived in Chicago for the inaugural Big Ten volleyball media days Monday morning, and culminated a busy schedule of events on Tuesday afternoon as the last team to take the podium for their press conference at Big Ten Network headquarters.
Head coach Katie Schumacher-Cawley, junior middle blocker Taylor Trammell, and sophomore outside hitter Anjelina Starck represented the Nittany Lions at the first-of-its-kind event for women's college volleyball. Wisconsin head coach Kelly Sheffield said he hopes other conferences will follow the Big Ten's lead and hold volleyball media days of their own next season.
Schumacher-Cawley, Trammell, and Starck enjoyed some sightseeing and a special dinner for the conference's coaches and student-athletes Monday night before a whirlwind Tuesday that featured interviews on a variety platforms, including Big Ten Network, SiriusXM, and NCAA.com, among others. The transcript of their press conference to wrap up the afternoon can be found below.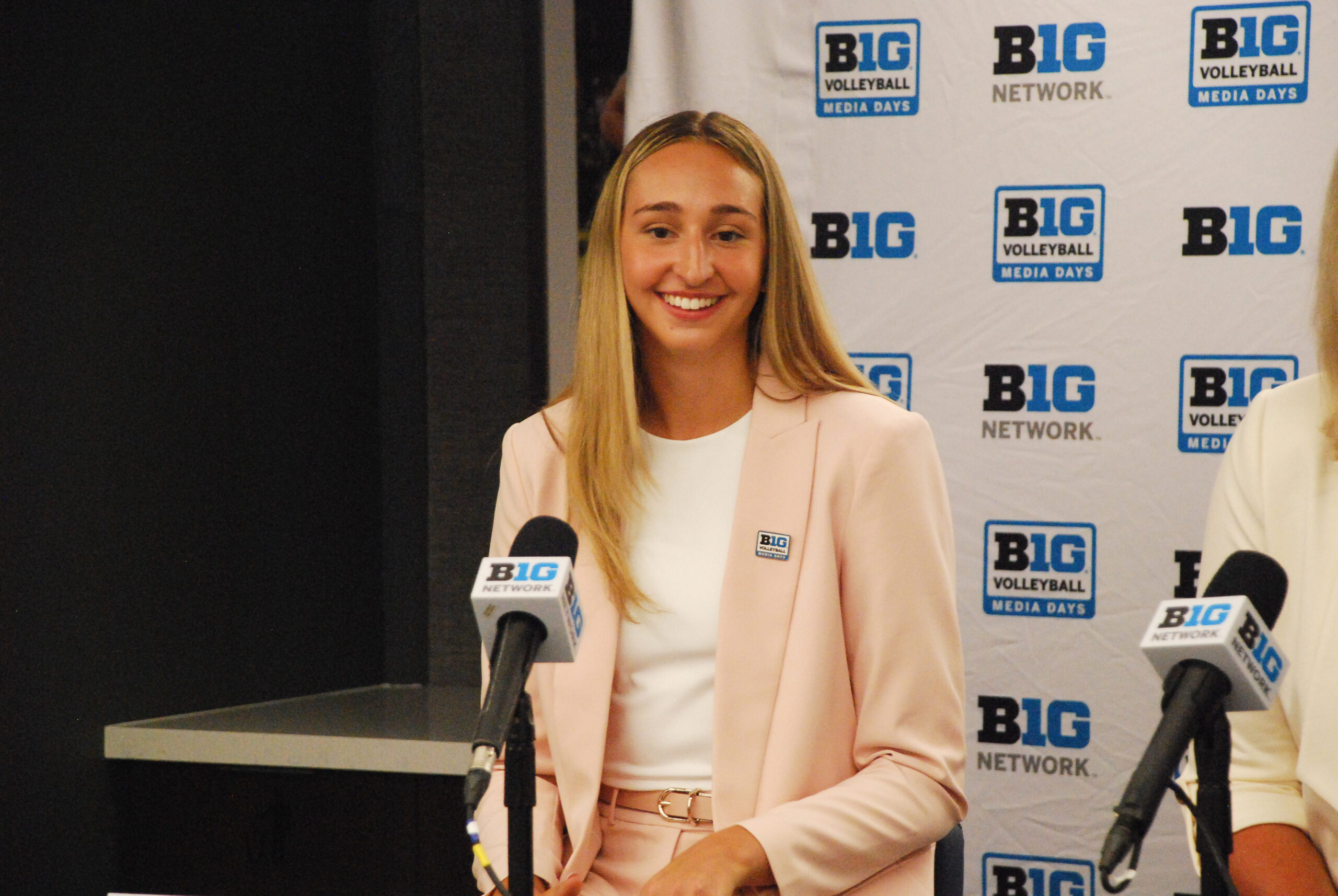 Schumacher-Cawley's opening statement:
"First of all, I just want to thank commissioner [Kevin] Warren, the entire Big Ten office, our senior women's administrators who really pushed for this event. We're really lucky and fortunate to be here. I'm excited for our players and the future of volleyball. We're happy to be here."
Coach, of course, with coach Rose leaving, big shoes to fill. It's been the question most coaches have been asked this weekend. How are you going to honor him and his legacy, but then what are you going to bring to the table that's different?
"Like I said before, I feel a great deal of responsibility to continue the traditions and the legacy that coach made this all possible, not only for Penn State volleyball, but Big Ten volleyball and the country. He's set the tone and paved the way for so many people, so I'm excited to continue that. I want Penn State volleyball to continue to rise and to always be great."
With so many newcomers to the program, how have you adjusted adding them and getting the team cohesion together?
"Well, you know, with not being able to train in the summer, the girls have been lifting and doing conditioning with our strength coach, but everyone's been here [in State College]. I'm proud of how they've been treating each other and working together. I'll let you know in a week how it is in the gym, but I'm excited to get in there with everyone. We have four transfers, four freshmen, and nine returners, so I'm looking forward to getting them together and getting them working and being on the same page."
What have you seen from Anjelina and Taylor so far this week and this summer?
"Anje was back this spring, so it was great to see her in the gym. She improved and got a lot stronger. Anje works really hard all the time. She does things on her own that are going to separate her from other athletes. I'm excited to see what she's going to be able to do this year, and she'll definitely make an impact. Taylor, we're happy Taylor chose Penn State the second time around. Obviously, she has the experience in the Big Ten that we need, and we're looking for her to really hold down the middle and do some great things."
Taylor, what did you see from Penn State when you were lining up across the net from them, and what ultimately led you to the program, joining them this spring?
"I mean, everyone knows Penn State has the best legacy there is when it comes to volleyball, and seeing that their team was going to be fresh was something I was looking for, a fresh start. I just felt really welcomed when I got here. Just the overall energy was something that really intrigued me."
Coach, how have you seen your defensive specialists come along with the departure of Jenna Hampton?
"I think Maddy [Bilinovic] did a really great job in the spring. Cassie [Kuerschen] is doing really nice things. Quinn [Menger] will be able to help us out. But who's going to be in that [libero] position yet? I don't know."
You also have a couple new options at setter with Gabby Blossom moving on as well. What do you think of that competition?
"We have two new setters. We have a freshman, Katie Hurta, and Seleisa [Elisaia], who was our transfer. We'll see what they do in the gym and who's going to earn that spot."
Coach, how similar is Taylor's style to Kaitlyn Hord, and how much do you have to change the offensive attack with a big piece leaving like that?
"I mean, Taylor's Taylor. I'm not going to compare her to anyone. Taylor brings a lot to the table. She's who she is, she's going to help us, and she's going to be a force in the Big Ten. We replaced quite a few players who graduated and went on to new schools. We're confident that the players we brought in are really going to embrace being at a Big Ten school and at Penn State."
How has being a head coach changed from when you were a head coach before at UIC and Penn to now with the different responsibilities?
"Well, I mean, it's all this media stuff, right? No, I've been fortunate the schools I've been at — UIC and UPenn — both schools that really did the best they could with volleyball, so I've been fortunate to be around a lot of really good people. I'm happy to be here."
How has the transfer portal changed things knowing it gives you an opportunity to refresh and kind of define that culture of your own?
"It's changed the game, for sure. I like it because we were able to get players like Taylor, Seleisa, Zoe [Weatherington], and Kash [Williams], players who are going to make an impact in this conference. We were in a position that we had to get transfers. I would like all of our players to stay, but they have this unique opportunity to go somewhere for grad school, or maybe it wasn't the best fit. I think it's a wild world, but I'm happy with the ones who we ended up with."
Anjelina and Taylor, where were you when you heard that UCLA and USC are joining the Big Ten? What are your thoughts on them joining an already super strong conference?
Starck: "I don't remember exactly where I was, but I'm excited because it just adds even more really good competition to the Big Ten. I'm really excited for it."
Trammell: "I found out through social media. I hate to be superficial, but I was excited. I was like, 'We get trips out to Cali now.' So I was fine with it. But yeah, they're two really good programs out there, and I'm excited to play them. I mean, I'll get, like, a season with them, but yeah, I'm excited."
Zoe Weatherington may hit the hardest ball of anybody. When she's on, she's a really good player. Can you tell us about how you got her and what she might do for you?
"Zoe was one of the ones who went in the portal, and we reached out to her and started those conversations. I think she really took her time. She visited a couple schools. We really connected when she came on campus. I'm excited to see what she's going to do here. We'll look for her to maybe be more of a right-side player, but we'll see. Like I said, we haven't been in the gym at all with these girls this summer. It will be a lot of new things right away."
Anjelina, what's your impression of the two new outside hitters in Alexa Markley and Kash Williams? What do they bring to the team?
"They both bring so much energy, good energy. Kash always gets so excited whenever she's playing, and it's so easy to play with them."
How have you helped bring along some of the newcomers like Taylor?
"Just showing them how we've done things in the past, but it's also changing so much this year. Just showing them kind of what we've done."
Taylor, what has it been like adjusting to new teammates, new practices, and all that stuff?
"Well, I mean, the girls, when I came on my visit, they were automatically just so friendly. They were really welcoming. Obviously, I came in with the other transfers, so I feel like that was nice, too. The team and the girls, I feel like we've clicked since the beginning, if that makes sense. It's just really nice to have that in a team, especially because we are fresh and new. Going into the season, I think that's really a good, important characteristic we're going to have to have. But yeah, I'm excited."
For the players, what's your impression of the two new setters and what's your connection like with them on and off the court?
Starck: "So far, just based on open gyms, our connection has been really good. They take feedback really easily. It's been good."
Trammell: "Both of the setters are really great. Leisa, she's pretty experienced, and I just love having somebody come into our gym with that much knowledge. It's pretty respectable, I would say. Katie, coming in, she's filling big shoes and she's doing what she does, which is setting, obviously. She's a great person, great character, and I'm excited to see who's going to get the [starting] spot."
Anjelina, you said that the team is going through a lot of change this year. What have you seen from coach to kind of put her stamp on the program and make it her own? What differences have you seen?
"One thing that's always stuck out to me — during the spring we started it — is being grateful for everything you have. Before practices, we always have our grateful circle, even if it's something small. Just showing that everything we have, we can't take for granted."
What do you miss about coach Rose?
Starck: "I really loved playing for him. I don't know what I miss. I'm trying to think of something. I'm happy that I got the opportunity, because I learned so much from him and he's been around the game for such a long time."
KSC: "He sends his best. He's golfing today."
Coach, how important is Chicago and the Midwest in general in terms of recruiting?
"The Midwest has a lot of good volleyball going on. There are a few kids from Illinois on our team now, and we'll continue to recruit the best players who will fit in at Penn State."
What's it like being here in your home city and what did you have a chance to do the last couple days?
KSC: "Oh, it's great. I came in a couple days early. I had some family parties going on that I was lucky enough to go to, but these guys hit the town. We had pizza and did an architecture tour."
Trammell: "The boat tour; we saw the Bean, walked a lot, lots of food. It was great."