Sports fans around the world have been watching classic replays of their favorite teams in recent weeks due to the ongoing coronavirus pandemic.
Since live sports are off the table for the time being, why not take a look back at the national championship that started it all for Penn State women's volleyball?
After losing in the fifth game of the NCAA finals the previous two years, Russ Rose's Nittany Lions finally rushed the court on December 18, 1999 after beating Stanford in front of a sold-out crowd of 10,252 at the Stan Sheriff Center in Honolulu, Hawaii.
Rose has since guided the Nittany Lions to six more national titles and currently sits on the cusp of 1,300 career wins, entering his 42nd season in University Park with a record of 1,299-212, but the importance of that 1999 team cannot be overstated.
It took Rose 21 seasons to win his first national championship, which is often forgotten when discussing the dynasty that's developed over the last two decades under his watchful eye.
Nowadays, Rose is the textbook definition of a coaching legend. The lasting impact he's made on the hundreds of Penn State players he's coached is evident. Whether they go into coaching after their playing careers are over or excel in a completely different field, Rose's message of taking care of the little things has persisted.
Rose's setter on the '99 team, Bonnie Bremner, is the aunt of one of his current players — rising sophomore defensive specialist Molly Russell. Katie Schumacher-Cawley, who returned to coach at her alma mater in 2018, was a sophomore opposite hitter for the Nittany Lions in 1999.
Schumacher earned AVCA All-American recognition that season alongside Bremner and star middle blocker Lauren Cacciamani, who had a match-high 20 kills and eight blocks against Stanford in the national title. Schumacher and Carrie Schonveld posted nine kills apiece, while Schonveld added a team-high 10 digs in the win. The latter joined Cacciamani and Bremner on the all-tournament team.
The broadcasters told the story of how Schonveld went to an ABC Store, a Hawaiian convenience store chain, before the match and bought flowers for the team to wear in their hair for good luck. Leilani Schlottfeldt, who had four digs against the Cardinal, was born in Hawaii before growing up in Brazil — adding to the good vibes Penn State was feeling that night.
I started covering the Penn State women's volleyball team as an undergrad in 2015 and grew up in the State College area, but had somehow never seen the full replay of the 1999 national championship until now. One thing that was immediately evident was that Rose's candid, direct nature has hardly changed over the years.
Sideline reporter Heather Cox mentioned during the broadcast that Rose had said beforehand, "If we both play our best matches, Stanford wins this one."
Of course, the Nittany Lions were fantastic that night in holding Stanford (40 attack errors) to a negative hitting percentage for the first time all season. They swept Kerri Walsh and the Cardinal 15-2, 15-10, 15-7 to become the first eastern school to win the NCAA women's volleyball title. It was Penn State's 36th straight win of the season after dropping its opener against Florida in five games.
Stanford already had four national championships in the 90s, the latest of which came at the expense of the Nittany Lions in 1997 in Spokane, Washington. This time around, Penn State dispatched Robert Morris, Baylor, Minnesota, UCLA, and Pacific on its way to the title match.
Walsh, who has her sights set on competing in her sixth Olympics in beach volleyball at the 2021 Tokyo Games, shared AVCA National Player of the Year honors with Cacciamani. Walsh was reportedly dealing with a shoulder issue during the title match that limited her production to 11 kills and 11 attack errors, while also forcing her to employ a float serve early in the match rather than her usual jump serve.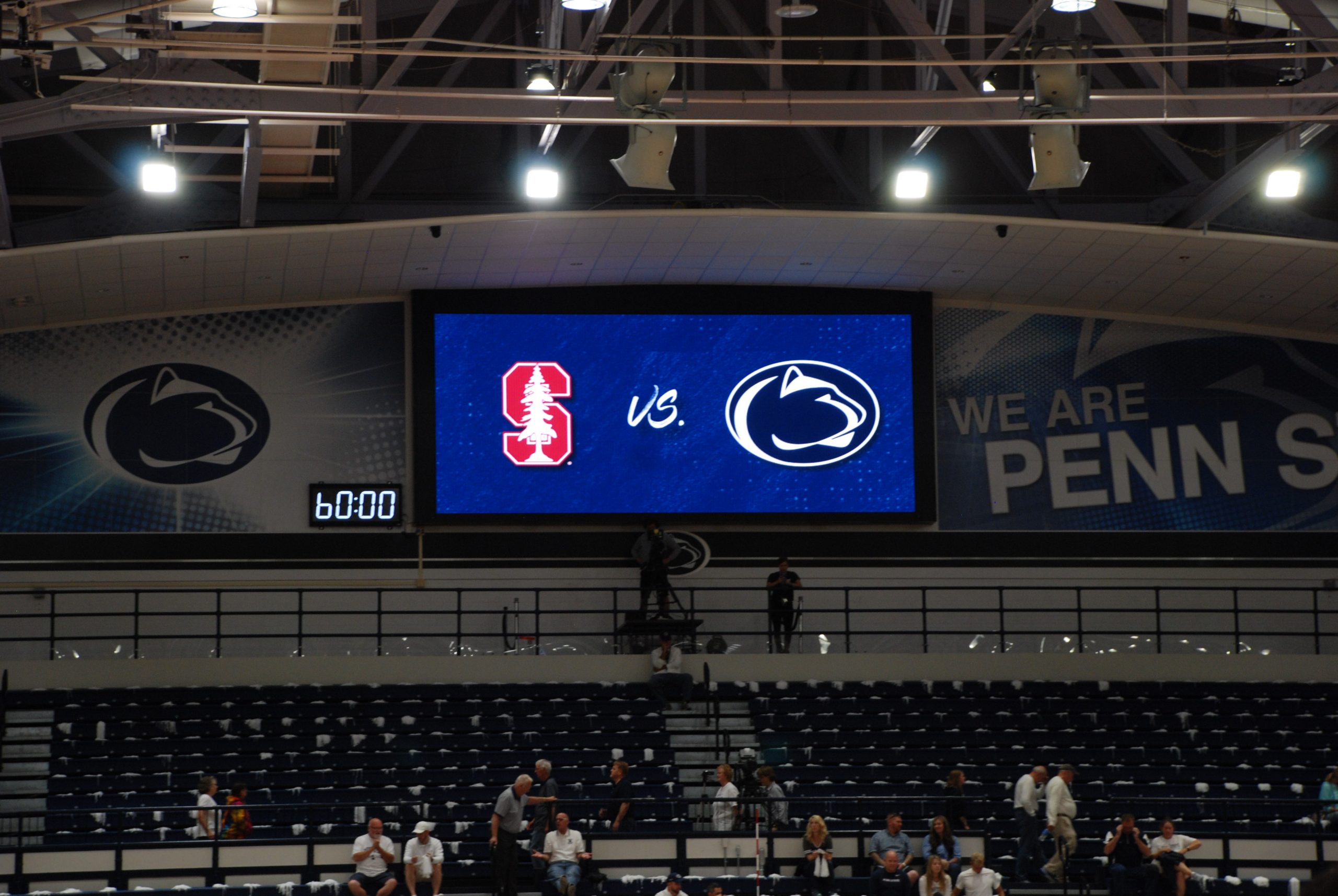 The collared, short-sleeve jerseys both teams wore are beyond awesome, by the way. Stanford held a 90s night this past season against Arizona, where the players took photos with fans postgame while donning various throwbacks. How cool would it be to see Penn State rock the collared jerseys again for a match? If I were the program's equipment manager, I would get Nike on the phone pronto to whip something up.
The Nittany Lions rattled off an 8-0 run to begin the match and set the tone for the evening. After reaching a 6-6 tie midway through the second game, Penn State exploded for six straight points to wrestle back control of the match and eventually take a 2-0 lead into the break.
Bremner had an absolutely ridiculous assist to Cacciamani while up 5-1 in the third game, dropping to her knees before setting middle with barely any room for error. She recorded 37 assists, four kills, and six digs. Stanford coach Don Shaw, a longtime friend of Rose, opted to switch setters from Lindsay Kagawa to Robyn Lewis in the third game, but it was too late to salvage a comeback.
Penn State's defense did an excellent job limiting All-American freshman Logan Tom's impact on the match. Tom had 27 kills in Stanford's sweep of defending national champion Long Beach State in the semifinals, but struggled to get things going against Cacciamani and the rest of Penn State's blockers, finishing with seven kills and 10 attack errors.
After serving on match point and celebrating in a dog-pile with her teammates, Cacciamani shared her feelings of jubilation with Cox, saying, "Oh, my gosh. It feels great. Praise God for letting all blessings flow. It feels amazing, We just said, 'We've been waiting four years for this.' Two years of heartbreak and now what a relief to end my career like this."
Cacciamani surprisingly turned down an invitation to try out for the U.S. women's national team after her collegiate career came to an end.
When Cox asked Rose if losing in the fifth game of the national championship match the previous two seasons played a factor in Penn State's win over the Cardinal, Rose said, "Well, they didn't really motivate us, but I thought the kids played great tonight. Bonnie, afterwards when we got together, she said, 'Sorry it took so long.' And I think that sums it up for her and a lot of the players.
"We were awfully close the last couple years, so certainly the experience that we gained over those last couple years came into play. It was a great match tonight. We played very well in a lot of positions."
Bremner, whose older sister, Julie, flew from LAX to Honolulu after working a 26-hour shift as a medical professional to watch her play, gave an excellent interview after the match. Bonnie turned down numerous scholarship offers elsewhere in order to walk on at Penn State to begin her career.
"This team has lost twice in the finals," she said. "We knew how it felt to lose and we didn't know how it felt to win. We knew that we just didn't want to lose. Anything that it took to win. That's what we were thinking about.
"Stanford's an incredible team. If we would have played into their strengths, if we would have set right into Walsh or right into [Jennifer] Detmer, we would have lost. We needed to have a strict game plan and follow it, and that's what I was thinking of."
Bremner also made sure to mention the contributions of Penn State's underclassmen like Schumacher (9 kills, 5 blocks), Mishka Levy (3 kills, 2 digs, 5 blocks), and Amanda Rome (3 kills, 9 digs), saying, "I'm just impressed with the younger players that they pulled through and they kept their composure, because it was hard for Lauren and I to do that last year and the year before, so I don't know how they did it."
Penn State and Stanford have authored quite a few instant classics since then. The Cardinal lead the all-time series 13-12 after sweeping the Nittany Lions in the Elite Eight this past season and winning the last four meetings between these storied programs.
Stanford owns a 9-7 advantage in terms of national championships following its sweep of Wisconsin in Pittsburgh last December, but the Nittany Lions are in hot pursuit of that record. Rose recently signed a four-year contract extension and will resume chasing an eighth national title this fall.