No. 21 Penn State women's volleyball swept LSU (25-20, 26-24, 27-25) Saturday afternoon at the Pete Maravich Assembly Center in Baton, Rouge, Louisiana.
The Nittany Lions (6-0) went undefeated at the Tiger Challenge this weekend, beating Iowa State 3-1 and Troy in straight sets in Friday's doubleheader.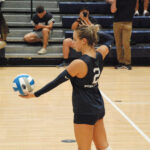 Maddy Bilinovic had a career-high 21 digs in Saturday's win over the Tigers, while Anjelina Starck led Penn State's offense with 13 kills. Starck added six digs, a block, and one of Penn State's five aces.
Kash Williams was one of three substitutes for the Nittany Lions, who also brought Cassie Kuerschen (five digs) and Quinn Menger off the bench. Williams finished with 11 kills (.375), three digs, two blocks, and an assist, taking 24 swings on the afternoon. Starck more than doubled her up with a match-high 52 swings — 17 more than the next closest player.
Gillian Grimes had five digs and a match-high two aces the day after rattling off three aces in a row early in Penn State's sweep of Troy. Taylor Trammell put together another efficient match with eight kills (.375) and four blocks, while Zoe Weatherington and Katie Clark, who started all three matches this weekend at middle blocker, finished with six and five kills, respectively.

Leisa Elisaia had a match-high 40 assists, five kills, four digs, and three blocks, but the Nittany Lions weren't as efficient on offense Saturday afternoon compared to Friday's matches, hitting .233 to LSU's .222. The Tigers outblocked Penn State 9-8 and received a double-double from Sanaa Dotson, who had a team-high 13 kills and 15 blocks.
The Nittany Lions will return to State College to prepare for next weekend's Big Ten/Pac-12 Challenge in Minneapolis, Minnesota, where they will face Stanford Friday at 6 p.m. ET and Oregon Saturday at 5:30. Friday's match against the Cardinal will air live on Big Ten Network.