Click images for more info
Date
(Time)
Opp
Media
11-14-15
(8:00 p.m. ET)

No TV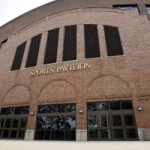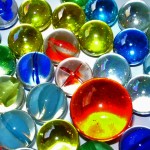 Tonight's match between #1-ranked Penn State (24-2, 13-2 in the B1G) and #4-ranked Minnesota (22-3, 14-1 in the B1G) may not be for all the marbles, but the winner will have a good chance of bagging those marbles by the end of the season.  Minnesota counts twin sisters — 6-2 Jr. Hannah Tapp (whose .305 conference-only hitting % ranks 11th in the B1G) and 6-1 Jr. Paige Tapp (who earned 3rd Team AVCA All-American and All-Big Ten honors in 2014) among its array of stars.  And the Gophers are much more than a sister act, as they also feature dynamic players like 6-1 Sr OH Daly Santana, 5-9 So. libero Dalianliz Rosado, 6-1 Jr. OH Sarah Wilhite, 5-11 So. OH Alyssa Goehner, and super freshman setter Samantha Seliger-Swenson.
Penn State has its own stars in 6-0 RS Fr. setter Bryanna Weiskircher, who in the Iowa match directed the team to a .323 attack %, with 32 assists, 5 digs and 3 blocks, spreading the ball around to five Nittany Lions who registered at least six kills: 6-4 RS Sr. MB Aiyana Whitney (10 kills, .643 attack %) 6-2 So. OH Ali Frantti (11 kills, .348 attack %), 6-3 So. MB Haleigh Washington (8 kills), 6-2 Sr. OH Megan Courtney (9 kills, plus a team-high 10 digs), and 6-1 So. OH Simone Lee (6 kills, 3 blocks).
It's a tough call as to which team will be the marble-bagger.  Based on Penn State head coach Russ Rose's most recent vote in the AVCA Poll (where he ranked Minnesota #3 and Penn State #4), he thinks Minnesota is the better team (or was at the moment he voted).
Coach Rose certainly wasn't pleased with his team's effort in Penn State's Wednesday night win over Iowa.  In an article by Jill Beckman in The Daily Collegian, he said he did not think the Lions played very hard against the Hawkeyes, and that he didn't think his advice was having "much impact on the players at this point in the season."  Ouch!
Let's hope the Nittany Lions listen up.  If they don't, fans might experience a deja vu  replay of Penn State's epic loss to the Gophers in 2010, when the Gophers downed Penn State 3-2 (25-14, 25-21, 24-26, 23-25, 21-23).
For what it's worth, Massey Ratings has Penn State taking the match 3-1, with a 68% probability of a Nittany Lion win.  And Club Coach said in our Q&A that
It will be a very even match, with games being decided by who wins the critical points at the end of games.  I certainly don't see either team sweeping the other, but I can very easily see either team prevailing.  The wildcard is the expectations for Minnesota, and how they handle the crowd.  I see a sold out gym, with everything on the line, being an advantage for PSU, not a disadvantage. The Nittany Lions are far more experienced in that environment, with those stakes.  I think PSU wins it, because they just always seem to do just that in these matches.
We'll see.
Fanalysis
8M posted the following tables and commentary on the DigNittanyVolleyball Forum:
I recently watched the MN vs NE match from Oct. 23 (thank you Psumaui).
MN won that match in Nebraska 3 sets to 1.

Some interesting comments which former Nebraska coach Terry Pettit made during that match:
1)  MN coach Hugh McCutcheon, who won a gold and silver medal with the men's and women's National teams, is probably as good tactically as any coach in the country, in terms of coming up with a game plan.
2)  Seliger-Swenson (MN's setter) pushes very fast sets to Santana who tips half the time, which causes the block to begin reaching up, which makes it less effective.
3)  You benefit from a loss, because the players are humbled and become teachable afterwards.

Other observations from commentators in that match:
After hitting over .300 in the first 2 sets, Santana cooled off considerable in sets 3 & 4 hitting .000

Coach Haley from USC made reference to the issue of his best player, Samantha Bricio, taking a large amount of swings each match. Earlier in the season he said that she wouldn't last to the end of the season if she continues like that. It's a lot like pitching, in baseball pitchers have a max pitch count, after which they begin to be less effective.

My takeaway is that Santana is in the front row for only 3 rotations and Penn State needs to take advantage when she's in the back.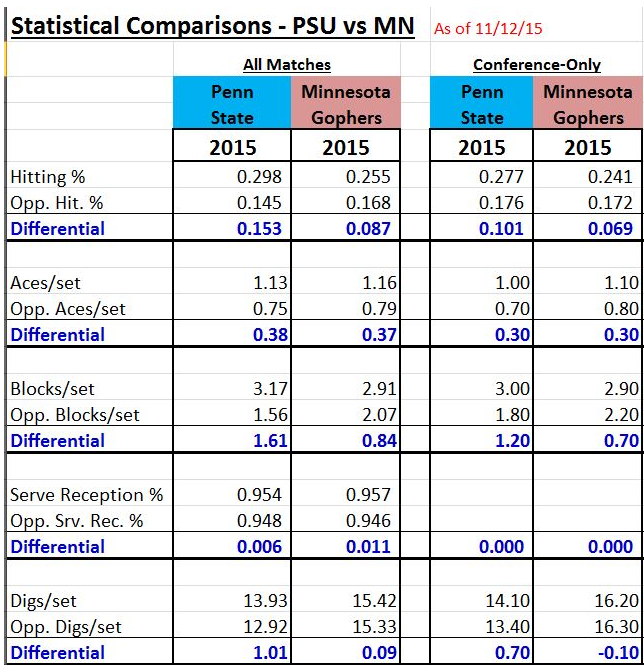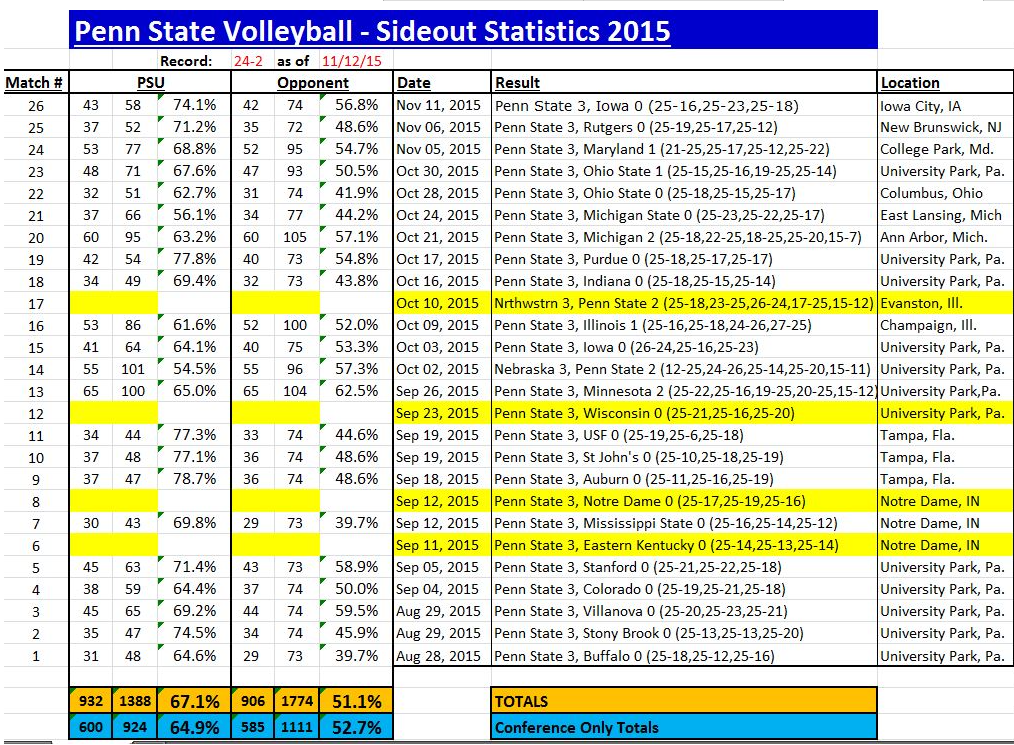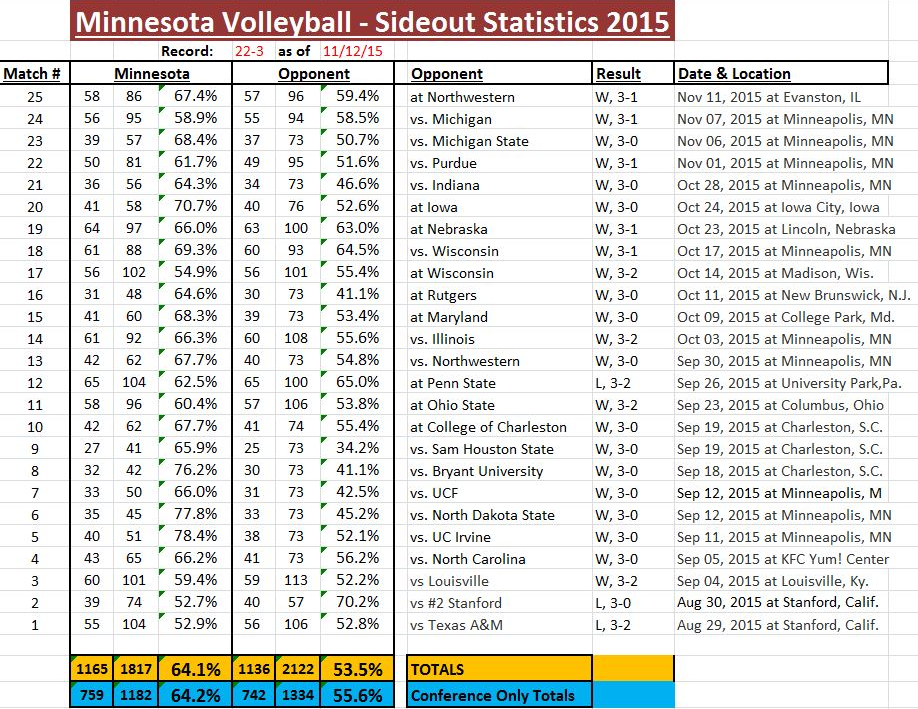 Credits